PCOPGene-Net: Holistic Characterisation of cellular states from microarray data based on continuous and non-continuous analysis of gene-expression relationships
BMC Bioinformatics
2009
10:138
Received: 27 January 2009
Accepted: 09 May 2009
Published: 09 May 2009
Abstract
Background
Microarray technology is so expensive and powerful that it is essential to extract maximum value from microarray data, specially from large-sample-series microarrays. Our web tools attempt to respond to these researchers' needs by facilitating the possibility to test and formulate from a hypothesis to entire models under a holistic point of view.
Results
PCOPGene-Net is a web application for facilitating the study of the relationships among gene expressions under microarray conditions, to classify these conditions and to study their effect on expression relationships. Furthermore, the system guides the researcher in the navigation through the microarray data by providing the most suitable genes and information for the researcher's interests at each moment. We achieve all of these by means of the zoom-out operation, the zoom-in operation, the non-continuous analysis and crossing the PCOPGene results with external data-servers.
Conclusion
PCOPGene-Net helps to identify cellular states and the genes involved in these. All of that is accomplished in a flexible way, guided by the researcher's interests and taking advantage of the ability of our system to relate gene expressions, even when these relationships are non-continuous and cannot be found using linear or non-linear analytical methods. Currently, our tools are used for tumour-progression study from a holistic point of view.
Keywords
Gene MarkerPrincipal CurveMicroarray GeneCorrelation DegreeSample Class
Background
Current biological research, and specially transcriptomics, generates large amounts of data which researchers need to analyse in order to understand the underlying process. DNA microarray technology power lies in its ability to provide data of a great number of gene expressions throughout different sample conditions. There are several relevant web applications for microarray analysis, i.e., GEO [1], BIOREL [2], ArrayExpress [3], MicroGen [4] and GEPAS [5]. Currently, most tools try to extract biological information from such high-throughput expression data combining information from co-expressed genes [6] as well as additional annotations extracted from Gene Ontology (ADGO) [7], phylogenetic information (CLANS)[8] or pathway data (MAPMAN) [9]. In this paper, a new approach incorporating the detailed analysis of the experiments' effect on the fluctuations of gene-expression relationships to the network analysis is proposed.
The microarray data sets can be provided by: a) temporal series, useful to study synchronous cellular events, and b) serial analysis of gene-expression samples under different conditions (i.e., chemotherapy, temperature, radiation, starvation, etc.) which are more useful for studying asynchronous events. The progressive increase of microarray sample-series [10] motivates a more thorough analysis of expression relationships and gene dependencies throughout these large series, trying to extract global gene behaviours, cellular states and phenotypes. Furthermore, the large number of microarray genes involves genes belonging to very different processes and functions, thus leading to a holistic perspective.
Our strategy to achieve this holistic perspective is to develop several tools which facilitate a progressive analysis of microarrays data with large sample series, leading the researcher from known marker genes, and progressively widen his/her scope analysis towards the holistic perspective. This progressive analysis is based on four approaches:
1.

Analysis of linear gene-expression relationships.

2.

Analysis of non-linear gene-expression relationships and study of the fluctuations of this non-linearity.

3.

Analysis of non-continuous gene-expression relationships.

4.

Facilitating the navigation through the microarray data based on: researcher interests, the continuous and non-continuous relationships among gene expressions, and the links among genes supplied by external biomedical databases.
In this way, the tools to enable the progressive analysis are provided.
For this purpose, several methods and tools have been designed [11–13] and integrated in to the four basic operations of the PCOPGene-Net detailed below.
Results
The web application is composed of two main graphical interfaces:
The global network view
(Fig.
3
) and
the detailed view
(Fig.
1
and
2
), some PHPs and CGIs and several databases. The final application provides four basic operations:
1.

the zoom-out operation gives a global vision of the interdependence among analysed-microarray gene expressions.

2.

At a given moment, the researcher wants to focus his/her research on a concrete, process or on apparently unconnected processes, to know what genes are involved in it and to study their expressions dependence in detail. This task is provided by the zoom-in operation.

3.

However, a lot of genes are not continuously correlated for all of their expression ranges. To analyse this kind of non-continuous relationships, the non-continuous analysis is provided.

4.

The number of samples of the analysed microarray are limited and in addition, there are many more links among genes besides the expression links. Remote data-bases will be consulted to elaborate on the information.
The four operations are illustrated in Fig.
4
and explained in detail below.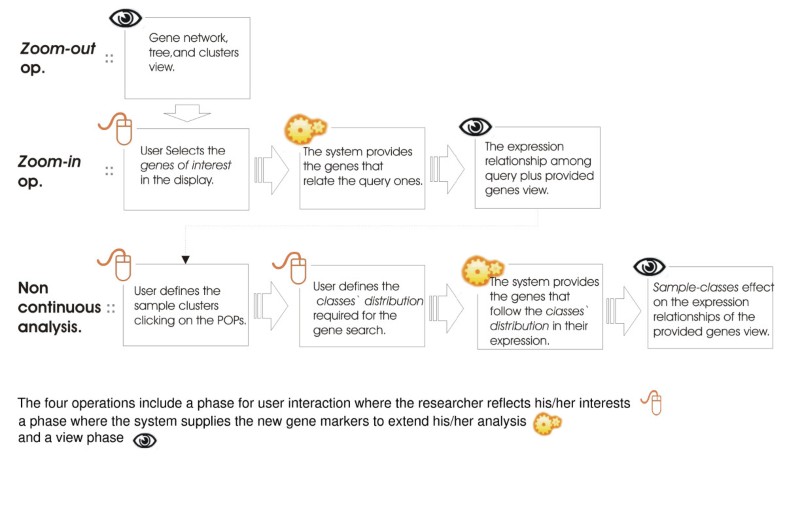 Conclusion
Let us see now how the four described operations are adjusted to the four approaches followed to achieve the progressive analysis towards the holistic perspective.
Through the zoom-in and zoom-out operations, the analysis of the linear and non-linear relationships among gene-expressions are made. With the zoom-in operation, the detailed analysis of the expression-dependence fluctuations is also provided.
Through the non-continuous analysis, the non-continuous relationships among gene-expressions that cannot be detected by linear and non-linear methods can be finally analysed.
The progressive extension of the analysis scope based on researcher's interests are present in all four operations: In the zoom-in operation, the genes linking the query ones are supplied. In the non-continuous analysis, the genes whose expression follows the required class distribution are also supplied and the classes are successively redefined in to subclasses. The access to remote databases enables expanding the analysis beyond the expression relationships.
All of the operations are highly flexible and complementary using the results of one as an input of the next one, thus making the progressive analysis possible. The purpose is to obtain the sample classes and attributes that characterise these classes and, in a roundabout way, characterise the cellular state or phenotype that these classes represent.
With this analysis of the microarray sample conditions divided into classes, we deal with the principal objective of our web application: "Studying the cell behaviour and phenotype changes from a holistic point of view". Note that gene markers of very different processes can be related in all of the operations for extending the analysis (taking advantage of the high-throughput capability of microarray technology). The web application is currently used for tumour study from a holistic point of view, covering fields like cellular stress, cell proliferation, tissue remodelling, mitochondrial activity, oxygen and ROS/NOS levels, cell differentiation and dedifferentiation, membrane polarity, intracellular and extracellular pH levels, circadian rhythms, the inference of the sympathetic and parasympathetic nervous system, metastasis, or interaction with viruses and bacteria.
Availability and requirements
Project name: PCOPGene

Project home page: http://revolutionresearch.uab.es

Operating system(s): Web-based application

Programming language: PHP, Java, flash-script, CGI, C++, Perl, Matlab (interfaces for matlab users).

Other requirements: Mozilla 5.0, sea monkey 1.0, Firefox 1.0 or Explorer 6.0. flash plug-in 7.0 and Java 1.3.1 or higher versions.

License: Free access. Source codes available in the web.

Any restrictions for use by non-academics: we prefer non-profit use.
The server is freely accessible for guest users. However, users are encouraged to fill in a very simple registration form for better privacy and convenience. A PCOPGene-Net tour is provided to describe the application's use, and it is indexed from the application help. For mathematical and computational details, technical reports are also available in the web.
Declarations
Acknowledgements
This research was supported by Grants BFU2004-06377-C02-01 from the MCYT (Ministerio de Ciencia y Tecnología, Spain) and by the Centre de Referència de R+D de Biotecnologia de la Generalitat de Catalunya. The English of this manuscript has been read and corrected by Mr. Chuck Simmons, a native, English-speaking Instructor of English of this University.
Authors' Affiliations
(1)
Institut de Biotecnologia i Biomedicina and Departament de Bioquímica i Biología Molecular, Universitat Autònoma de Barcelona, Bellaterra, Spain
Copyright
© Huerta et al; licensee BioMed Central Ltd. 2009
This article is published under license to BioMed Central Ltd. This is an Open Access article distributed under the terms of the Creative Commons Attribution License (http://creativecommons.org/licenses/by/2.0), which permits unrestricted use, distribution, and reproduction in any medium, provided the original work is properly cited.