Research article

Open Access
Predicting protein-protein binding sites in membrane proteins
BMC Bioinformatics
2009
10:312
Received: 12 May 2009
Accepted: 24 September 2009
Published: 24 September 2009
Abstract
Background
Many integral membrane proteins, like their non-membrane counterparts, form either transient or permanent multi-subunit complexes in order to carry out their biochemical function. Computational methods that provide structural details of these interactions are needed since, despite their importance, relatively few structures of membrane protein complexes are available.
Results
We present a method for predicting which residues are in protein-protein binding sites within the transmembrane regions of membrane proteins. The method uses a Random Forest classifier trained on residue type distributions and evolutionary conservation for individual surface residues, followed by spatial averaging of the residue scores. The prediction accuracy achieved for membrane proteins is comparable to that for non-membrane proteins. Also, like previous results for non-membrane proteins, the accuracy is significantly higher for residues distant from the binding site boundary. Furthermore, a predictor trained on non-membrane proteins was found to yield poor accuracy on membrane proteins, as expected from the different distribution of surface residue types between the two classes of proteins. Thus, although the same procedure can be used to predict binding sites in membrane and non-membrane proteins, separate predictors trained on each class of proteins are required. Finally, the contribution of each residue property to the overall prediction accuracy is analyzed and prediction examples are discussed.
Conclusion
Given a membrane protein structure and a multiple alignment of related sequences, the presented method gives a prioritized list of which surface residues participate in intramembrane protein-protein interactions. The method has potential applications in guiding the experimental verification of membrane protein interactions, structure-based drug discovery, and also in constraining the search space for computational methods, such as protein docking or threading, that predict membrane protein complex structures.
Keywords
Solvent Accessible Surface AreaSurface ResidueResidue TypeRandom Forest ClassifierProtein Data Bank Entry
Background
Integral membrane proteins constitute a significant fraction of all proteins in sequenced organisms and also are targets of slightly more than half of all current drugs [1, 2]. Similar to non-membrane proteins, many membrane proteins form complexes in order to carry out their biological function. Structural details of these protein-protein interactions can aid in generating experimentally verifiable mechanistic hypotheses for the relevant complexes and also can form a basis for the structure-based discovery of therapeutics to modulate these interactions. However, high-resolution experimental structures of membrane protein complexes are relatively scarce (< 1% of all Protein Data Bank structures), due to technical difficulties in obtaining X-ray or NMR structures [3]. Also, even with an available structure, the annotation of the biological complex in the Protein Data Bank (PDB) file may be incorrect [4]. Furthermore, even as new techniques are developed to speed up the experimental determination of membrane protein structures, the combinatorial nature of protein-protein interactions precludes solving the structures of all possible protein complexes from an organism's proteome.
Computational methods can address these challenges by providing predictions of which residues on the protein surface participate in protein-protein interactions. These predictions can be subsequently verified by, for example, mutagenesis experiments. The predictions can also be used as constraints for predicting the structure of the protein complex by, for example, protein-protein docking. Existing computational methods for predicting protein-protein binding sites can be broadly classified into those that utilize only 1D sequence information and those that require some information about the 3D protein structure. Sequence-only methods [5–8] have the advantage that they can be applied to proteins for which no experimental structures are available and no close templates can be found for comparative modeling. However, structure provides additional information that helps distinguish binding site residues, such as solvent accessibility and the proximity of residues in 3D space. Because of these additional signals, prediction methods that incorporate this information generally perform better than sequence-only methods, although the use of different data sets and interface residue definitions prevents a direct comparison. Many previous structure-based methods used either scoring functions [9–11], artificial neural networks (ANNs) [12–15], or Support Vector Machines (SVMs) [16–18] trained on various properties within roughly circular surface patches to predict protein-protein binding sites. Two exceptions are a study that limited the predictions to surface pockets [19] and a recent study that used a Random Forest trained on residue types and properties within a sliding 9-residue window for prediction [20].
Here we consider the problem of predicting protein-protein binding sites within the intramembrane region of integral membrane proteins. The previous studies mentioned above were limited to non-membrane proteins, for which considerably more experimental structures are available. Nonetheless, we find that there are currently a sufficient number of structures for training and validating a predictor that achieves accuracy comparable to our previous results for non-membrane proteins [18]. There are large differences in the frequencies of residue types on the surfaces of membrane and non-membrane proteins due to their hydrophobic and hydrophilic environments, respectively. This means that separate predictors, trained only on data from their respective class of proteins (membrane or non-membrane), are needed. The prediction method employs a Random Forest trained on residue frequencies in a multiple alignment of related protein sequences and the evolutionary rates of each site. Random Forest predictions are first made for individual surface residues and then these are averaged over a local surface region in order to arrive at the final prediction. This procedure was found to yield better accuracy than directly including the properties of surrounding residues in the training data, as was done in previous machine learning based methods. In addition, we compared the residue properties between protein-protein binding sites and the remaining surface and also between membrane and non-membrane proteins in order to discern which properties contribute to the prediction in each case. Also, we examined the relative contribution of each property to the overall prediction accuracy and considered examples of predictions for particular membrane proteins.
Prediction Examples
We next briefly examine two examples in which the protein-protein binding site predictions aid in identifying or confirming the correct biologically relevant complex from X-ray structures. Again, cross-validation predictions, in which the predictor was trained on data for dissimilar protein complexes, were used in order to provide a realistic assessment of the prediction performance.
Figure
4
shows the protein-protein binding site prediction for an ammonium transport (Amt) protein from
Nitrosomonas europaea
(PDB entry 3B9W[
34
]). This NeRH50 protein is a rare bacterial homolog of the human Rhesus (Rh) group antigens, RhD and RhCE, and Rh-associated glycoprotein RhAG. Along with the ABO system, the Rh antigens are the most clinically important antigens in blood transfusions. The authors who determined the Amt structure concluded that it is homotrimeric, based on their observation of a tightly packed trimer generated by the threefold crystallographic symmetry axis. Because of the homology between Amt and human Rh50 proteins they suggested that the Rh50 are also homotrimeric, in contrast with earlier experimental studies that concluded that they likely form heterotetramers with RhD or RhCE [
35
,
36
]. As can be seen in the figure, the confidently predicted binding residues on one subunit agree with the interfaces in the proposed trimeric biological complex, thus confirming the conclusion of Ref. [
34
] for the NeRH50 complex. Importantly, the remaining protein surface outside the binding site is also confidently predicted not to contain other binding site residues. Binding site predictions were also made for homology models of RhD, RhCE, and RhD obtained from MODBASE. They showed qualitatively similar results to those for NeRH50, except for a slightly larger predicted binding patch (data not shown). The similar results are probably due to the relatively high sequence similarity (~30-35%) between the human proteins and NeRH50. Although the binding site predictions do not rule out a tetrameric human Rh complex they provide a prioritized list of potential binding site residues that can be experimentally tested.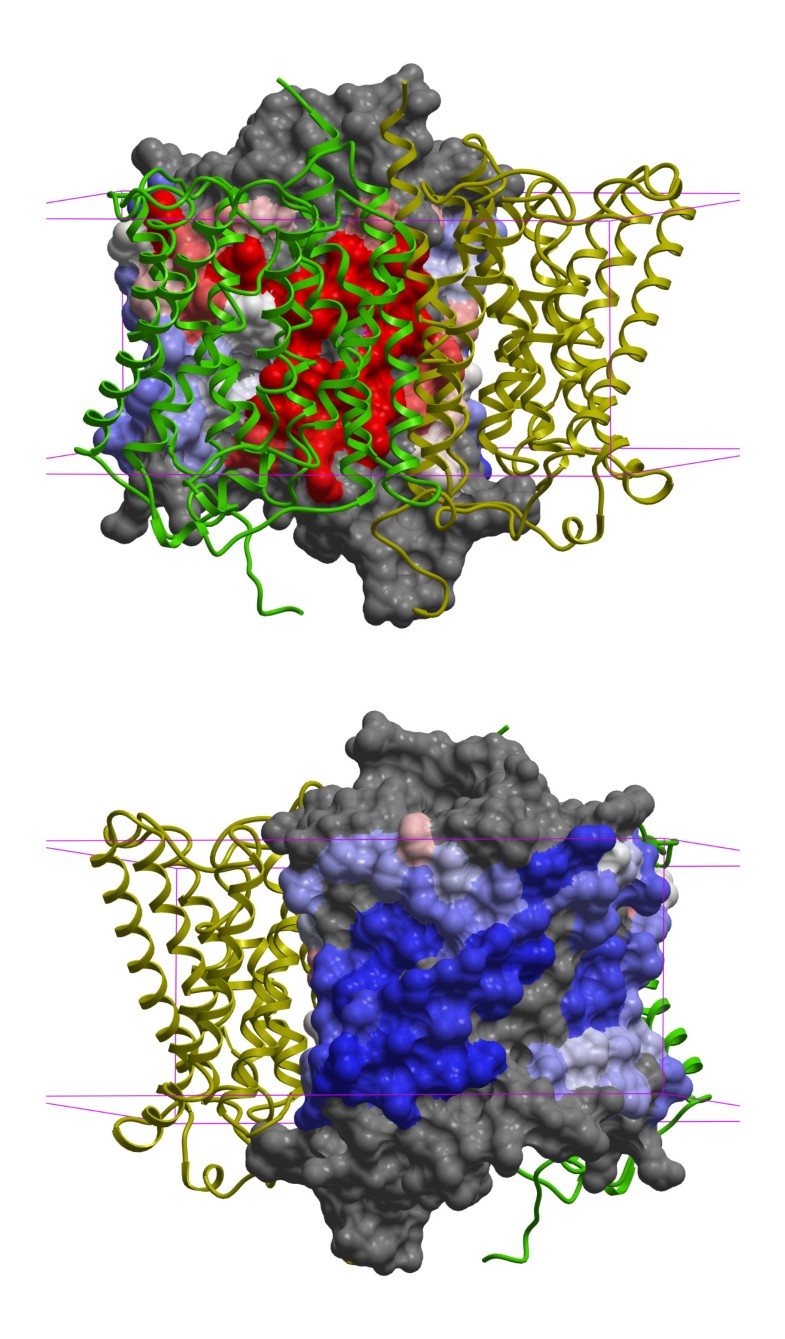 Figure
5
shows the binding site prediction for an archaeal Site-2 Protease (S2P) family intramembrane metalloprotease (PDB entry 3B4R[
37
]). Although a few isolated residues near the membrane-solvent interface have high scores, there are no contiguous predicted binding patches on the intramembrane surface. This implies that the protein is likely to be a monomer and not a homodimer, as the BIOMT annotation indicates. The substrate peptide binding site does not appear in the prediction because it is buried in this presumably closed conformation of the protease. This example also suggests that post-processing to remove small predicted binding site patches, as was done for non-membrane proteins in Ref. [
18
], would remove spurious binding patches,
e.g.
small molecule binding sites, that are too small to be protein binding sites, and so may improve prediction accuracy.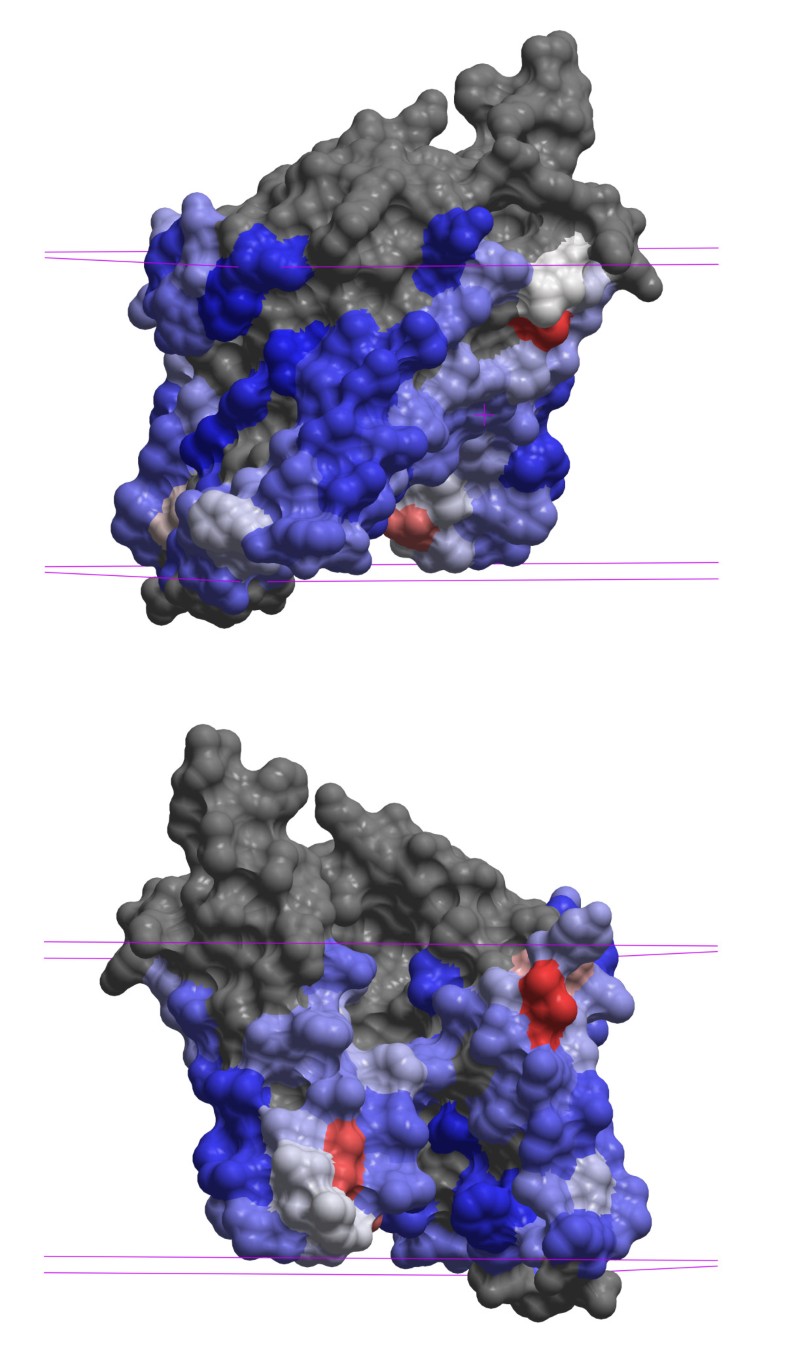 Conclusion
The protein-protein binding site prediction method for membrane proteins described in this study was found to yield accuracy that was comparable to that for non-membrane proteins. Although there are considerably fewer experimental structures of membrane proteins than non-membrane proteins, because the predictions are made for individual surface residues there is a sufficient quantity of independent examples for training a Random Forest classifier that gives accurate results. Also, as expected from the different occurrence frequencies of surface residue types in membrane and non-membrane proteins, a predictor trained on non-membrane proteins gave poor accuracy when applied to membrane proteins. Thus separate predictors for membrane and non-membrane proteins are needed. In addition, a prediction procedure that is different than the ones used in previous studies was found to give better accuracy. Random Forest predictions were first made for individual surface residues and then the resulting scores of nearby residues were averaged in order to arrive at the final prediction score. Predictions could not be made for some proteins due to an insufficient number of related protein sequences needed for the multiple sequence alignment, however this is expected to improve with the rapidly growing number of available protein sequences.
The prediction method presented here is expected to have applications in guiding experimental investigations of membrane protein interactions and also in the prediction of protein complex structures using computational methods such as docking or threading. In addition to these applications, several future areas of investigation are possible. First, because the method relies only on residue-level information, it is expected to give accurate results for homology models, which are generally correct for regions with well-defined secondary structure but often have errors in loops or side chain conformations. A study of the prediction accuracy for homology models of varying quality would help quantify what accuracy can be expected. Second, because the method relies on a multiple sequence alignment of similar sequences, the choice of included sequences can affect the final prediction accuracy. The implicit assumption that the proteins with sequences in the multiple alignment have the same protein-protein binding site, may be incorrect, particularly if distantly related sequences are included. It would be useful to have a method for selecting the optimal set of sequences to include in the alignment. Finally, contiguous binding patches could be calculated from the individual residue predictions. This would then give a lower bound on the number of independent binding sites on the protein surface.
Declarations
Acknowledgements
This work was funded by the Mayo Clinic.
Authors' Affiliations
(1)
Mayo Clinic, Scottsdale, USA
Copyright
© Bordner; licensee BioMed Central Ltd. 2009
This article is published under license to BioMed Central Ltd. This is an Open Access article distributed under the terms of the Creative Commons Attribution License (http://creativecommons.org/licenses/by/2.0), which permits unrestricted use, distribution, and reproduction in any medium, provided the original work is properly cited.