Methodology article

Open Access
Prediction of protein-protein interaction sites using an ensemble method
BMC Bioinformatics
2009
10:426
Received: 15 August 2009
Accepted: 16 December 2009
Published: 16 December 2009
Abstract
Background
Prediction of protein-protein interaction sites is one of the most challenging and intriguing problems in the field of computational biology. Although much progress has been achieved by using various machine learning methods and a variety of available features, the problem is still far from being solved.
Results
In this paper, an ensemble method is proposed, which combines bootstrap resampling technique, SVM-based fusion classifiers and weighted voting strategy, to overcome the imbalanced problem and effectively utilize a wide variety of features. We evaluate the ensemble classifier using a dataset extracted from 99 polypeptide chains with 10-fold cross validation, and get a AUC score of 0.86, with a sensitivity of 0.76 and a specificity of 0.78, which are better than that of the existing methods. To improve the usefulness of the proposed method, two special ensemble classifiers are designed to handle the cases of missing homologues and structural information respectively, and the performance is still encouraging. The robustness of the ensemble method is also evaluated by effectively classifying interaction sites from surface residues as well as from all residues in proteins. Moreover, we demonstrate the applicability of the proposed method to identify interaction sites from the non-structural proteins (NS) of the influenza A virus, which may be utilized as potential drug target sites.
Conclusion
Our experimental results show that the ensemble classifiers are quite effective in predicting protein interaction sites. The Sub-EnClassifiers with resampling technique can alleviate the imbalanced problem and the combination of Sub-EnClassifiers with a wide variety of feature groups can significantly improve prediction performance.
Keywords
Accessible Surface AreaEnsemble ClassifierWeighted VoteImbalanced DataImbalanced Problem
Background
Protein-protein interactions are critical to nearly all aspects of cellular function, such as regulation of metabolic and signaling pathways, immunological recognition, DNA replication and gene translation, as well as protein synthesis [1]. In particular, identifying the binding sites between two interacting proteins provides important clues to the function of a protein and the structural elucidation of protein complexes, thus helps identifying pharmacological targets and guides drug design. Hence, solving the puzzle of predicting the interaction sites is of great significance to molecular recognition.
Many of the existing studies focus on the identification of protein-protein interaction sites with specific physicochemical and geometric characteristics. Binding sites have been widely observed to be more hydrophobic, planar, globular and protruding than outer surfaces [2–6]. Different amino acid compositions have also been found among the interaction sites of homo-permanent complexes, homo-transient complexes, hetero-permanent complexes, and hetero-transient complexes [7]. Interfaces have a significant number of polar residues [8, 9], where usually the interactions are less permanent [10]. Through alanine-scanning mutagenesis, it has been observed that the binding free energy is not distributed equally across these protein interfaces. Residues of interface, protein core, and non-interface surface are found significantly different in sequence entropy and secondary structure [11]. However, secondary structure composition appears to be of little discriminatory power, because neither α-helices nor β-sheets dominate at transient binding sites [12]. Furthermore, evolutionary profiles and conservation score have been used in locating binding sites [13–15] with some success, since the interface core tends to be more conserved than the periphery in both obligate and non-obligate cases [16].
Based on different kinds of characteristics, several machine learning approaches have been proposed for predicting protein-protein interaction sites, such as neural networks [15, 17–19], support vector machines [13, 14, 20–24], Bayesian network [25], hidden Markov models [26] and conditional random fields [27]. For these methods, a local neighborhood or a window is used as input, to predict protein-protein interface residues at a particular amino acid sequence, with a single characteristic or a combination of features, such as hydrophobic distribution, residue composition, sequence profile, evolutionary conservation, accessible surface area, structural conservation score, and so on.
Although much progress has been made, the problem of predicting interaction sites is still far from being solved. There are several reasons for this difficulty. Firstly, specific biological properties for precisely identifying protein-protein interaction sites are not fully exploited [28], no single parameter can absolutely differentiate interfaces from other surface patches [22, 29]. For example, hydrophobicity is an average characteristic of interacting surfaces in homodimers, but has only limited power of predicting interaction sites in some types of complexes. A number of studies have attempted to combine more than one of these characteristics discussed above. Secondly, the existing techniques, which use conventional orthogonal encoding or information derived directly from the amino acid sequences as input to predict the protein-protein interaction residues, are similar in performing string analysis on protein sequences [23]. Thirdly and also most importantly, the imbalanced problem exists widely in protein interaction site prediction because the number of interacting sites of a protein is usually much smaller than that of non-interacting sites [28]. The imbalanced data tends to cause over-fitting and poor performance, in particular on the interacting class. To solve the imbalanced problem, a series of solutions have been proposed at both algorithmic and data levels, including one-class learning algorithm, feature selection, and resampling technique.
Recently, Zhao et al. [30] proposed a new algorithm with a hybrid sampling technique and a committee of classifiers, which have been successfully applied to protein homology detection. Chen and Jeong [28] developed a random forest-based integrative model, which consists of multiple decision tree predictors with randomly selected variable subsets. Improved performance was achieved in comparison with two other sequence-based methods [13, 31] by aggregating the predictors. In this study, inspired by the methods used by Zhao and Chen, we propose a hybrid approach, which incorporates bootstrap resampling technique, SVM-based fusion classifiers and weighted voting strategy, to overcome the imbalanced problem and consequently improve the performance of protein interaction sites prediction. Also, a wide variety of features are extracted from amino acid sequences and structures. They are grouped into four categories and transformed by two methods. Therefore, a total of eight different feature spaces are obtained to further improve the performance of the hybrid approach. The experiments, using a 10-fold cross validation procedure on 99 polypeptide chains, produce promising results and validate the effectiveness of the proposed approach.
Methods
Datasets
The datasets used in this study are quite similar to those in the works by Chen and Jeong [28]. Firstly, the individual proteins are extracted from a set of 70 protein-protein heterocomplexes used in the study of Chakrabarti and Janin [32]. Proteins with sequence identity less than 30% are subsequently obtained after removing redundant proteins and molecules with less than 10 residues. Some proteins that are not available in HSSP [33] and DSSP [34] programs are also omitted. As a result, 99 polypeptide chains are extracted from 54 heterocomplexes, which can be grouped into six categories according to the scheme of Chakrabarti and Janin [32]. The categories and the number of representatives in each category (the values in the parentheses) are as follows: antibody antigen (29), protease-inhibitor (19), enzyme complexes (14), large protease complexes (8), G-proteins (13) and miscellaneous (16). The surface residues are defined based on their relative solvent accessible surface area (RASA), which is calculated by the DSSP program [34]. A residue is considered as a surface residue if its RASA is greater than 25%. A total of 13,771 surface residues are collected from all these polypeptide chains. Furthermore, a surface residue is defined to be an interface residue if its calculated ASA in the complex (CASA) is less than that in the monomer (MASA) by at least 1Å2 [8]. By this way, the number of protein-protein interaction sites is about 10% (2,828 residues) of the whole set of residues contained in the selected polypeptide chains (27,442 residues). Therefore a total of 2,828 interaction sites are obtained as positive samples and 24614 non-interface residues are defined as negative samples (Additional file 1: Dataset).
Evaluation measures
The performance of the proposed ensemble method is measured using 10-fold cross-validation. Each data set is randomly divided into ten subsets with an approximately equal number of polypeptide chains. Each classifier is trained and tested ten times with one dataset. And for each time, nine subsets are used as training data and the remaining subset is used as test data.
Some widely used measures in information retrieval research are adopted in this study, such as sensitivity (recall), specificity, correlation coefficient (CC) and AUC (area under ROC curve) score. These measures are defined as follows:
where the TP, FP, TN and FN are abbreviations of the number of true positive, the number of false positive, the number of true negative and the number of false negative, respectively. The AUC score is the normalized area under the ROC curve. The ROC curve is plotted with true positives as a function of false positives for various classification thresholds.
Feature extraction
In our experiment, a wide variety of characteristics are selected for the protein interaction sites classification, including physicochemical features, evolutionary conservation score, information entropy, position-specific scoring matrices (PSSMs), solvent accessible area (ASA), normalized atom contacts (NC a ) and normalized residue contacts (NC r ).
Sub-Ensemble classifiers
In this section, we first present a component ensemble classifier, namely
Sub-EnClassifier
, to effectively utilize every feature space and to handle the imbalanced classification problem. Figure
1
shows the overview of the proposed component ensemble classifier. As in most cases, the number of non-interaction sites (majority class) is much more than that of interaction sites (minority class), and the ratio of sizes between them is usually larger than three. To deal with the imbalanced problem, the Sub-EnClassifier uses an ensemble of
m
classifiers and decision fusion technique on the training set of each feature space. An asymmetric bootstrap resampling approach [
47
,
48
] is adopted to generate subsets for all component classifiers. It performs random sampling with replacement only on the majority class so that its size is equal to the number of minority samples, and keeps the entire minority samples in all subsets.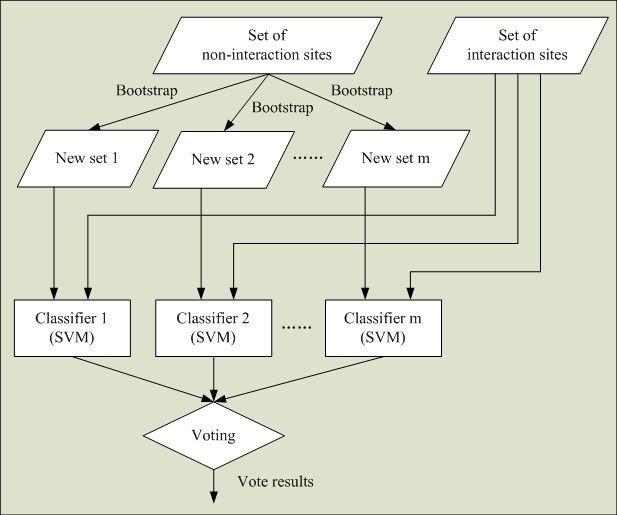 In the first step, the majority class of non-interaction sites is under-sampled and split into m groups by random sampling with replacement, where each group has the same or similar size as the minority class of interaction sites. After the sampling procedure, we obtain m new datasets from the set of non-interaction sites. Each of the new dataset and the set of interaction sites are combined into m new training sets. Then, we train m classifiers by using the m new training sets as inputs, with one classifier corresponding to one training set. Each of these classifiers is a Support Vector Machine (SVM). Here the LIBSVM package 2.8 http://www.csie.ntu.edu.tw/~cjlin/libsvm/ is used with radial basis function as the kernel. Finally, a simple majority voting method is adopted in the fusion unit, and the final result is determined by majority votes among the outputs of the m classifiers for further processing with 10-fold cross-validation.
Combination of Sub-Ensemble classifiers of different feature spaces with weighted voting
Since there are eight different feature spaces established by the four feature groups and the two transform methods, for each feature space, we generate a Sub-EnClassifier. Figure
2
is the schematic diagram for an ensemble classifier that combines eight Sub-EnClassifiers. The final output of the ensemble classifier is the weighted fusion of the outputs produced by the eight individual Sub-EnClassifiers. Suppose the ensemble classifier
ℂ
(called
Ensemble-1
) is expressed in Equation (
6
), where
ℂ
1,
ℂ
2,
⋯
,
ℂ
8 represent the eight Sub-EnClassifiers, the symbol
⊕
denotes the fusing operator.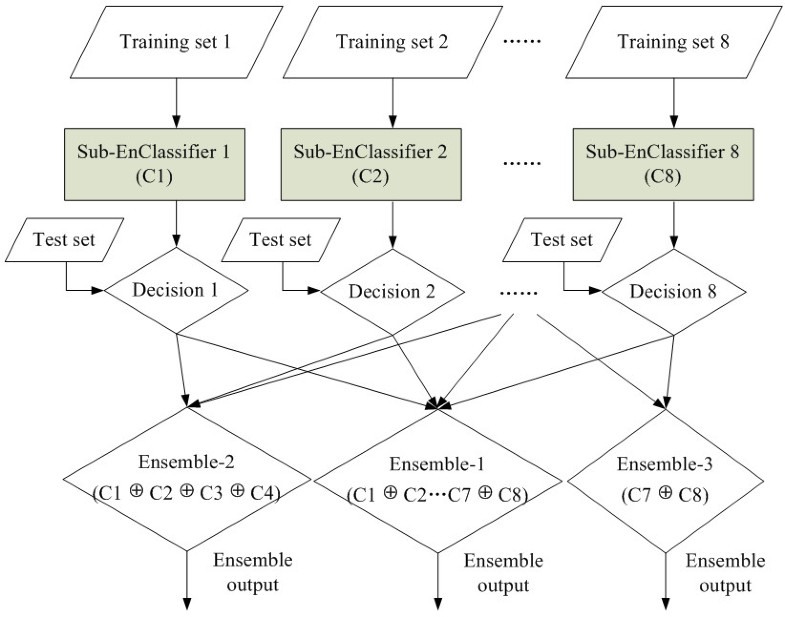 Concretely, the process that the ensemble classifier ℂ (Ensemble-1) works by fusing the eight Sub-EnClassifiers ℂi (i = 1,2, ⋯, 8) can be formulated as follows:
where w j is the weight of the j-th Sub-EnClassifier, P j indicates the prediction made by the j-th Sub-EnClassifier.
In order to get proper weight parameters (w j ) that would result in a classifier with good predicting performance, a restricted grid search method is introduced in this work. Comparing with many other optimization algorithms, the grid search may find a global, rather than a local, optimum, but it might be rather costly in computation time. We develop a restricted grid search strategy to select the values of these eight weight parameters. The principles of this strategy are: (1) the weight of any Sub-EnClassifier can only take the values from 0 to 1, with a step of 0.05; and (2) the sum of the weights of all eight Sub-EnClassifiers should be equal to 1. With the two restrictions, the search space for the eight parameters is effectively limited to a reasonable size. To evaluate the performance of the ensemble classifier, a two-level 10-fold cross-validation is conducted. For each round in the first level, nine folds of examples are utilized to train the Sub-Ensemble classifiers and the remaining fold is used as test set, based on the test results of which, a second level 10-fold cross-validation is implemented, where nine folds of the test results are used to select optimal parameters for weighted voting and the remaining test results are used to test.
In some occasions, the evolutionary information cannot be obtained if no homologue of the query protein is found. On the other hand, the structure information is often unavailable for many proteins since the number of proteins with known structures is much smaller than that of proteins with known sequences. To handle the problem of incomplete or missing data, two special ensemble classifiers are designed. The sequence-based classifier (called Ensemble-2) uses the first four feature spaces that contain no structure-based feature, formally, ℂ1⊕ℂ2⊕ℂ3⊕ℂ4, and the Ensemble-3 utilizes the last two feature spaces without evolutionary information, that is, ℂ7⊕ℂ8. These two ensemble classifiers are trained in the same way as Ensemble-1.
Conclusions
In this paper, we have shown a novel ensemble method using bootstrap resampling technique to handle the imbalanced problem and SVM-based fusion classifiers to increase the accuracy of classification on protein-protein interaction sites. The novelty of our approach also lies in the way we combine the selected features and the weighted voting strategy for fusing the results of component element predictors (Sub-EnClassifiers). We evaluate the ensemble classifiers and compare them with several other existing methods on the dataset of 99 polypeptide chains with 10-fold cross validation. The results clearly show that the suggested ensemble classifiers are quite effective in predicting protein binding sites. Our classifier achieves a satisfactory AUC rate of 0.86, which is significantly better than that of the compared methods. The experiment results also show that the Sub-EnClassifiers with resampling technique can alleviate the imbalanced problem and the combination of Sub-EnClassifiers with a wide variety of features can significantly improve prediction accuracy. The robustness of the ensemble method is evaluated by classifying interaction sites from both surface residues and all residues in proteins effectively. Moreover, our classifiers can work well in the occasions of missing homologues and structure information, and achieves good AUC scores of 0.83 and 0.79 respectively. Finally, we demonstrate the applicability of our method to drug discovery process by successfully predicting a number of interaction sites in the NS proteins of influenza A viruses. These predicted sites may be utilized as potential drug target sites for developing universal anti-influenza drugs.
For the future work, more effective features and transform methods will be investigated. Other machine learning algorithms such as neural networks, k-NN, decision trees and logistic regression will also be considered in the ensemble classifiers. In addition, the proposed ensemble method can also be applied to other protein classification problems.
Declarations
Acknowledgements
This research was supported by the National Basic Research Program of China under grant No.2010CB126604, the National Natural Science Foundation of China under Grants Nos.60873040 and 60873070, Shanghai Leading Academic Discipline Project No. B114, and the Program for New Century Excellent Talents in University of China (NCET-06-0376).
Authors' Affiliations
(1)
Department of Computer Science and Technology, Tongji University, Shanghai, China
(2)
Shanghai Key Lab of Intelligent Information Processing, Fudan University, Shanghai, China
(3)
School of Computer Science, Fudan University, Shanghai, China
Copyright
© Deng et al; licensee BioMed Central Ltd. 2009
This article is published under license to BioMed Central Ltd. This is an Open Access article distributed under the terms of the Creative Commons Attribution License (http://creativecommons.org/licenses/by/2.0), which permits unrestricted use, distribution, and reproduction in any medium, provided the original work is properly cited.