Semi-supervised gene shaving method for predicting low variation biological pathways from genome-wide data
BMC Bioinformatics
2009
10(Suppl 1):S54
Published: 30 January 2009
Abstract
Background
The gene shaving algorithm and many other clustering algorithms identify gene clusters showing high variation across samples. However, gene expression in many signaling pathways show only modest and concordant changes that fail to be identified by these methods. The increasingly available signaling pathway prior knowledge provide new opportunity to solve this problem.
Results
We propose an innovative semi-supervised gene clustering algorithm, where the original gene shaving algorithm was extended and generalized so that prior knowledge of signaling pathways can be incorporated. Different from other methods, our method identifies gene clusters showing concerted and modest expression variation as well as strong expression correlation. Using available pathway gene sets as prior knowledge, whether complete or incomplete, our algorithm is capable of forming tightly regulated gene clusters showing modest variation across samples. We demonstrate the advantages of our algorithm over the original gene shaving algorithm using two microarray data sets. The stability of the gene clusters was accessed using a jackknife approach.
Conclusion
Our algorithm represents one of the first clustering algorithms that is particularly designed to identify signaling pathways of low and concordant gene expression variation. The discriminating power is achieved by manufacturing a principal component enriched by signaling pathways.
Keywords
Prior KnowledgeSingular Value DecompositionNoonan SyndromeNotch GeneSegmentation Clock
Background
Gene clustering that assigns group membership(s) to each gene is a widespread pattern extraction technique. Genes sharing the same membership are often hypothesized to be regulated by the same defined or undefined genomic influence, such as cellular pathway. Model-free clustering techniques such as K-means and hierarchical clustering [1–3] are widely used. One limitation of these approaches, as pointed out by many researchers, e.g. [4], is that each gene can only belong to a single cluster. These types of gene clustering algorithms are thus called mutually exclusive clustering. In the context of cellular pathways, they assume that one gene can only be regulated by one pathway at a time, which apparently, is not the case. Model-based clustering or soft clustering [5–8] provides mechanisms to relax this stringent assumption by introducing "probabilistic" or "fuzzy" memberships. However, these "soft" memberships do not biologically account for the fact that one gene is often simultaneously regulated by multiple genomic influences.
Singular value decomposition (SVD) [9–11] has shown great promise towards deconvolving channels of genomic influence. Assuming rows of data matrix correspond to genes and columns correspond to physiological/genetic conditions under which the gene expression abundance was interrogated using gene chips, the SVD factors the data matrix into three matrices. The first matrix, which contains most of information, is called a gene coefficient matrix where each column (principal component, PC) defines a preliminary gene cluster that might be regulated by a specific genomic influence. We will describe more details of SVD in the method section. SVD has been repeatedly shown to be able to deconvolve the observed gene expression signal into a composite of multiple overlapping genomic influences, many of them correspond to signaling pathways [9, 11].
Thus SVD provides a methodology base for non-mutually exclusive clustering. The gene clusters generated by SVD are often preliminary due to the fact that many non-relevant genes might contaminate the PC's that define gene clusters. Hastie et al [4] proposed removing non-relevant genes in an iterative fashion, in which the least correlated genes with the leading PC is treated as non-relevant. The gene shaving algorithm quickly became an important tool in the pattern discovery arsenal. It iteratively searches for clusters of genes showing high variation across the samples, and correlation across the genes [8]. The former is achieved by working with the leading PC and the latter is achieved by iteratively discarding non-relevant genes to the cluster. There are other types of non-mutually exclusive clustering methods as well, such as plaid model [12].
The underlying assumption of the gene shaving algorithm is that the leading PC accounting for the largest portion of variation is always of exclusive interest to the investigator [4, 13]. Consequently the algorithm iteratively refines the first gene cluster defined by the first PC by shaving off a proportion of genes that are least correlated with the leading PC. The second gene cluster is formed by performing the same procedure on the orthogonal data, resulting from the residuals of regression, and so on. However, the underlying assumption that the whole algorithm is based on is not always true for every single case. In fact, gene expression in many signaling pathways show modest but concordant changes. The gene shaving algorithm would most likely to fail in these cases by working exclusively with the leading PC.
Gene set based methods, such as Gene Set Enrichment Analysis (GSEA) were designed to overcome this limitation. Since it's first introduction in 2003 [14], it has been widely applied to interpret genome-wide expression profiles [15, 16]. However, the approach only ranks pre-compiled gene sets according to the relevancy to the data and does not predict any new genes in the gene sets. Therefore, it strictly depends on the availability and validity of a priori defined gene sets. In reality a gene set is not always available in a complete and accurate format. What is typically available is partial pathway learned from empirical experimental studies.
We seek a seamless combination of the strengths of the two methodological frameworks. We manufacture a PC that is most enriched by prior knowledge (signaling pathway of interest). Performing the analysis iteratively we will be able to identify the gene cluster showing modest but concordant changes. In many cases, we are further interested in finding genes that are concordantly up or down-regulated by genomic influences. Therefore, it might be beneficial to turn our attention not only to the PC that the prior knowledge is most enriched, but also to the positive PC and the negative PC separatively. The hypothesis can be substantiated by previous works that positive and negative PC's can be enriched by completely different biological functions, e.g. [11].
In our work, we eliminate non-relevant genes iteratively following and improving the procedure used in the gene shaving algorithm [
4
]. In each iteration, a weighted average expression profile was calculated and used as the seed profile to rank genes. With the heuristic removal of non-relevant genes at the beginning of the iterations, and some relevant genes by the end, the enrichment of prior knowledge has seen a sharp increase, followed by a gradual decrease. We then propose a trace-back step to retrieve the gene cluster in which enrichment of prior knowledge is maximized (Figure
1
).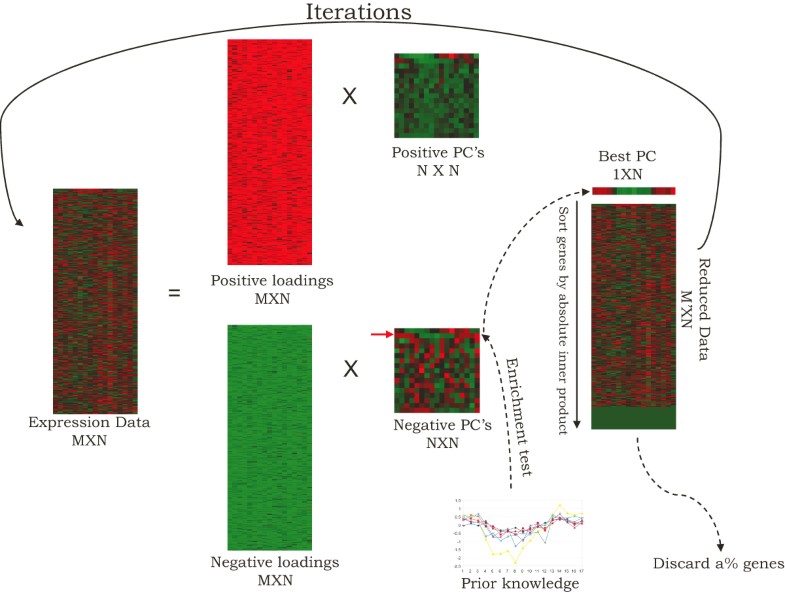 Results
We aim to demonstrate that the proposed algorithm is capable of identifying tightly regulated gene sets showing modest and concerted variation using incomplete prior knowledge and real-world microarray data set. Ground truth, which indicates a "complete" gene set used as precondition for applying GSEA algorithm [14, 16], is desirable to demonstrate the claimed advantages of our algorithm. It is often not available. Therefore, we use four "high-amplitude" and four "low-amplitude" gene sets identified in [17] as ground truth to evaluate the ability of our algorithm to recover them using subsets of a variety of lengths. The high and low amplitude genes used in this example are well-studied genes in the cell cycle, and many of them are co-regulated by a number of signaling pathways [17, 18]. We then use incomplete prior knowledge supplied by our collaborator and apply our algorithm to predict new WNT and NOTCH pathway genes in the somitogenesis process.
Recovering low and high amplitude gene sets using incomplete prior knowledge
As a proof of concept, we first analyzed a cell cycle data set originally reported in [17]. The data set consists of whole yeast genome expression profiles interrogated over two full cell cycles (20 evenly spaced time points) synchronized by elutriation. We considered the same 308 genes as in the paper derived using Fourier transform. In each of the four gene sets, genes were further classified into high-amplitude and low-amplitude groups according to magnitude of variation. The processed data are available from the authors' website at [19].
We treated the high-amplitude genes and low-amplitude genes in each gene set as "complete", as assumed in classical GSEA analysis. We sampled subsets of increasing sizes from 5 to complete (e.g. 40) with a step size of 5. In each step experiment, we generated 500 subsets of the same size (with replicates), and for each subset we applied our algorithm to demonstrate its ability to recover the full gene set using the hypergeometric test explained in method section. The P-values of the tests were used as a measure for such an ability. For visualization convenience, the P-values were negatively log-transformed and higher value corresponds to better recovery of the complete gene set.
The high-amplitude and low-amplitude complete gene sets were plotted in Figure
2a
(upper panel of Figure
2
). In both Fig
2b
(lower left panel of Figure
2
) and Fig
2c
(low right panel of Figure
2
), the ability of recovering the complete gene set (ground truth) was plotted against the increasing subset size respectively. The observed monotonic increase indicates that the larger the subsets (prior knowledge) are, the more capable of recovering the complete gene set. It is worth mentioning that Figure
2b
demonstrates the capability of our algorithm to recover low-amplitude gene set, and Figure
2c
demonstrates the capability of the gene shaving algorithm [
4
] to recover high-amplitude gene set.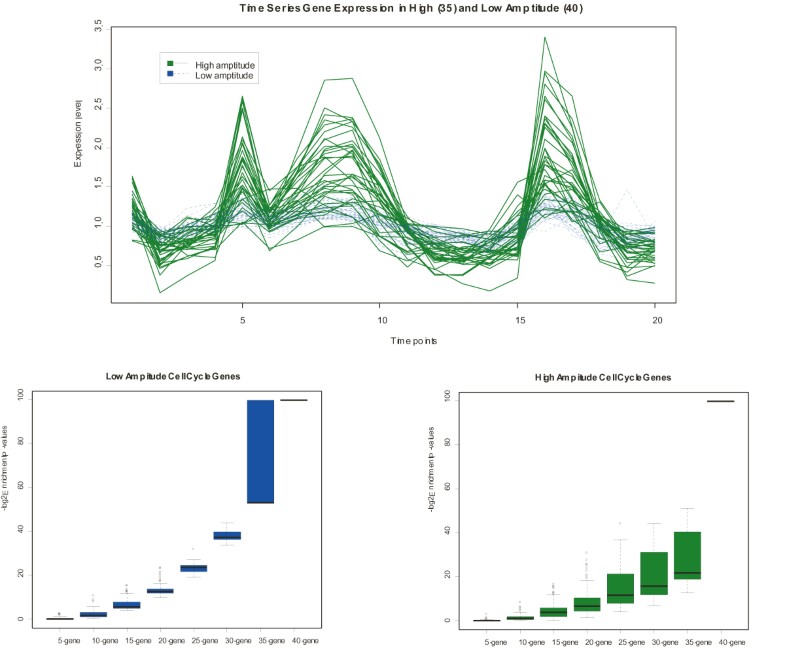 Our algorithm can be viewed as an generalization of the gene shaving algorithm. Gene shaving algorithm exclusively works with the leading PC. Therefore, it is only capable of identifying high-amplitude signaling pathways. Our algorithm adaptively works with the PC that is most enriched by prior knowledge. Therefore, it is capable of identifying either high-amplitude or low-amplitude signaling pathways wherever prior knowledge is available. Comparing Figure 2b to Figure 2c more closely, it is evident that our algorithm recovers low-amplitude gene sets even better than gene shaving algorithm recovers high-amplitude ones. This is demonstrated by uniformly larger mean values and overall smaller variance on the vertical axis. The results of analyzing other complete gene sets of appropriate size lead to the same conclusion (see additional file 1). The proof-of-concept analysis provided compelling evidence that our algorithm is particularly suitable for identifying sets of tightly regulated genes with modest variation.
Predicting WNT and NOTCH pathway genes using prior knowledge
Discussion
With exception of a few recent works [26–28], most clustering algorithms these days are non-supervised in the sense that prior knowledge is not properly utilized to guide the learning process. Instead prior knowledge is often used in the post-learning phase in that researchers predict functions of unknown genes based on genes of known functions lying in the same cluster. The traditional gene shaving method focuses on the leading PC that accounts for most of variation in the data. On one hand, it is useful in discovering high variation pathway genes [4, 29], on the other hand, it tends to overlook essential pathway genes that have modest expression variation. We hypothesized that highly concerted expression behavior of these genes, albeit modest in variation, may help shape its pattern out of the noisy microarray data using appropriate analysis techniques, i.e., SVD.
The main contribution of this work is that we proposed an optimization algorithm combining the strengths of gene set based analysis and iterative gene selection. The iterative fashion inspired from the gene shaving algorithm allows distilling desired gene cluster using prior knowledge, while the latter enables us to discover gene clusters of modest and concerted expression change. The PC's that define gene clusters group a series of tightly regulated genes ranked by variance over samples. The orthogonality as specified in SVD analysis indicates those gene clusters of different variation were regulated by orthogonal defined or undefined genomic influences (Table 1 of [11]).
Our method is particularly suitable for identifying gene clusters with modest and concerted expression change, therefore it is not limited to identify periodically expressed gene clusters. When there is no prior knowledge available, the optimization process can be done through optimizing the enrichment of interesting Gene Ontology (GO) vocabulary, for example, somitogenesis [GO:0001756]. The technique for testing enrichment of GO term is very similar to that was used here, also see review in [30]. A recursive dendrogram can be constructed as a foundation to generate overlapping gene clusters, from which the optimal clusters can be identified and retrieved according to the enrichment of the interesting GO term(s) [3].
Conclusion
Our algorithm represents one of the first clustering algorithms that is particularly designed to identify signaling pathways of low and concordant gene expression variation. The discriminating power is achieved by manufacturing a principal component enriched by the prior knowledge.
Methods
Singular Value Decomposition
Assume the gene expression data is in the matrix format
X
p × n
, where rows (
p
) correspond to genes and columns (
n
) correspond to conditions under which gene expression abundance were interrogated. Singular value decomposition (SVD) of the rectangular matrix
X
can be expressed as follows:
where
U
p × n
is the gene coefficient, and
U
ij
is the contribution of
i
th
,
i
= 1, ...,
p
, gene to the
j
th
,
j
= 1, ...,
n
, PC. If we correspond each
U
j
to a genomic influence
j
, then
U
ij
defines how much the gene
i
is regulated by the genomic influence
j
.
S
n × n
is the singular value matrix, where the diagonal contains list of singular values, and the magnitude of singular values corresponds to percentage of variation explained by each PC. stores PC's [
9
,
10
]. We then separated positive PC's from negative PC's according to the signs of entries in
U
p × n
, i.e.,
Refer to supplemental figure 1 for a schematic illustration of the procedure. As shown in later data analysis examples, the separation operation is the key to enhance the prior knowledge enrichment level and to differentiate between antiphased WNT and NOTCH clusters.
Testing gene coefficients
Smaller fraction numbers of
U
ij
may indicate the contribution of
i
th
gene to
j
th
PC is negligible. We used a cut-off value that was originally used in [
10
] to test the vanishing of
U
ij
(similar to a 3
σ
statistical significance):
Each element in and is compared to the value , where n is the number of genes and p is a weight factor whose recommended value is 3. If the magnitude of the element in and is greater than , the corresponding gene is determined to contribute significantly to the PC's. Alternatively the list of genes that are significantly up-regulated or down-regulated by the underlying genomic influence corresponding to each PC.
Enrichment test
For each PC
j
, suppose there is a gene set
K
of
k
genes that
U
ij
is not 0, and for a biological pathway, suppose there is a prior knowledge gene set
M
of
m
genes in known in the pathway. Also assume there are
n
genes NOT in the pathway, and
x
is the number of common genes shared by
K
and
M
. The probability of observing exactly
x
common genes is:
In order to estimate the probability of observing
x
common genes or more is purely due to chance, we test the following one-sided hypothesis:
where is a parameter corresponding to the probability of genes in the prior knowledge belonging to the PC, and is a parameter corresponding to the probability of genes not in prior knowledge belonging to the PC. Under H0, the test statistic x follows a hypergeometric distribution with known parameters m, n and k.
The
P
-value is then defined as the probability of observing
x
or more overlaps given
H
0
is true. Therefore, it is calculated as follows:
Semi-supervised gene shaving algorithm
1: Start with the centered data matrix X that each row has zero mean
2: while TRUE do
3: Singular value decomposition
4: for all column of and do
5: if column elements are greater than a cut-off then
6: NO change
7: else
8: Set to 0
9: end if
10: end for
11: for all Gene sets correspond to each columns do
12: Test enrichment of prior knowledge in each gene set
13: end for
14: if Two or more columns that are most enriched with prior knowledge exist then
15: Break
16: else
17: Retrieve the best PC that are most enriched by prior knowledge
18: end if
19: Sort genes according to absolute correlation with the best PC
20: Discard α% least correlated genes (α = 10% followed from [4])
21: Assign the reduced data matrix to X
22: end while
23: Trace-back to retrieve the best gene cluster
As shown in the above Algorithm and Figure 1, the algorithm iterates until there are two or more most enriched PC's coexisting as defined by prior knowledge. The iterations stop here since we don't yet know a good way to further reduce the size of the cluster. Inconsiderate reduction might cause a loss of important genes. There are two ways of tracing back to retrieve the best gene cluster. One is to find the smallest cluster containing all prior knowledge, another is to find the cluster in which the enrichment of prior knowledge optimized. We chose the latter because it does not rely on the assumption that all prior knowledge need to be accurate. In fact, each gene coefficient can be used to measure the relative importance of genes in forming the cluster pattern. Genes in prior knowledge that help shaping out patterns receive higher weight, otherwise receive lower weight.
Stability analysis of gene clusters – a jackknife approach
Jackknife approach, e.g. "leave-one-out", is a resampling approach that is frequently used to access the stability of an estimator such as enrichment studied here. Suppose we wish to estimate enrichment parameter (
η
) as a complicated statistic (
T
) of
n
genes in prior knowledge as well as ,
Let
j
th partial estimate of
η
be given by the estimate computed with gene
i
removed,
The jackknife estimate of
η
is given by the average of the pseudovalues [
31
],
An approximate sampling error for can be obtained as the following [
31
]:
Likewise, an approximate (1 -
α
)% confidence interval is given by [
31
],
where tα/2, n-1satisfies Pr(t n ≥ tα/2, n-1) = α, with t n denoting a t-distributed random variable with n degree of freedom.
Declarations
Acknowledgements
DZ is supported by Research Start-up Grants from the University of New Orleans and Research Institute for Children of Children's Hospital New Orleans.
This article has been published as part of BMC Bioinformatics Volume 10 Supplement 1, 2009: Proceedings of The Seventh Asia Pacific Bioinformatics Conference (APBC) 2009. The full contents of the supplement are available online at http://www.biomedcentral.com/1471-2105/10?issue=S1
Authors' Affiliations
(1)
Department of Computer Science, University of New Orleans, New Orleans, USA
(2)
Research Institute for Children, Children's Hospital, New Orleans, USA
Copyright
© Zhu; licensee BioMed Central Ltd. 2009
This article is published under license to BioMed Central Ltd. This is an open access article distributed under the terms of the Creative Commons Attribution License (http://creativecommons.org/licenses/by/2.0), which permits unrestricted use, distribution, and reproduction in any medium, provided the original work is properly cited.