A new classification method using array Comparative Genome Hybridization data, based on the concept of Limited Jumping Emerging Patterns
BMC Bioinformatics
2009
10(Suppl 1):S64
Published: 30 January 2009
Abstract
Background
Classification using aCGH data is an important and insufficiently investigated problem in bioinformatics. In this paper we propose a new classification method of DNA copy number data based on the concept of limited Jumping Emerging Patterns. We present the comparison of our limJEPClassifier to SVM which is considered the most successful classifier in the case of high-throughput data.
Results
Our results revealed that the classification performance using limJEPClassifier is significantly higher than other methods. Furthermore, we show that application of the limited JEP's can significantly improve classification, when strongly unbalanced data are given.
Conclusion
Nowadays, aCGH has become a very important tool, used in research of cancer or genomic disorders. Therefore, improving classification of aCGH data can have a great impact on many medical issues such as the process of diagnosis and finding disease-related genes. The performed experiment shows that the application of Jumping Emerging Patterns can be effective in the classification of high-dimensional data, including these from aCGH experiments.
Keywords
Support Vector MachineClassification PerformanceComparative Genome HybridizationDecision TableUnbalanced Data
Background
Introduction
Array-based Comparative Genomic Hybridization (aCGH) is a powerful technique used to detect DNA copy number variations (CNV) across the genome. One of the most important aims of this technique is diagnosis, which can be achieved with help of classification of aCGH data.
One of the most important problems with the classification of aCGH data is dealing with a great number of attributes, which often exceed the number of given samples. In a typical experiment one can deal with dozens of samples, while microarray may consist of millions of spots. It is a real challenge to select from the huge amount of data the most interesting features, while most of them are not related to the given classification problem.
In reference to this issue, reduction of the dimensionality of data by applying feature elimination algorithms has been proposed in the previous works [1, 2]. One of the most interesting approaches, which is based on interval merging, has been presented in [1]. Unfortunately, the solution described by the authors contains some fallacies, which result from an improper mix of training and test data in their algorithm. In the Methods section, we revise interval merging approach and we propose a new corrected version.
The other problem of processing aCGH data is the unbalance in class distribution. For instance, it is quite common that the number of samples from one class exceeds by several times the number of samples from the other class. This makes classification much harder, and most of algorithms assume an uniform class distribution.
Moreover, very often, one specified class is much more important than others. Let's suppose, we want to distinguish two groups of individuals: healthy and unhealthy. We will concentrate more on unhealthy class. The mistake made by classifying the unhealthy as healthy (False Negative) is more costly than an opposite mistake (False Positive). It implies the necessity of being careful in analysing and comparing the quality of classification models.
On the other hand, it is common in practice, that researchers present the results of classification performance by showing only the accuracy [2, 1, 3]. Obviously, it is an insufficient measure, when unbalanced data are given. This problem is discussed more deeply in the Results and Discussion section. Obviously, the wrong assumption about evaluation measures leads to incorrect conclusions about classifiers performance. In this paper, we show that the classification methods considered most successful for high-dimensional data extremely decrease their performance dramatically when the samples distribution is out of balance. Therefore we decided to develop a new classification method, which is based on the concept of Jumping Emerging Patterns (JEP). The difficulties of algorithmic design, such as computational complexity and limitations, are explained in detail in the Methods section.
Thanks to very high discriminative power of JEP's, our limJEPClassifier could be more appropriate in classifying aCGH data than other methods. In order to compare our new algorithm to SVM [4], we prepare an experimental pipeline, precisely described in the section Methods. Finally, in the Results and Discussion section, we present the results of this comparison.
In the following section, we present details of aCGH technology.
aCGH technology
Comparative Genome Hybridization (CGH) is a technique which allows for detection of segmental DNA copy number changes (CNC's) [5–7]. Recently, CGH has been widely used in many medical applications. In particular, it helps in the diagnosis of cancer [8] or genomic disorders [9], improves our knowledge about genes responsible for diseases and advances studies on personal genomic differences between humans [10].
In array-based CGH (aCGH) experiment, two differentially labeled samples are co-hybridized to targets, where the copy number between the two samples is reflected by their signal intensity ratios. In Figure
1
we present essential steps in this technique.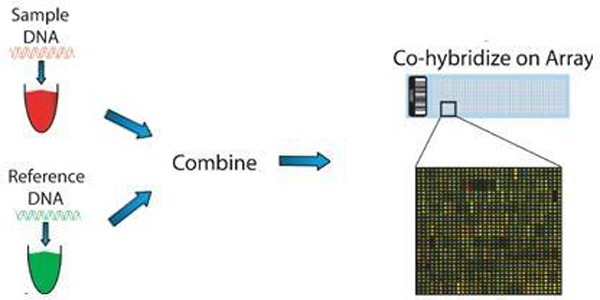 Through the years, the technology was upgraded to obtain a higher resolution by reducing length of DNA targets (probes). Nowadays, some aCGH platforms (e.g. oligonucleotide aCGH) support arrays with more than 1,000,000 probes.
Another kind of technique is SNP arrays (single nucleotide polymorphism), which differs from aCGH technology by its higher resolution. It allows to detect very small DNA changes.
Because of the huge amount of data, which are processed in aCGH experiments and some imperfections in technology, it becomes necessary to use the wide range of informatics and statistical tools at each stage of the analysis.
The first algorithmic challenge appears already in the preparation step. The issue is how to choose suitable probes, which will not cross-hybridize with other targets in the array. In this context several approaches have been proposed [11, 12].
The next problem is related to the post-processing of signal data obtained from microarray. Because of many circumstances, which may affect results, it is essential to perform a normalization procedure, described in [13].
To obtain more clear results, smoothing, segmentation and aberration calling are usually used [2, 14–16]. Nowadays, it is the most investigated area of aCGH analysis.
As we mentioned above, aCGH data is used in a diagnostic process. At this point a classification method has to be applied. In several papers, it has been suggested that the most accurate is a Support Vector Machine (SVM) [4]. In the next sections, we will evaluate this statement, by comparing SVM to our new classifier based on Jumping Emerging Patterns.
Related works
In recent works, we have found a lot of information about processing aCGH data, such as smoothing and clustering [2, 14–16]. However, there are many fewer papers, which deal with a classification problem.
In [17] and [18] the classifications of combined data (aCGH and gene expression or steorological data) are considered.
Another work [3] investigates the tumor classification based on DNA copy number aberration determined using SNP arrays. In that paper three classification methods: Naive Bayes, K-nn, and SVM have been tested with a varying number of features. Although the K-nn achieved the best leave-one-out cross-validation accuracy, the performances of other methods were comparable. The second conclusion of this work was that the best performance of classifiers was achieved when 5–30 features were selected. This fact reveals the importance of feature reduction algorithm in the classification of high-dimensional data. A new feature elimination methods for cancer classification using aCGH data have been proposed in the article [1]. Authors introduce a feature reduction algorithm based on an Interval Tree. In order to prove its efficiency, they compare the performance of a SVM classifier on two types of data: 1) raw log2ratio data; 2) data processed by their feature reduction algorithm. The results show that their approach led to a significantly better classification. Although the feature reduction procedure described by authors seems to be very useful, we have to point out some fallacies that we have found in their argumentation.
The first problem concerns the improper use of cross-validation. The cross-validation assumes that at the beginning of each run, data should be split into training and test data sets, and then all the operations before testing step should be done on both sets separately. However, in the system presented in [1], the feature reduction based on Interval Tree was performed on training and testing data together. In other words, the knowledge about test samples is utilized indirectly to train the model, which is clearly improper. The second major drawback of experimental design is that the authors used only one measure to evaluate a classification performance – the accuracy. We assume that it is insufficient and does not show a real classification performance, since one of the tested data sets (TP53) [19], is strongly unbalanced. In our paper, we investigate the same TP53 data set with revised experimental pipeline and more adequate evaluation measures. Beside testing the SVM, we also check our new method – limJEPclassifier.
Results and discussion
Evaluation measures
A typical problem with aCGH data is an unbalanced class distribution. In the case of the considered TP53 data set, the proportion between classes is 14:61. Moreover, the weight of each class is different. The rare class of sick subjects (14 samples) is more significant than the large set of samples of a control group. Traditionally, the rare and more important class is marked as "positive", while prevalent class is called "negative".
When one tries to investigate a classification with unbalanced data, one has to be very careful in selecting the measure of classification performance. In particular, the accuracy alone, is insufficient, because it does not tell us about a performance of predicting the positive class.
The common approaches of deriving alternative evaluation measures are based on confusion matrix, where all tested samples are grouped in four categories: "True positives" (TP), "False positives" (FP), "True negatives" (TN) and "False negatives" (FN), with respect to the classification results.
The sensitivity and the specificity of classifier are defined as follows:
In order to obtain a single measure of classifier performance, the
sensitivity
and the
specificity
can be integrated into the geometrical mean:
Experimental setup
In this section, we present a comparison of two classification methods – SVM and limJEPClassifier. Both algorithms were tested according to the pipeline and on the data set, described in Methods section. We decided to compare our method with SVM, because it is considered to be the best algorithm used for classification of aCGH data and it has been commonly tested in other works. We did not compare our algorithm with other methods based on JEP's, because traditional strategies of JEP's classification are slow and ineffective.
LimJEPClassifier, as well as the whole experimental pipeline were implemented in the R language [29]. In order to process log2ratio data, we used the freely available "aCGH" package, designed to deal with aCGH data. Another popular R package – "e-1071" was used to perform tests with SVM classifier.
Classifiers were tested with cross-validation where the training to test data ratio was 80%. In order to investigate the influence of the thresholding procedure on the classification results we performed the two runs of experiment with different pairs of positive and negative threshold values: (0.25, -0.25) and (0.5, -0.5). For each pair of threshold levels the cross-validation was repeated 10 times with various numbers of selected features (10, 20,..., 100). Note that feature selection, based on both interval merging and information gain approach, were applied under cross-validation.
limJEPClassifier vs SVM
In Figures
3
,
4
and
5
we present the comparison of classification performance of SVM and limJEPClassifier. In each figure the different measure of performance is reported. The (a) and (b) versions of plots correspond to two pairs of threshold levels applied in the experiment.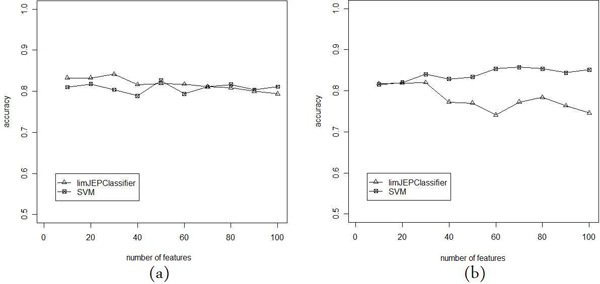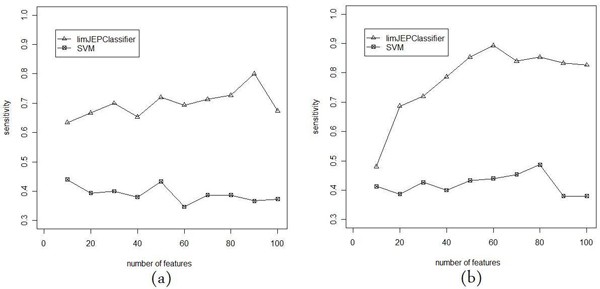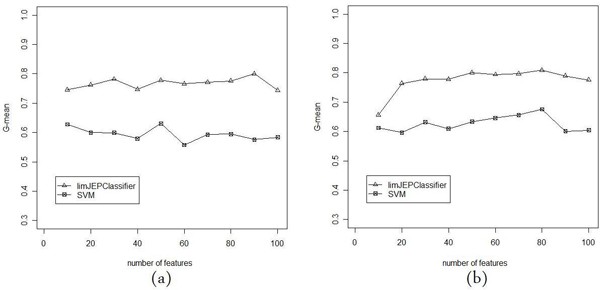 Figures 3a and 3b show the accuracy of classifiers for various numbers of features. In both cases the values change between 0.74 and 0.85. For the threshold (0.25, -0.25) the differences between SVM and limJEPClassifier are negligible. In figure 3b we see that the accuracy is still similar, however, a little supremacy of SVM could be observed.
On the other hand, it is worth noticing that the number of features have a very low impact on accuracy that is not a proper measure of classification performance in the case of unbalanced data. The last observation seems to confirm this statement.
Figures – 4a and 4b, show the comparison of sensitivity which is the performance of a prediction of the class of affected subjects. We can observe from the results that for both threshold levels, limJEPClassifier is much better than SVM. Furthermore, the sensitivity of SVM is below 0.5 which means that the classifier cannot really distinguish between positive and negative class. The other difference between two classification methods is the way how the sensitivity changes along the X axis. In case of limJEPClassifier the sensitivity is relatively low at the beginning and increases with the number of features, while for SVM we cannot observe such a tendency.
The last pair of plots (Figure 5a and 5b) present the G-mean value in which the sensitivity and specificity are included. Like in the previous case, the limJEPClassifier significantly predominated over SVM.
Conclusion
It is clear that improving a classification of aCGH data can contribute to great progress in many medical applications. Unfortunately, because of the imperfections of this technology, low signal to noise ratio and rapidly increasing microarray resolutions, classification still remains a very difficult problem.
In this paper, we have investigated the problem of the classification using DNA copy number data which are characterized by an extremely high dimensionality and unbalanced distribution. We have introduced the concept of limited JEP's and we have shown how they can be applied in aCGH data classification. What is more, we suggest that the performance of a given limJEP level can be measured by analysing the structure of the training data.
To confirm the performance of our approach we have developed an experimental pipeline and we have compared limJEPClassifier with SVM. Experiments have been performed using widely tested TP-53 data set [19]. Although the SVM is considered one of the most successful methods of classifying high-throughput data, limJEPClassifier has revealed a much better performance in predicting the class of sick subjects. The main advantage of limJEPClassifier over SVM is that it deals more effectively with unbalanced data. We have not confronted our results with the previous one, presented in article [1], because we claim they are incomparable. We put it, that both experimental setup and results presentation showed in [1] were done in an improper way.
In this research, we have found out that applying limited JEP's can be useful in aCGH data classification. However, this issue should be investigated more deeply in future studies. It would be interesting to test limJEPClassifier with other data sets. Furthermore, it would be valuable to check the influence of different segmentation methods on the performance of limJEPClassifier.
Declarations
Acknowledgements
We would like to thank Paweł Terlecki, Paweł Stankiewicz and APBC reviewers for their valuable comments, which helped us improve the quality of the paper.
This article has been published as part of BMC Bioinformatics Volume 10 Supplement 1, 2009: Proceedings of The Seventh Asia Pacific Bioinformatics Conference (APBC) 2009. The full contents of the supplement are available online at http://www.biomedcentral.com/1471-2105/10?issue=S1
Authors' Affiliations
(1)
Faculty of Electronics and Information Technology of Warsaw University of Technology, Institute of Computer Science, Warsaw, Poland
Copyright
© Gambin and Walczak; licensee BioMed Central Ltd. 2009
This article is published under license to BioMed Central Ltd. This is an open access article distributed under the terms of the Creative Commons Attribution License (http://creativecommons.org/licenses/by/2.0), which permits unrestricted use, distribution, and reproduction in any medium, provided the original work is properly cited.