Extraction, integration and analysis of alternative splicing and protein structure distributed information
BMC Bioinformatics
2009
10(Suppl 12):S15
Published: 15 October 2009
Abstract
Background
Alternative splicing has been demonstrated to affect most of human genes; different isoforms from the same gene encode for proteins which differ for a limited number of residues, thus yielding similar structures. This suggests possible correlations between alternative splicing and protein structure. In order to support the investigation of such relationships, we have developed the Alternative Splicing and Protein Structure Scrutinizer (PASS), a Web application to automatically extract, integrate and analyze human alternative splicing and protein structure data sparsely available in the Alternative Splicing Database, Ensembl databank and Protein Data Bank. Primary data from these databases have been integrated and analyzed using the Protein Identifier Cross-Reference, BLAST, CLUSTALW and FeatureMap3D software tools.
Results
A database has been developed to store the considered primary data and the results from their analysis; a system of Perl scripts has been implemented to automatically create and update the database and analyze the integrated data; a Web interface has been implemented to make the analyses easily accessible; a database has been created to manage user accesses to the PASS Web application and store user's data and searches.
Conclusion
PASS automatically integrates data from the Alternative Splicing Database with protein structure data from the Protein Data Bank. Additionally, it comprehensively analyzes the integrated data with publicly available well-known bioinformatics tools in order to generate structural information of isoform pairs. Further analysis of such valuable information might reveal interesting relationships between alternative splicing and protein structure differences, which may be significantly associated with different functions.
Keywords
Alternative SpliceProtein Data BankProtein Secondary StructureAlternative Splice EventCassette Exon
Background
Most of the genes in higher eukaryotes contain introns. The presence of many introns in higher eukaryotic genes allows the expression of different proteins (isoforms) in different tissues from a single gene, phenomenon known as alternative splicing. In lower eukaryotes, however, alternative splicing is very rare [1].
It has been estimated that at least 60% of human genes produces alternatively spliced forms [2], but only for a small part of the human genes the alternative splicing variants have been detected, because the regulatory processes which lead to alternative splicing have not been well understood yet. Alternative splicing may be important in understanding cancer, since some cancer-associated genes have alternatively spliced forms which differ from the forms in normal tissues. Generally, aberrant splicing events are responsible for pathologies [3].
Alternative splicing is important also from an evolutionary point of view: different transcripts may be translated in different departments of the cell, in different tissues and at different developmental stages, giving rise to cell, tissue and developmental diversity and specificity; alternative splicing also allows evolution of the gene structure [4]. It has been demonstrated that the alternative first exon plays an important role in protein diversity at cell and tissue level [5, 6].
In a typical alternatively spliced gene most of the exons are constitutive; hence they are always included in the final mRNA transcript. The alternative part is composed by:
skipped exons (cassette exons and mutually exclusive exons): an entire exon appears in some transcripts but not in others;

exon/intron isoforms: the borders of the exon/intron are different, leading to truncation/extension of introns/exons;

intron retentions: an intron is not spliced out (Figure 1).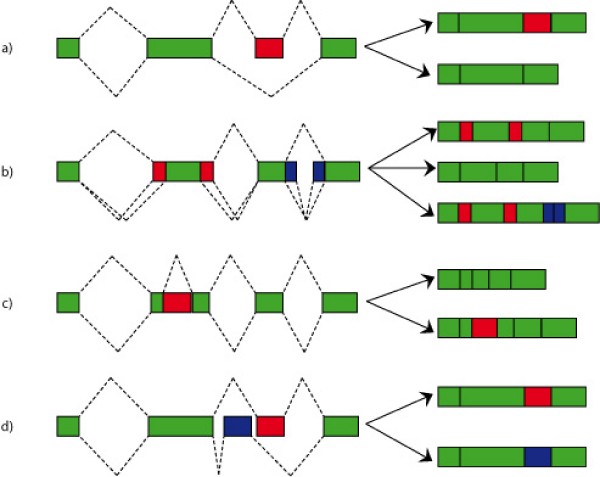 In addition to these, alternative promoters or alternative poly-A tails exist: in this case the coding sequence is the same for all the isoforms, but the untranslated regions may vary, e.g. alternative promoters that involve different transcriptional controls.
There are often functional differences among spliced forms: insertion, deletion or substitution of protein domains by alternative splicing frequently modifies protein function by inserting or deleting functional residues or by substituting the sequence that includes a functional site. Alternative splicing inserts or deletes whole protein domains; it does not occur within protein domains. This can be explained by the fact that exons may reflect domain boundaries, or that natural selection may eliminate meaningless alternative splicing variants which do not result from full domains [7].
To investigate how alternative splicing affects the protein function, it is important to understand whether the protein structure is influenced by the insertion/deletion/substitution of residues. The secondary structure of a protein is determined when special rearrangements result from the folding of localized parts of a protein. Many types of different secondary structures may be present inside the same protein, due to different non-covalent interactions between the residues, e.g. hydrogen bonds produce to alpha helix and beta sheet secondary structures. Averagely, inside a protein 60% of the chain is alpha helix or beta sheet, the other 40% is loop. To date, many different alphabets to define the secondary structure exist; the most commonly used alphabet is the Definition of Secondary Structure of Proteins (DSSP) [8], which includes 8 types of structures: H (alpha helix), B (isolated beta-bridge), E (extended strand, participating in beta ladder), G (3-helix, i.e. 3/10 helix), I (5-helix, i.e. pi helix), T (hydrogen bonded turn), S (bend), and (other).
When analyzing the protein structure, two additional properties are worth to be investigated: accessibility and flexibility. The former is a measure of the static solvent exposure, i.e. the number of water molecules which are in contact with every residue of the protein: the average accessibility of the protein is calculated as the average value over all the residues. The latter, which refers to the vibration of an atom around its rest position, is measured as thermal motion of the alpha carbon of every residue [8].
To automatically extract, integrate, and analyze the alternative splicing and protein structure data sparsely available in different distributed databanks, we created a Web application called Alternative Splicing and Protein Structure Scrutinizer (PASS). In order to build the PASS Web application, we: 1) defined a database schema suitable to store and integrate alternative splicing and protein structure information extracted from the Alternative Splicing Database (ASD) [9], the Ensembl databank http://www.ensembl.org/[10], and the Protein Data Bank (PDB, http://www.rcsb.org/) [11]; 2) developed a software capable of creating and updating the database by automatically retrieving and integrating data from different databanks accessible through the Internet; 3) created a software to analyze the retrieved data and store the results from the analysis inside the database, and 4) designed and implemented a Web interface that allows users to query the database in order to examine the integrated data and use them to evaluate their own gene or protein sets.
Conclusion
The Alternative Splicing and Protein Structure Scrutinizer (PASS) has been developed as a Web application able to make large scale automatic analyses of alternative splicing and protein structures of human genes. PASS can provide numerous results: from the simple analyses of protein sequences (either structural or about alternative splicing), to the extraction of protein structural information, which is the basis for determining the relationship between alternative splicing and protein structure. All data processing and analyses are performed automatically; this allows executing large scale analyses: more than one thousand protein structures have been investigated and results are available in the PASS database. By using them the PASS Web application is able to process all the human genes and proteins required by the user and provide information about the analysis of their structure. The results may be either visual (in form of bar plots that enable the user to immediately perceive the differences in protein secondary structure distribution among the considered sequences), or in form of tables that may be downloaded for further investigations with specific software tools. To our knowledge, at present there is no other software or databank available that can provide similar integrated information. Evaluation of such valuable information stored in the PASS database might reveal interesting correlations between alternative splicing and protein structure differences significantly associated with different functions.
Methods
Data sources
As source of information we considered the following three databanks:
The Alternative Splicing Database (ASD) from the European Bioinformatics Institute (EBI) http://www.ebi.ac.uk/asd/[9] was used as source for human alternative splicing data. This is a computer generated high quality databank which includes data from gene/transcript sequence (EST/mRNA) alignments. These data are cleaned from ambiguities and analyzed: alignment gaps are potential introns while matches in the alignment correspond to exons if they are flanked on both sides by introns. Introns and exons which overlap with one another correspond to alternative splicing events; these events are described as skipped exons, exon/intron isoforms, or alternative exon events. The alternative splicing events are defined between different isoforms from a single gene: each of them contains the type of alternative splicing, the splicing patterns between which the event occurs, and the introns/exons which are involved in the alternative splicing event. The latest version (release 3) of the alternatively spliced protein sequences (AltSplice-rel3.peptides.fasta) and the definition of the alternative splicing events (AltSplice-rel3.events.txt) have been downloaded from the ASD FTP site at EBI ftp://ftp.ebi.ac.uk/pub/databases/astd/altsplice/human/latest/. The ASD includes analyses on 9,945 genes and 32,079 isoforms, among which 52,248 events of alternative splicing are defined (Figure 7a).
The Ensembl databank http://www.ensembl.org/[10] was used as reference benchmark for the human genes. The release 48 of the list of human reference protein sequences, which includes 22,997 human genes, was downloaded from the Ensembl FTP site ftp://ftp.ensembl.org/pub/current_fasta/homo_sapiens/pep/. Each considered entry contains the Ensembl gene and protein identifiers, the position of the gene on the chromosome, and the protein sequence.

The Protein Data Bank (PDB) [11] release of February 10th 2008 with protein sequences in FASTA format (pdb_seqres.txt) has been downloaded from ftp://ftp.wwpdb.org/pub/pdb/derived_data/; 111,015 protein structures are included in this release.
Bioinformatics software and tools
Within the PASS Web application the bioinformatics tools following described are used:
Declarations
Acknowledgements
We are grateful to Søren Brunak, who gave us the idea to study the relationship between alternative splicing and protein structures, and to Anne Mølgaard and Rasmus Wernersson for their support during the biological analysis.
This article has been published as part of BMC Bioinformatics Volume 10 Supplement 12, 2009: Bioinformatics Methods for Biomedical Complex System Applications. The full contents of the supplement are available online at http://www.biomedcentral.com/1471-2105/10?issue=S12.
Authors' Affiliations
(1)
IFOM-IEO Campus, Milan, Italy
(2)
Dipartimento di Elettronica e Informazione, Politecnico di Milano, Milan, Italy
Copyright
© D'Antonio and Masseroli; licensee BioMed Central Ltd. 2009
This article is published under license to BioMed Central Ltd. This is an open access article distributed under the terms of the Creative Commons Attribution License (http://creativecommons.org/licenses/by/2.0), which permits unrestricted use, distribution, and reproduction in any medium, provided the original work is properly cited.