Scratchpads: a data-publishing framework to build, share and manage information on the diversity of life
BMC Bioinformatics
2009
10(Suppl 14):S6
Published: 10 November 2009
Abstract
Background
Natural History science is characterised by a single immense goal (to document, describe and synthesise all facets pertaining to the diversity of life) that can only be addressed through a seemingly infinite series of smaller studies. The discipline's failure to meaningfully connect these small studies with natural history's goal has made it hard to demonstrate the value of natural history to a wider scientific community. Digital technologies provide the means to bridge this gap.
Results
We describe the system architecture and template design of "Scratchpads", a data-publishing framework for groups of people to create their own social networks supporting natural history science. Scratchpads cater to the particular needs of individual research communities through a common database and system architecture. This is flexible and scalable enough to support multiple networks, each with its own choice of features, visual design, and constituent data. Our data model supports web services on standardised data elements that might be used by related initiatives such as GBIF and the Encyclopedia of Life. A Scratchpad allows users to organise data around user-defined or imported ontologies, including biological classifications. Automated semantic annotation and indexing is applied to all content, allowing users to navigate intuitively and curate diverse biological data, including content drawn from third party resources. A system of archiving citable pages allows stable referencing with unique identifiers and provides credit to contributors through normal citation processes.
Conclusion
Our framework http://scratchpads.eu/ currently serves more than 1,100 registered users across 100 sites, spanning academic, amateur and citizen-science audiences. These users have generated more than 130,000 nodes of content in the first two years of use. The template of our architecture may serve as a model to other research communities developing data publishing frameworks outside biodiversity research.
Keywords
Content Type
Bibliographic Data
Content Management System
Biodiversity Data
Common Data Model
Background
Taxonomic, systematic, and biodiversity studies (herein referred to as 'natural history') are data-intense sciences that draw information from many disciplines in order to build a coherent picture of the extent and trajectory of life on earth [1]. These data are essential to our discovery, understanding, and responsible use of the natural world [2]. Natural historians have traditionally relied on manual systems and techniques to gather, organise, and publish this information. This is collectively enshrined in scientific papers that form an archive spanning more than 250 years of published research. But as ever more synthetic and integrated accounts of the natural world are required to understand and mitigate threats to the environment, the failings of traditional publication methods for disseminating and using natural history research have become ever more apparent.
Traditional papers struggle to accommodate the high volume of data supporting accounts of natural history. In recent years this has been exacerbated by the rapid growth of semi-automated data gathering techniques producing large-scale datasets such as those incorporating genomic, phylogenetic, and image based components. The size and diversity of these datasets mean that they are at best marginalised to an electronic ghetto on publishers' websites. But all too often natural history data are simply never published [3]. The low impact of most natural history research, coupled with the high transaction costs associated with publication and access, mean that much (perhaps most) natural history data only exists tacitly and informally within expert networks of specialists (i.e. in the minds, notebooks and computers of the people generating the data). Such data are imperilled by a decline in the number of professional specialists engaged in these networks, such as that reported amongst biological taxonomists. Indeed, this had lead some to question the long-term viability of natural history as a professional scientific discipline [4]. Arguably natural history's salvation lies in better use (reuse) of the underlying data.
Meaningful forecasting and sustainable use of biotic resources requires large volumes of primary biodiversity data. However, this leaves informaticians with the challenge of integrating data from numerous, disparate natural history data providers, each with their own specific user communities, and diverse data types and sources, including taxonomic names and concepts, specimens in museum collections, scientific publications, genomic and phenotypic data, and images [5]. One approach is to data-mine existing publications in an attempt to reverse engineer scholarly publications into a database [6]. This approach is arguably the only option for legacy natural history data. But for new information, or that which has never been formally published, such reverse engineering should not be required so long as a technical, social and policy framework for data publication can be found. This paper is about the creation of a data-publishing framework for natural history.
Data publication is a new sort of scholarship that involves construction of large-scale datasets whose governance, organisation and use can be implemented using the web as a platform for generating, repurposing, and using data [7]. These systems offer the possibility of radical new ways of conducting scholarship and challenge some established ideas of how particular disciplines operate. To facilitate reuse and repurposing of data, these systems embrace 'Open Science' - the proposition of a model of communication inspired by the Free/Open Source software and Creative Commons movement [8]. A central theme of Open Science is to make clear accounts of the methodology, along with data and results extracted therein, freely available via the Web. This permits a massively distributed collaboration.
Design concerns relevant to data publication frameworks include the successful management of large scale distributed research programmes, how to support networks of independent researchers, the management of individual research careers, the development of new inter-disciplinary collaborations, and engagement with non-scholarly communities as both producers and consumers of research. These concerns are highly relevant to the challenges facing natural history scientists [4]. From a technical perspective these systems involve the development of tools for sharing natural history data, building and maintaining collaborations both formally and informally, and managing workflow and outputs.
A defining feature of data publication frameworks is that they primarily rely on social information flows, motivations and relations to organise the group. Individuals self-identify, mostly, for tasks, and through a variety of peer-review mechanisms contributions are recognised by the group and incorporated into what emerges as the collaborative output. A feature critical to their success is the ability of the framework to be broken down into discrete modules, capable of independent completion in relatively fine-grained increments. Because of this, people can contribute a little or a lot depending upon their motivations, such that some combination of 'true believers', occasional contributors, and people paid to participate can sustain a project.
In this paper we describe the system architecture and template design of "Scratchpads", a data-publishing framework for groups of people to create their own social networks supporting natural history science. This infrastructure is a combination of databases, network protocols and computational services that brings people, information and computational tools together to perform and publish natural history. Our goal was to build a system that could motivate individual researchers in the generation, management and dissemination of their own data for their own needs, while empowering a wider constituent of potential users who are free to repurpose this information for other uses.
Results
The Scratchpads currently (June 09) support 1,262 registered users who have created 162,753 nodes of content across 100 different sites. Of these users, approximately 5% log in every week across one third of all sites. This rises to 13% of users per month across 50% of sites. A breakdown of statistics on registered Scratchpad users is available at http://scratchpads.eu/stats. This list is dynamically updated every day. The biographic profiles submitted by registered users does not oblige them to identify their country of origin, but a crude analysis of domains from registered users' e-mail addresses suggests they reside in more than 50 countries worldwide.
Site visitors are recorded on our servers and through a Google Analytics account [51]. Scratchpad sites http://scratchpads.eu/siteslist breakdown into five major categories based on taxa, regions, societies, e-Journals/books, and services. However, many sites have overlapping purposes or change in scope over time, making a precise site classification difficult. The majority of sites are taxon focused, serving communities of natural history researchers specialising in particular taxonomic groups. Some of these communities are very large. Nanotax for example http://nannotax.org/ is a well-developed site with 132 registered users working on calcareous nannofossils. Similar examples include sites on Fungus Gnats http://sciaroidea.info/ and Aroid plants http://scratchpad.cate-araceae.org/. Modest numbers of users (10-20) are more typical, such as a site on freeloader flies http://milichiidae.info/. In other cases a well-developed site may have a single active registered user (e.g. http://mosquito-taxonomic-inventory.info/). Geographically defined Scratchpads includes sites on the Spermacoce from Australia http://spermacoce.myspecies.info/ and the Malesian Moss Handbook http://malesianmosshandbook.myspecies.info/. A Scratchpad also hosts the Journal of the European Mosquito Control Association (European Mosquito Bulletin, see http://e-m-b.org/) and the journal Phasmid Studies http://phasmid-study-group.org/en/content/phasmid-studies. Service sites provide facilities and tools that are not usually taxon-specific but are needed by natural historians. An example is the World Catalogue of Common Names http://common-names.myspecies.info that aims to serve as a repository for common (or vernacular names) for any species or species group in any language. While most sites keep the majority of content public, some like the Howard and Moore Checklist of the Birds of the World http://birds-howardandmoore.org/ keep almost all content private. Often there is little correlation between the size of a site and the quality of its content. Some sites with the most nodes have only a handful of registered users, while some high member sites have relatively little content.
On the Scratchpad homepage we use a basic set of site statistics to encourage and motivate contribution. Sites with the greatest number of nodes, users and views are placed more prominently on the Scratchpad sites list, encouraging competition between site maintainers that are keen to promote their work. Within the Scratchpads a predefined block allow maintainers to place a badge containing basic usage statistic (users, views and nodes) on their site. Some site users take a keen interest in their site usage statistics, to the point of using personal Google Analytics accounts [51].
Current and future developments
The path to sustaining the Scratchpads lies in distributing the hosting and software development activities across multiple institutions, and in embedding the software into the work practices of researchers. Our future development plans are focused on these goals. Specifically we are developing partnerships with other institutions and organisations that have the technical capacity to host and mirror instances of the Scratchpad server. We have an agreement with the Encyclopedia of Life "LifeDesk" project [
52
], which uses the same underlying software and approach as the Scratchpads, in an effort to share development activities. Experimental Scratchpad servers have been established at New York Botanic Gardens and Chicago Field Museum. Several European institutions have expressed an interest in hosting and developing sites. Our aim is to establish a foundation of partner institutions and organizations that will cover the costs of mirroring and hosting Scratchpads worldwide, and establish a social framework needed to coordinate and manage the project. These benefits will be largely invisible to users, except in the context of providing a more stable and reliable service. To more directly address user needs we also plan a suite of functional developments focusing on data capture, visualization and analytical tools that enable the Scratchpads to better fit within the work processes of taxonomists, systematists and the users of these data. Coupled with these are enhancements to facilitate greater mobilization of data held within Scratchpad sites. Space precludes elaboration of these tasks, however they are broadly outlined in Figure
2
.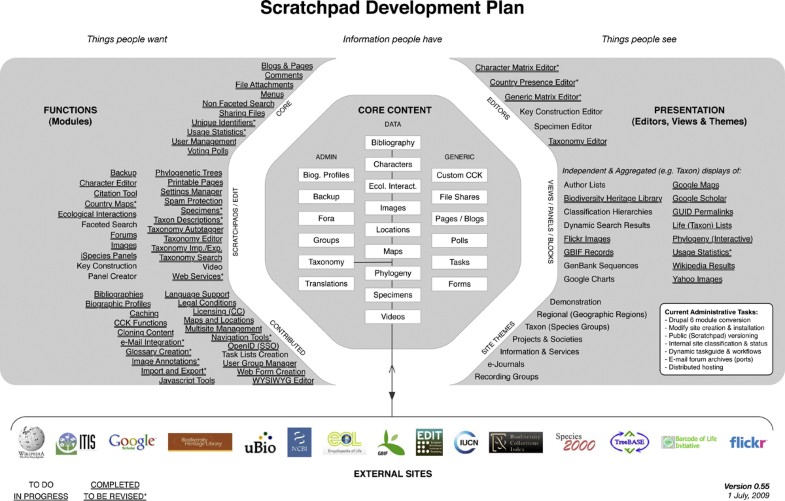 Discussion
The Scratchpads as they currently stand act like an archipelago of islands, each representing a natural history domain that is internally consistent but largely isolated from the others. Services built into the Scratchpads achieve some limited level of interoperability, drawing categories of data in from various third parties and serving data on a handful of common data types. Scratchpads are also helping to deliver an enhanced level of social cohesion amongst natural history scientists, acting as a nexus for communities. But to achieve a future in which information from different disciplines is truly interoperable, something more is required.
Natural history scientists might coordinate their efforts more tightly, perhaps through a top down management approach. International organisations like GBIF [12], TDWG [53], and the Consortium for the Barcode of Life [54] are helping to deliver this. However, in a science noted for its epistemological diversity, top down efforts are hard to deliver to hands-on scientists. Technologies that are tolerant of diverse data models and can accommodate the ontological richness of natural history are more likely to succeed. Semantic web activity [55] offers this prospect, although the low uptake of semantic software suggests semantic web technologies are too nascent to deliver on this promise just yet [56].
Arguably in the short term, a third path to a more effective cyber infrastructure for natural history is more attainable. Using current technologies to build systems that encourage the deposition of datasets and facilitate community annotation and collaboration, we can gain many of the benefits envisioned for more sophisticated systems. This approach leverages the human capacity to make sense of noisy and contradictory natural history data, while accommodating machine methods like the automated tagging of content. Tools like the Scratchpads are not a definitive solution to the problem integrating natural history data. Rather, as an enabler of digital data capture and collaborative working, usage of the Scratchpads is a step toward a less fragmented and more integrated global natural history.
Conclusion
The ordering of data across natural history disciplines is not simply a question of finding a commonly accepted database model or standard for representing biodiversity data. A more generic solution that supports the ontological richness and diversity of natural history is required. Scratchpad software is our attempt to meet this need for communities of natural history scientists where geographic constraints or limited access to data would otherwise impede progress. Scratchpads blend social, technical and policy developments into a common platform supporting natural history researchers in the creation and reuse of data. This data publishing framework makes it easy for groups of natural historians to self assemble around a common interest, and for individuals to contribute to group effort without formal management. In a biodiverse world we need to be able to manipulate and annotate ontologically diverse data. Scratchpads provide a framework to support this data diversity, and encourage metadata practices that support global efforts towards a more integrated approach to natural history.
Availability and requirements
Project name: Scratchpads
Project home page: http://www.scratchpads.eu/
Operating system(s): Platform independent (Web application)
Programming language: PHP
Other requirements: none
License: Web application is freely accessible for all users. Source code is available under GNU General Public License version 2.
Any restrictions to use by non-academics: none
Declarations
Acknowledgements
The Scratchpad project is financially supported by EDIT - a European Union framework 6 funded Network of Excellence project. The NHM, London and the Global Biodiversity Information Facility (GBIF) have provided additional grants supporting contract developers. Thanks are due to the 1,000+ members of the Scratchpad user community for their patience and support throughout the development of the Scratchpads. In particular we would like to thank Edward Baker, Vladimir Blagoderov and Irina Brake and who provide regular user feedback to the development team. We are grateful to the anonymous reviewer's who provided valuable feedback on our manuscript. VSS would also like to thank Roderic D.M. Page, whose work provided much of the inspiration for the Scratchpads, in addition to Malcolm Scoble and Chris Lyal for their support to VSS at the NHM, London.
This article has been published as part of BMC Bioinformatics Volume 10 Supplement 14, 2009: Biodiversity Informatics. The full contents of the supplement are available online at http://www.biomedcentral.com/1471-2105/10?issue=S14.
Authors' Affiliations
(1)
Natural History Museum, London, UK
Copyright
© Smith et al; licensee BioMed Central Ltd. 2009
This article is published under license to BioMed Central Ltd. This is an open access article distributed under the terms of the Creative Commons Attribution License (http://creativecommons.org/licenses/by/2.0), which permits unrestricted use, distribution, and reproduction in any medium, provided th original work is properly cited.