Methodology article

Open Access
AutoSOME: a clustering method for identifying gene expression modules without prior knowledge of cluster number
BMC Bioinformatics
2010
11:117
Received: 27 November 2009
Accepted: 4 March 2010
Published: 4 March 2010
Abstract
Background
Clustering the information content of large high-dimensional gene expression datasets has widespread application in "omics" biology. Unfortunately, the underlying structure of these natural datasets is often fuzzy, and the computational identification of data clusters generally requires knowledge about cluster number and geometry.
Results
We integrated strategies from machine learning, cartography, and graph theory into a new informatics method for automatically clustering self-organizing map ensembles of high-dimensional data. Our new method, called AutoSOME, readily identifies discrete and fuzzy data clusters without prior knowledge of cluster number or structure in diverse datasets including whole genome microarray data. Visualization of AutoSOME output using network diagrams and differential heat maps reveals unexpected variation among well-characterized cancer cell lines. Co-expression analysis of data from human embryonic and induced pluripotent stem cells using AutoSOME identifies >3400 up-regulated genes associated with pluripotency, and indicates that a recently identified protein-protein interaction network characterizing pluripotency was underestimated by a factor of four.
Conclusions
By effectively extracting important information from high-dimensional microarray data without prior knowledge or the need for data filtration, AutoSOME can yield systems-level insights from whole genome microarray expression studies. Due to its generality, this new method should also have practical utility for a variety of data-intensive applications, including the results of deep sequencing experiments. AutoSOME is available for download at http://jimcooperlab.mcdb.ucsb.edu/autosome.
Keywords
Pluripotent Stem CellSpectral ClusterMicroarray DatasetCluster NumberHierarchical Cluster Method
Background
High-throughput whole-genome expression data generated by microarray and deep sequencing experiments hold great promise for unraveling the genetic logic underlying diverse cellular events and disease. Without the application of sophisticated bioinformatics and statistical methods, however, these enormous datasets invariably defy human analysis. For example, microarray experiments generally yield tables of expression data in which rows represent 20,000 to 50,000 different gene probes, and columns (usually 4-20) generally represent a wide variety of different cellular phenotypes. Such massive, high-dimensional datasets are increasingly generated by 21st century research technology, and robust and practical methods for finding natural clusters in complex microarray data will have broad application beyond bioinformatics in in data-intensive fields ranging from astrophysics to behavioral economics.
Several methods have come to predominate the clustering of microarray data, none of which is ideally suited for identifying the complex systems-level interactions in genome biology [1–3]. A common approach uses bottom-up hierarchical clustering (HC) to build a dendrogram representing a series of clusters and sub-clusters, with cluster number ranging between one (all the data in one cluster) and the dataset size N (each data point in its own cluster). A discrete partitioning in HC requires "pruning" the tree into a known number of clusters. Methods for predicting the number of clusters in a dendrogram vary in predictive accuracy and efficiency [3, 4]. Also, since HC greedily merges all of the data points into a locally connected dendrogram, local decisions about cluster membership can misrepresent global cluster topology [5]. Another strategy uses K-means clustering to produce a clean partitioning of a large dataset by minimizing the statistical variance within k clusters of d dimensions. The number of clusters, k, is the key parameter for K-means partitioning, and a cluster number prediction algorithm is also important for accurately selecting k without prior knowledge [3, 4]. K-means clusters are generally limited to hyper-spherical geometries, and the requirement that all data must belong to some cluster may poorly represent relationships in a dataset containing outlier data points.
Over the past decade, many additional unsupervised clustering strategies have been proposed [6, 7]. For example, Affinity Propagation uses an instance of the max-sum algorithm to identify exemplar data points that represent cluster centers in the dataset, but is generally restricted to symmetrical clusters, and requires a 'preferences' parameter that ultimately determines the number of clusters [8]. A different approach, non-Negative Matrix Factorization (nNMF), constitutes a class of matrix multiplication techniques that has shown utility for identifying compact, well-defined clusters in noisy datasets [9]. Like K-means and HC, nNMF requires an external cluster number prediction method (e.g. cophenetic correlation) and manual analysis to select the final partitioning. Spectral Clustering methods utilize linear algebra to perform an eigenvector decomposition of input data followed by application of a suitable clustering method (often K-means) to cluster the transformed data points. Although spectral clustering methods have a mathematically robust foundation and work well for identifying clusters of diverse shapes, eigenvector decomposition steps are computationally-intensive, and spectral clustering also requires cluster number as input [10]. Unless data points are represented sparsely, Spectral Clustering and Affinity Propagation both require O(N 2 ) space for N data points resulting in poor scalability for very large datasets such as whole genome expression data. Finally, most modern methods are not sensitive to outlier data points, a potentially critical limitation for cluster analysis of noisy gene expression datasets [7].
A powerful machine learning method widely used for the visualization of high-dimensional data, called the Self-Organizing Map (SOM), also has applications in data clustering [11–17]. To identify k clusters, SOM algorithms randomly initialize a regular lattice of k nodes, and then through an iterative learning process, similar input data points move toward each other in the lattice and dissimilar input data points move away from each other. As commonly applied, SOM clustering requires a priori knowledge of cluster number and only finds clusters with hyper-spherical geometries. A useful feature of the trained SOM is the U-Matrix, which provides a quantitative description of discontinuity in the map. By liberally allocating nodes in the lattice, U-Matrices can be used to identify potential cluster borders [13]. Two recent methods that exploit U-Matrices for clustering include virtual flooding of U-Matrix "valleys" to create cluster "islands" [14], and HC of the U-Matrix using novel cluster merging criteria [15]. These approaches, however, are highly sensitive to critical SOM parameters such as grid node number [15], or grid topology and cluster shape [14]. In addition to novel variants of the SOM that achieve explicit clustering of the node lattice, traditional clustering algorithms, like K-means, have also been applied to the SOM node lattice, though the number of clusters present in the trained map still requires external prediction and may not be accurately identified with circular cluster geometries [16, 17]. In addition, the stochastic initialization of the node lattice required for proper self-organization leads to significant output variation for SOM-based clustering strategies. Taken together, these problems have limited the utility of SOM approaches for unsupervised clustering of microarray data.
Analysis of data generated by high-throughput biology experiments would greatly benefit from a facile unsupervised clustering method that addresses the drawbacks of traditional and modern clustering methods (i.e. need for cluster number prediction, restricted cluster geometry, lack of outlier detection, output variance, and poor scalability to large datasets). Here we report a novel SOM-based method for Automatic clustering using density-equalized SOM Ensembles, or AutoSOME. This new method leverages the proven strengths of the SOM for dimensional reduction and spatial organization of large high-dimensional datasets, while addressing major limitations of general data clustering strategies. After using an SOM for initial data organization, AutoSOME applies a density equalization technique from cartography [18] to rescale the SOM output lattice, utilizes a minimum spanning tree approach from graph theory to identify data clusters and outliers, and then employs an ensemble resampling technique over multiple SOM runs to stabilize the output [19]. The performance of AutoSOME is evaluated using several benchmark datasets, including standard machine learning datasets and publicly available cancer and stem cell microarray data. Our results demonstrate that AutoSOME benchmarks favorably against other clustering methods with the significant advantage that AutoSOME is able to identify the number of clusters in the input dataset given an intuitive p-value threshold. In addition, when applied to transcriptome analysis, AutoSOME readily identifies global variation in tumor cell gene expression that is missed by other methods [5, 9]. A network visualization of the AutoSOME output powerfully illustrates the underlying fuzziness found in these cancer cell transcriptome data. Finally, the utility of the new method for gene co-expression analysis is demonstrated by the use of AutoSOME to identify a module of ~3400 up-regulated genes in human pluripotent stem cells, including 1165 genes constituting a large protein-protein interaction network related to pluripotency. These results establish that AutoSOME is a practical and robust new method for clustering the information content of inherently noisy, often high-dimensional, gene expression data, and for visualizing global transcriptome profiles.
Results
Algorithm
The AutoSOME strategy is summarized in Figure
1
. A Kohonen SOM is employed to achieve both a dimensional reduction and an initial organization of the input data that preserves local, but not necessarily global, topology (see two leftmost images of Figure
1A
) [
11
,
20
]. By measuring the similarity between adjacent nodes, an error or dissimilarity surface (i.e. U-Matrix) is calculated, which is cubically rescaled to accentuate separation of individual data clusters. Using the error surface, an aggregation of similar data in the SOM is achieved by repositioning the SOM nodes using the density-equalizing cartogram algorithm from geography (Figure
1B
) [
18
]. In this case, the density-equalizing algorithm treats the high error, or high discontinuity, regions in the map as high density, and the low error regions as low density, and uses a diffusion-based approach to globally equalize the density of the error surface across the entire map. Discrete data clusters of diverse geometries are then identified from the density-equalized SOM using the minimum spanning tree from graph theory, as shown in Figure
1C
[
21
]. Only minimum spanning tree edges that meet a specified p-value threshold are kept, resulting in the identification of statistically significant node clusters and outliers.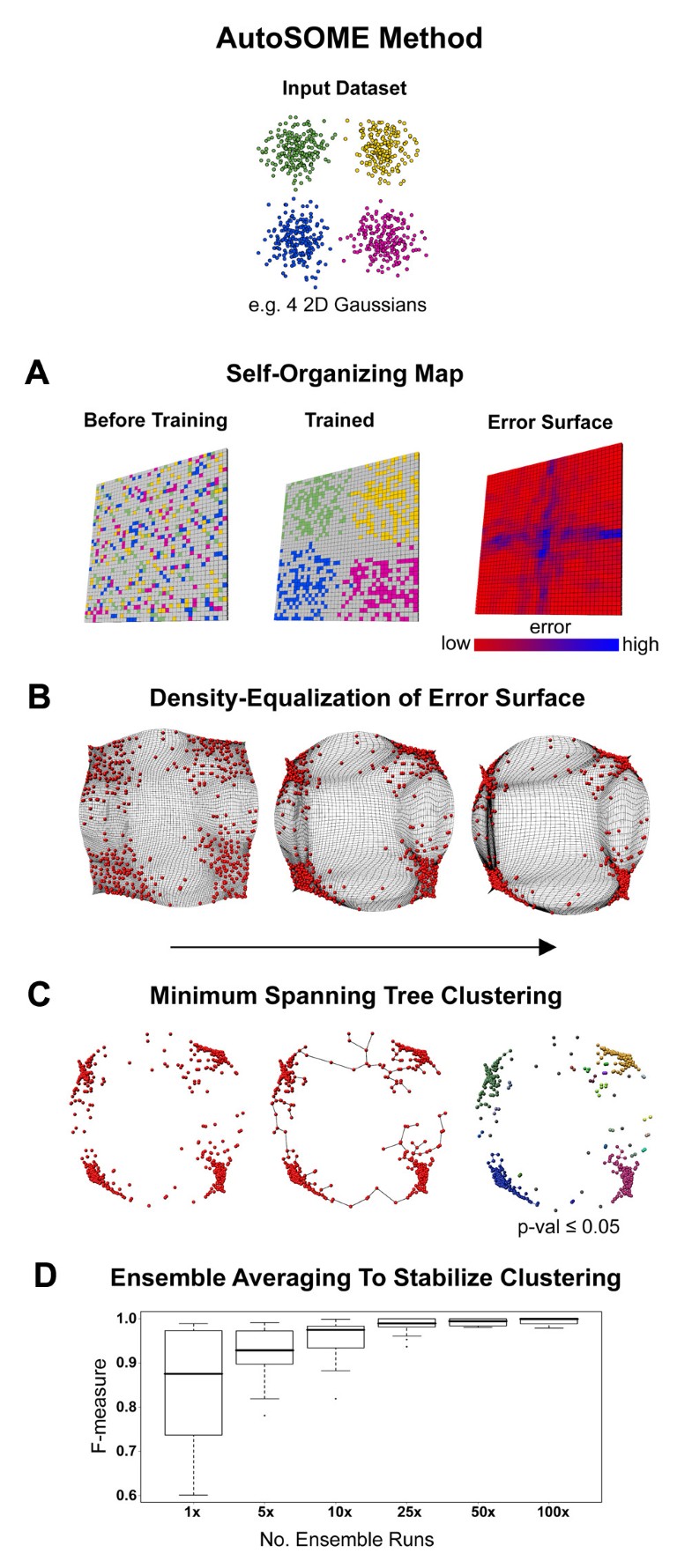 A critical issue inherent in all stochastically initialized clustering methods is output variation. To mitigate output variance generated by the SOM step, the AutoSOME method uses an ensemble strategy, merging multiple iterations of the clustering scheme to establish fuzzy clusters that are ultimately resolved by sending data points to clusters where they occur most frequently. This is illustrated using a simple yet challenging benchmark dataset consisting of two clusters of 3- dimensional data that form a pair of interlocking rings. The cluster output stabilized at maximum cluster quality with increasing ensemble runs (Figure
1D
), and the intersecting rings data were clearly resolved within 25 iterations (see Figure
2A
). As a consequence of the random initialization of each SOM, AutoSOME also provides a statistical confidence metric for membership of every data point to its assigned cluster that is a useful filter for improving the signal to noise ratio (see Figure
2B
). All of the important aspects of AutoSOME are detailed in the Methods section, and the software is freely available for download (
http://jimcooperlab.mcdb.ucsb.edu/autosome
, [
22
]).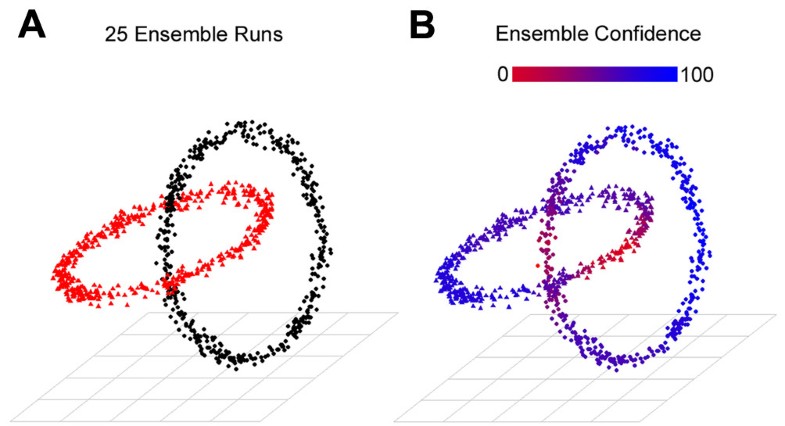 Testing
To evaluate the unsupervised clustering capability of the AutoSOME method, we compared the performance of AutoSOME with a variety of traditional and modern clustering methods using several benchmark datasets. We also tested AutoSOME on microarray datasets, and compared the AutoSOME output to published results obtained using HC, K-means, and nNMF clustering methods. Finally, we evaluated the ability of AutoSOME to identify modules of co-regulated genes from a large microarray dataset with over 15K expression profiles, and performed a detailed computational analysis of the biological significance of the largest detected co-expression module.
An important drawback of previous SOM-based clustering methods, as noted in [9], is the instability of cluster assignments (i.e. output variation), ultimately due to the random initialization of the SOM node lattice. Because AutoSOME merges individual runs with an ensemble averaging approach, the method should, in principle, tackle this limitation for both clean and noisy datasets. To measure output variance, we use pairwise affinity, a co-clustering metric defined as the fraction of times a given pair of cell lines cluster together. Pairwise affinities can range from 0 (cells never co-cluster) to 1 (cells always co-cluster). As expected for an SOM-based method applied to noisy microarray data, AutoSOME output appears meta-stable. This is illustrated in Figure 5B by a heat map representing the pairwise co-clustering of leukemia cell lines over 500 ensemble iterations. By combining the discrete output from five separate AutoSOME runs (each with 500 ensemble iterations), pairwise affinities demonstrate that AutoSOME robustly resolves fuzzy clusters into discrete classes over independent runs (Figure 5C). Rather than being a limitation, AutoSOME leverages the random initialization of the SOM node lattice to sample a larger solution space and effectively capture fuzzy data relationships. In contrast, nNMF like K-means, requires an explicit cluster number a priori and overlooks outlier cell lines that represent the natural fuzziness in whole genome expression data. We also note that the random initialization of the node lattice naturally renders AutoSOME insensitive to the order of input data points.
We further analyzed the PluriUp gene set for evidence of biological significance using a variety of approaches. Gene ontology enrichment (Database for Annotation Visualization and Integrated Discovery (DAVID[27]) shows that PluriUp genes are significantly enriched for cell cycle, regulation of transcription/translation, and chromatin remodeling functions, consistent with previous studies [26, 28] (see Additional file 3, Table S3). Gene Set Enrichment Analysis (GSEA, [29]) was also used to compare PluriUp genes to other sets of genes reported to be up-regulated in embryonic stem cells (ESCs) [26, 30]. As shown in Additional file 3, Table S4, PluriUp genes achieved the greatest enrichment for pluripotent stem cell expression from the GSE11508 dataset. Within the context of six additional GEO datasets consisting of human fibroblast, induced pluripotent stem cell (iPSC), and ESC lines (see Additional file 3, Table S5), the PluriUp genes likewise achieved the highest enrichment scores for both iPSC and ESC lines (see Table S4).
Notably, the PluriUp gene module contains 86% of the PluriNet genes (Figure 6B), a highly significant overlap by Fisher's exact test (p < 10-15, Additional file 3, Table S6). Since PluriNet represents only genes whose products compose a large protein-protein interaction network, we examined PluriUp for similar network interactions using a database of 38,806 experimentally verified protein-protein interactions (Human Protein Reference Database (HPRD) release July 6, 2009 [31]). Within PluriUp we identified 1165 genes that encode an interconnected protein network that we call PluriPlus (Figure 6B and 6C; also see Additional file 4, Tables S7-S9 for raw network data and see Additional file 5 for a high-resolution image). Large fractions of both the PluriPlus (200/1165) and PluriUp (459/3421) genes are known to bind at least one of the ESC-specific transcription factors, OCT4, SOX2, and NANOG (p < 10-5) [32] (Additional file 3, Table S6). In addition, the PluriPlus interaction network is significantly enriched in genes involved in the Wnt, Notch, EGFR1, and/or TGF-Beta Receptor signaling pathways [31, 33] (Table S6). Furthermore, PluriPlus genes show the highest levels of up-regulation in ES and iPS cells, compared to other cellular phenotypes (p < 10-15 by Wilcoxon Rank-Sum Test; Additional file 6, Figure S2). Taken together, these results demonstrate the practical utility of AutoSOME for the identification of robust gene co-expression clusters, such as PluriUp, without prior knowledge of data structure or cluster number.
Software implementation
The AutoSOME method is implemented as a platform-independent JAVA software tool and is available at [22]. In addition to invocation from the command-line, AutoSOME can be launched within an intuitive Graphical User Interface environment (GUI). The GUI includes several tools for exploring the cluster output, including the generation of publication-quality heat maps as well as real-time editing and filtration of clusters using the confidence metric (see Figure 2B). The AutoSOME webpage also contains all datasets analyzed in this paper, supporting documentation, a tutorial, and instructions to make fuzzy cluster network displays using Cytoscape [34]. For details on how AutoSOME processes input files see Input in Additional file 7. In addition to simple tabular input, AutoSOME accepts common microarray file formats: PCL (i.e. Pre-CLuster format implemented in the Cluster software [1]) and raw series matrix text files available from the Gene Expression Omnibus [25].
Discussion
Increasing advances in computing technologies along with methods for rapidly analyzing diverse living and non-living systems are catalyzing a new era of scientific investigation characterized by a pervasive and critical role for unsupervised data-mining methods. In a recently published comparison of forty clustering algorithms applied to gene expression and network analyses [7], the following set of desirable features for unsupervised clustering algorithms were proposed: 1) scale well in memory and running time with increasingly large datasets, 2) detect distant outliers, 3) produce consistent output regardless of the ordering of input data points, 4) require minimal user input, 5) support both numerical and categorical data types, and 6) identify clusters of diverse geometries. We developed a new unsupervised clustering method for "omics" biology, called AutoSOME, to satisfy the above criteria (with the exception of (5) which remains the subject of future work). We rigorously evaluated the performance of AutoSOME by comparison to other clustering methods including Spectral Clustering and variations of K-means and HC with and without dimensional reduction. Based on two different metrics of cluster quality, AutoSOME, without specification of cluster number, performed at least as well Spectral Clustering, K-means and Ward's HC methods, and achieved better results than three flavors of HC (see Figure 3 and Additional file 1, Figure S1).
AutoSOME has significant advantages over many clustering methods commonly used in bioinformatics research. In particular, AutoSOME identifies clusters of diverse geometries along with outlier singletons without prior knowledge of cluster number, and processes whole genome microarray datasets in practical running time using a desktop computer. AutoSOME is similar in concept to another approach based on moving SOM nodes during the training process to identify aggregated node clusters using hierarchical tree cutting [35]. In contrast to this previous work, however, AutoSOME globally rescales the node lattice after training, identifies clusters using a statistical significance cutoff, and uses ensemble averaging to stabilize results, thus avoiding errors due to local decisions, dendrogram pruning, and stochastic initialization. Another recently developed clustering method based on ensemble averaging of K-means clusters also predicts cluster number and shape, but requires N2 space for N data points, limiting this method to small datasets [36]. In its current form, the AutoSOME method does not identify genes whose co-regulation is restricted to a subset of arrays (see e.g., [37–39]). This is often accomplished by bi-clustering, a class of techniques that identifies "checkerboard patterns" by the simultaneous clustering of both rows and columns. A bi-clustering extension of AutoSOME is the subject of future work.
Interpretation of whole genome expression data generated by microarray or deep sequencing technologies requires a robust method to compare global gene expression patterns. To illustrate the practical utility of AutoSOME for gene expression studies, we re-analyzed several microarray datasets representing gene expression in tumor cell lines and pluripotent stem cells. Data shown in Figures 4 and 5 demonstrate that AutoSOME identifies important classes of cancer cells. By combining the fuzzy and discrete components of AutoSOME results, significant variation among cancer cells was readily visualized using an intuitive fuzzy cluster network approach. Although the existence of heterogeneity among cancer cells has important implications for cancer biology (e.g., clinical diagnostics, prediction of chemotherapeutic outcomes), such inherent cell variation is not detected by common divisive clustering methods, like K-means, that force all data points, including outliers, into k clusters reported as separate and distinct entities. Furthermore, while HC methods, by their nature, show differences within and among clusters, such variation can be difficult to discern in complex dendrograms having numerous branches, although some tree-pruning algorithms are beginning to address this problem [40]. In the cancer cell data originally generated by Alizadeh et al. [23], for example, HC successfully identifies outlier cell lines (Figure 4B), but the three major cell clusters cannot be resolved by horizontally cutting the tree, and the placement of some cell lines on the tree clearly reflects local decisions that distorted the global topology of the data (e.g., tumor lines 62 and 41 in Figure 4). The visualization of fuzzy cluster networks identified by AutoSOME provides a more comprehensive picture of natural cluster structure than common unsupervised clustering methods, and should be valuable as a general strategy to study global cell-cell variation.
Gene co-expression analysis represents another powerful method for elucidating the regulatory logic within genomes, and HC has played a prominent and useful role in unsupervised co-expression clustering [1]. Unfortunately, common HC algorithms scale, at best, quadratically in time with increasing dataset size [3, 6]. Thus, to achieve practical computational running times for most HC methods, whole-genome microarray datasets typically need to be reduced in size by filtration of the primary data, often by applying arbitrary differential expression thresholds (e.g. log2 fold change between minimum and maximum expression values ≥2). A popular alternative to unsupervised clustering identifies co-regulated genes among a predetermined, usually small, number of sample classes using statistical tests, for example Student's t-test or ANOVA. Like HC, however, these methods also involve filtering genes by arbitrary criteria, such as a statistically significant difference and predetermined minimum fold change (e.g. 2 classes: Student's t-test p < 0.05 and minimum log2 fold change = 1.5; e.g. [41]). By filtering the primary data before analysis, both approaches can discard thousands of genes, many of which could have biological relevance (e.g. fold change = 1.4). Further, by averaging across sample replicates to compute fold change between classes, cell samples with stochastic or even meaningful spiking patterns are absorbed and lost, potentially introducing false-positives [42]. By contrast, because AutoSOME efficiently clusters whole-genome datasets without any assumptions about class membership, clustering results are determined by natural cluster structure of the entire dataset. This allows AutoSOME to detect and visualize unexpected expression patterns, such as cell subtypes or stochastic noise. AutoSOME co-expression analysis can also detect biologically significant genes with subtle differential expression patterns that might otherwise be missed. After clustering, appropriate class-based statistical tests like Student's t-test, ANOVA, or Gene Set Enrichment Analysis [29] can be used to evaluate significance.
To demonstrate the capability of AutoSOME for whole-genome co-expression analysis, we reanalyzed a publicly available metadataset (GSE11508) of diverse human cellular phenotypes including 48 ESC and 3 iPSC lines. Application of AutoSOME co-expression analysis to the GSE11508 dataset readily revealed prominent clusters of co-regulated genes, one of which contains >3400 genes primarily associated with pluripotent stem cells. This PluriUp cluster is several times larger than previously reported sets of genes up-regulated in human pluripotent stem cells [30, 43], and remarkably, constitutes about 17% of the human genome. A variety of bioinformatics analyses revealed that PluriUp is significantly enriched in ESC-associated cellular functions and genes bound by ESC-associated transcription factors. Due to the relative scarcity of iPS lines in the GSE11508 dataset, we assembled a new metadataset containing 12 fibroblast, 8 ESC, and 42 iPSC lines from multiple reprogramming experiments (see Additional file 3, Table S5), and found that PluriUp is likewise significantly enriched in iPS and ES cell types over fibroblast cell lines, suggesting that PluriUp genes are indeed, pluripotency-associated, and not likely to be an artifact of the primary GSE11508 dataset. Within the PluriUp gene set, we also identified a large protein-protein interaction network significantly up-regulated in pluripotent stem cells containing 1165 genes, or about 6% of the human genome, which substantially expands upon a recently published pluripotent network, PluriNet, containing only 299 genes [26] (see Figure 6 for PluriPlus network, see Additional file 4, Tables S8 and S9, for edges and nodes, respectively; see Additional file 5 for a high-resolution image of the PluriPlus network with HUGO gene names). In addition to sharing 214 genes with PluriNet, PluriPlus is significantly enriched in both important ESC signaling pathways and genes with ESC-associated transcription factor binding sites (see Additional file 3, Table S6). Taken together, both PluriUp and PluriPlus were easily identified, suggesting that a comparable workflow based on AutoSOME co-expression analysis coupled with additional bioinformatics tools can readily lead to the discovery of co-regulated genetic networks from myriad cellular systems.
Conclusions
We have shown through benchmarking and validation using publicly available machine-learning datasets and microarray data that AutoSOME is a robust cluster discovery method for high-throughput biology. AutoSOME exploits the strengths of the SOM algorithm for unsupervised spatial organization and dimensional reduction of large, unfiltered input datasets while mitigating its shortcomings for data clustering (spatially-fixed lattice of nodes, hyperspherical cluster geometries, output variance) using a novel combination of density-equalization, minimum spanning tree clustering, and ensemble averaging strategies. In addition to predicting the number of clusters without shape restrictions, AutoSOME identifies outlier data points, a potentially critical feature for modeling natural cluster structure that is unavailable in common methods. Further, ensemble averaging reveals the underlying fuzziness of data clusters, which is quantitatively recorded as a cluster confidence metric and usefully visualized by fuzzy cluster networks. Transcriptome analysis using AutoSOME consistently and intuitively characterized significant cell-cell variation in cancer cell lines, and gene co-expression analysis revealed thousands of genes up-regulated in pluripotent stem cells, including 1165 genes composing a large protein-protein interaction network. Based on these results, we conclude that AutoSOME should have immediate utility for researchers seeking to discover natural data classes from a variety of large complex datasets in biology and beyond.
Declarations
Acknowledgements
We thank Dr. Monte Radeke for help in beta-testing AutoSOME, and Dr. Xifeng Yan for critically reading the manuscript.
Authors' Affiliations
(1)
Biomolecular Science and Engineering Program, University of California, Santa Barbara, USA
(2)
Molecular, Cellular, and Developmental Biology, University of California, Santa Barbara, USA
Copyright
© Newman and Cooper; licensee BioMed Central Ltd. 2010
This article is published under license to BioMed Central Ltd. This is an Open Access article distributed under the terms of the Creative Commons Attribution License (http://creativecommons.org/licenses/by/2.0), which permits unrestricted use, distribution, and reproduction in any medium, provided the original work is properly cited.