Methodology article
Open Access
Delineation of amplification, hybridization and location effects in microarray data yields better-quality normalization
BMC Bioinformatics
2010
11:156
Received: 8 June 2009
Accepted: 26 March 2010
Published: 26 March 2010
Abstract
Background
Oligonucleotide arrays have become one of the most widely used high-throughput tools in biology. Due to their sensitivity to experimental conditions, normalization is a crucial step when comparing measurements from these arrays. Normalization is, however, far from a solved problem. Frequently, we encounter datasets with significant technical effects that currently available methods are not able to correct.
Results
We show that by a careful decomposition of probe specific amplification, hybridization and array location effects, a normalization can be performed that allows for a much improved analysis of these data. Identification of the technical sources of variation between arrays has allowed us to build statistical models that are used to estimate how the signal of individual probes is affected, based on their properties. This enables a model-based normalization that is probe-specific, in contrast with the signal intensity distribution normalization performed by many current methods. Next to this, we propose a novel way of handling background correction, enabling the use of background information to weight probes during summarization. Testing of the proposed method shows a much improved detection of differentially expressed genes over earlier proposed methods, even when tested on (experimentally tightly controlled and replicated) spike-in datasets.
Conclusions
When a limited number of arrays are available, or when arrays are run in different batches, technical effects have a large influence on the measured expression of genes. We show that a detailed modelling and correction of these technical effects allows for an improved analysis in these situations.
Keywords
Normalization MethodTechnical EffectReference ArrayBackground RemovalROC50 Score
Background
Most applications of oligonucleotide arrays, such as finding differential expressed genes or network reverse engineering, involve the comparison of different arrays. Since array measurements are highly sensitive to the experimental conditions, comparison of arrays can be problematic. This is especially the case when experiments have been performed in different batches or experiments. Several normalization methods have been developed to handle this problem (e.g. MAS 5.0 [1], VSN [2], RMA [3], PDNN [4], PLIER [5], GCRMA [6]).
In this work we focus on differences between arrays caused by amplification, hybridization and location-based effects. Often used normalization methods such as RMA do not take into account these significant technical effects, while methods such as PDNN and GC-RMA only take into account the hybridization effect (although in a different way than we propose). We introduce a new normalization method that takes into account all these effects and improves performance over the existing methods. Although this study focuses on Affymetrix GeneChips, the resulting method can also be applied to other oligonucleotide platforms.
Technical effects
The Affymetrix platform uses arrays with short 25-nucleotide probes placed on them. To measure mRNA expression, transcripts are amplified, fragmented and labeled, after which they are placed on the array to hybridize with the probes. After washing, the amount of hybridized RNA can be measured per probe. The first step that can easily be influenced by experimental conditions is the amplification. In this process, a primer is used to bind to the poly-A tail of a transcript, after which T7 RNA polymerase uses this primer to start the creation of new (complementary) copies of the transcript. We found that the array signal shows a negative bias for probes closer to the 5' end of the transcript (Figure
1
). This effect has been identified earlier, and is part of the quality control measures in MAS 5.0 and the affy package [
7
]. Some authors have suggested that the 5' end negative bias is caused by 5' end RNA degradation. We found that an incomplete amplification (i.e. copies only cover part of the transcript) better explains the data (Additional file
1
, Section S5). Currently, such an effect is not taken into account by any normalization methods that we know of.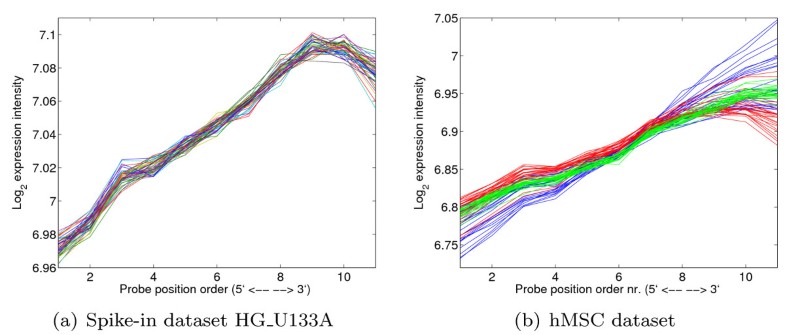 The second step that can be influenced is the hybridization and washing of the fragmented transcripts (Figure
2
). It is well known that these effects are generally dependent on the sequence [
4
,
8
–
11
]. In several current normalization methods (GCRMA, PDNN), the probe sequence information is used to remove signal bias and/or correct for the rate of binding of transcripts to the probe. In contrast this work focuses on using the hybridization model to reduce signal
variance
.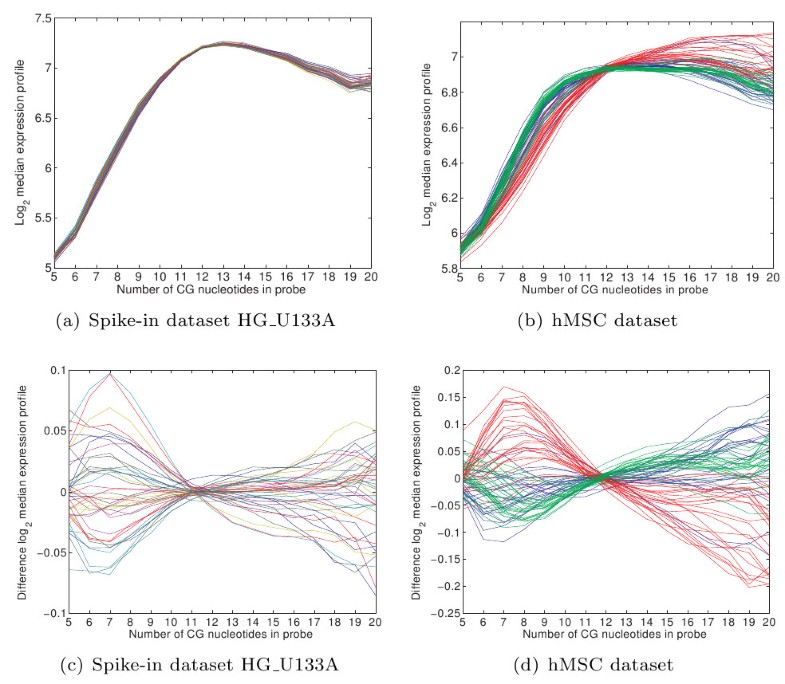 The third technical effect is based on the location of the probe on the array. Some parts of the array show blemishes which reduce or increase the signal. We also find that large parts of the arrays can be affected between batches (Figure
3
). We estimate this effect for every probe and remove it from the signal. A more simple 16-block grid based method is part of the MAS 5.0 method, while [
12
,
13
] divide the array in subarrays and apply normalization on each subarray separately.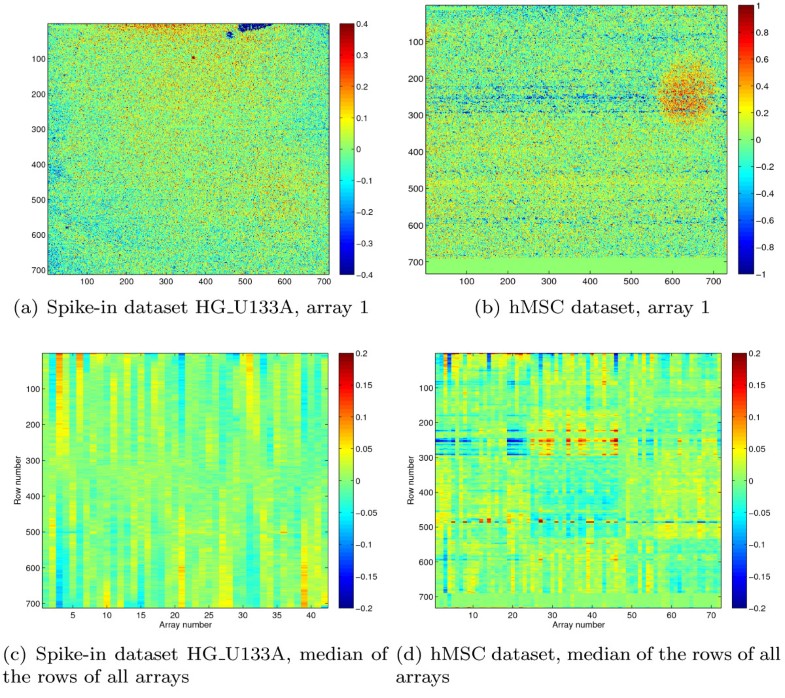 Background removal after normalization phase
Microarray pre-processing methods often have a background signal subtraction phase (bias reduction, i.e. removing signal consisting of optical background and signal due to non-specific binding), followed by a normalization phase (variance reduction) and summarization of the probe sets. The primary goal of the first phase is to improve accuracy (i.e. match the true signal level more closely), while the second phase is performed to improve precision (i.e. consistency of measurements over different arrays). Current pre-processing methods differ mostly in the method of bias reduction. For example, MAS 5.0 uses mismatch probes to estimate the background, RMA uses a general background distribution and GCRMA a sequence-based model. For normalization, often general distribution-correcting methods such as quantile normalization [14] or loess normalization [15] are used. One can perform these methods using a single reference array, or use multiple reference arrays as is done in the PTR method [16].
Our first attempt at removing technical effects during the bias reduction phase did show that, although one can improve accuracy, it is hard to not simultaneously decrease precision. The reason for this is that the estimated correction factors (biases) can be large and are estimated for each array separately with models that are simplifications of reality. To solve this, we perform the background subtraction phase after the normalization phase. Consequently, within the normalization phase, differences in technical effects between arrays are corrected. For example, in the case of sequence effects we perform now variance normalization (Figures 2c, d) instead of bias removal (Figures 2a, b). As we normalize not only the true signal but also the background signal, this allows us to use the same background estimate for all arrays during the background removal phase. This way we can still improve accuracy, while simultaneously preventing the reduction of precision.
Background removal within summarization phase
In general it is true that in cases that the measured fold change between arrays is low one is less certain that there is actually a 'real' fold change as opposed to situations where there is a large fold change. An important factor influencing the measured fold change is (again) the background signal. Probes with a relatively large background signal will generally have a smaller fold change, if the fold change is calculated over the whole signal (background + foreground).
Currently, most methods remove the background before the summarization of the probe sets. Although this reduces signal and fold change bias, it also obscures the 'real' fold change. That is, the fold changes of probes with a large background signal will be blown up more than those of other probes. In fact, probes which measure only background signal for some arrays could get infinite fold changes if this was not prevented by limiting the amount of background subtracted. This has a major impact on the summarization of probe sets, as such probes become more important than they should.
One could choose to perform no background subtraction, preventing the dominance of high-background probes, at the cost of increased bias. But, even then probes that measure mostly background signal influence the summarization outcome. Therefore, in our approach, we have moved the background removal not only after the normalization phase, but into the summarization phase. This allows us to model the importance of the probes during summarization according to the amount of 'true' signal they measure.
Discussion
The results show that the performance improvements shown cannot be attributed to one component of the algorithm. Rather, it is a collection of improvements obtained by normalizing the different technical effects, removing the background after the normalization procedure, and, using background information in the summarization procedure.
Our method currently assumes that, on average, the expressions of genes remains similar accross multiple arrays, allowing us to identify the technical effects. This assumption is also used in other widely used normalization methods such as quantile normalization. The limitation of these type of methods is that they cannot be used when all genes change their expression simultaneously upwards or downwards. RDN requires more computation time than other normalization methods (10 minutes per array on a recent dual core 3 Ghz Intel processor). However, this amount of time is still small when compared to the time it takes to perform the microarray experiment. Furthermore, it is easy to parallelize the algorithm. Compared to the number of probes (> 200.000) our method uses a relatively limited numer of parameters. This prevents overfitting, so that only large scale effects affecting many probes simultaneously are removed. For platforms with even more probes one can choose to estimate the parameters with a subset of the probes. Currently, the amplification correction is based upon the assumption that probe sets are close to the poly-A tail of the probe set. This is not always the case. We found that especially probe sets further away from the poly-A tail can have large variations in signal for all probes, correlating with the amplification differences. This is not corrected by our current method. Given reliable distances towards the poly-A tail this could be added relatively easily.
The approach shown in this paper could also be useful for other oligonucleotide platforms. In this work we have mainly focused on gene expression. However, it could also be applied to ChIP-chip or tiling experiments.
Conclusions
We have introduced a new normalization method that corrects for hybridization, amplification and array location effects that occur when measuring expression using oligonucleotide arrays. The proposed Robust Difference Normalization (RDN) corrects these technical effects by removing the differences in measured expression over different arrays instead of correcting for signal bias for each array. In this way, the proposed normalization procedure focuses on controlling the precision instead of the accuracy of the measured expression, which is more important for some applications (like, for example, detecting differentially expressed genes). We have shown that the proposed RDN method increases performance, even on experimentally tightly controlled and three times replicated spike-in data sets. The method will be most useful for studies consisting of few independent replicates or those showing large batch effects.
Methods
Data
Spike-in experiments have often been used for validation of normalization methods. We use two Latin Square experiments performed by Affymetrix on the HG-U95A and the HG-U133A platforms. These consist of respectively 59 and 42 arrays, and each measure 14 different spike-in gene groups. For each spike-in group, 14 different concentrations are measured. For the HG-U95A experiments these concentrations are 0, 0.25, 0.5 ... 1024 pmol, while for the HG-U133A experiment the concentrations are 0, 0.13, 0.25 ... 512 pmol. Fold changes between subsequent steps are equal to 2. For every measurement there are three replicates. The HG-U95A platform has extra replicates for some of the measurements. See Additional file 1, Section S2 for a description of which spike-in probe sets were used.
We also validated our method on a dataset measuring human mesenchymal stem cells (hMSCs). In this experiment, bone marrow aspirates were obtained from the acetabulum or iliac crest of patients undergoing hip replacement surgery, who had given written informed consent. Human mesenchymal stem cells (hMSCs) were isolated and proliferated as described previously in [19]. To analyze the gene expression profile we seeded hMSCs at 1000 cells/cm2 and upon reaching near confluence RNA was isolated using an RNeasy mini kit (Qiagen). Quality and quantity were analyzed by gel electrophoresis and spectrophotometrically. For 62 donors, RNA microarray experiments were performed on the HG-U133A 2.0 platform, in three different batches of respectively 21, 21 and 20 donors. Although experiments were performed at the same microarray facility, and with arrays from the same production batch, signficant technical differences were observed between the batches. Differences are likely due to the fact that the batches are performed at a different dates with several months in between. To validate our method, we used two different binary labelsets, namely the gender of the donors and the location (actabulum or iliac crest) from where the cells were obtained in the body.
Spike-in performance
Using the Affymetrix spike-in datasets, we compared the performance of different normalization methods to detect differential expression between different spike-in concentrations. Each spike-in experiment contains 14 concentration groups, with each next group in the series having a 2-fold higher concentration. To make the comparison a more realistic approximation of reality, we only compared two subsequent concentration groups (limiting the comparison to 2-fold differences, including the step from 0 to the next lowest concentration). The resulting number of spike-in concentration pairs is 13 * |spike-ins|. We determine the fold-change or SAM test statistic [20] for the array pairs with the subsequent concentration groups. As is usually done, to determine the performance we calculate an area under the ROC curve (AUC score) using the spike-in pairs with 2-fold concentration difference as positive examples, and the non-spike-in pairs as negative examples. We limit the number of false positives to 50 for each array pair (also called ROC50 score), corresponding to regular practice (e.g. [21]) where one is only interested in results with a limited number of false positives.
Quantile-quantile normalization
The quantile-quantile normalization is performed by mapping the signal distribution of different arrays to the distribution of the median array, after which the measurements from all arrays are sorted and replaced with values from the median array [14].
Authors' Affiliations
(1)
Delft Bioinformatics Lab, Delft University of Technology, Delft, The Netherlands
(2)
Department of Tissue Regeneration, University of Twente, Enschede, The Netherlands
(3)
Centre for Molecular and Biomolecular Informatics (CMBI), Radboud Universiteit Nijmegen, Nijmegen, The Netherlands
(4)
Department of Applied Biology, Radboud Universiteit Nijmegen, Nijmegen, The Netherlands
(5)
Department of Molecular Pharmacology, Merck Research Laboratories, Oss, The Netherlands
(6)
Physiological Genomics Group, BU Biosciences, TNO Quality of Life, Zeist, The Netherlands
Copyright
© Hulsman et al; licensee BioMed Central Ltd. 2010
This article is published under license to BioMed Central Ltd. This is an Open Access article distributed under the terms of the Creative Commons Attribution License (http://creativecommons.org/licenses/by/2.0), which permits unrestricted use, distribution, and reproduction in any medium, provided the original work is properly cited.