Research article
Open Access
Missing value imputation for epistatic MAPs
BMC Bioinformatics
2010
11:197
Received: 1 October 2009
Accepted: 20 April 2010
Published: 20 April 2010
Abstract
Background
Epistatic miniarray profiling (E-MAPs) is a high-throughput approach capable of quantifying aggravating or alleviating genetic interactions between gene pairs. The datasets resulting from E-MAP experiments typically take the form of a symmetric pairwise matrix of interaction scores. These datasets have a significant number of missing values - up to 35% - that can reduce the effectiveness of some data analysis techniques and prevent the use of others. An effective method for imputing interactions would therefore increase the types of possible analysis, as well as increase the potential to identify novel functional interactions between gene pairs. Several methods have been developed to handle missing values in microarray data, but it is unclear how applicable these methods are to E-MAP data because of their pairwise nature and the significantly larger number of missing values. Here we evaluate four alternative imputation strategies, three local (Nearest neighbor-based) and one global (PCA-based), that have been modified to work with symmetric pairwise data.
Results
We identify different categories for the missing data based on their underlying cause, and show that values from the largest category can be imputed effectively. We compare local and global imputation approaches across a variety of distinct E-MAP datasets, showing that both are competitive and preferable to filling in with zeros. In addition we show that these methods are effective in an E-MAP from a different species, suggesting that pairwise imputation techniques will be increasingly useful as analogous epistasis mapping techniques are developed in different species. We show that strongly alleviating interactions are significantly more difficult to predict than strongly aggravating interactions. Finally we show that imputed interactions, generated using nearest neighbor methods, are enriched for annotations in the same manner as measured interactions. Therefore our method potentially expands the number of mapped epistatic interactions. In addition we make implementations of our algorithms available for use by other researchers.
Conclusions
We address the problem of missing value imputation for E-MAPs, and suggest the use of symmetric nearest neighbor based approaches as they offer consistently accurate imputations across multiple datasets in a tractable manner.
Keywords
Gene PairEpistatic InteractionGene Expression DatasetNormalize Root Mean Square ErrorImputation Approach
Background
Epistatic miniarray profiles (E-MAPs) provide a high-throughput methodology to quantitatively measure the strength of pairwise genetic interactions. Given a pre-defined set of genes, the procedure supports the identification of both positive (alleviating) and negative (aggravating) interactions between genes, assignments that are immensely valuable in interpreting the biological basis of the epistatic relationships [1]. Most commonly an E-MAP is represented in the form of a symmetric matrix, with real-valued entries indicating the type and strength of interaction between each pair of genes under consideration. These scores are calculated based on the divergence in growth of yeast strains with two disrupted genes from the expected growth rate. Typically a normalization process is applied to the interaction scores so that positive matrix entries denote an alleviating interaction, negative matrix entries denote an aggravating interaction, and values close to zero indicate the probable absence of an interaction between two genes - i.e. they function in independent pathways in the cell. Full details of the experimental procedure and the normalization process are described in Collins et al[2].
Computational techniques such as cluster analysis may subsequently be applied to the E-MAP score matrix. This type of analysis often provides insight into the underlying biology. For example, subsets of genes with similar interaction profiles may signify complexes of proteins involved in common biological processes [
3
]. An example of this is shown in Figure
1
, where members of the Swr1 complex and the histone HTZ1 all display similar interactions with a variety of genes.

Recently additional techniques for the analysis of E-MAPs have been developed. Pu et al[4] have extended the concept of profile similarity using a biclustering approach - so that clusters of genes can be identified which do not necessarily share globally similar interaction profiles, but have a strong coherence over a fraction of their interactions. Ulitsky et al[5] and Bandyopadhyay et al[1] have developed methods which combine physical interaction data with genetic interaction data in order to identify functional modules and the connections between them.
One common characteristic of E-MAPs is the high proportion of missing entries that they contain. Missing entries correspond to pairs of genes for whom interaction strengths could not be measured during the high-throughput process or those that were subsequently filtered due to unreliability. These missing values can reduce the effectiveness of some techniques, e.g. introducing instability in clustering [6], and prevent the use of others, e.g. matrix factorization techniques such as SVD and PCA. As each epistatic interaction implies a functional relationship between gene pairs, individual epistatic interactions themselves may provide valuable biological insight. Consequently there is an urgent need for an effective imputation technique.
Related Work
Although the problem of predicting genetic interactions is not new, to our knowledge the problem of imputing quantitative epistasis values in E-MAPs has not previously been evaluated. For E-MAP imputation the goal is to achieve a complete dataset by predicting quantitative scores for all interactions between gene pairs in a given set - including those that display no significant interaction. An illustrative example of an incomplete E-MAP (with missing values) and a corresponding completed E-MAP (with imputed values) is shown in Figure
2
.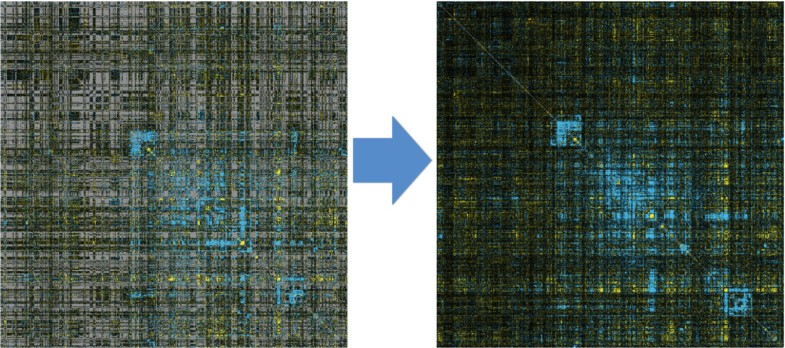 Järvinen et al[7] have applied a matrix approximation technique to a small scale (26 genes) E-MAP-like dataset, and have shown that gene pairs whose growth diverges significantly from the expectation can be identified without the need for measurements of single mutant growth rates. While similar matrix approximation techniques could perhaps be used to address the missing value problem, this was not addressed in their work.
Existing techniques [8–10] focus on predicting binary interactions (synthetic lethality), and work on some operating threshold where only a fraction of all possible interactions are predicted. In other words, they focus on qualitative prediction of the presence or absence of an interaction rather than attempting to quantify the interaction strength. These methods have had some success by mixing heterogeneous biological data [8] or by exploiting the topology of the underlying protein interaction network [9]. More recently Qi et al[10] have used graph based methods to predict synthetic lethality, using only the graph of synthetic lethal interactions.
The problem of imputation for E-MAPs more closely resembles that of imputing values in gene expression datasets. The goal in both cases is to construct a complete dataset by imputing quantitative measurements in order to improve the subsequent data analysis. Notably both E-MAPs and gene expression datasets display coherence among genes. For gene expression data this is considered to be indicative of co-regulation, while for E-MAPs it is indicative of co-complex or pathway membership. For this reason E-MAP datasets are typically analyzed using tools developed for gene expression data (e.g. the Cluster tool [11]) to group together genes with similar interaction profiles as in Figure 1, and to generate heat-maps of the interactions between genes for visual inspection.
The problem of missing value imputation has been well studied for gene expression data. For instance, Troyanskaya and co-workers [12] compared two methods K-Nearest Neighbors (KNNImpute) and singular value decomposition (SVD). They recommended KNNImpute as the more robust and accurate method. Since then a number of techniques have been developed, generally falling into two broad categories: local methods, such as nearest neighbor-based techniques, and global methods, generally based on matrix decomposition such as SVD and PCA. In 2008 Brock et al[13] provided a comprehensive analysis of different techniques across a number of datasets. Notably, they found that the optimal imputation methods were all competitive with each other, and that the effectiveness of different techniques depended on the "complexity" of the dataset (where the complexity was taken to signify the difficulty with which the data can be reliably transformed to a lower-dimensional subspace). These authors demonstrated that local methods generally performed better on datasets with higher complexity.
Data Characteristics
Important differences between E-MAP data and gene expression data must be considered:
1.

E-MAP datasets are pairwise and symmetric - each missing value represents the interaction between two genes measured under a specific experimental condition, rather than the expression of a given gene in a given sample or at a given time point.

2.

E-MAP datasets contain a significantly higher percentage of missing values (up to ≈ 35%), compared with an average of ≈ 5% for gene expression datasets.

3.

E-MAP datasets have significantly different dimensionality to gene expression datasets. E-MAPs are symmetric relational datasets (i.e. square), typically consisting of between 400 to 800 genes. Gene expression datasets are feature-based (i.e. rectangular), frequently containing hundreds or thousands of genes represented across only a small number (e.g. 2 to 20) of arrays. This has significant consequences for computational performance when employing matrix factorization techniques.
We observe that there are three types of missing data in E-MAP experiments which may need to be considered separately for the purpose of imputation. Missing values in gene expression datasets are effectively treated as missing at random. This is not the case with E-MAPs where we observe three categories of missing value:
1.

Chromosomal Neighbors: These consist of gene pairs that are located sufficiently close to one another on a chromosome that recombination events between the two genes are infrequent (within 50 kb for S.cerevisiae). Although these pairs are measured in high-throughput experiments, they are removed during a data filtering step because recombination between the relevant genes during the experiment causes an apparent negative interaction that obscures the actual interaction between the pair.

2.

DAmP-DAmP Interactions: The majority of measured E-MAP interactions arise from complete disruption (deletion) of both genes. In contrast DAmP (Decreased Abundance by mRNA Perturbation) alleles result in unstable mRNAs, and typically are expressed at 5 to 50% of wild type levels [14]. This method is used to disrupt but not completely eliminate the function of essential genes. DAmP - DAmP pairs correspond to combinations of essential genes, which are not generally measured, in part because they grow poorly.

3.

Other Interactions: This category can be divided into two sub-categories. Firstly, those that correspond to a double mutant measuring the interaction between one essential and one non-essential gene. Secondly, those that correspond to a measurement of the interaction between two non-essential genes. These cases make up the majority of the missing values in an E-MAP and can be considered in the same way for imputation purposes. They are not missing systematically, as is the case with the other categories, and can be treated as missing at random. They occur due to problems in growing the necessary mutants, inconsistencies in the results of multiple experiments, or other problems with the experimental technique.
In general ≈ 100% of the DAmP-DAmP interactions and the chromosomal neighbors are missing from the E-MAP score matrices (see 'Additional file 1 - missing by dataset.pdf'). This means that, although we can impute values for these interactions, we have no effective means of verifying our imputations. Since the third category makes up the majority of the missing values in every published E-MAP, and our predictions for this category can be verified, we focus on this category for the rest of the paper.
Methods
In this paper we consider four general strategies for imputing missing values in real-valued data - three local methods (nearest neighbor-based) and one global method (BPCA) - and adapt these strategies to work with symmetric data such as E-MAPs.
Conclusions
We have introduced the problem of missing value imputation for Epistatic MAPs, and provided three categories for the missing values that they contain. We have shown that local imputation strategies are more accurate and much more computationally tractable than global PCA-based strategies. We have proposed three local imputation approaches based on the use of nearest neighbor information. Evaluations performed on a comprehensive set of E-MAPs from two yeast species suggest that in terms of absolute accuracy the local least squares imputation strategy is marginally better than the weighted nearest neighbor strategy with both outperforming the unweighted nearest neighbor approach. However, the weighted nearest neighbor approach is generally better at recalling strongly interacting epistatic gene pairs, suggesting that it may be more useful for those interested in analysis of individual interactions. For these reasons we suggest that both the local least squares and weighted nearest neighbor imputation strategies should be considered for the further analysis of Epistatic MAPs and we have made an implementation of both methods available online. We have also suggested a number of follow-up research topics which should be facilitated by these implementations.
Declarations
Acknowledgements
This research was supported by the IRCSET funded PhD programme in Bioinformatics and Computational Biomedicine http://bioinformatics.ucd.ie/PhD/.
We wish to acknowledge the support of Science Foundation Ireland under Grant No. 08/SRC/I1407 (PC and DG).
The authors acknowledge the Research IT Service at University College Dublin for providing HPC resources that have contributed to the research results reported within this paper http://www.ucd.ie/itservices/researchit/.
Authors' Affiliations
(1)
School of Computer Science and Informatics, University College Dublin, Dublin, Ireland
(2)
Conway Institute of Biomolecular and Biomedical Research, University College Dublin, Dublin, Ireland
Copyright
© Ryan et al; licensee BioMed Central Ltd. 2010
This article is published under license to BioMed Central Ltd. This is an Open Access article distributed under the terms of the Creative Commons Attribution License (http://creativecommons.org/licenses/by/2.0), which permits unrestricted use, distribution, and reproduction in any medium, provided the original work is properly cited.