PhenoFam-gene set enrichment analysis through protein structural information
BMC Bioinformatics
2010
11:254
Received: 23 February 2010
Accepted: 17 May 2010
Published: 17 May 2010
Abstract
Background
With the current technological advances in high-throughput biology, the necessity to develop tools that help to analyse the massive amount of data being generated is evident. A powerful method of inspecting large-scale data sets is gene set enrichment analysis (GSEA) and investigation of protein structural features can guide determining the function of individual genes. However, a convenient tool that combines these two features to aid in high-throughput data analysis has not been developed yet. In order to fill this niche, we developed the user-friendly, web-based application, PhenoFam.
Results
PhenoFam performs gene set enrichment analysis by employing structural and functional information on families of protein domains as annotation terms. Our tool is designed to analyse complete sets of results from quantitative high-throughput studies (gene expression microarrays, functional RNAi screens, etc.) without prior pre-filtering or hits-selection steps. PhenoFam utilizes Ensembl databases to link a list of user-provided identifiers with protein features from the InterPro database, and assesses whether results associated with individual domains differ significantly from the overall population. To demonstrate the utility of PhenoFam we analysed a genome-wide RNA interference screen and discovered a novel function of plexins containing the cytoplasmic RasGAP domain. Furthermore, a PhenoFam analysis of breast cancer gene expression profiles revealed a link between breast carcinoma and altered expression of PX domain containing proteins.
Conclusions
PhenoFam provides a user-friendly, easily accessible web interface to perform GSEA based on high-throughput data sets and structural-functional protein information, and therefore aids in functional annotation of genes.
Keywords
Ensembl Database
RNAi Screen
InterPro Database
Sorting Nexins
Protein Structural Information
Background
Analysis of large sets of results derived from high-throughput experiments is a challenging but promising field of study. Enrichment analysis is a very powerful strategy helping researchers in identifying biological processes or pathways related to their studies. Most of the currently available tools (i.e. Onto-Express [1], DAVID [2], FatiGO+ [3], ConceptGene [4] and others reviewed in [5]) search for enrichment of Gene Ontology (GO) terms [6], KEGG pathways [7] or other functional properties in a pre-selected subset of genes by contrasting it with the background set, usually a whole genome. This approach strongly relies on a chosen hit selection algorithm and user-defined thresholds. Moreover, the experimental results (i.e. level of expression or phenotype strength) are not considered. There are few applications overcoming these limitations by performing gene set enrichment analysis (GSEA) [8]. They search for gene annotations enriched on the top or the bottom of a complete list of genes ranked by their experimental values. This allows even mild effects to contribute to the overall enrichment score. However, to our knowledge, annotations used by available GSEA tools have so far primarily been used in combination with GO terms, pathways or transcription factors, and only few of these applications are web-based (e.g. GSEA [9], FatiScan [3], GeneTrail [10]).
In recent years, access to high-resolution protein structural information has increased considerably. Many new structures reveal the presence of domains known from other proteins, and the domain composition of a protein can help forming a hypothesis about its biological function (e.g. a homeodomain fold indicates a transcription factor activity involved in cellular differentiation [11]). Moreover, Hahne et al. demonstrated, that the domain composition of proteins could be used for predicting their pathway membership [12]. There are many databases classifying and providing information about protein families, domains, regions and functionally relevant sites. InterPro [13] constitutes a repository that integrates a number of the most well established sources of data: PROSITE [14], HAMAP [15], Pfam [16], PRINTS [17], ProDom [18], SMART [19], TIGRFAMs [20], PIRSF [21], SUPERFAMILY [22], Gene3D [23] and PANTHER [24]. We have developed a GSEA web application that can be used for analysing data from large-scale experiments (phenotypes, gene expression, etc.). Our tool combines the experimental results with annotations from the databases integrated in InterPro (called 'member databases'), thereby allowing a streamlined structure/function annotation of proteins. Utilization of information about protein domain families in GSEA is a novel approach that can be used in parallel to other enrichment analysis applications.
Results
PhenoFam allows many data sets as the starting point, such as results of microarray studies, systematic RNA interference (RNAi) screens, ChIP-Chip/ChIP-Seq experiments or comparative mass-spectrometry (i.e. SILAC) results. To test the utility of PhenoFam, we analysed a data-set derived from a genome-scale cell cycle progression RNAi screen [34]. In this screen, a genome-wide study of genes was carried out providing z-scores for cell cycle progression phenotypes (i.e. cells in G1, S, G2/M phases and polyploidy) for each knockdown.
A PhenoFam analysis of the complete RNAi data-set revealed that plexins containing a cytoplasmic RasGAP domain were enriched (
p
< 0.005) for polyploidy phenotypes (Figure
3A
, Table
1
). Knockdown of most transcripts encoding these genes resulted in an increase of polyploidy cells. Although in the published RNAi screen [
34
] only genes with the strongest polyploidy phenotypes of
z
-score > 6 were selected for further investigation, the PhenoFam analysis suggests that plexins not passing this criteria might also have a function in cytokinesis.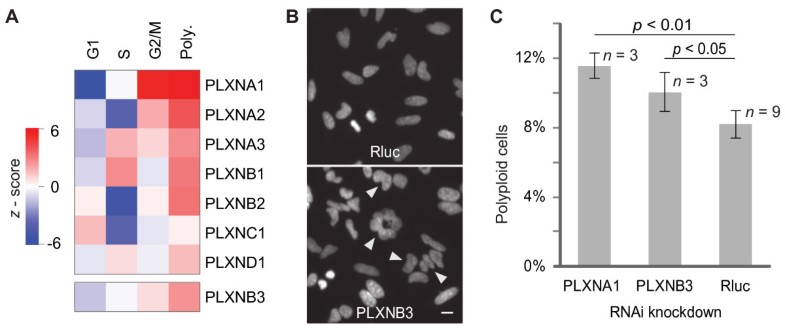 Table 1
Normalized values of polyploidy RNAi phenotypes of plexins, from the primary cell cycle progression screen.
| Ensembl ID | Gene | Polyploidy (z-score) |
| --- | --- | --- |
| ENSG00000114554 | PLXNA1 | 13.15 |
| ENSG00000076356 | PLXNA2 | 4.05 |
| ENSG00000130827 | PLXNA3 | 2.72 |
| ENSG00000164050 | PLXNB1 | 3.14 |
| ENSG00000196576 | PLXNB2 | 3.33 |
| ENSG00000004399 | PLXND1 | 1.45 |
| ENSG00000136040 | PLXNC1 | 0.32 |
Moreover, based on this result we predicted that knockdown of the gene PLXNB3, which belongs to the same family, but had not been tested in the screen, would also increase the degree of polyploidy. Indeed, an increased number of polyploid cells were measured after PLXNB3 knockdown (Figure 3), indicating that depletion of this gene, like other plexins with cytoplasmic RasGAP domains, influences proper cytokinesis. This example demonstrates that PhenoFam can be a valuable support for selecting hits from the RNAi screens.
To show that PhenoFam is also suitable for analysis of other large-scale data-sets, we examined publicly available gene expression data that compares transcriptomes of human breast carcinoma and healthy tissue [35]. GSEA of this data-set using GeneTrail [10] showed that genes whose expression is altered in breast cancer are significantly enriched with the 'signal transduction' and 'cell differentiation' gene ontologies, highliting the importance of these biological processes during cellular transformation (data not shown). However, the analysis with GeneTrail did not provide information of enrichment of certain protein domains. In contrast, analysis of the same data-set with PhenoFam showed that among differentially expressed genes, Ras-family proteins and phox (PX) domain-containing proteins were enriched (p < 0.001, data not shown).
Ras GTPases are known to play a role in breast cancer development [36] and, therefore, it is not surprising that this group of proteins was enriched in this set. Proteins containing a PX domain are involved in cell signalling, vesicular trafficking, protein sorting and lipid modification, and are primarily found in sorting nexins [37]. Previous studies suggest that various sorting nexins are involved in leukemia [38], colon tumorigenesis [39] and, in general, contribute to cell cycle progression in mammalian cells [40]. However, their role in breast cancer has not been described so far. Our PhenoFam anaysis suggests that proteins with PX domains are frequently misregulated in breast cancer. Hence, we propose that these proteins should be investigated for a possible role in breast cancer development.
Conclusions
PhenoFam is a computational tool designed to analyse experimental results by integration of functional and structural information about protein families. The distinct features of our application include a user-friendly interface and a broad range of supported genomes and identifiers. It should also be noted that our algorithm, in contrast to existing software, treats the InterPro repository as a collection of partially redundant databases, which improves the power of our testing procedure. Using a specific example, we show that the application can be used as an additional hit selection tool for functional screens. Typical hit selection procedures (i.e. z-score or quantile-based normalization) apply thresholds that can be passed only by genes showing the strongest phenotypes, which often leads to a high false-negatives rate. In case of our GSEA method, a domain may appear to be significantly enriched despite moderate phenotypes of the associated genes. From the potential relationship between the domain and the investigated biological process, genes with moderate phenotypic scores are considered in the list of hits selected from the screen, thereby reducing the false-negative rate.
We also demonstrated that PhenoFam can help forming novel hypothesis based on gene expression data. Accordingly, PhenoFam should be useful in analysing results of other high-throughput experiments, such as ChiP-Chip/ChiP-Seq and comparative mass-spectrometry. In summary, together with other enrichment analysis tools, PhenoFam can assist in annotating genes of unknown function and in discovering new functions of already characterised genes.
Availability and requirements
Declarations
Acknowledgements
This work was supported by the Max Planck Society, the Bundesministerium für Bildung und Forschung grant NGFN-Plus (01GS0859), the Deutsche Forschungsgemeinschaft (SFB 655 'Cells into tissues') and by the Klaus Tschira Stiftung gGmbH.
Authors' Affiliations
(1)
Max Planck Institute of Molecular Cell Biology and Genetics, Dresden, Germany
(2)
Structural Bioinformatics, BIOTEC TU Dresden, Dresden, Germany
Copyright
© Paszkowski-Rogacz et al; licensee BioMed Central Ltd. 2010
This article is published under license to BioMed Central Ltd. This is an Open Access article distributed under the terms of the Creative Commons Attribution License (http://creativecommons.org/licenses/by/2.0), which permits unrestricted use, distribution, and reproduction in any medium, provided the original work is properly cited.