Methodology article

Open Access
TOPSAN: a collaborative annotation environment for structural genomics
BMC Bioinformatics
2010
11:426
Received: 19 May 2010
Accepted: 17 August 2010
Published: 17 August 2010
Abstract
Background
Many protein structures determined in high-throughput structural genomics centers, despite their significant novelty and importance, are available only as PDB depositions and are not accompanied by a peer-reviewed manuscript. Because of this they are not accessible by the standard tools of literature searches, remaining underutilized by the broad biological community.
Results
To address this issue we have developed TOPSAN, The Open Protein Structure Annotation Network, a web-based platform that combines the openness of the wiki model with the quality control of scientific communication. TOPSAN enables research collaborations and scientific dialogue among globally distributed participants, the results of which are reviewed by experts and eventually validated by peer review. The immediate goal of TOPSAN is to harness the combined experience, knowledge, and data from such collaborations in order to enhance the impact of the astonishing number and diversity of structures being determined by structural genomics centers and high-throughput structural biology.
Conclusions
TOPSAN combines features of automated annotation databases and formal, peer-reviewed scientific research literature, providing an ideal vehicle to bridge a gap between rapidly accumulating data from high-throughput technologies and a much slower pace for its analysis and integration with other, relevant research.
Keywords
Application Programming Interface
Structural Biology
Automate Annotation
Protein Structure Determination
Protein Structure Initiative
Background
Structural biology uses experimental methods, such as X-ray crystallography and NMR spectroscopy, to provide atomic-level information about the three-dimensional shapes of biological macromolecules. Such detailed information often delivers a critical component of the puzzle that has to be solved in order to understand the function of a macromolecule. Information provided by structural biology, while essential, by itself is not enough to decipher protein function without associated information from biochemistry, molecular and cellular biology, genomics, and other fields of biology. Historically, experimental structure determination of a protein was a long and painstaking process, which was generally initiated only after a significant body of biochemical and biological evidence about the function of a specific protein had been assembled. The very length of the structure determination process, with many steps extending into months, offered ample time to perform additional analyses, integrate all available information, and even carry out additional experiments to clarify the most interesting questions that were raised during the investigation. Such a multi-pronged approach to the characterization and analysis of a structure of a single protein was typically conducted by single investigator groups with broad experience or through collaboration among multiple laboratories with synergistic expertise. These collaborations were forged by standard mechanisms of communication in the scientific community.
This standard model of a structural biology project is now changing, largely because of the development of technological platforms capable of high-throughput protein structure determination. These platforms have reduced the cost and shortened the time for determination of the structure of a novel protein [1]. A significant part of this development came from the formation of large, specialized production centers as part of the NIH/NIGMS Protein Structure Initiative and from the contributions of other similar centers around the world, which are collectively referred to as Structural Genomics (SG) centers. In the last few years, the U.S.-based SG centers alone have solved more than 3,000 non-redundant protein structures, and similar numbers of total structures have been deposited in the Protein Data Bank by the combined contributions of the Japanese and European SG centers. Proteins determined by SG groups include hundreds of examples of the first representative(s) of protein families and other structures of interest; indeed, many are directly relevant to human health. However, the success in advancing technical aspects of protein structure determination has created, rather unexpectedly, a crisis of sorts, as the pace of solving and releasing new structures proceeds independently of, and much faster than, any other complementary experimental work. Thus, given this vastly increased scale of new structures being determined, insufficient time is available for performing the additional biological and biochemical studies to arrive at a complete story for a given protein concurrent with the structure determination process. As a result, most SG-determined structures, despite their significant novelty and importance, are available only as PDB depositions and are not accompanied by a peer-reviewed manuscript. By not being described in ways that would make them accessible by the standard tools of literature searches, they remain underutilized by the broad biological community.
At the same time, the interest, relevant expertise, and resources to complete the characterization and analysis of the proteins determined by SG centers do exist in the broader community, i.e., mostly outside of the structure determination centers. However, the traditional mechanisms of forming collaborations and communicating results cannot keep pace with the high-throughput production of SG centers. Such traditional mechanisms include forming personal networks that arise from extended discussions and interactions at meetings and from local collegial interactions within universities and institutes. These mechanisms have become woefully inadequate as the period for protein structure determination has shrunk to days/weeks rather than months/years. Given the very diverse set of proteins that are worked on by PSI centers, the expertise needed to fully analyze each of them is difficult to find even in the largest labs. Finally, another important difference between an SG center and a standard structural biology lab is the high-throughput aspect of structural genomics. With one structure being determined, on average, each working day, there is simply not enough time to integrate relevant, non-structural data and/or to follow a traditional approach to establishing collaborations with appropriate groups with synergistic experience.
Structural biology is not the only field struggling to maintain a balance between high-throughput data accumulation and a much slower pace for its analysis and integration with other, relevant research. The former is driven by the rapid pace of technological development, whereas the latter is limited by the standard methods of data analysis and assimilation. The equivalent amount of time and effort that was once needed to sequence a single gene can now yield the sequence of an entire genome; similarly, the effort needed a few years ago to analyze the expression pattern for a single gene can now yield a genome-size DNA expression array. In contrast, the time needed to research a particular question and look for possible connections to other data and/or experiments, as well as the time to find and consult with a colleague who is knowledgeable in another, often connected field, are not easily changed by technology. As a result, a significant percentage of data obtained by high-throughput techniques remain suspended in the no-man's land of "unpublished results"; for instance, the almost 18,000 microarray experiments in the Stanford microarray database have led to only 449 publications [2], and almost 40% of fully sequenced bacterial genomes (and an increasing number of eukaryotic ones) did not lead to a single publication [3].
This growing gap between data creation and analysis has led to exploration of new approaches for exchanging and disseminating information, ranging, for example, from blogs to wikis to networking sites. Most of these recent attempts have been enabled by the emergence of the Internet, which has changed, and is still changing, the way people communicate, both in science and beyond. It is interesting to note that the most important developments in the Internet era, from the Internet itself to the concept of the World Wide Web [4], were driven by the needs of the scientific community to communicate and exchange complex information. Many other experiments in what we would now call community annotations were also driven by the technological developments in science. For instance, the rapid growth of genomic sequences driven by the technical developments in the field of DNA sequencing spurred the initiation of other novel approaches to deal with the relentless increase in data generation, such as genome annotation jamborees (e.g., Flybase [5]) and dedicated websites devoted to annotation and exchange of data on specific organisms, which became early models for social scientific networks and unstructured research data exchange. More recently, the emergence of the "Wikipedia" concept [6] has shown how much the creative use of relatively simple computer technologies can change the dynamics of information collection and dissemination and allow unprecedented collaborations between geographically dispersed communities of users. The success of Wikipedia has inspired the biological community to adopt this model to collect and disseminate scientific information [7]. However, Wikipedia focuses on the collection and dissemination of existing, already verified information, as exemplified in one of the fundamental rules of Wikipedia; namely, it includes "no original research" http://en.wikipedia.org/w/index.php?title=Wikipedia:No_original_research. On the other hand, creating new knowledge is a critical part of science. Wikipedia's dependence on already verified information allows it to avoid issues such as impartial mechanisms for ensuring the reliability of information (e.g., peer review) and assigning credit for individual contributions. These problems are addressed by peer-reviewed literature, but at the cost of slower speed of dissemination, as well as other constraints imposed by the inherently inefficient structure of the institutionalized peer-review process.
Most biology focussed wikis, such as WikiPathways [8], Proteopedia [9], WikiProteins [10], PDBWiki [11], Wikigenes [12], and GeneWiki [13], while adding novel extensions to visualize biological information, adhere largely to the Wikipedia model. Only some of them, such as WikiGenes, go beyond the standard Wikipedia model and address, or at least acknowledge, some of the issues important in creating new knowledge, such as authorship tracking. Here, we describe our attempt to develop a model of an open scientific collaboration platform that seeks to achieve a balance among the openness and ease of use of a wiki, the need for rigorous validation and for recognizing the importance or pride of authorship, the achievement of the value typical for peer-reviewed literature, and the speed and accuracy of a database. We have concentrated mostly on the needs of the emerging structural genomics field, which studies the vast unexplored sectors of the protein universe, but we are aware that the same issues are faced by other scientific fields, including higher throughput structural biology efforts, such as the recently initiated PSI:Biology http://www.nigms.nih.gov/Initiatives/PSI/psi_biology/. Mechanisms similar to those we outline here could be employed to address similar issues in these fields. By focusing on protein structures, TOPSAN has a particular relationship to the recently developed Proteopedia [9] or PDBWiki, which are wiki-style encyclopedias mainly devoted to the 3D structures of proteins. Despite a similar research field (structural biology), TOPSAN differs from both Proteopedia and PDBWiki by scope (concentrating on unannotated structures solved by structural genomics centers vs. all structures in the PDB) and overall goals (developing new knowledge vs. propagating and popularizing existing knowledge). The Proteopedia and PDBWiki pages on structures solved by structural genomics centers are mostly empty, as no published information exists on these structures.
TOPSAN, T he O pen P rotein S tructure A nnotation N etwork http://topsan.org, was developed at one of the PSI high-throughput production centers, the Joint Center for Structural Genomics (JCSG), and has since become a collaborative project involving personnel from other PSI centers, as well as from other institutions. Since its inception, the JCSG has recognized the need for high-throughput annotation and the further analysis of its targets for structure determination and, subsequently, for solved structures; these processes are conducted through a combination of automated annotations, detailed knowledge-based analyses, and follow-up collaborations to advance the functional understanding of the structures being determined. A particularly illustrative example that predates our current instantiation of TOPSAN can be seen as a result of our determination of a novel thymidylate synthase, TM0449 [14] from Thermotoga maritima. Previously known only from genomic complementation studies in Dictyostelium [15], the non-homologous, biochemical pathway of thymidylate synthesis emerged from relative obscurity with the structure determination of TM0449 by the JCSG and spawned a series of informative mechanistic studies that elucidated details of this pathway in a series of subsequent publications in peer-reviewed journals [16–18].
In this article, we describe our ongoing implementation of TOPSAN [
19
] and lay out the capabilities of this specific platform for new potential users, so as to encourage the community to become part of this new model of open, collaborative science. An innovative feature of TOPSAN is its goal of serving as a collaborative network that focuses on creating new knowledge. We aim to achieve this goal by enabling instant collaborations among scientists, each with different expertise and often different perspectives. While anyone can read the database, participation in the system is open only to registered users, which allows for both authorship tracking, as well as for quality control. In contrast to Wikipedia and its scientific extensions, novel contributions are not only accepted, but are actively solicited and encouraged.
Figure
1
depicts the standard scientific information flow and the place occupied by TOPSAN, differentiating it not only from other wiki implementations, but also from traditional peer-reviewed literature and/or standard annotation databases.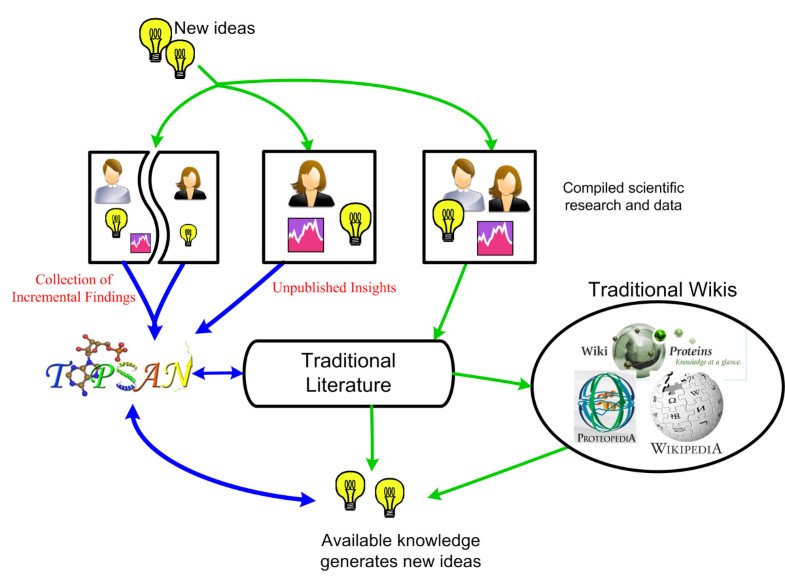 Authorship tracking mechanisms ensure both proper assignment of credit and accountability of contributors. Entries are peer-reviewed by users with established records of accomplishment and credentials to ensure content reliability; at this point, the review is largely performed by senior JCSG scientists. All users of the system implicitly accept the collaborative rules, as any TOPSAN entry is, in fact, an open invitation to collaborate with the SG center that solved this particular structure. This invitation is supported by significant preliminary data and results, such as biological material (clones, purified proteins) and sequence and structure analyses that often provide detailed hypotheses on the function of the newly solved protein. Such collaborations can lead to traditional, peer-reviewed papers, and, encouragingly, many of the TOPSAN entries are, in fact, progressing this way.
One view of the TOPSAN system then is that of a stepping-stone to peer-reviewed publications, where the openness of our system allows for the immediate establishment of collaborations and TOPSAN pages are treated as a mechanism to link individual collaborators and unpublished results to achieve the ultimate goal of publishing in a, standard, peer-reviewed journal. Another, more far-reaching view of TOPSAN is that of a "live" protein annotation and collaboration platform, i.e., a platform that might lead to novel forms of ongoing, virtually continuous scientific communication and knowledge creation. For collaborative science, this approach offers a new paradigm especially pertinent to the "omics" era. While we personally favor this view, the actual outcome will ultimately be determined by the general community of users and contributors.
Discussion and Conclusions
In this article, we describe TOPSAN, The Open Protein Structure Annotation Network http://topsan.org, a collaborative environment developed by the Bioinformatics Core of the Joint Center for Structural Genomics to facilitate annotations and collaborative research in order to characterize protein structures solved by Protein Structure Initiative production centers and other structural genomics groups, and in turn, to facilitate the integration of these structures with research in the broad biological and biochemical community. Structural genomics, in its quest to provide broad coverage of protein space, frequently targets uncharacterized proteins, whose specific functions are unknown. Sometimes, an analysis of distant homology relationships or of the data from expression arrays suggest a possible relation to another, better-characterized protein family, but the reliability of such predictions and the extent of possible functional similarity varies from case to case and needs expert analysis. For other structures, features that are novel and impossible to predict from the sequence can be gleaned from the structure and hint at possible, previously unknown twists in the evolution of some members of otherwise, well-characterized protein families. In many such cases, structure analysis may lead to a new structural or functional hypothesis or an interesting speculation, which while very intriguing, would likely remain unpublished using standard criteria for peer-review publications. TOPSAN opens up a venue for such information to become available to a wider audience, increasing the chance that such partial information would be debated, discussed, and eventually combined with other supporting information from experimental work in another lab or, encouragingly, would prompt another researcher to perform a critical experiment to evaluate and test the function or the hypothesis. TOPSAN strives to maintain quality that approaches peer-reviewed publications by ensuring the contributions come from registered users, who during registration have to present credentials as to their expertise in biology, as well as by monitoring and evaluating contributions to identify, on one hand, spammers or abusers of the system, and on the other, expert users who are ready to assist in ensuring quality by providing oversight of other users. With a mechanism of tracking authorship of contributions, TOPSAN offers great possibility that disparate collaborators, often unknown to one other, can pool their information and resources to arrive at a body of significant new knowledge. With these goals, TOPSAN aims to occupy a niche different from that of the Wikipedia-type scientific wikis and that of databases or depository sites. Nevertheless, the primary goal of both types of resources is to provide easier access to already existing and validated information. At the same time, with its emphasis on ease of use and its lack of requirements for a minimal contribution size, TOPSAN is different from the peer-reviewed, standard scientific literature and allows more spontaneous, rapid communication and quick interaction.
The TOPSAN project evolved from an internal JCSG effort to annotate and more fully characterize the proteins that were determined in our center. This history is responsible for the current implementation being strongly focused on protein structure, but the TOPSAN concept can be readily generalized to any high-throughput project, such as PSI:Biology, to novel structures of other macromolecules determined by a structural biology lab, and more broadly, to any research domain where there is a need for a wider collaboration and a chance that critical pieces of information or expertise for any given project or research area are already known or available from members of the scientific community. The essence of the TOPSAN approach is to encourage new collaborations and explore the use of diverse, often disparate data to find new, integrative views on important biological problems. Therefore, while at this point TOPSAN is an experiment in the annotation and analysis of proteins targeted by structural genomics, it is also a model for collaborations in the potentially much larger and more complex research fields that are emerging in biology and other research disciplines.
Declarations
Acknowledgements
We want to thank the entire JCSG team and especially Dr. Ashley Deacon and members of the JCSG Structure Determination Core for their advice and support during the development of the TOPSAN concept and its implementation and for their willingness to use the system during its development. We also thank numerous contributors from the JCSG and from the broader structural biology community for creating and contributing to TOPSAN pages. Similarly, we want to thank former members of the JCSG Bioinformatics core, BVLS Prasad, Chris Edwards, and Piotr Kozbial for contributions to the earlier stages of TOPSAN development. This work was supported by the NIH Protein Structure Initiative grants U54 GM074898 (JCSG) and P20 GM076221 (JCMM) from the National Institute of General Medical Sciences. The content is solely the responsibility of the authors and does not necessarily represent the official views of the National Institute of General Medical Sciences or the National Institutes of Health.
Authors' Affiliations
(1)
Joint Center for Structural Genomics, Bioinformatics Core, Sanford-Burnham Medical Research Institute, La Jolla, USA
(2)
Joint Center for Structural Genomics, The Scripps Research Institute, La Jolla, USA
(3)
Joint Center for Structural Genomics, Bioinformatics Core, Center for Research in Biological Systems, University of California, La Jolla, USA
(4)
Joint Center for Molecular Modeling, Sanford-Burnham Medical Research Institute, La Jolla, USA
Copyright
© Weekes et al; licensee BioMed Central Ltd. 2010
This article is published under license to BioMed Central Ltd. This is an Open Access article distributed under the terms of the Creative Commons Attribution License (http://creativecommons.org/licenses/by/2.0), which permits unrestricted use, distribution, and reproduction in any medium, provided the original work is properly cited.