Research article

Open Access
Content-based microarray search using differential expression profiles
BMC Bioinformatics
2010
11:603
Received: 30 June 2010
Accepted: 21 December 2010
Published: 21 December 2010
Abstract
Background
With the expansion of public repositories such as the Gene Expression Omnibus (GEO), we are rapidly cataloging cellular transcriptional responses to diverse experimental conditions. Methods that query these repositories based on gene expression content, rather than textual annotations, may enable more effective experiment retrieval as well as the discovery of novel associations between drugs, diseases, and other perturbations.
Results
We develop methods to retrieve gene expression experiments that differentially express the same transcriptional programs as a query experiment. Avoiding thresholds, we generate differential expression profiles that include a score for each gene measured in an experiment. We use existing and novel dimension reduction and correlation measures to rank relevant experiments in an entirely data-driven manner, allowing emergent features of the data to drive the results. A combination of matrix decomposition and p-weighted Pearson correlation proves the most suitable for comparing differential expression profiles. We apply this method to index all GEO DataSets, and demonstrate the utility of our approach by identifying pathways and conditions relevant to transcription factors Nanog and FoxO3.
Conclusions
Content-based gene expression search generates relevant hypotheses for biological inquiry. Experiments across platforms, tissue types, and protocols inform the analysis of new datasets.
Keywords
Small Cell Lung CancerIndependent Component AnalysisGene Expression OmnibusDuchenne Muscular DystrophyDimension Reduction Method
Background
With the development of the DNA microarray and other technologies that probe gene expression on an "omic" scale, we are now able to discover associations between biological conditions based on their molecular underpinnings. Seminal work by Golub et al. [1] classified leukemia samples by their global gene expression profiles, demonstrating that transcriptomic signatures can aid in functional prediction and improve our molecular understanding of disease. Hughes et al. [2] predicted the effects of novel gene deletions and chemical treatments by profiling yeast mutants and comparing new arrays to this reference. More recent studies examined cellular transcriptional response to drug treatment [3, 4] and disease [5, 6] in order to identify novel relationships between apparently unrelated conditions and compounds. This work not only demonstrated the utility of expression-based discovery, but also suggested that functional studies about drugs and diseases can utilize data from different platforms and cell types. This general approach to hypothesis generation - namely, finding associations between diverse conditions based on gene expression - has great potential to further biological and biomedical research if implemented on a large scale.
Here we develop methods for content-based gene expression search using an entire experiment as a query. That is, given an input experiment comparing case to control, we aim to identify other experiments that show similar patterns of differential expression. This concept is exemplified by the Connectivity Map [3], which searches for relationships between treatment-control comparisons for small molecules. While the Connectivity Map focused on drug treatment and disease, a similar approach across a sufficiently large data source would allow for the identification of associations between gene knockdowns, diseases, drugs, and myriad other perturbations and phenotypes. Public repositories provide a wealth of data amenable to this task. The largest of these repositories, the National Center for Biotechnology Information (NCBI) Gene Expression Omnibus (GEO) [7], now contains over 400,000 individual samples from more than 17,000 experiments detailing the molecular characteristics of diverse cell types, diseases, and drug treatments. The European Bioinformatics Institute (EBI) ArrayExpress Repository [8] and Stanford Microarray Database [9] host additional data. While GEO supports searches of its content based on free-text and controlled-vocabulary annotations, there is increasing interest in methods for querying microarray databases based on the molecular measurements themselves [10–14]. The power of this approach would grow with the size of the repository.
Current methods for content-based search typically involve a two-step process: they identify a gene set of interest and then search for experiments in which this gene set is important. Several groups have introduced methods for identifying experiments that co-express [15] or differentially express [11] a given gene set. Recently, EBI implemented the Gene Expression Atlas, which provides this latter functionality over their curated array archive [13]. These methods, however, require that both the query and target experiments differentially express genes above some hard threshold, and thus may miss more subtle or noisy relationships [16]. Other approaches, typified by Gene Set Enrichment Analysis (GSEA) [16], partially bypass this requirement by comparing a subset of genes to ranked profiles, using a hard threshold for the query experiment and a soft threshold for the queried experiments [3, 4].
While previous approaches require designating a group of differentially expressed genes, we explore the possibility of using as a query a differential expression (DE) profile, consisting of a complete list of features and associated expression scores. By examining all genes shared between query and queried experiments, we aim to identify experimental conditions and perturbations that exhibit similar transcriptional responses. A successful strategy in this effort should reconcile differences between species, platform types, and normalization methods, as well as overcome the confounding effects of noise and technical replicability. To achieve this, we consider combinations of methods for three tasks: data representation, dimension reduction, and search algorithm.
First, we consider the problem of data representation. Typical microarray analysis methods represent differential expression as a fold-change, comparing the expression in one set of samples to that in another [17]. However, because public expression databases consist of a broad range of data types and experimental modalities, rank-based representations are often employed to account for the disparities in the distributions of observed data [4, 10]. Here we compare both parametric and nonparametric data representations to determine the best approach for comparing DE profiles. We also consider an alternate representation of gene expression data, and construct DE profiles based on the p-value of differential expression.
A second challenge is that gene expression profiles from high-throughput technologies consist of up to tens of thousands of measurements per sample. In addition to the computational complexity involved in handling these large datasets, high dimensionality often confounds data mining techniques [16, 18]. In particular, high-dimensional, multimodal data lends itself to over-fitting and reduced performance [19]. Many solutions to this problem have been proposed, of which dimensionality reduction is the foremost. Matrix decomposition [20, 21], feature selection [22], and module or gene-set based approaches [16, 23] attempt to capture the most relevant data while removing redundant or noisy features [18].
Given an appropriate data representation for differential expression, the final challenge is how best to calculate the similarity between two experiments. While Fujibuchi et al. use Spearman rank correlation to compare individual microarrays [10], it is not clear whether a similar approach is appropriate for DE profiles. Several recent studies use a modified Pearson correlation measure on rank-normalized profiles [4, 5, 24]. Other work suggests that weighting expression values by each gene's variance may improve classification and analysis [25, 26].
To begin to address these challenges, we test several search schema representing combinations of data representation, dimension reduction, and correlation measures in a curated collection of 32 disease-related GEO experiments. We create DE profiles to represent the changes in transcription between normal and disease samples (Figure
1A
), and evaluate the performance of our schema in retrieving experiments that measure the same disease as a query experiment (Figure
1B
). We find that a projection method for dimension reduction performs as well or better than search in gene-space, and introduce an intuitive
p
-value weighted correlation coefficient that performs the best in our test compendium. Using the most successful parameters, we exhaustively index GEO DataSets (GDS) totaling 31,453 arrays and 2,089 experiments. We demonstrate the utility of our method by querying our database of DE profiles with several experiments examining transcription factor knockdown in embryonic and neural stem cells. This work demonstrates the feasibility of content-based microarray search for the large-scale discovery of functional links between gene expression experiments.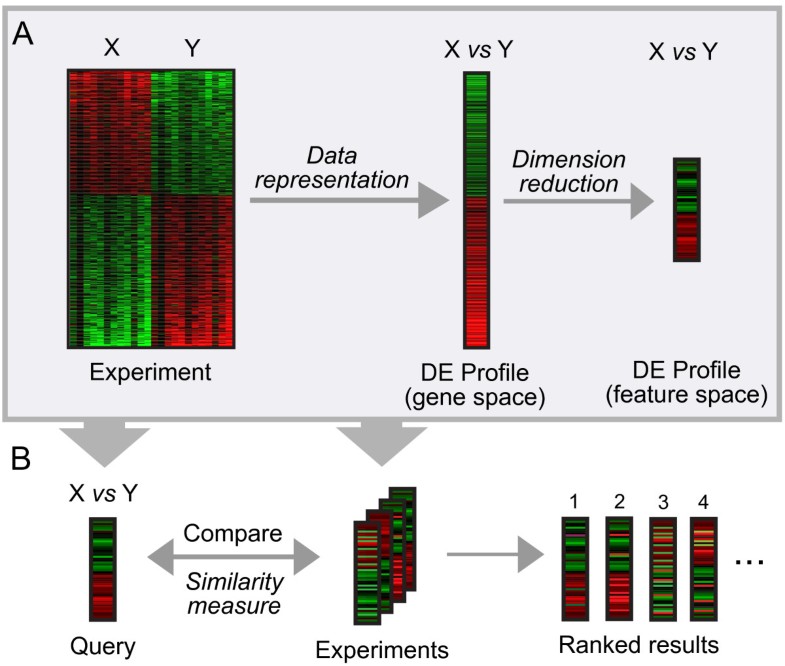 Discussion
In optimizing our data processing and search pipeline, we found that linear combinations of gene expression features derived in a separate compendium benefited our analysis. The most effective dimension reduction technique involved projecting each DE profile into a feature-space identified by independent component analysis. We previously used ICA to identify fundamental components of human gene expression from a large compendium of 10,000 arrays, of which only a small subset overlap with the experiments examined here [27]. The ICA projection method reduced the set of features from on the order of 20,000 to less than 500, allowing for rapid indexing and searching of large libraries of differential expression profiles. Furthermore, this approach outperformed module-based methods, possibly because the linear model incorporated data from all of the genes rather than only those that participate in discrete gene sets. Despite the fact that these ICA features were derived in human data, they proved robust in identifying and ranking experiments in closely related species as well. Thus, our results support previous findings that gene expression features derived in one compendium can be useful for interpreting data from new datasets [48].
To calculate similarities between differential expression profiles, we introduced a novel weighting scheme that incorporates information about a feature's significance of differential expression. This approach provides an intuitive means for emphasizing the contributions of features that are significantly differentially expressed in both experiments, which may represent the most relevant common biology. At the same time, the weighted correlation incorporates even genes that are not significantly differentially expressed, potentially capturing the effects of broader transcriptional changes. We observed that this scheme worked well with Pearson correlation, but did not perform as well when combined with rank-based correlation. Future work will characterize the behavior of this similarity measure on a larger scale.
We used the most successful data processing pipeline to index all GEO DataSets. Our results with transcription factor experiments suggest that this approach can provide predictions for genes, phenotypes and perturbations that share functional similarities with a query experiment. Analysis of Nanog knockdown in ESCs successfully identified other ESC differentiation time courses, induced by a variety of factors, from amongst almost 10,000 other profiles (Figure 5). The same search predicted a link between small lung cell carcinoma and ESC transcriptional programs. For a less well characterized transcription factor, FoxO3, our method also succeeded in recapitulating known biology across species and experimental systems. Although it is clear that FoxO3 has lineage-specific effects [42, 49], we identified a role for FoxO3 in hypoxia response that appears to transcend tissue type [40, 41]. For uncharacterized comparisons, this information has the potential to provide useful hypotheses for phenotypes and pathways to investigate.
As in more traditional microarray analyses, however, interpretation of the most significant genes identified by our weighting scheme remains difficult. Our analysis of the FoxO3 search revealed a number of genes involved in both hypoxia and FoxO3 signaling, linking these two pathways. However, the top genes in the Nanog knockdown search failed to reveal convincing pathways that might explain the relationship between small lung carcinoma and ESCs. While we focus on the interpretation of several individual genes in this study, future efforts may benefit from the use of gene set enrichment tools to find pathways that are significantly represented in the top gene list.
As experimentalists continue to explore and deposit information about cellular processes and perturbations, the utility of content-based search approaches will increase. With a larger bank of transcriptomic data and a high chance of identifying overlapping and functionally related biology, an "experiment-omic" screen might be the first step in characterizing a novel dataset. To realize this, further ontological indexing of expression databases may also be necessary [50]. Several groups have already begun to integrate expression with textual phenotype data to enable gene function prediction [51] and automatic disease diagnosis [14] from large databases. Even for expression-driven methods, controlled annotations for experimental variables, tissue types, and culture systems would allow for more accurate assessments of functional relevance. Finally, ontological indexing of textual annotations will enable the creation of more sophisticated connectivity maps linking not just diseases and drugs, but also gene knockdowns, over-expression studies, and genotype comparisons. These ontology-informed studies may not only search public repositories based on gene expression, but also provide meta-analysis across phenotypic categories.
Conclusions
We have explored computational methods needed to search large repositories for relevant experiments based on differential expression, using an experiment as a query. While previous studies use hard thresholding to select gene sets of interest [4, 11, 13], we propose a data-driven approach that uses information from all shared genes to compare two experiments. Differential expression profiles containing scores for each gene or feature were generated and compared using correlation metrics, following the hypothesis that this direct and intuitive method would perform well across diverse datasets. In a collection of 32 experiments comparing normal to diseased tissue, we achieved an average AUC of 0.737 for retrieving experiments that measure the same disease. We further demonstrated the ability of our method to identify functionally relevant experiments from a large database of studies. Future work will include implementing the principles learned here into a web-based application. Public deployment of these methods will enable discoveries in drug repurposing, disease classification, and systems repositioning as we explore the molecular underpinnings of diverse biological processes and phenotypes.
Declarations
Acknowledgements
The authors thank Boris Oskotsky and Alex Skrenchuk for assistance and technical support; Nicholas Tatonetti for critical comments; and Anne Brunet and Ashley Webb for interpretation of FoxO3 results. Computing resources at the Stanford Center for Biomedical Informatics Research were funded by the Hewlett Packard Foundation and the Lucile Packard Foundation for Children's Health. Financial support was provided by the National Library of Medicine (R01 LM009719) and Howard Hughes Medical Institute.
Authors' Affiliations
(1)
Department of Bioengineering, Stanford University School of Medicine, Stanford, USA
(2)
Biomedical Informatics Training Program, Stanford University School of Medicine, Stanford, USA
(3)
Department of Pediatrics and Department of Medicine, Stanford University School of Medicine, Stanford, USA
(4)
Department of Computer Science, Stanford University, Stanford, USA
(5)
Departments of Genetics and Medicine, Stanford University School of Medicine, Stanford, USA
(6)
Lucile Packard Children's Hospital, Stanford University, Stanford, USA
Copyright
© Engreitz et al; licensee BioMed Central Ltd. 2010
This article is published under license to BioMed Central Ltd. This is an Open Access article distributed under the terms of the Creative Commons Attribution License (<url>http://creativecommons.org/licenses/by/2.0</url>), which permits unrestricted use, distribution, and reproduction in any medium, provided the original work is properly cited.