Research article

Open Access
A two-step site and mRNA-level model for predicting microRNA targets
BMC Bioinformatics
2010
11:612
Received: 3 August 2010
Accepted: 31 December 2010
Published: 31 December 2010
Abstract
Background
Despite experiments showing that the number of microRNA (miRNA) target sites is critical for miRNA targeting, most existing methods focus on identifying individual miRNA target sites and do not model contributions of multiple target sites to miRNA regulation. To address this possible fault, we developed a miRNA target prediction model that recognizes the individual characteristics of functional binding sites and the global characteristics of miRNA-targeted mRNAs.
Results
Benchmark experiments showed that this two-step model generally had a higher overall performance than other established miRNA target prediction algorithms and that the model was especially suited to identify true miRNA targets among genes that all contain conserved target sites.
Conclusions
This improved performance could partly be explained by the model not relying on conservation when predicting targets. The critical factors for the model's performance, however, were mRNA-level features that characterized the number and strength of individual target sites within the mRNA. The model is available for online predictions or as pre-computed predictions on the human genome http://tare.medisin.ntnu.no/mirna_target.
Keywords
Support Vector Machine
Target Site
Support Vector Regression
miRNA Target
Target Prediction
Background
MicroRNAs (miRNAs) are a class of non-coding RNAs that can regulate many protein coding genes by base-paring to messenger RNA (mRNA) targets [
1
]. Their roles in gene regulation have been identified in numerous biological processes, such as developmental timing, apoptosis, and cell proliferation [
2
,
3
]. The precise mechanism of miRNA targeting is unknown, but animal miRNAs have a small region called "seed" site (Figure
1
), which is located at positions 2-7 of the 5' end of miRNAs and is known to contribute to target recognition significantly [
4
]. Most target sites are found in the mRNA 3' untranslated region (UTR) [
1
,
5
,
6
] and are well conserved among closely related species [
2
]. A high number of coding genes, except for those with short 3' UTRs such as house keeping genes, are likely regulated by one or multiple miRNAs [
7
].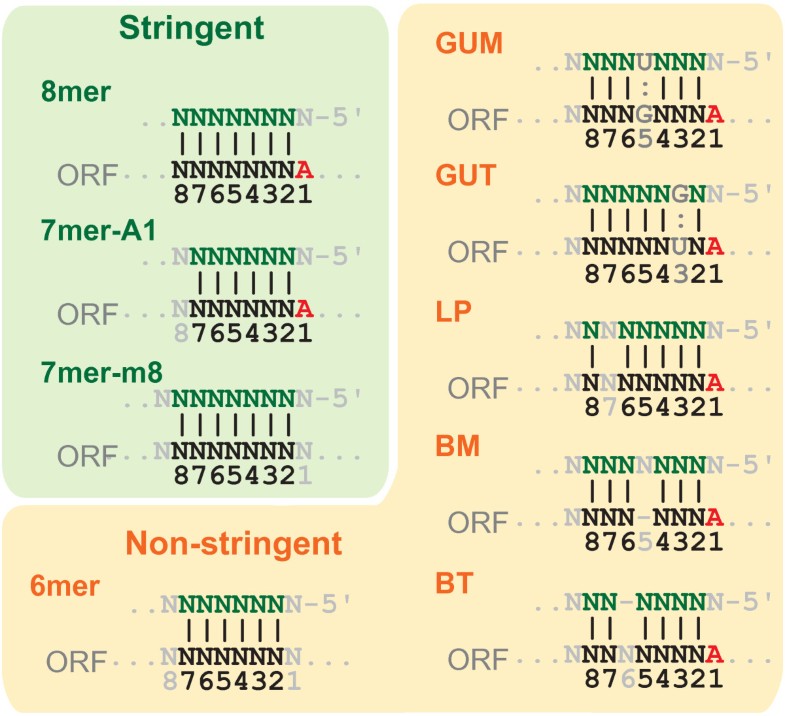 Because of the important genome-wide regulatory roles of miRNAs, many computational approaches have been developed to obtain high-throughput genome-wide miRNA target predictions in animals [4, 8, 9]. Most existing algorithms first perform sequence search on 3' UTRs to find regions that have complementarity to miRNAs preferably at their seed sites. As this initial step usually results in thousands of potential target sites and many false positives, most algorithms take additional features into consideration; for example, evolutionary conservation filters can decrease the false positive rate, but such filters are effective only for conserved miRNAs with sites of conserved function. Several other features have been experimentally and computationally identified, and we have categorized them into two groups: (i) individual target site level features and (ii) global mRNA level features. The six target site level features currently known are (i.a) site conservation, (i.b) additional base paring in 3' portion of miRNA, especially at positions 13-16 of miRNA [5, 10], (i.c) AU-rich context within 30 nucleotides upstream and downstream from the seed site [5], (i.d) avoidance of the region from the stop codon to 15 nt downstream in 3' UTR [5, 11], (i.e) tendency of targeting near both ends of 3' UTR when the length of the 3' UTR is > 2000 [5, 12], and (i.f) site accessibility [13, 14]. Furthermore, there are three known mRNA level features: (ii.a) high cooperativity of two miRNA target sites when the distance between them is 17-35 nt [15], (ii.b) length of 3' UTR [4], and (ii.c) the number of potential target sites per 3' UTR [16].
Although some algorithms base their predictions on only one of these additional features, such as conservation [12] or accessibility [13, 14], the algorithms commonly use different combinations of features [9]. Most existing algorithms focus on identifying individual target sites, however; few model miRNA targeting at the level of the mRNA and only PicTar tries to explicitly model the contribution of multiple target sites to miRNA regulation [17].
Here, we describe a novel two-step classification model that recognizes the individual characteristics of functional binding sites and the global properties of mRNAs regulated by candidate miRNAs. We base the model on support vector machines (SVM) [18], use large-scale microarray datasets to train and test the model, and benchmark the model against five popular algorithms - TargetScan [5], miRanda (MicroCosm) [16, 19], PicTar, PITA [13], and mirTarget2 [20]. As these five algorithms represent different prediction strategies and can have different strengths and weaknesses, we have used six different benchmarks that account for overall predictions, highly specific predictions, predictions of conserved sites, and method-specific data variations. Our method performs better than or equivalent to the other existing algorithms in the six benchmarks when tested on different cross-validation experiments or on an independent test set.
Results and Discussion
Our goal was to create and test a miRNA target prediction approach that modeled both the characteristics of individual target sites and the global properties of mRNAs regulated by candidate miRNAs. Although there are few experimentally validated miRNA targets, several datasets from microarray experiments where miRNAs were ectopically expressed are available for public use [5, 6, 21]. High-throughput proteomics experiments have shown that most miRNA targets are regulated at both the mRNA and protein level [22, 23], which means that these microarray data are relevant and useful for developing miRNA targeting models. In addition, there are several microarray experiments for small interfering RNA (siRNA) off-target effects [24, 25]. Transfected siRNAs are known to act like miRNAs [26, 27] and degrade numerous unintended (off-target) mRNAs. Consequently, microarray datasets for siRNA off-targets can be used to reveal aspects of miRNA regulation. Unlike miRNA target sites, however, off-target sites for such artificial and exogenous siRNAs are not evolutionary conserved.
We collected four such microarray datasets - two miRNA and two siRNA datasets - to use as training data to develop our method. Based on an analysis of how different seed types covered the positive and negative target candidates within these datasets (see Additional file 1:Supplementary Results), we chose to develop a target-site model that included both stringent and non-stringent seed sites. Our hypothesis was that by including non-stringent seed sites and training two separate SVMs on target site and mRNA-level features, we would create an accurate miRNA target prediction method with high sensitivity and overall prediction performance.
Conclusions
We have presented and evaluated a novel two-step SVM-based miRNA target prediction model that recognizes the individual characteristics of functional binding sites and the global characteristics of miRNA-targeted mRNAs. When tested on several different benchmarks, the model generally outperformed other well-known miRNA target prediction algorithms. In particular, the two-step SVM showed a much stronger ability to identify true miRNA targets among genes that all are likely targets with conserved stringent seed sites.
The model relies on several target site and mRNA characteristics and its design is flexible so that it is easy to integrate new characteristics when such are reported. Our current model does not include target site accessibility and conservation information, however, as our tests showed that these were not important features in our model. This result is very important for genome-wide analysis because assessing target site conservation and especially target site accessibility have high computational costs. Consequently, the model can for example be used online for identifying siRNA off-targets.
By modeling miRNA targeting in two steps - recognition of individual target sites and regulation of mRNA - we have incorporated several new characteristics neglected by other tools, such as miRNAs' distance dependence for synergistic regulation. Moreover, through this two-step modeling, we have introduced several features that effectively capture the number and relative strength of individual target sites within target candidates. Our results show that these features are the most important characteristics for identifying miRNA-regulated genes.
A potential limitation is that our model is trained on data from over-expression experiments, which to some extent are affected by interactions with endogenous miRNAs [29]. Including data from Argonaute (AGO) pull-down [32–35] or miRNA knock-down [21–23] experiments could reduce potential bias from such interactions, but may also introduce additional bias. Most of the current AGO pull-down experiments were, for example, done with ectopically expressed and tagged AGO-fusion proteins [32–34]. As for miRNA knock-down, there are currently few datasets available.
Another potential limitation is that our model was trained on data from human cell lines. Although the miRNA regulatory mechanisms appear to be shared in animals, we cannot discount species-specific variation, which may result in the current human-optimized model having sub-optimal performance in, for example, invertebrates. Testing and optimizing the model on high-throughput data from additional species - especially species that are remotely related to humans - would therefore be interesting future work.
Even though our new model represents a significant step towards accurate miRNA target prediction, it is still challenging to achieve very precise target predictions because many miRNAs have spatial, temporal, or cell-type-specific expression. Integrating target predictions with expression profiles of miRNAs and putative targets can be one way to improve predictions; for example, by taking into account miRNA saturation [29], target concentration [36], or expression of RNA binding proteins [37]. Our two-step SVM should be ideal for such analyses, as it has a high sensitivity and better overall performance compared with existing target prediction methods.
Declarations
Acknowledgements
This work was supported by the Functional Genomics Program (FUGE) of the Norwegian Research Council.
Authors' Affiliations
(1)
Department of Cancer Research and Molecular Medicine, Norwegian University of Science and Technology, Trondheim, Norway
(2)
Department of Computer and Information Science, Norwegian University of Science and Technology, Trondheim, Norway
Copyright
© Saito and Sætrom; licensee BioMed Central Ltd. 2010
This article is published under license to BioMed Central Ltd. This is an Open Access article distributed under the terms of the Creative Commons Attribution License (<url>http://creativecommons.org/licenses/by/2.0</url>), which permits unrestricted use, distribution, and reproduction in any medium, provided the original work is properly cited.