A novel parametric approach to mine gene regulatory relationship from microarray datasets
BMC Bioinformatics
2010
11(Suppl 11):S15
Published: 14 December 2010
Abstract
Background
Microarray has been widely used to measure the gene expression level on the genome scale in the current decade. Many algorithms have been developed to reconstruct gene regulatory networks based on microarray data. Unfortunately, most of these models and algorithms focus on global properties of the expression of genes in regulatory networks. And few of them are able to offer intuitive parameters. We wonder whether some simple but basic characteristics of microarray datasets can be found to identify the potential gene regulatory relationship.
Results
Based on expression correlation, expression level variation and vectors derived from microarray expression levels, we first introduced several novel parameters to measure the characters of regulating gene pairs. Subsequently, we used the naïve Bayesian network to integrate these features as well as the functional co-annotation between transcription factors and their target genes. Then, based on the character of time-delay from the expression profile, we were able to predict the existence and direction of the regulatory relationship respectively.
Conclusions
Several novel parameters have been proposed and integrated to identify the regulatory relationship. This new model is proved to be of higher efficacy than that of individual features. It is believed that our parametric approach can serve as a fast approach for regulatory relationship mining.
Keywords
Gene OntologyBayesian NetworkGene PairBayesian ModelVector Analysis
Background
Gene regulation, a basic process of organisms, is important for systems biology research. Gene regulatory relationship mining can help identify the complicated regulatory networks, uncover the regulatory patterns in the cell, and expand the systematic view of biological processes.
In the past decade, as a novel high-throughput method, microarray has been widely used in genome wide research. Therefore, many algorithms have also been introduced in this field to construct gene regulatory networks based on microarray data.
A basic hypothesis among these approaches is that the variation of expression levels of transcription factors (TF) will affect expression levels of its target genes (TGs) through the regulatory relationships. In other words, the expression profiles of TF and its TGs are somewhat interrelated. Consequently, measuring the correlation of the expression profiles represented by microarrays, especially time-series microarrays, has become a natural consideration.
Some of the previous work has contributed to this task [1]. According to the characters of the models, the algorithms can be broadly classified into several different categories.
First, clustering algorithms are basic and simple methods, based on the similarity of the expression levels of TF and its TGs [2, 3]. Meanwhile, some graph models are used, such as classical graphical Gaussian models [4], and the coexpression graph-based approach [5]. Secondly, a series of network models has been widely used, such as Boolean network [6–8], naïve Bayesian network [9], and dynamic Bayesian network [10–12]. These methods are considered to be the mainstream gene regulatory constructing methods. Besides, ODE (ordinary differential equation) [13], NDE (nonlinear differential equation) [14] and pDE (partial differential equations) have also been introduced, which can adjust the parameters of differential equations manually to the biological process. The mutual information method is gaining popularity [15, 16] and is used to measure the entropy of the whole system.
However, most of these complex models and algorithms focus on global properties, and some of them could not offer parameters. This leaves us wondering whether some simple but potentially probable basic characteristics could be uncovered.
As the first step, we tested the basic Pearson correlation coefficient, PCC [17] to outline the relationship between gene regulatory relationships and the expression level represented by microarray. Generally, the existence of regulatory relationship is more likely while the absolute value of the PCC is larger. There are, however, some exceptions (see Additional file 1). In order to handle this problem, several indicators or parameters should be introduced. During correlation analysis, we found it necessary to take into account the variation of expression levels. Therefore, we measured the variation characters using both expression level differences (ELD) and differences of average - standard deviation (Δmean-Δδ) parameter groups. These parameters, when combined with PCC, can effectively improve the accuracy of prediction.
Moreover, we considered expression level vectors mapped on TF-TG expression level space. Given the property of time-series gene expression relationships, it is naturally assumed that different expression relationships might relate to the vectors in different quadrants. Therefore we calculated the sum vectors in different quadrants respectively and chose the representative vector as the main vector of one TF-TG pair. Afterwards, the modulus - argument (|x|-θ) parameter group was fixed.
In addition, we analyzed functional co-annotation of transcription factors and target genes before selecting the GO score as another parameter. The parameters will be integrated to perform a better prediction. Finally, we selected Bayesian models combined with joint likelihood ratio to integrate all the parameters and achieved a better performance (See Figure
1
).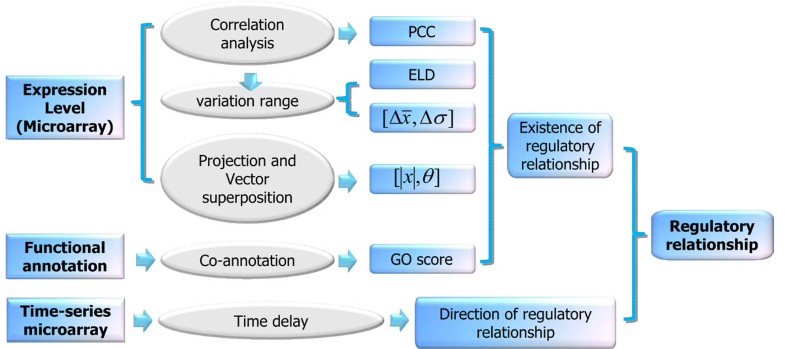 Discussion
In our research, besides the commonly used PCC, we proposed ELD, Δmean-Δδ, and |x|-θ as new parameters based on dynamic variation, as well as vector analysis. The parameter ELD represents the variation range character of the expression levels, and may prevent non-ideal cases from false classification by PCC alone. Then, Δmean-Δδ has an acceptable definition and accuracy. In vector analysis, we found that even the sub-vectors of a true regulatory gene pair with perfectly synchronous expression profiles are still distributed in different quadrants, and the sum vector might counteract partly. Vectors of one regulatory gene pair in different quadrants might represent different patterns. Therefore, we calculated the sum vectors in different quadrants respectively, and then chose the vector which has the largest modulus as the main representative vector of one TF-TG pair. Compared with non-quadrant vector analysis, the difference of distributions of modulus and argument is significant.
Also, we analyzed the functional co-annotation of transcription factors and their target genes, and then selected GO score as another parameter. As expected, the frequency of the non-existing control cases declined while GO score increased. Meanwhile, the existing gene regulatory pairs showed increasing frequencies, suggesting that gene pairs with true regulatory relationship have better chance of emerging in the same biological process.
Subsequently, we considered the Bayesian model for the likelihood ratio integration. Then the result was fairly acceptable. In our cases, some parameters we introduced are paired. We therefore combined the parameters to calculate the joint likelihood ratio of the joint parameter groups. The joint likelihood ratios of paired parameters make the LR s seems reasonable and there is no need to prove the linear independence for the parameters.
Our approach is mainly based on several novel parameters, which could be intuitive indicators. We introduced these parameters to describe characters of microarray expression data of regulating gene pairs. These features include the variation of expression level, the divergence of statistical characters, and the consistent degree of representative measurements. Additionally, our approach is much less costly than some mainstream methods. Therefore, our approach can serve as a fast pre-process strategy for microarray data analysis.
Some papers argue that inferring regulatory relationship based on microarray has inherent faults. First, the similarity of the expression profile suggests nothing more than a statistical dependency between two genes, not a direct causal relationship. The verification of the relationship requires other evidences, such as ChIP-chip data, Y2H or other wet experiments. Second, essential genes [21] which are always expressed in the cell cannot be disturbed by knockdown or knockout. Therefore microarray experiments do not work well on these essential genes. Third, microarray is a kind of high-throughput analysis technology after all, so it cannot be very precise. Genes with a slim expression level can hardly be detected accurately.
Recently a series of reports indicates that the microarray might be replaced by fast high-throughput sequencing [22, 23], which, however, cannot be made as inexpensive and efficient as microarray now. In the future, microarray might be used to meet more specific research needs, such as fast elementary filter or test. Therefore complex models might not be suited to the fast measurement of the microarray. Though our approach is more or less rough and far from perfect, we still believe some simple indicators based on uncomplicated characters would reveal complex behaviour.
Conclusions
With the rapid deposition of the microarray data in recent years, microarray data have become an increasingly important data source for bioinformatics research. On the basis of microarray data, constructing gene regulatory networks has also become a hotspot. By constructing the gene regulatory network, we can identify the complicated regulatory relationships, uncover the regulatory patterns in the cell, and gain the global view of the biological process. In this paper, we present some novel parameters to uncover potential characters of regulatory relationships. In addition to routine description of the similarity of the expression levels, our proposed parameters measured range of the variation and the statistic feature of expression levels, consistency of sub-vectors of the expression level, as well as functional co-annotation of regulating pairs. Unlike other global expression profiles computational methods, our approach is mainly based on several novel parameters, which could be intuitive indicators. And our parametric approach can serve as a fast approach for regulatory relationship mining.
Materials and methods
Datasets
As a simple but important organism, yeast Saccharomyces cerevisiae is a proper target of research. First we set up an experiment group of regulatory element pairs with existing (true) regulatory relationship. These existing pairs were obtained from published literature [24, 25]. In addition, we constructed a control group for training dataset. The pairs in control group were randomly selected and known existing regulatory pairs had been excluded. During the research, we observed that the ratio of existing and non-existing pairs in the training set would affect the result. The increases of negative data in training set induce a decrease of positive prediction value with the fixed sensitivity. It indicates that suitable ratio of positive and negative must be noticed. The result is shown in Additional file 4. Time series datasets derived from cell cycle experiments were downloaded from GEO dataset in PubMed. The GO annotations are retrieved by GOfact [26].For a proper comparison with other methods, artificial datasets is an appropriate choice. In silico data could control the noise levels of the data. Here, we used the datasets in [20], which was generated an artificial dataset by linear ODEs, with the mean of white noise 0 and standard deviation 0.1.
Bayesian model
Bayesian model has been widely used for integrating proofs [27, 28]. Likelihood ratio is the probability of observing an existing gene pair in predictive datasets divided by the probability of observing the non-existing gene pair in predictive datasets [29]. Here prior odds are the chance of choosing a pair of regulatory genes from all candidate gene pairs.
fi means the number of gene pairs in the dataset i. And the Bayesian method is considered
O post = O prior × LR(f1…f n )
In this formula, LR means likelihood ratio, and positive means gold standard positive dataset of gene pairs where real regulatory relationship exists. And negative is the gold standard negative dataset in which no gene pair has any regulation.
This is also known as the naïve Bayesian network.
List of abbreviations
AUC:

area under the curve
ELD:

expression level differences
GEO:

Gene Expression Omnibus
GO:

Gene Ontology
LR:

likelihood ratio
ODE:

ordinary differential equation
PCC:

Pearson correlation coefficient
PPV:

positive predictive value
ROC:

receiver operating characteristic
Se:

sensitivity
TF:

transcriptional factor
TG:

target gene
Declarations
Acknowledgements
This work was supported by the Chinese National Key Program of Basic Research [grant numbers 2006CB910803, 2010CB912700 and 2011CB910202], the National High Technology Research and Development Program of China [grant number 2006AA02A312], National Science and Technology Major Project [grant numbers 2008ZX10002-016, 2009ZX09301-002], National Natural Science Foundation of China [grant numbers 30621063, 30800200].
This article has been published as part of BMC Bioinformatics Volume 11 Supplement 11, 2010: Proceedings of the 21st International Conference on Genome Informatics (GIW2010). The full contents of the supplement are available online at http://www.biomedcentral.com/1471-2105/11?issue=S11.
Authors' Affiliations
(1)
State Key Laboratory of Proteomics, Beijing Proteome Research Center, Beijing Institute of Radiation Medicine, Beijing, China
(2)
Department of Chemistry and Biology, College of Science, National University of Defense Technology, Changsha, China
Copyright
© Zhu et al; licensee BioMed Central Ltd. 2010
This article is published under license to BioMed Central Ltd. This is an open access article distributed under the terms of the Creative Commons Attribution License (http://creativecommons.org/licenses/by/2.0), which permits unrestricted use, distribution, and reproduction in any medium, provided the original work is properly cited.