Research article
Open Access
Biomarker Discovery and Redundancy Reduction towards Classification using a Multi-factorial MALDI-TOF MS T2DM Mouse Model Dataset
BMC Bioinformatics
2011
12:140
Received: 26 July 2010
Accepted: 9 May 2011
Published: 9 May 2011
Abstract
Background
Diabetes like many diseases and biological processes is not mono-causal. On the one hand multi-factorial studies with complex experimental design are required for its comprehensive analysis. On the other hand, the data from these studies often include a substantial amount of redundancy such as proteins that are typically represented by a multitude of peptides. Coping simultaneously with both complexities (experimental and technological) makes data analysis a challenge for Bioinformatics.
Results
We present a comprehensive work-flow tailored for analyzing complex data including data from multi-factorial studies. The developed approach aims at revealing effects caused by a distinct combination of experimental factors, in our case genotype and diet. Applying the developed work-flow to the analysis of an established polygenic mouse model for diet-induced type 2 diabetes, we found peptides with significant fold changes exclusively for the combination of a particular strain and diet. Exploitation of redundancy enables the visualization of peptide correlation and provides a natural way of feature selection for classification and prediction. Classification based on the features selected using our approach performs similar to classifications based on more complex feature selection methods.
Conclusions
The combination of ANOVA and redundancy exploitation allows for identification of biomarker candidates in multi-dimensional MALDI-TOF MS profiling studies with complex experimental design. With respect to feature selection our method provides a fast and intuitive alternative to global optimization strategies with comparable performance. The method is implemented in R and the scripts are available by contacting the corresponding author.
Keywords
Feature SelectionIntensity ProfileContinuous Wavelet TransformMALDI Mass SpectrometryCross Validation Error
Background
Diabetes mellitus is one of the most common chronic diseases in nearly all countries and subject to intensive biomedical research. The prevalence of diabetes is forcast to increase from 285 million in 2010 to 439 million in 2030 [1]. Diabetes imposes an increasing economic burden on national health care systems world wide as 12% of the health expenditures are anticipated to be spent on diabetes in 2010. The global costs of treatment will raise from 418 billion USD in 2010 to 490 billion in 2030 [2]. The major part of the prevalence is due to obesity related type 2 diabetes (T2DM).
Multiple studies have been performed assessing the diversity of the disease at the transcriptomic level revealing lists of candidate genes and associated pathways [3, 4]. At the proteomic level different techniques have been applied including gel-based [5] and mass spectrometry (MS)-based quantitative approaches [6]. However, in most cases the study design is rather simple and restricted to the comparison of healthy versus diseased animal or human samples. No comprehensive proteomics study covering multiple experimental factors and comprising a multitude of samples has been published so far.
In this manuscript we investigate a multifactorial matrix-assisted laser desorption/ionization (MALDI) MS plasma profile data set based on a T2DM mouse model, using NZO (New Zealand Obese) and SJL (Swiss Jim Lambert) mouse strains. The NZO mouse is an established polygenic model for studying obesity-related diabetes as it rapidly develops symptoms of diabetes characterized by early onset obesity, insulin resistance and eventually destruction of insulin-producing pancreatic beta cells [7]. In contrast, the lean SJL mouse strain is resistant to diet-induced obesity and diabetes, presumably due to a mutation in the Tbc1d1 gene that causes elevated lipid use in skeletal muscle [8].
MALDI MS, particularly in combination with time-of-flight (TOF) instruments, is characterized by simplicity, good mass accuracy and high resolution [9] and hence a promising tool in proteomics [10]. It allows for processing a significant number of samples in a short time and therefore enables studies encompassing a multitude of samples [11–13]. MALDI-TOF MS profiling has been used extensively for investigating different types of cancer like breast cancer [14], lung cancer [12, 15], ovarian cancer [16] or colon cancer [17, 18], to name a few. Biomarker identification and classification are the typical objectives in MALDI profiling studies of disease models. Various different methods have been applied addressing these two objectives. For feature selection commonly used methods comprise the classical t-test or Wilcoxon rank sum test [19] as well as more advanced techniques such as genetic algorithms and swarm based intelligence [20]. With respect to classification Wu et al. [21] published a summary comparing statistical methods for ovarian cancer. In 2006, Zhang et al. [22] compared the performance of R-SVM and SVM-RFE using MALDI MS data sets and more recently, in 2009, Liu et al. [23] compared additional feature selection and classification approaches.
In general, proteomic data has two different types of replications, (1) biological and (2) technical, leading to two different types of errors, and therefore requires proper statistical analysis. The standard approach of handling technical replicates is to calculate a mean value in order to reduce the technical noise. Unfortunately, this can lead to loss of information [24]. A more sophisticated way to handle technical replicates without loss of information are mixed-effects models [25, 26]. They incorporate fixed-effects parameters applied to the entire population and random effects applied to particular experimental units or sub-units (e.g. technical replicates). However, for the high number of biological replicates in this study the results for both methods are similar.
Although many approaches have been developed for biomarker identification from MALDI MS profile data, only some studies were performed for assessing the influence of correlation in these datasets [
27
]. As correlation within large MS data sets can confound statistical analyzes, we developed statistical methods that exploit data correlation and integrated these into a comprehensive work-flow designed for the analysis of multi-factorial experimental MALDI-TOF MS data. Merging similarity and significance information our approach allows for the interpretation of complex biological data in an intuitive manner. The soundness of the statistical methods is demonstrated and a special plot for easy visualization and understanding. Furthermore the presented methods provide a natural way of feature selection for classification and prediction. The complete work-flow of the analysis is shown in Figure
1
.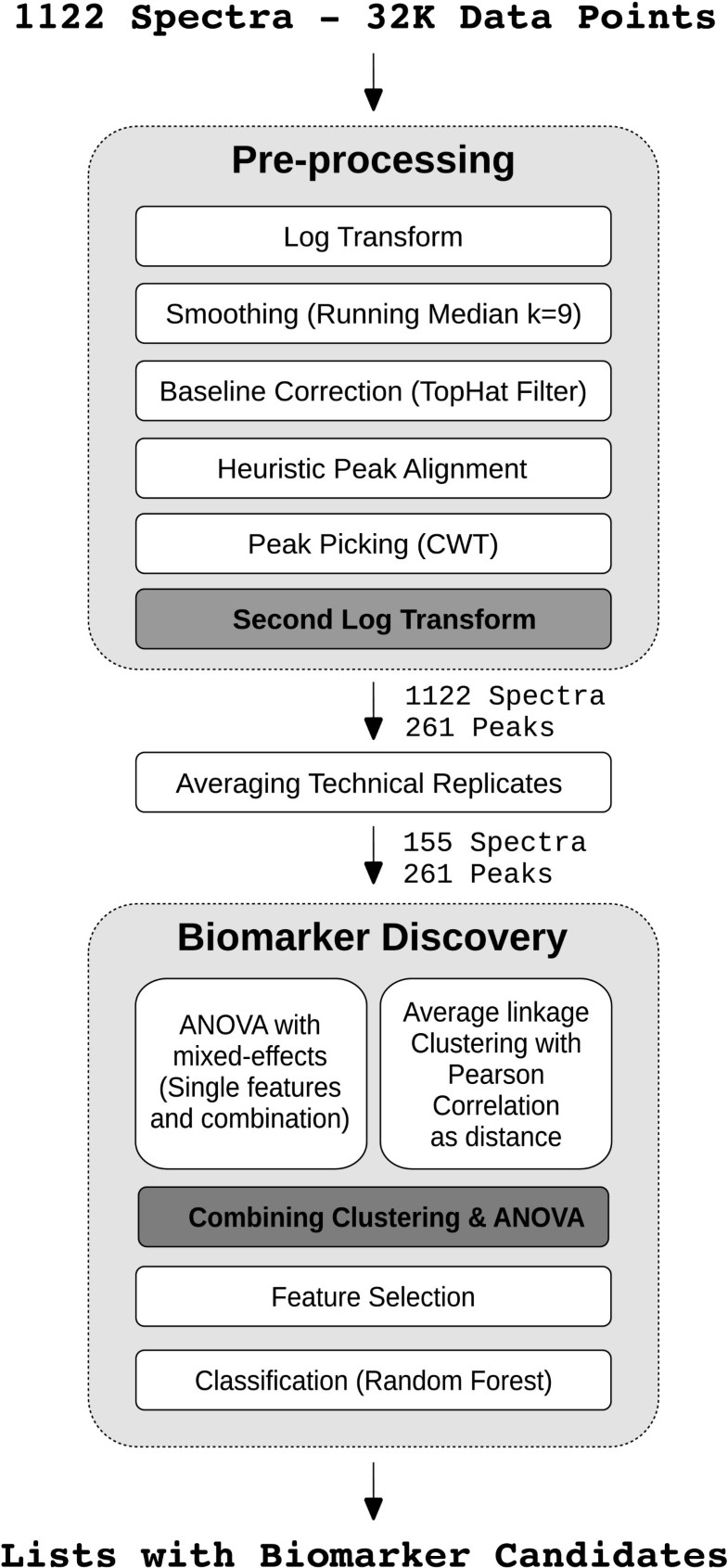 Discussion
The ANOVA model applied analyzes the effects of single experimental factors as well as the combination of diet and genotype. Before applying ANOVA we ensured that all required assumptions are fulfilled (e.g. homoscedasticity and χ2 distribution of errors). Hence, ANOVA is the perfect candidate for the statistical analysis and preferable to non-parametric Kruskal-Wallis test since is has greater power.
Peaks identified in the analysis of feature combination provide valuable additional information. For instance, the most significant result found for the combination of genotype and diet was identical with the most significant result for diet (see Table 2). Looking solely at the factor diet we would conclude that peak m/z 4075 is correlated with diabetes-protective CHF diet [7, 31]. An analysis of the factor combination, however, shows that this correlation with the CHF diet only stems from the SJL genotype (see Figure 6), which is completely invisible for single factor analysis.
Another interesting outcome of our analysis is the fact that the peak m/z 8735 in cluster two is associated with the growing fat of NZO mice. First it is significantly higher in NZO mice then in the other genotypes that do not develop prominent diet-induced obesity. Secondly it increases with age and thus with body weight of the NZO mice. Therefore the corresponding polypeptide is a candidate biomarker and a potential target towards T2DM disease mechanism. Thus, further in-depth functional analysis of this marker, and its relation to diet-induced obesity and insulin resistance may provide important insights into the pathophysiology of diabetes and its secondary complications.
As seen in the Results section, there is no direct overlap between the top eight features for classification of diet selected with ant colony optimization and the top features selected with ANOVA. However, the best features of ant colony optimization are also characterized by top ranked p-values. Both lists of top 50 features show a rank correlation of 0.5 (Spearman correlation) and hence both lists are not that different. Even the best features have only low discriminative power and as a result there are multiple sets of features leading to similar classification results as seen in Table 3.
In the middle of the cluster dendrogram (Figure 4) there is a cluster having many very good correlated peaks. One possible reason for that is a large common protein being the common source of all those peaks. A perfect candidate for this role would be albumin as it consists of 608 amino acids. This hypothesis is supported by the fact that one of the peaks was indeed identified as belonging to albumin.
Table
4
shows the distinctive properties of our approach compared with other methods. Standard t-test is often the method of choice for statistical testing and the selection of suitable features for classification and prediction. However, standard t-test is not adequate for multi-dimensional datasets since it investigates only one variable with exact two independent groups at the same time. F-test allows for testing multi-dimensional datasets and ANOVA enables to investigate factor combinations. Similarity of features is not considered by any of the statistical tests. Swarm intelligence or genetic algorithms are a different group of algorithms aiming at biomarker candidate identification. Although they are applicable to multi dimensional datasets and take data redundancy into account they often fail in producing deterministic results and p-values. Our work is designed to retain all capabilities of statistical testing while considering feature similarities at the same time. In addition to having similar performances comparable with Swarm intelligence methods, other great advantages of our system are reduced complexity and computational requirements. While feature selection with ant colony optimization took roughly 5 h with both CPUs on a Intel Core2 Duo CPU (2.66 GHz), the cluster based ANOVA took less than 2 seconds.
Table 4
Comparison of feature selection methods.
| Method | Deterministic | Feature Selection | p-Values | Multi Dimensional | Combinations | Redundancy |
| --- | --- | --- | --- | --- | --- | --- |
| t-Test | ✓ | ✓ | ✓ | ✕ | ✕ | ✕ |
| F-Test | ✓ | ✓ | ✓ | ✓ | ✕ | ✕ |
| ANOVA | ✓ | ✓ | ✓ | ✓ | ✓ | ✕ |
| Swarm Intelligence | ✕ | ✓ | ✕ | ✓ | ✓ | ✓ |
| GA | ✕ | ✓ | ✕ | ✓ | ✓ | ✓ |
| This Work | ✓ | ✓ | ✓ | ✓ | ✓ | ✓ |
Another advantage of our approach is the possibility to use only one, representative peak from a cluster for further analysis. We have seen that the peaks identified as hemoglobin are located in close proximity in the dendrogram. Hence, we can assume that many of the surrounding peaks are also most likely derived from hemoglobin. Nonetheless, it has to be kept in mind that many peptides originating from the same parent protein will often behave differently. Our approach aims at identifying co-occuring peptides and hence leads to a reasonable reduction of the data. More complex interaction (e.h. high abundance of a protein causes low abundance of another peptide) would require other processing methods, if predominant.
Conclusion
We have introduced a method that is suitable for identification of biomarker candidates in multi-factorial MALDI-TOF MS profiling studies given an appropriate pre-processing. Applying this method to our data set we were able to identify peaks that are characteristic for the combination of two factors as well as peaks that are significant for single factors. These results are significant even when applying rigid multiple testing corrections. It is shown that ANOVA is an adequate approach for the identification of biologically interesting biomarker candidates from MS profiling data based on multi-dimensional experimental design. Furthermore, classification based on features selected with our approach perform similarly well as those generated with more complex global optimization methods.
Declarations
Acknowledgements
This work is part of the Sys-Prot project funded by the European Commission, sixth framework programme for research and technical development supported by grants from the EU (37457).
Authors' Affiliations
(1)
MicroDiscovery GmbH, Berlin, Germany
(2)
Department of Pharmacology, German Institute of Human Nutrition Potsdam-Rehbruecke, Nuthetal, Germany
(3)
Department Computer Science and Mathematics, Free University of Berlin, Berlin, Germany
(4)
Department of Chemistry and The BioCentre, The University of Reading, Whiteknights, Reading, UK
Copyright
© Bauer et al; licensee BioMed Central Ltd. 2011
This article is published under license to BioMed Central Ltd. This is an Open Access article distributed under the terms of the Creative Commons Attribution License (http://creativecommons.org/licenses/by/2.0), which permits unrestricted use, distribution, and reproduction in any medium, provided the original work is properly cited.