Research article

Open Access
AlignHUSH: Alignment of HMMs using structure and hydrophobicity information
BMC Bioinformatics
2011
12:275
Received: 10 August 2010
Accepted: 5 July 2011
Published: 5 July 2011
Abstract
Background
Sensitive remote homology detection and accurate alignments especially in the midnight zone of sequence similarity are needed for better function annotation and structural modeling of proteins. An algorithm, AlignHUSH for HMM-HMM alignment has been developed which is capable of recognizing distantly related domain families The method uses structural information, in the form of predicted secondary structure probabilities, and hydrophobicity of amino acids to align HMMs of two sets of aligned sequences. The effect of using adjoining column(s) information has also been investigated and is found to increase the sensitivity of HMM-HMM alignments and remote homology detection.
Results
We have assessed the performance of AlignHUSH using known evolutionary relationships available in SCOP. AlignHUSH performs better than the best HMM-HMM alignment methods and is observed to be even more sensitive at higher error rates. Accuracy of the alignments obtained using AlignHUSH has been assessed using the structure-based alignments available in BaliBASE. The alignment length and the alignment quality are found to be appropriate for homology modeling and function annotation. The alignment accuracy is found to be comparable to existing methods for profile-profile alignments.
Conclusions
A new method to align HMMs has been developed and is shown to have better sensitivity at error rates of 10% and above when compared to other available programs. The proposed method could effectively aid obtaining clues to functions of proteins of yet unknown function.
A web-server incorporating the AlignHUSH method is available at http://crick.mbu.iisc.ernet.in/~alignhush/
Keywords
Scop Database
Alignment Accuracy
Position Specific Scoring Matrix
Reference Alignment
Secondary Structure Information
Background
Alignment between sequences is useful and ubiquitous in bioinformatics [1]. Many of the advances made in the field of bioinformatics can be attributed to advances in alignment of sequences. The performance of homology-based structural modeling methods in CASP over last several years is strongly correlated to the accuracy of the alignment between template and the target [2]. Alignments are also routinely generated for effective identification of remote homologues leading to function annotation of newly discovered proteins from genome sequence data [3, 4]. The explosion of sequence data from genome sequencing projects has exposed the limitation of current methods to recognize homologues in the twilight region (<30% sequence identity) and beyond (the midnight region of sequence similarity).
It was found quite early that profile methods, such as PSI-BLAST [5, 6] can be more sensitive and accurate than single sequence-based methods. The starting point for deriving various kinds of profiles such as Position Specific Scoring Matrices (PSSMs) and Hidden Markov Models (HMMs) is an alignment of sequences of homologous proteins or protein domains. The commonly used profiles are the PSI-BLAST generated PSSMs derived from query dependent alignments [5, 7], Multiple Sequence Alignment (MSA) based position specific gap penalty profiles [8] and HMMs [9, 10]. In general, HMMs have been shown to be more sensitive than other profile based sequence-profile search methods [11]. This is usually attributed to the ability of HMMs to parameterize position specific gaps. The use of dirichlet mixture priors in estimation of amino acid probabilities in a MSA column could also be a reason for the success of HMMs [12].
The profile in general is a representation of conservation of amino acids at a given position in the MSA [13, 14]. Thus, it was believed that aligning two profiles will lead to better sensitivity and alignment accuracy as only the patterns in extent of conservation will be taken into consideration.
Various methods have been developed for the alignment of profiles, which differ in the input profile type and also the scoring scheme used for the alignment of columns in the two profiles. For instance, in the MSA derived profile/PSSM based profile-profile alignment methods, COMPASS [8], SALIGN [15], COACH [16], and others [17] have been shown to give better sensitivity (~ 30 - 35%) [18] than simple sequence profile search methods such as PSI-BLAST and HMMER2.0 (sensitivity around 20% at superfamily level) [18]. Some of the recent developments using the PSI-BLAST programs such as MulPSSM [19] and Cascade BLAST [20] have increased sensitivity of PSI-BLAST methods by a few percentage points, but they may not be suited for homology based structural modeling since they depend on PSI-BLAST for alignments, which has modest alignment accuracy in the midnight region [21, 22]. Another recent development [23] has increased the sequence-profile based sensitivity is HMMER3.0 which has pushed sensitivity at the SCOP superfamily level to around 30% at 10% error rate.
Two recent methods based on HMM - HMM alignment [18, 24] have shown that HMM based profile-profile alignment methods are more sensitive than PSSM-PSSM alignment methods, although at least one recent development in alignment of MSA's [25] seems to give better sensitivity than the HMM based methods at 50% error rate. The HMM-HMM alignment in a general case is thought of as maximizing the probability of co-occurrence of amino acids along an alignment path between the emission states of the two HMMs [18]. This can be achieved by different combinations of pairwise state transitions as described in the Profile Comparer (PRC) method [24]. The most important parameter which determines the sensitivity of a method is the column discrimination score, and both PRC [24] and HHSearch [18] use a log sum of odds score for aligning HMM match states (which correspond to a column in MSA). The alignment accuracy (calculated using a structural measure used for evaluating predicted structures) is generally high (>85%) for both methods, even if the alignment length is usually quite low for HMMs of distantly related domain families (belonging to the same SCOP superfamily but different SCOP families) [22]. The increase in both sensitivity and alignment accuracy is also in part due to the use of secondary structure information in the HHSearch alignment procedure and such an increase in remote homology detection rates by the use of secondary structure information has been reported earlier [26].
Use of secondary structure information alone (either predicted or actual) can lead to increase in false positive rate since there could be many proteins with similar sequence of helices and β-strands, but different 3-D topology. The algorithm presented in this paper takes into account the residue conservation, secondary structure propensity and hydrophobicity of not only the columns being aligned, but also the adjacent columns, thus enabling it to differentiate HMMs with similar secondary structure but different topology.
Methods
The AlignHUSH procedure has been developed to detect remote homologs more effectively than the currently existing tools without compromising on the alignment accuracy. The objective of the current work was to develop a generally applicable algorithm without the use of explicit structural information to align two sequence-based HMMs. The sequence conservation information based profiles currently used for remote homology detection are inadequate for detection of very remote homologs since it is known that the sequence conservation is not seen in such cases of remote homology. The structure is still seen to be conserved and hence use of structural information can lead to an improvement in the remote homology detection [18]. The use of structural information may lead to many relationships being incorrectly found as significant matches in a search since there may not be a robust method to distinguish between related and unrelated sequence of secondary structures. One way to distinguish such cases would be to find the packing of the secondary structures, but such information can be derived only from an analysis of the 3-D structure. An approximation to the packing can be derived from the hydrophobicity pattern since it is known that the core of any protein is composed of hydrophobic residues. Such an approach has been shown to improve remote homology detection in sequence-profile alignments recently [27]. Thus, in the AlignHUSH procedure a contribution to the score is derived from explicit hydrophobicity calculations which might enable the detection of remote homologues with finer detail.
Another fact that has been exploited in the development of the AlignHUSH procedure is the observation that conservation of residues occurs over a stretch of residues. Thus, adding the contribution from neighboring columns should enable better differentiation than by using information from a single column. In case of a match between homologous patches, the score per column is enhanced but in unrelated patches, it is expected that the effect will be on average cancel out and the score for such patches will remain largely unchanged. Thus, use of neighbor information is expected to increase the separation between the scores for homologous matches and non-homologous matches which should enhance the difference in scores between the unrelated and related profiles.
In the next few sections, the incorporation of these ideas into the algorithm will be described in detail, followed by assessment based on the SCOP database.
Results
Comparison of AlignHUSH to other HMM profile alignment methods
The plots in Figure
1a
, show that when using the same query and database, AlignHUSH (when using all three parameters with neighbor information) performs better than HHSearch and PRC at all error rates. The sensitivity at 5% and 10% error rate for a number of other profile-profile alignment methods is given in Table
1
. The data in the Figure
1a
and the Table
1
demonstrate that the sensitivity of AlignHUSH, especially when all three scoring parameters are used, is slightly higher than all the currently existing methods. For comparison, the sensitivity of AlignHUSH at 10% error rate is 57%, whereas the sensitivity of HHSearch is 51% and that of PRC is 54%. The comparison of HHSearch and PRC to other methods has been made in an independent assessment reported by Sadrayev and Grishin [
22
] (Table
1
) that reveals that HHSearch and PRC perform better than other profile-profile alignment methods. The definition of true positives in this work is deliberately restricted to families within a SCOP superfamily since such relationships can be considered evolutionarily related with high confidence. SCOP families belonging to different folds could still have homology and hence an assessment of sensitivity and error-rate was performed with families within same fold considered as true positives and the results are similar to that observed in the case of SCOP superfamily analysis (sensitivity and error-rate plots are provided in Additional File
1
).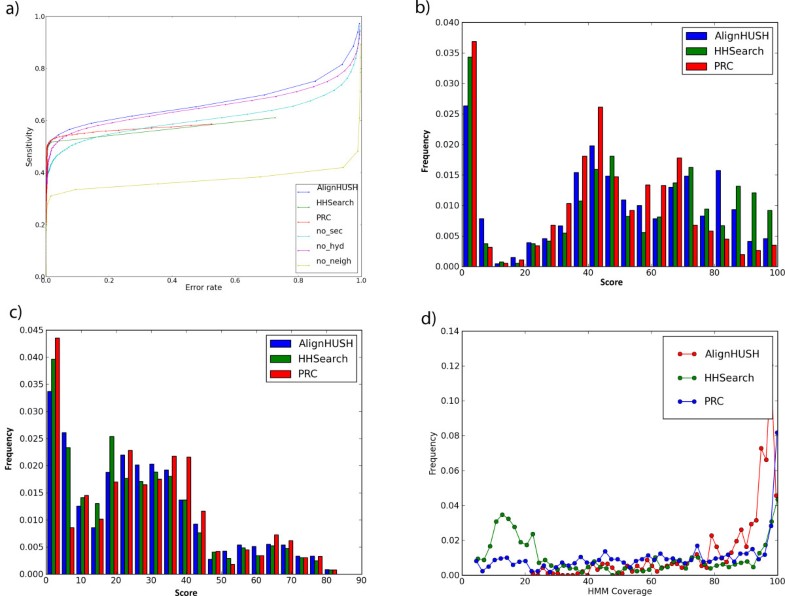 Table 1
Sensitivity at three levels of error-rate for a few profile-profile search methods.
| Method | Sensitivity at 5% error rate | Sensitivity at 10% error rate | Sensitivity at 50% error rate | Source |
| --- | --- | --- | --- | --- |
| AlignHUSH | 52.5% | 57.2% (58.5%*) | 66.8% | Current work |
| HHSearch (with SS) | 51% | 51.3% (48.8%§, 54.2%*) | 56% | Current work and Soding, 2005 [18] |
| HHSearch (no SS) | NA | 46.7% | NA | Soding, 2005 [18] |
| PRC | 53.2% | 54.4% (53.2%*) | 58.6% | Current work |
| PROCAIN | NA | 52% # | ~60% # | Wang et al, 2009 [25] |
| PROF_SIM | NA | 24.9% | NA | Soding, 2005 [18] |
| COMPASS | NA | 34.0% | NA | Soding, 2005 [18] |
The use of neighbor information has lead to a significant increase in the sensitivity at all error rates as demonstrated by the plots in Figure 1a, which shows an increase of around 20% when such information is used. The use of secondary structure information has also lead to an increase as can be seen from comparison of AlignHUSH with no secondary structure scoring (51.6% sensitivity at 10% error rate) and AlignHUSH (57.2% sensitivity at 10% error rate) in Figure 1a. The use of hydrophobicity information also leads to a modest increase in sensitivity of AlignHUSH procedure. The major difference between AlignHUSH and the other methods is the use of neighbour information and this parameter has lead to the increase seen in the sensitivity of AlignHUSH. The assessment of sensitivity of the three methods AlignHUSH, HHSearch and PRC was also done for the latest SCOP database version 1.75 profiles (Additional File 2). The sensitivity of HHSearch in the latest SCOP database shows an increase of 2%, AlignHUSH shows an increase of 1% and PRC shows a decrease of 1% suggesting that the sensitivity values for each method could vary with changes in the underlying database.
The alignment accuracy of the three methods compared in this paper was calculated as two different values that give slightly different views on the alignment accuracy. The first value is the 'developer score' which is the ratio between the number of correctly aligned columns (with respect to a reference alignment) and the alignment region. The second score is the 'modeler score' that gives the ratio of correctly aligned columns and the length of the reference alignment. The two values can be thought of loosely as the specificity of the alignment and the sensitivity of correct alignment. The two alignment accuracy values for each of the three methods tested (viz AlignHUSH, PRC and HHSearch) are given in Figure 1b and 1c. The average alignment accuracy for the three methods when the developer score is calculated is AlignHUSH (49.4), PRC (42.9) and HHSearch (51.2). The developer score for HHsearch is higher than that of PRC or AlignHUSH, but this could be due to the short alignments generated by HHSearch (comparison of length of alignments is given in Figure 1d). The 'modeller score' on the other hand is a measure of how much of the alignable region has been correctly aligned by a method. Thus, the modeler score is of great interest from a user's perspective. The values for the three methods are AlignHUSH (26.6), PRC (27.4) and HHSearch (24.6). Thus, the AlignHUSH procedure compares favorably to the best performing methods as far as alignment accuracy is concerned. The plots in Figure 1d suggest that the length of alignment is usually as long as the length of the query profile in case of AlignHUSH alignments which would be useful for functional and structural studies.
The values obtained for sensitivity at 10% error rate for the three methods studied, are useful as a guide for automated annotation efforts. For detailed analysis of a few families, it is usually preferable to detect as many remote homologs as possible, which can then be pruned based on additional biological data (for example information on active site residues). For such efforts, the AlignHUSH procedure can be more useful than HHSearch or PRC since it provides better sensitivity at higher error rates (Figure
1a
). Moreover, from a user perspective, it is always advisable to use as many methods as available to increase the chances of recognizing meaningful remote homologues, since none of the methods recognize all the available remote homologues. An analysis of the overlap between various methods can thus be indicative of the relative merits and demerits of the use of multiple methods. Such an analysis has been performed in this paper, where the pairwise remote homologs identified between SCOP families (within the same SCOP superfamily), are considered (given in Figure
2
) at a low E-value threshold of 10 for each of the methods. The most significant point that emerges from the figure is the high degree of overlap between HHSearch and PRC results. On the other hand, the number of hits found unique to AlignHUSH procedure is very large and suggests that the scoring scheme of AlignHUSH is sufficiently different from that of the other two methods. Thus, even though the sensitivity values considered for the whole dataset is marginally better, the biological value added due to the use of AlignHUSH can be enormous as far as remote homology detection is concerned considering the fact that AlignHUSH takes roughly only twice as long as HHSearch to search the same number of profiles (data not shown). This point is further illustrated in the next section where a few examples of remote relationships detected using AlignHUSH are presented.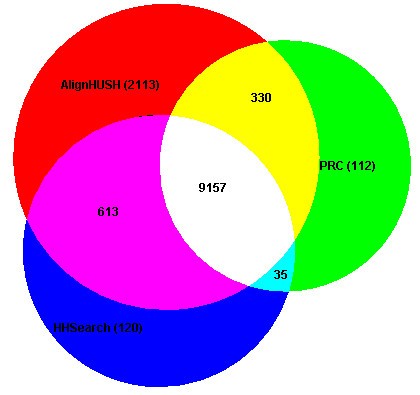 Examples of remote relationships discovered using AlignHUSH procedure
In the current analysis, relationships if identified between two SCOP families belonging to different SCOP folds (which include different SCOP classes) have been considered false positives. But the structural similarity between proteins involved in many such relationships is striking and has also been mentioned in SCOP. One such relationship is between the SCOP family DNA-binding domain of Mlu1-box binding protein MBP1 (SCOP code d.34.1.1) and the family DNA-binding protein Mj223 (SCOP code a.4.5.36, SCOP superfamily winged helix). The two families are from different classes but the method suggests similarity between the N-terminal part of Mlu1-box binding protein 1 and the Winged helix fold domain. Seven other families belonging to the winged helix superfamily are also found as hits with significant E-values strengthening the suggestion of homology between the N-terminal fragment of MBP1 protein and the winged helix superfamily. Interestingly, SCOP database mentions that the MBP1 family proteins have topological similarity to winged helix domains, but they are in different classes according to SCOP. Comparison of structures of regions of suggested similarity in two proteins (1KU9 and 1BM8) belonging to the two SCOP families, was done using DALI [
37
] and the structures are given in Figure
3a
(the alignment is provided in Additional File
3
). The structures in the figure suggest that there is a significant structural similarity between the proteins. AlignHUSH, as it is basically sequence-based, suggests that the structural similarity might be due to common evolutionary ancestry.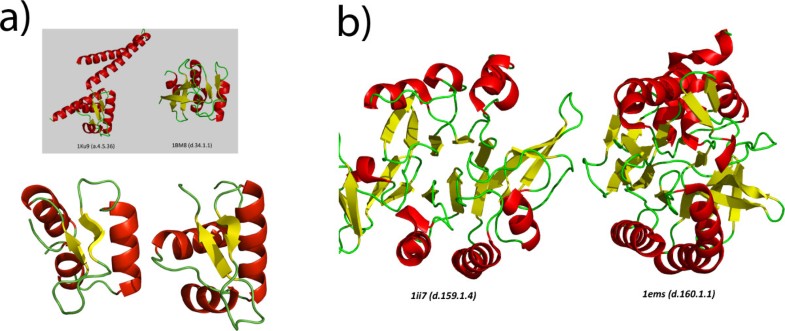 Another example (given in Figure 3b) of structural similarity is between the families Nitrilase (SCOP code d.160.1.1, Superfamily carbon-nitrogen hydrolase) and DNA double strand break repair nuclease family (SCOP code d.159.1.4, Superfamily metallo-dependent phosphatases). In this case too, SCOP mentions that the two families (in different folds of the same class), might have topological similarities. The Nitrilase family protein from C.elegans (PDB code 1ems) finds a homolog of known structure with Z score of 8.0 in the DALI database. The structural classification schemes do not provide indication of divergent evolution reliably at the SCOP fold level or above. Thus, if a method such as AlignHUSH finds a hit to a profile that is present in a different SCOP fold or SCOP class, it cannot always be considered a genuine false positive. The structural similarity and evolutionary signatures might still be present in such proteins, and since the alignment accuracy of the profile-profile methods is high, such cases must be treated manually (the alignment for the proteins in Figure 3b is given in Additional file 4 to illustrate this point).
The AlignHUSH procedure can be useful for annotation of families of proteins with as yet unknown function (the DUF families of Pfam database). The DUF925 family is an example of a family of proteins with unknown function for which AlignHUSH has enabled a putative functional annotation. This family has been recognized as related to the d.218.1 (Nucleotidyltransferase superfamily in SCOP database) using AlignHUSH with d.218.1.4 family (Poly A polymerase head domain-like). There are multiple families in this superfamily and the active site residues participating in the catalytic function may not be conserved across different families in this SCOP superfamily. For example, two proteins with PDB codes 1miv (tRNA CCA-adding enzyme, head domain) and 7icq (DNA polymerase beta-like), are both classified into the nucleotidyltransferase superfamily but their active sites are not exactly superposable (see Figure
4a
).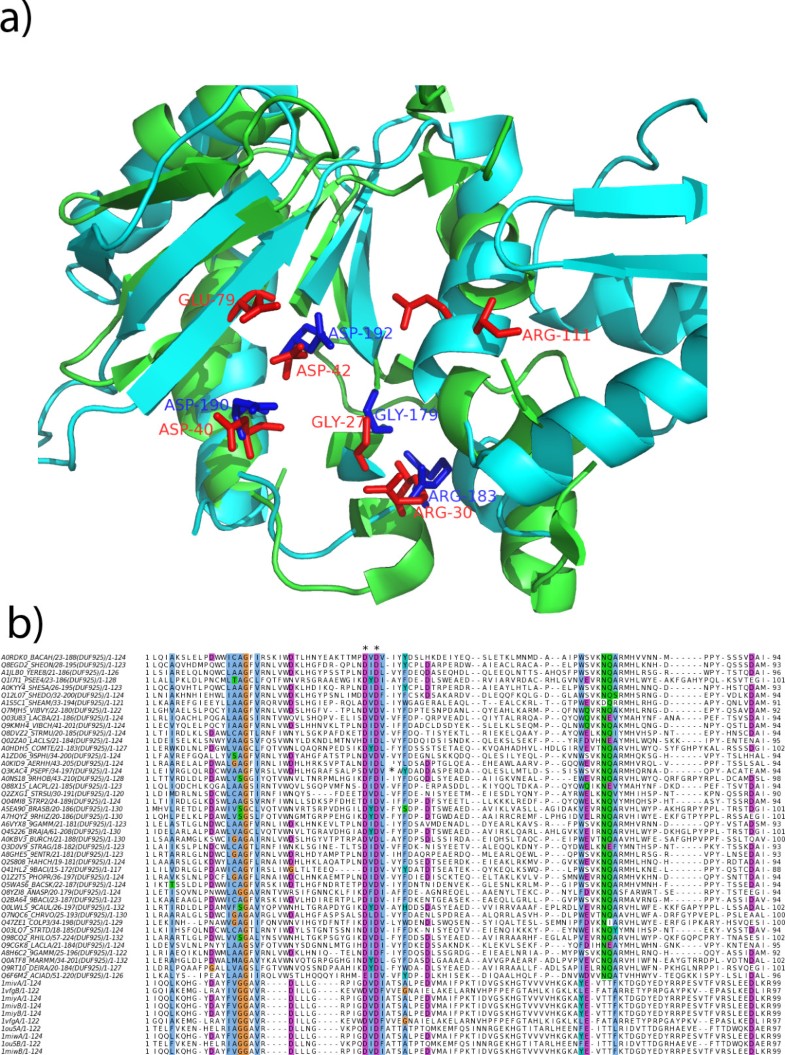 The Aspartate residues that bind to Mg2+ ion are conserved in the two proteins shown in Figure 4a, but the catalytic Arginine residue in 1miv is not conserved in the 7icq protein. Thus, the conservation of active site residues is not observed in this SCOP superfamily although it must be pointed out that each of the proteins in this superfamily binds to a Nucleotide and Mg2+, and hence the relationship of the DUF925 family to this SCOP superfamily suggests that the DUF 925 family proteins could participate in a nucleotidyl tranferase reaction, but the substrate and the mechanism of catalysis may be different than that in the existing SCOP families in this superfamily. The alignment of the DUF925 proteins with the top hit in the SCOP superfamily is given in Figure 4b, and shows conservation of some residues. The residues important for binding the Mg2+ ion in the SCOP family are the two Aspartate residues marked in the alignment which align with Aspartate residues in the DUF family and a glutamate residue which has been substituted with an Aspartate or a Glutamate in most proteins in the DUF family and a serine residue in some proteins in the DUF family sequences. Thus, it seems likely that the DUF925 family adopts the same fold as the proteins in the Nucleotidyltransferase superfamily and the partial conservation of some residues important for binding the catalytically active metal ion suggests that the proteins in this DUF family could participate in a reaction similar to the Nucleotidyltransferase reaction. A more detailed mutagenesis experiments needs to be carried out to explore in detail the role of these proteins of this DUF family.
Discussion
The method developed has been demonstrated to have better sensitivity than currently existing methods such as HHSearch and PRC leading to an increase of around 7% and 3% respectively when assessed using 1.69 release of SCOP database. The increase in sensitivity when the latest SCOP database is used is 4% and 6% with respect to HHSearch and PRC respectively. The alignment accuracy is also comparable or better than that of HHSearch and PRC (average alignment accuracy around 50% for all methods). However, there are certain issues which point out that the method developed can in principle have even better performance than it has in its current form. One of the major improvements can be in statistical evaluation. Currently there are no models analogous to that for local sequence alignments (Karlin-Altschul statistics), for profile-profile alignments. It is difficult to give a theoretical explanation for the gaps present in profile-profile alignments. Does it mean that all sequences in one profile have a tendency to have inserts at that position or does it mean that there are no homologous regions in the other profile? These issues can be resolved if a detailed model of evolution which goes beyond family level of sequence similarity is generated. A lot of work in recent years seems to be moving in this direction but a clear answer is yet to emerge. Thus, at present ad hoc methods like curve-fitting need to be done to interpret the alignment scores statistically. Some of the previous works in the area have used E-values derived from PSI-BLAST like calculations [18] and others have devised novel techniques to estimate statistical significance [22].
Although it has been demonstrated that the alignment accuracy of AlignHUSH is quite high, it must be pointed out that the results must be carefully scrutinized. The assessment using BaliBASE reference alignments points out that the alignments bring the topologically equivalent secondary structures in register most of the time, and also align specific residues correctly 50% of the cases studied(in the modest number of alignments in the BaliBASE datasets). If the BaliBASE alignments are a true representative of the distant relationships existing in the structural universe, then the alignment accuracy estimated in the current work can be extended to all the alignments produced by AlignHUSH. Currently, there is no data to prove that there is a bias in the BaIiBASE alignment datasets, and hence the alignment accuracy values can be taken as truly representative of all the alignments produced by AlignHUSH. Other measures of alignment accuracy such as the GDT_TS score have been proposed and used in earlier work [22, 25]. The GDT_TS score was developed to evaluate the match between a modeled structure and a real structure, and thus cannot handle large inserts and deletions very accurately. Moreover, the structural alignment between divergent proteins cannot be automatically generated with high reliability. Hence the applicability of the GDT_TS scores to remote structural similarities is not proved beyond doubt and hence, these scores have not been used in the current work.
The sensitivity of the developed method is quite high but it could in theory be higher for purely sequence based profiles. One of the major stumbling blocks in generation of profiles is the low number of sequences present in a family. For example, close to 90% of families in SCOP are composed of two or three proteins. In such a case, estimation of conservation becomes very difficult since almost every position might seem to be conserved. It is made more difficult if the sequence identity between the few proteins in the family is quite high. On the other hand, if sequence identity is very low on average in a family, then getting a high quality MSA becomes very difficult [38]. So, at present the quality of profiles generated for such divergent families in either SCOP or Pfam databases might be low, and hence these families may not be performing very well in the current assessment. This is also reflected in the fluctuations in the sensitivity values when using two different databases for all three methods.
Conclusions
A method for aligning profile HMMs of protein sequences has been developed. The algorithm takes into account three kinds of information from the sequence alignment in addition to conservation of amino acids at a position. The additional information used are the predicted secondary structure information, hydrophobicity of the aligned residues, and the information present in neighboring columns. Assessment of sensitivity and error-rate in a large database of proteins of know structure (SCOP), revealed that the sensitivity of our method is more than that of currently existing methods. The alignments provided by AlignHUSH have comparable accuracy or slightly better accuracy than currently existing methods. The coverage of alignment on the profiles usually covers almost the entire length of the profile, and thus alignments generated by AlignHUSH can be used for function/structure annotation. A web-server incorporating the algorithm has been developed and is publicly available at http://crick.mbu.iisc.ernet.in/~alignhush/
Declarations
Acknowledgements
This research is supported by the Mathematical Biology initiative of Department of Science and Technology (DST), New Delhi as well as by the Department of Biotechnology, New Delhi. O.K. was supported by DST.
Authors' Affiliations
(1)
Molecular Biophysics Unit Indian Institute of Science, Bangalore, India
(2)
A318, Biochemistry and Molecular Biology Department, Athens, USA
Copyright
© Krishnadev and Srinivasan; licensee BioMed Central Ltd. 2011
This article is published under license to BioMed Central Ltd. This is an Open Access article distributed under the terms of the Creative Commons Attribution License (http://creativecommons.org/licenses/by/2.0), which permits unrestricted use, distribution, and reproduction in any medium, provided the original work is properly cited.