Research article
Open Access
Reporting FDR analogous confidence intervals for the log fold change of differentially expressed genes
BMC Bioinformatics
2011
12:288
Received: 24 February 2011
Accepted: 15 July 2011
Published: 15 July 2011
Abstract
Background
Gene expression experiments are common in molecular biology, for example in order to identify genes which play a certain role in a specified biological framework. For that purpose expression levels of several thousand genes are measured simultaneously using DNA microarrays. Comparing two distinct groups of tissue samples to detect those genes which are differentially expressed one statistical test per gene is performed, and resulting p-values are adjusted to control the false discovery rate. In addition, the expression change of each gene is quantified by some effect measure, typically the log fold change. In certain cases, however, a gene with a significant p-value can have a rather small fold change while in other cases a non-significant gene can have a rather large fold change. The biological relevance of the change of gene expression can be more intuitively judged by a fold change then merely by a p-value. Therefore, confidence intervals for the log fold change which accompany the adjusted p-values are desirable.
Results
In a new approach, we employ an existing algorithm for adjusting confidence intervals in the case of high-dimensional data and apply it to a widely used linear model for microarray data. Furthermore, we adopt a concept of different relevance categories for effects in clinical trials to assess biological relevance of genes in microarray experiments. In a brief simulation study the properties of the adjusting algorithm are maintained when being combined with the linear model for microarray data. In two cancer data sets the adjusted confidence intervals can indicate significance of large fold changes and distinguish them from other large but non-significant fold changes. Adjusting of confidence intervals also corrects the assessment of biological relevance.
Conclusions
Our new combination approach and the categorization of fold changes facilitates the selection of genes in microarray experiments and helps to interpret their biological relevance.
Keywords
Gene OntologyFold ChangeFalse Discovery RateRelevance CategoryVolcano Plot
Background
When simultaneously testing a large number of hypotheses, a high number of false positive test results is expected. This applies particularly in the case of high-dimensional data, where the number m of features is much larger than the available sample size n. Therefore, raw p-values are adjusted in order to control a false positive rate, for example the false discovery rate (FDR). The FDR was introduced by Benjamini and Hochberg [1] as the expected proportion of false positives among all positive test decisions. A prime example of high-dimensional data are gene expression levels from DNA microarray experiments. A frequent microarray study design is the comparison of gene expression levels among two distinct groups of tissue samples, for example from wild types and mutated subjects [2], resulting in several thousand p-values, one per gene. These raw p-values are then increased by an adjusting algorithm to reduce the number of false positive detections. Additionally, expression changes between the two groups are quantified by some difference statistic such as the log fold change. The reason for a difference statistic instead of a ratio statistic is that gene expression data are usually log-transformed by one of several data preprocessing steps. Published microarray experiments, where the log fold change is accompanied by a confidence interval, are rare, and the interval limits are usually not adjusted for multiplicity. These unadjusted confidence intervals are not comparable to FDR-adjusted p-values. One reason for that might be that FDR-adjustment procedures are based on ordered p-values (so called step-up or step-down procedures), while confidence intervals cannot be ordered according their level of significance. Therefore, an algorithm presented by Benjamini and Yekutieli [3] for adjusting confidence limits analogous to the p-values is also based on the order of their corresponding p-values. A similar algorithm was introduced by Jung et al. [4] who studied adjusted confidence intervals for the fold change of protein expression levels. Although the latter algorithm produces adjusted confidence intervals which match their related adjusted p-values in the sense that they lead to the same test decision, it has the drawback of gene-specific confidence levels. In contrast, the algorithm of Benjamini and Yekutieli [3] uses the same adjusted confidence level for all genes.
In order to evaluate the performance of their algorithm for adjusting confidence intervals, Benjamini and Yekutieli [3] introduced the false coverage-statement rate (FCR), which, in the context of DNA microarray experiments, is defined as the expected proportion of true log fold changes not covered by their confidence interval among all genes that have been detected as differentially expressed. They use this rate instead of the conditional coverage probability (CCP), i.e. the portion of true log fold changes covered by their confidence interval among all genes detected as differentially expressed. Both, FCR and CCP, are defined to be zero in the case that the number of genes detected as differentially expressed is zero, too. It can be shown that the CCP is dependent of the size of the fold changes, while the FCR is independent. Thus, studying the non-coverage of confidence intervals is more reasonable than studying their coverage.
Before building confidence intervals, genes have to be selected by statistical tests. A popular method framework for detecting differentially expressed genes among two distinct groups of samples is given by the linear models proposed by Smyth [5]. These models pick up the ideas of Lönnstedt and Speed [6] who recommended to use a moderated t-statistic for testing the differential expression of each gene. They argue that a very small variance is expected for some genes, when testing thousands of genes simultaneously, though the difference of group means is inconsiderable for these particular genes. As a consequence, the classical t-statistic will become unreasonably large for these genes. Therefore, Smyth [5] employed an empirical Bayes approach where a prior distribution for the variance of genes is assumed and the observed standard errors of the estimated model coefficients are shrinked towards these prior values. In the case of two groups, the coefficient of the related linear model can be taken as an estimate for the log fold change. As a new approach, we use these estimates as well as their shrunken standard errors to construct confidence intervals for the fold change, and employ the algorithm of Benjamini and Yekutieli [3] to adjust these intervals to control the FCR. With this, we account for a problem mentioned by Efron [7] and Ghosh [8], that is the confidence intervals proposed by Benjamini and Yekutieli [3] tend to be too wide. Combining an adjusting algorithm with a multiple testing procedure was also proposed in the paper of Jung et al. [4]. This former proposal had, however, the above mentioned drawback of non-uniform confidence levels and only uses simple confidence intervals based on the assumption of normal distribution. Thus, we present now an extended methodology.
Building confidence intervals for the log fold change adjusted by this new combination method is a helpful step for assessing genes which might be biologically relevant. In order to further categorize genes according their potential biological relevance, we adopt a concept developed to assess the clinical relevance of observed effects in clinical trials [9]. According to this concept, genes are classified individually into one of four relevance categories, based on the location of their confidence intervals relative to the zero log fold change and a relevance threshold.
The outline of this article is as follows. In the methods section we describe the linear model of Smyth [5] for the case of a two group comparison. Next, the construction of unadjusted and adjusted confidence intervals is detailed, followed by a short description of their implementation in the free software R [10]. Afterwards, the concept of relevance categories is explained. In the results section, we present the results of a brief simulation study with which we evaluate the behavior of the CCP and the FCR in a two group comparison. The benefit of incorporating adjusted confidence intervals for the log fold change and of categorizing genes by their potential biological relevance is further illustrated by two examples of microarray data, featuring gene expression levels observed in lung and rectal carcinomas, respectively. Finally we close with a discussion and some conclusions.
Discussion
In practice, gene selection in DNA microarray experiments is based on several aspects. It is common that such a group comparison yields several hundreds of significant genes, even with FDR-adjusted p-values. This result of a multiple testing procedure can, however, only be seen as a first screening. Particularly, gene selection is usually not only based on pure statistical results, i.e. whether a gene is significantly differentially expressed between two distinct groups of samples. Among this bulk of significant genes, those are selected for further laboratory validation which are known to be related to molecular pathways associated with the studied biological system. In addition, the strength of the expression change, in terms of the log fold change, is considered for selecting relevant features. In this context, the potentially divergent statements of p-value and log fold change can be confusing for laboratory decision makers. The studied examples in this article have shown, that genes with a large fold change can lack in significance, and vice versa.
One solution to interpret test results and fold changes together are volcano plots, where the log p-values are plotted versus log fold changes (see for example Cui and Churchill [18]). Using volcano plots one can easily see which genes are significant on the one hand and highly regulated on the other hand. However, this information gets lost in a tabular representation of test results. Furthermore, a volcano plot cannot be read easily when points overlap. Therefore, we decided to employ confidence intervals which express by their length the high variation behind some genes with a large fold change and can thus help to solve the misleading impression of high relevance.
The four categories of relevance, as proposed by Jones [9] may further assist experimenters to rate the selected genes. In this context, one could eventually replace the term 'biologically relevant' by 'biologically interesting effect size', because larger fold changes might not necessarily have a large impact within a molecular pathway. Performing a GO analysis onto the rectal cancer data data subsequent to differential testing and relevance categorization we could assign pathway information to the different relevance categories. If just volcano plots were employed to assess the biological relevance of significant genes one could perhaps miss interesting pathway information associated with genes of class C ('probably biologically relevant'). With a volcano plot only pathways associated with genes in class D ('biologically relevant') would be taken into account. Thus, the categorization principle opens up insight into gene-pathway associations about those genes which are not highly significant but which may not be completely unimportant as well. Regarding the description of the four categories it should, however, be mentioned that the word 'probably' is only appropriate if the distribution of the log fold change estimates is symmetric. Symmetry is needed to ensure that the estimate exceeds the true value 50% of the time.
In this article we have combined the ideas of Benjamini and Yekutieli [
3
] for adjusting confidence intervals with the widely used linear models presented by Smyth [
5
], in the case of a two group comparison. This new approach of combining these two methods improves a former idea of Jung et al. [
4
], which was based on unadjusted confidence intervals under normal distribution. Employing the models of Smyth instead, specific characteristics of microarray data are taken into account. In addition, the incorporation of the adjusting algorithm by Benjamini and Hochberg guarantees equal confidence levels for all genes. Using the combination of both methods, confidence intervals can be constructed which coincide with their related
p
-values. I.e., the lower (upper) limits of the confidence intervals for the fold change exceed (falls below) zero, exactly when the
p
-value indicates significance. In a brief simulation we have shown, that the adjusted confidence intervals control a pre-specified
FCR
which was proposed by Benjamini and Yekutieli [
3
] as reasonable analogue for the
FDR
. More precisely, the simulation results correspond to those in the article by Benjamini and Yekutieli [
3
]. Thus, we could show that the characteristics of their algorithm are maintained in our combination approach. When we repeated this simulation study with larger numbers of genes (
m
= 1000) and with different portions of differentially expressed features (
τ
= 10% and
τ
= 50%), nearly the same results were obtained. Therefore, we assume that the
FCR
is also independent from the log fold change, even when a larger number of genes is studied like in DNA microarray experiments. An alternative approach to classifying confidence intervals into relevance categories is to test whether log fold changes exceed a given relevance threshold. Methods for this were provided for example by Lewin et al. [
19
], Bochkina and Richardson [
20
], van de Wiel and Kim [
21
] and by McCarthy and Smyth [
22
]. Using again the data example of Lips et al. [
16
] and a relevance threshold of
ρ
= 0.5, one can see a strong correlation between the
p
-values derived by the method of McCarthy and Smyth [
22
] and the classification of confidence intervals into relevance categories by our approach (Figure
5
). However, as was seen in the above pathway analysis, certain information about biological pathway information could be missed, when selecting only highly significant genes.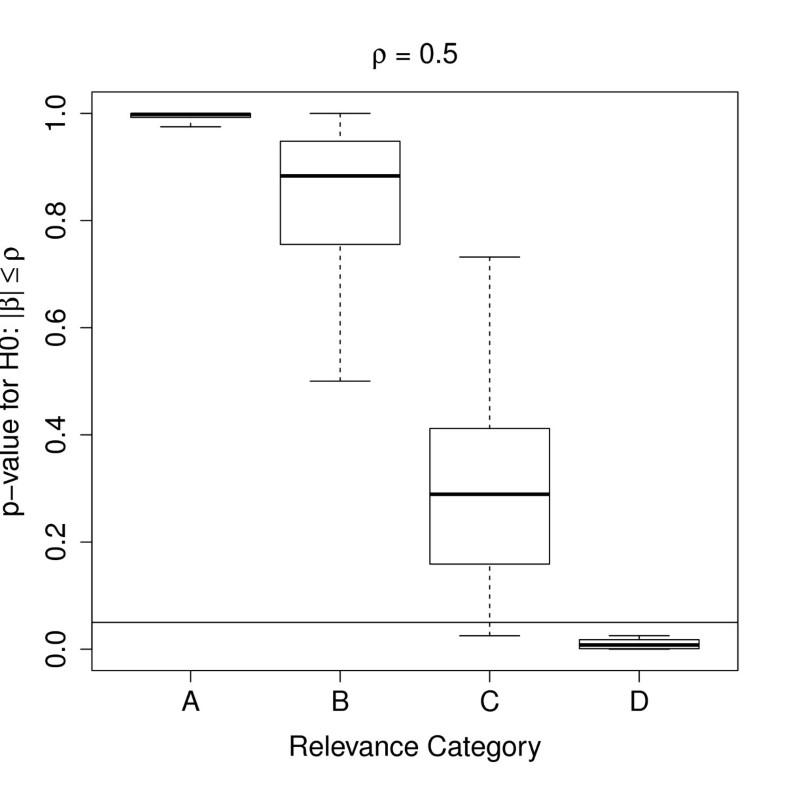 Conclusions
In summary, our improved combination approach is more adequate for microarray data than a similar approach described previously. Together with the proposed categorization of fold changes it facilitates the selection of genes in microarray experiments and helps to interpret their biological relevance. Although, some mathematical shortcomings of using the FCR have been discussed in several published comments (in the same volume as the article of Benjamini and Yekutieli), the practical use of the adjusting algorithm becomes more evident in our examples.
Declarations
Acknowledgements and Funding
The authors thank Gordon Smyth for discussions and help with the 'limma'-package and the reviewers for additional references. This work was supported by the Deutsche Forschungsgemeinschaft (KFO 179) and by the German Federal Ministry of Education and Research program Medical Systems Biology (BreastSys).
Authors' Affiliations
(1)
Department of Medical Statistics, University Medical Center Göttingen, Göttingen, Germany
Copyright
© Jung et al; licensee BioMed Central Ltd. 2011
This article is published under license to BioMed Central Ltd. This is an Open Access article distributed under the terms of the Creative Commons Attribution License (http://creativecommons.org/licenses/by/2.0), which permits unrestricted use, distribution, and reproduction in any medium, provided the original work is properly cited.