Methodology article

Open Access
A genetic algorithm-Bayesian network approach for the analysis of metabolomics and spectroscopic data: application to the rapid identification of Bacillus spores and classification of Bacillus species
BMC Bioinformatics
2011
12:33
Received: 10 June 2010
Accepted: 26 January 2011
Published: 26 January 2011
Abstract
Background
The rapid identification of Bacillus spores and bacterial identification are paramount because of their implications in food poisoning, pathogenesis and their use as potential biowarfare agents. Many automated analytical techniques such as Curie-point pyrolysis mass spectrometry (Py-MS) have been used to identify bacterial spores giving use to large amounts of analytical data. This high number of features makes interpretation of the data extremely difficult We analysed Py-MS data from 36 different strains of aerobic endospore-forming bacteria encompassing seven different species. These bacteria were grown axenically on nutrient agar and vegetative biomass and spores were analyzed by Curie-point Py-MS.
Results
We develop a novel genetic algorithm-Bayesian network algorithm that accurately identifies sand selects a small subset of key relevant mass spectra (biomarkers) to be further analysed. Once identified, this subset of relevant biomarkers was then used to identify Bacillus spores successfully and to identify Bacillus species via a Bayesian network model specifically built for this reduced set of features.
Conclusions
This final compact Bayesian network classification model is parsimonious, computationally fast to run and its graphical visualization allows easy interpretation of the probabilistic relationships among selected biomarkers. In addition, we compare the features selected by the genetic algorithm-Bayesian network approach with the features selected by partial least squares-discriminant analysis (PLS-DA). The classification accuracy results show that the set of features selected by the GA-BN is far superior to PLS-DA.
Keywords
Genetic Algorithm
Feature Selection
Bayesian Network
Predictive Accuracy
Bacillus Species
Background
Bacillus and Clostridium species can adapt to rapidly changing environments and starvation by developing spores. An endospore is a dormant non-reproductive structure produced by these Gram-positive bacteria and is a survival mechanism adapted to spending a long period of time in hostile conditions. The sporulation process in Bacillus species causes singular molecular and cellular changes in the cell which are not seen in the vegetative state [1]. One of these changes is the biosynthesis of calcium dipicolinate, which is found in sporulated cells but not in the vegetative ones.
Members of the genus Bacillus are widely distributed in the environment and because their spores are so resistant their control is of considerable importance in the food manufacture [2]. Some of these bacteria are pathogenic including B. cereus and B. subtilis which cause food poisoning. The most notorious member of this genus is B. anthracis, which is the causal agent of anthrax, and the rapid identification of spores and bacterial identification are paramount because of its importance as a potential biological warfare agent [3] and in bioterrorism [4]. Thus there is a need to have a generic characterisation method that allows rapid identification of spores and typing of bacteria.
Many automated analytical techniques such as Raman spectroscopy [5], liquid and gas chromatography [6, 7] and Curie-point pyrolysis mass spectrometry (Py-MS) [8–10] have been used to identify bacterial spores. All of these methods rely on chemometric analyses of the data and the question arises as to how robust these mathematical models are. However, the vast majority of modelling approaches are considered "black boxes" as they do not readily allow the specific association between input analytical data and output classification to be revealed.
These types of data analysis involve a large number of features to be analysed, such as several mass spectra. This high number of features makes interpretation of the data extremely difficult Therefore, we start our data analysis by reducing data dimensionality. This data reduction step selects a small subset of key relevant masses to be further analysed and discards the less important ones. This feature selection procedure uses Bayesian network learning methods coupled with genetic algorithms to identify bacterial spores and classify Bacillus species.
A Bayesian network (BN) is basically a graphical model of a probability distribution over a set of variables of a given problem domain [11, 12]. This graphical model provides a compact and intuitive representation of the relationships among variables of a given problem domain. Nodes on the graph represent variables from the problem (e.g., m/z intensities) and an arrow linking two nodes indicates a statistical correlation between them. This statistical correlation falls broadly into one of the two categories: (a) "positive correlation" indicates that the values of both variables increase or decrease together, and (b) "negative correlation" indicates that as one variable increases, the other decreases, or vice versa. The network structure of a BN encodes probabilistic dependencies among domain variables and a joint probability distribution quantities the strength of these dependencies [13]. The resulting graphical model or network has two main uses. (1) Visualization of probabilistic relationships: the graphical model provides direct and accurate information about the underlying interactions among variables of interest, m/z intensities in our case, and (2) Inference: the Bayesian network is intrinsically an inference model and can be used to predict outputs or to classify new samples.
We use statistical and data mining algorithms to identify Bacillus spores automatically from their Curie-point pyrolysis mass spectrometry data. This process extends the data mining analysis to a two step hierarchical-based classification that further identifies the bacilli into one of their respective species. First, the data dimensionality is reduced by a feature selection process using genetic algorithms (GA) and BNs in parallel. Subsequently, once that the relevant variables are identified, a classification model using only BN is built based on the reduced data set, and this process undergoes full validation. Next a statistical analysis of the interactions among variables and classes and variables and variables is performed using the built Bayesian network model. As this combined process identifies probabilistic biomarkers in the data set it is possible to develop predictive, testable models that allow inference of biological properties of the bacilli. The computer code for the GA-BN algorithm developed on this work was written in R programming language [14] ver. 2.9.2 and is freely available, together with the Bacillus data set, on request to the corresponding author.
Methods
The Bacillus data set
The work uses the Bacillus Py-MS data set reported in [8] and described as an additional file (see Additional file 1). Unlike most data sets which concentrate on a single or only a handful of Bacillus species, this data set investigates 36 different strains of aerobic endospore-forming bacteria encompassing seven different species: Bacillus amyloliquefaciens, Bacillus cereus, Bacillus licheniformis, Bacillus megaterium, Bacillus subtilis (including Bacillus niger and Bacillus globigii), Bacillus sphaericus, and Brevibacillus laterosporus. These bacteria were grown axenically on nutrient agar as detailed in [8, 15] and vegetative biomass and spores were analyzed in triplicates by Curie-point Py-MS. The data set contains 216 Bacillus samples; 108 are vegetative and 108 are sporulated. For a more detailed explanation of this data set see [8]. A phylogenetic tree of the type strains of the Bacillus species studied in this paper can be found in [16].
Data analysis
The overall work flow for the data analysis is shown in Figure
1
and involved a two stage process. The input data sets for the data analysis contained the full Py-MS spectra, 150
m/z
intensities. The data were normalised as a percentage of the total ion count to remove the influence of sample size
per se
.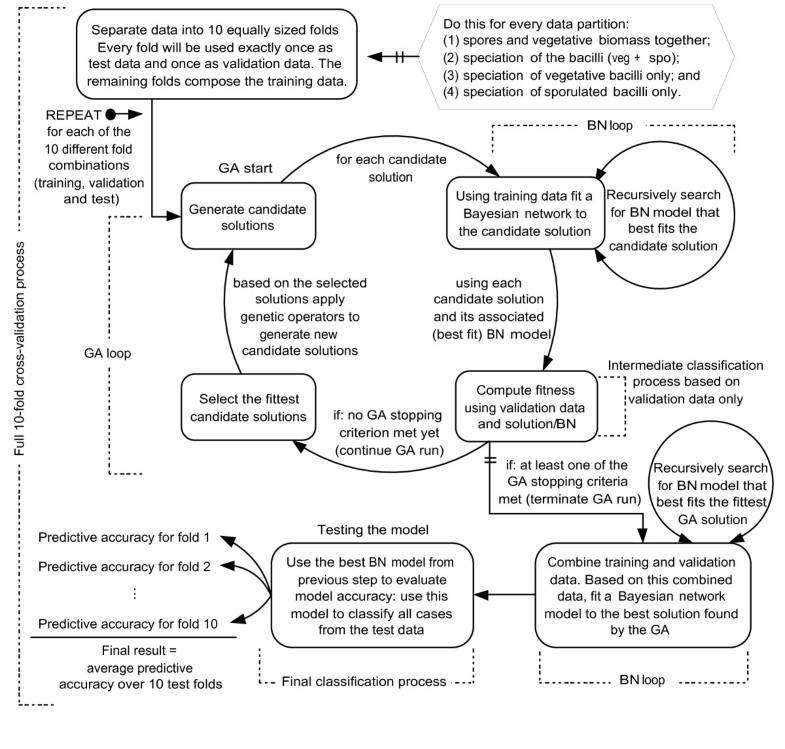 Stage 1 employed a genetic algorithm for feature selection with classification of (a) either spores versus vegetative biomass or (b) speciation to one of the seven different species. The classifier used is the Bayesian network that best fits the best solution (with a reduced set of features) found by a genetic algorithm. In this supervised learning procedure, the measurement of the fitness of a GA solution in this study follows a wrapper approach. The wrapper approach searches for an optimal feature subset tailored to a particular algorithm, such as a Bayesian network. For more information on wrapper and other feature selection approaches see [17].
Stage 2 involved the fitting of a new Bayesian network model to the best GA solution found on the previous stage. The built BN model is then used to determine probabilistic relationships between the m/z intensities selected by the GA and the classification (sporulation status or speciation). This two step process and model validation are detailed below.
Conclusions
In this study Py-MS data from a diverse group of Bacillus species were analysed using a novel approach of combining variable selection from GA with the probabilistic relationship inference from BN. This chemometrics-fusion approach was first used for the successful classification of spores versus vegetative biomass and subsequently the same data were used to identify the Bacillus species that was under analysis. The results of the physiological classification confirm that m/z 105 which is a pyridine ketonium ion known to arise from DPA [8] plays a significant part in discriminating the spores from vegetative bacilli. Moreover, m/z 77 was also selected which is known to be a fragment ion that results from pyridine ketonium [32]. A very parsimonious rule was constructed that only used four ions and had a 100% classification rate on the validation data. Taken together this shows that the GA-BN was able to discover novel biomarkers for spores and that these were validated by the know physiological differences that occur during sporulation [1]. Variable selection is an important aspect of any multivariate data analysis as it seeks to simplify a data set by reducing its dimensionality and identifying relevant underlying variables without sacrificing predictive accuracy. As a result for species classification the GA-BN significantly reduced the redundancy in the information provided by the variables actually used for prediction from 150 m/z to between 22-39 depending on the subset of the data analysed. As no single classifier works best on all given classification problems (see [42]), the present work designed a specific classification model for each partition of the data set analyzed. The results show that using significantly less m/z intensities, the classifiers obtained, on average, a better performance than the classifiers using all 150 m/z intensities available.
Taking the true positive (TP) rate as an example for analysing both spores and vegetative cells together the prediction from using 150 m/z to just 22 increased from 0.755 to 0.843. When only vegetative cells were analysed the TP rate was 0.889 for all 150 m/z and 0.917 for when the 22 GA selected variables were employed. By contrast, the TP rate increased from 0.944 to an impressive 0.981 when spores were analysed by Py-MS using either all 150 m/z or 39 selected ions respectively. This result indicates that not only are individual classifiers better than combining both spores and vegetative biomass, but that Bacillus speciation is better when spores are analysed. This is in contrast to what is expected from classical physiology studies and indicates that a lot more than just the production of DPA and specific proteins is occurring. This has implication for rapid analysis as one may be able to speciate the bacilli directly without the need for cultivation. Notwithstanding our results show that a hierarchical-like, or informed, classification of the bacilli into classes has shown a higher predictive accuracy than the classification without previous knowledge of physiological state.
The GA-BN algorithm has also outperformed a traditional classification method used in chemometrics, namely PLS-DA, in all cases tested. Although GA-BN did not always select the smallest subset of features, the classification accuracy indicated that it always selected the most relevant ones when compared to PLS-DA.
Bayesian networks explore two main characteristics of the target data set: associations among variables and the strength of these associations. The graphical model output from the GA-BN explicitly informs one about probabilistic associations. A conditional probability table stores the strength of the correlations given the associations displayed on the graphical model. Expert knowledge and statistical information can easily be introduced in BNs, as demonstrated in this study. BNs model the probability distribution of the problem domain and, therefore, can compute the predictive distribution on the outcomes of possible outputs.
In conclusion, we have developed a novel genetic algorithm-Bayesian network and demonstrated its implementation on a well described data set comprising pyrolysis mass spectra from a wide variety of different Bacillus species analysed both as vegetative cells and spores. The physiological assessment of these data reconfirmed that dipicolinic acid is a valuable biomarker for spore identification; whilst our hierarchical-informed classification structure showed excellent identification of the different species in the sporulated state, a finding that to our knowledge has not been shown before for Py-MS data.
Declarations
Acknowledgements
EC and RG would like to thank the "Systems Biology of Microorganisms" (SysMO) project and in particular BBSRC for financial support.
Authors' Affiliations
(1)
School of Chemistry, The University of Manchester, Manchester, UK
(2)
Manchester Centre for Integrative Systems Biology, Manchester Interdisciplinary Biocentre, University of Manchester, Manchester, UK
Copyright
© Correa and Goodacre; licensee BioMed Central Ltd. 2011
This article is published under license to BioMed Central Ltd. This is an Open Access article distributed under the terms of the Creative Commons Attribution License (http://creativecommons.org/licenses/by/2.0), which permits unrestricted use, distribution, and reproduction in any medium, provided the original work is properly cited.