Methodology article

Open Access
DART: Denoising Algorithm based on Relevance network Topology improves molecular pathway activity inference
BMC Bioinformatics
2011
12:403
Received: 18 May 2011
Accepted: 19 October 2011
Published: 19 October 2011
Abstract
Background
Inferring molecular pathway activity is an important step towards reducing the complexity of genomic data, understanding the heterogeneity in clinical outcome, and obtaining molecular correlates of cancer imaging traits. Increasingly, approaches towards pathway activity inference combine molecular profiles (e.g gene or protein expression) with independent and highly curated structural interaction data (e.g protein interaction networks) or more generally with prior knowledge pathway databases. However, it is unclear how best to use the pathway knowledge information in the context of molecular profiles of any given study.
Results
We present an algorithm called DART (Denoising Algorithm based on Relevance network Topology) which filters out noise before estimating pathway activity. Using simulated and real multidimensional cancer genomic data and by comparing DART to other algorithms which do not assess the relevance of the prior pathway information, we here demonstrate that substantial improvement in pathway activity predictions can be made if prior pathway information is denoised before predictions are made. We also show that genes encoding hubs in expression correlation networks represent more reliable markers of pathway activity. Using the Netpath resource of signalling pathways in the context of breast cancer gene expression data we further demonstrate that DART leads to more robust inferences about pathway activity correlations. Finally, we show that DART identifies a hypothesized association between oestrogen signalling and mammographic density in ER+ breast cancer.
Conclusions
Evaluating the consistency of prior information of pathway databases in molecular tumour profiles may substantially improve the subsequent inference of pathway activity in clinical tumour specimens. This de-noising strategy should be incorporated in approaches which attempt to infer pathway activity from prior pathway models.
Keywords
Pathway ActivityMammographic DensityPerturbation SignatureConsistency ScoreRelevance Network
Background
A key goal in cancer genomics is to map out the activation levels of cancer-relevant pathways across clinical tumour specimens [1]. Obtaining pathway activity levels is important for several reasons. First, it reduces the genomic complexity from tens of thousands of features to measurements on only dozens of relevant pathways, thus circumventing the significant problems associated with multiple testing [2]. Second, it represents an important step towards understanding the functional effects of genomic and epigenomic abnormalities in clinical tumours [3]. Third, obtaining molecular pathway correlates of clinical and imaging traits may help improve current prognostic and predictive models as well as provide us with important new biological insights [3–5].
However, obtaining reliable estimates of molecular pathway activity is a challenging endeavour. Various gene expression based approaches have been used to address this problem. Initial methods focused on inferring differential pathway activity between biological conditions using Gene Set Enrichment Analysis methods [6, 7]. These methods used prior knowledge pathway databases, but only treated pathways as unstructured lists of genes. Proper systems biology approaches that attempt to infer differential pathway activity by combining highly curated structural networks of molecular interactions (e.g KEGG pathway database) with transcriptional changes on these networks were subsequently developed [8–14]. These systems biology approaches can be distinguished depending on whether the discriminatory genes or gene subnetworks are inferred de-novo in relation to a phenotype of interest [9–11, 14], or whether the molecular pathway models are given as prior information [12, 13]. These latter methods are particularly appropriate in conjunction with prior information pathway resources such as Netpath [15]. It is important to stress again that most of these methods (e.g [9–12, 14]) are geared towards measuring differential pathway activity and are thus supervised in the sense that the phenotypic information is used from the outset to infer discriminatory genes or gene subnetworks.
Another set of gene expression based approaches are based on deriving perturbation signatures of activation or inhibition in model cell systems and are based on the assumption that the measured downstream transcriptional consequences of the upstream perturbations constitute faithful representations of upstream pathway activity [1, 3, 16–18]. By correlating these in-vitro perturbation mRNA signatures to a sample gene expression profile one may infer pathway activity in individual samples, for example in tumours where one may wish to know the potential functional impact of a particular oncogenic amplification [1, 3].
Mathematically, a perturbation signature has the structure of a gene list with associated weights informing us if a gene in the list is up or downregulated in response to gene/pathway activation. Similarly, the Netpath signatures consist of curated lists of genes reported to be up or downregulated in response to pathway activation, and of genes reported to be implicated in the signal transduction of the pathway [15]. Thus, at an elementary level, all of these pathway signatures can be viewed as gene lists with associated weights which can be interpreted as prior evidence for the genes in the list to be up or downregulated.
A common theme of most of the pathway activity estimation procedures described above is the assumption that all of the prior information relating to the pathway is relevant, or that it is all of equal relevance, in the biological context in which the pathway activity estimates are desired. While one would attempt to minimize differences between the biological contexts, this is often not possible. For instance, an in-vitro derived perturbation signature may contain spurious signals which are specific to the cell-culture but which are not relevant in primary tumour material. Similarly, a curated signal transduction pathway model may include information which is not relevant in the biological context of interest. Given that personalised medicine approaches are proposing to use cell-line models to assign patients the appropriate treatment according to the molecular profile of their tumour [1], it is therefore important to develop algorithms which allow the user to objectively quantify the relevance of the prior information (e.g pathway model or perturbation signature) before pathway activity is estimated [5]. Similarly, there is a growing interest in obtaining molecular pathway correlates of imaging traits, such as for example mammographic density in breast cancer [4, 19–21]. This also requires careful evaluation of prior pathway models before estimating pathway activity. More generally, it is still unclear how best to combine the prior information in perturbation expression signatures or pathway databases such as Netpath with cancer gene expression profiles.
The purpose of this manuscript is four-fold. First, to highlight the need for denoising prior information in the context of pathway activity estimation. We demonstrate, with explicit examples, that ignoring the denoising step can lead to biologically inconsistent results. Second, we propose an unsupervised algorithm called DART (Denoising Algorithm based on Relevance network Topology) and demonstrate that DART provides substantially improved estimates of pathway activity. Third, we use DART to make an important novel prediction linking estrogen signalling to mammographic density data in ER positive breast cancer. Fourth, we provide an assessment of the Netpath resource information in the context of breast cancer gene expression data.
While an unsupervised algorithm similar to DART was used in our previous work [5], we here provide the detailed methodological comparison of DART with other unsupervised methods that do not attempt to de-noise prior information, demonstrating the viability and critical importance of the denoising step. Finally, we also evaluate DART against a state of the art supervised method, called Condition Responsive Genes (CORG) [11], and show that, despite DART being unsupervised, that it performs similarly to CORG. DART is available as an R-package from cran.r-project.org.
Methods
Perturbation signatures
We considered three different perturbation signatures, all derived by a perturbation (overexpression or inhibition) affecting a single gene in a cell-line model. Specifically, the perturbation signatures were an ERBB2 perturbation signature derived by stably overexpressing ERBB2 in an ER+ breast cancer cell line (MCF7) [17], a MYC perturbation signature derived using a recombinant adenovirus to overexpress MYC in human mammary epithelial cells [1], and finally a TP53 perturbation signature derived by inhibition of protein synthesis by cycloheximide (CHX) in a human lung cancer cell-line [22]. ERBB2 and MYC are well-known oncogenes in a wide range of cancers, including breast cancer [23]. TP53 is the tumour suppressor gene which is most frequently inactivated in cancer [23].
The Netpath resource
The Netpath resource [15] (http://www.netpath.org) is a growing, highly curated, database of important signal transduction pathways relevant to cancer and immunology. At the most elementary level these pathways consist of genes whose coding proteins are implicated in the actual signal transduction pathway as well as downstream genes that have been reported to be up and downregulated in response to pathway stimuli. This list of up and downregulated genes therefore provides a measure of pathway activity, provided these genes are relevant in the given biological context. To ensure that correlations between two different pathway activity levels were not due to trivial overlaps of their downstream transcriptional modules, we always calculated activity inference for each pathway in a given pair by only considering the mutually exclusive gene sets. Of all Netpath signatures, we considered ones which have been documented to play important roles in cancer tumour biology, cancer immunology and tumour progression, specially in breast cancer: a6b4 (alpha-6 beta-4 integrin signalling pathway), AR (Androgen receptor), BCellReceptor, EGFR1 (epidermal growth factor receptor-1), IL1,2,3,4,5,6,7,9 (Interleukin 1,2,3,4,5,6,7,9 signalling pathways), KitReceptor (Kit is a receptor protein tyrosine kinase, which is a receptor for stem cell factor or kit ligand), Notch (Notch proteins are important in lineage specification and stem cell maintenance and aberrant Notch signaling has been linked to a number of malignancies including breast cancer), RANKL (Receptor activator of nuclear factor-kappa B ligand (RANKL) is a member of tumor necrosis factor (TNF) superfamily), TCellReceptor, TGFB (transforming growth factor beta signalling) and TNFA (the Tumor Necrosis Factor alpha is a proinflammatory cytokine belonging to the TNF superfamily). Because of the documented role of these pathways in breast cancer, these were used in the context of primary breast cancer gene expression data sets.
Gene expression data sets used
We used a total of six breast cancer gene expression data sets. Four data sets were profiled on Affymetrix platforms, "Wang" [24], "Loi" [25], "Mainz" [26] and "Frid" [27], while the other two were profiled on Illumina beadarrays, "NCH" [28] and "GH"- a small subset of the data published in [29]. Normalized copy-number calls were available for three data sets: Wang [24], NCH [28] and GH [29]. The "Wang data set" [24] had the largest sample size (209 ER+ samples, 77 ER- samples), and hence was used as the training/discovery set, while the other five data sets were used to evaluate and compare the consistency of activity inference obtained using the different methods.
We also considered five lung cancer/normal expression data sets [30–34]. One data set ("Wachi") consisted of 5 lung cancers and 5 normal samples [30]. Another set ("Su") consisted of 27 matched pairs of normal/cancer lung tissue (54 samples in total) [31]. The third set ("Landi") consisted of 49 normal lung samples and 58 lung cancers [32]. The fourth set ("Su") consisted of 18 lung cancers and 12 normal lung samples [33] and finally the fifth set ("Lu") consisted of 60 matched lung cancer/normal pairs. All of these expression sets used the Affymetrix Human Genome U133A or U133 Plus 2.0 Array. We used the "Landi" set for the training/discovery of the pruned relevance network and the rest as validation studies.
Mammogram density scoring
Mammograms consisted of original standard mediolateral oblique and craniocaudal views and mammographic density was scored by an independent consultant radiologist. As all patients had been diagnosed with malignancy, the density of the tumour itself was scored on a scale from 1-5 (5 being the most dense and one being the least) without inclusion of normal breast tissue.
DART: Denoising Algorithm based on Relevance network Topology
We assume a given pathway P with prior information consisting of genes which are upregulated in response to pathway activation P U and genes which are downregulated P D . Let n U and n D denote the corresponding number of up and downregulated genes in the pathway. We point out that for the given prior pathway information, n U or n D may be zero, in other words, DART does not require both to be non-zero. Given a gene expression data set X of G genes and n S samples, unrelated to this prior information, we wish to evaluate a level of pathway activation for each sample in X.
Before estimating pathway activity we argue that the prior information needs to be evaluated in the context of the given data. For example, if two genes are commonly upregulated in response to pathway activation and if this pathway is indeed activated in a given sample, then the expectation is that these two genes are also upregulated in this sample relative to samples which do not have this pathway activated. In fact, given the set of a priori upregulated genes
P
U
we would expect that these genes are all correlated across the sample set being studied, provided of course that this (i) prior information is reliable and relevant in the present biological context and (ii) that the pathway shows differential activity across the samples. Thus, we propose the following strategy to arrive at improved estimates of pathway activity:
1.

Compute and construct a relevance correlation network of all genes in pathway P.

2.

Evaluate a consistency score of the prior regulatory information of the pathway by comparing the pattern of observed gene-gene correlations to those expected under the prior.

3.

If the consistency score is higher than expected by random chance, the consistent prior information may be used to infer pathway activity. The inconsistent prior information must be removed by pruning the relevance network. This is the denoising step.

4.

Estimate pathway activity from computing a metric over the largest connected component of the pruned network.
We consider three different variations of the above algorithm in order to address two theoretical questions: (i) Does evaluating the consistency of prior information in the given biological context matter and does the robustness of downstream statistical inference improve if a denoising strategy is used? (ii) Can downstream statistical inference be improved further by using metrics that recognise the network topology of the underlying pruned relevance network? We therefore consider one algorithm in which pathway activity is estimated over the unpruned network using a simple average metric ("UPR-AV") and two algorithms that estimate activity over the pruned network but which differ in the metric used: in one instance we average the expression values over the nodes in the pruned network ("PR-AV"), while in the other case we use a weighted average ("DART") where the weights reflect the degree of the nodes in the pruned network. The rationale for this is that the more nodes a given gene is correlated with, the more likely it is to be relevant and hence the more weight it should receive in the estimation procedure. This metric is equivalent to a summation over the edges of the relevance network and therefore reflects the underlying topology [5].
Next, we clarify how DART was applied to the various signatures considered in this work. In the case of the perturbation signatures, DART was applied to the combined upregulated and downregulated gene sets, as described above. In the case of the Netpath signatures (which were more numerous) we were interested in also investigating if the algorithms performed differently depending on the gene subset considered (i.e if up or downregulated set). Thus, in the case of the Netpath signatures we applied DART to the up and down regulated gene sets separately. This strategy was also partly motivated by the fact that most of the Netpath signatures had relatively large up and downregulated gene subsets.
Constructing expression relevance networks
Given the set of transcriptionally regulated genes and a gene expression data set, we compute Pearson correlations between every pair of genes. The Pearson correlation coefficients were then transformed using Fisher's transform
where c ij is the Pearson correlation coefficient between genes i and j, and where y ij is, under the null hypothesis, normally distributed with mean zero and standard deviation with n s the number of tumour samples. From this, we then derive a corresponding p-value matrix. To estimate the false discovery rate (FDR) we needed to take into account the fact that gene pair correlations do not represent independent tests. Thus, we randomly permuted each gene expression profile across tumour samples (a Monte Carlo run) and selected a p-value threshold (0.0001) that yielded a negligible average FDR (an average of less than 1 false positive as averaged over 1000 Monte Carlo runs). Gene pairs with correlations that passed this p-value threshold were assigned an edge in the resulting relevance expression correlation network.
The estimation of P-values assumes normality under the null, and while we observed marginal deviations from a normal distribution (data not shown), the above FDR estimation procedure is equivalent to one which works on the absolute values of the statistics y ij . This is because the P-values and absolute valued statistics (|y ij |) are related through a monotonic transformation, thus the FDR estimation procedure we used does not require the normality assumption.
Evaluating significance and consistency of relevance networks
The consistency of the derived relevance network with the prior pathway regulatory information was evaluated as follows: given an edge in the derived network we assigned it a binary weight (1,-1) depending on whether the correlation between the two genes is positive (1) or negative (-1). This binary weight can then be compared with the corresponding weight prediction made from the prior, namely a 1 if the two genes are either both upregulated or both downregulated in response to the oncogenic perturbation, or -1 if they are regulated in opposite directions. Thus, an edge in the network is consistent if the sign is the same as that of the model prediction. A consistency score for the observed network is obtained as the fraction of consistent edges. To evaluate the significance of the consistency score we used a randomisation approach. Specifically, for each edge in the network the binary weight was drawn from a binomial distribution with the binomial probability estimated from the whole data set. We estimated the binomial probability of a positive weight (1) as the fraction of positive pairwise correlations among all significant pairwise correlations. A total of 1000 randomisations were performed to derive a null distribution for the consistency score, and a p-value was computed as the fraction of randomisations with a consistency score higher than the observed one.
Pathway activation metrics
First, we define the single-gene based pathway activation metric. This metric is similar to the subnetwork expression metric used in the context of protein-interaction networks [
9
]. The metric over the network (pruned or unpruned) of size
M
is defined as,
where denotes the z-score normalised (mean zero and unit variance) expression profile of gene
i
across the samples and
σ
i
denotes the sign of pathway activation (from the prior information), i.e
σ
i
= 1 if upregulated upon activation,
σ
i
= -1 if downregulated. Thus, this metric is a simple average over the genes in the network and does not take the underlying topology into account. An alternative is to weight each gene by the number of its neighbors in the network
where k i is the number of neighbors of gene i in the network. Normally, this would include neighbors that are both in P U and in P D . The normalisation factor ensures that s W AV , if interpreted as a random variable, is of unit variance.
Simulated data
To test the principles on which our algorithm is based we generated synthetic gene expression data as follows. We generated a toy data matrix of dimension 24 genes times 100 samples. We assume 40 samples to have no pathway activity, while the other 60 have variable levels (we assume 3 levels) of pathway activity. The 24 genes are all assumed to be part of a given pathway, but only 3 are assumed to faithfully represent the pathway in the synthetic data set. Specifically, the data is simulated as
where N denotes the normal distribution of the given mean and standard deviation (σ1 = 0.25), and where δ is the Kronecker delta such that δ x = 1 if and only if condition x is true. The rest of the genes are modelled from the same distributions but with σ2(= 3) replacing σ1(= 0.25), thus these genes are subject to large variability and don't provide faithful representations of the pathway. Thus, in this synthetic data set all genes are assumed upregulated in a proportion of the samples with pathway activity but only a relatively small number are not subject to other sources of variation. We point out that the more general case of some genes being upregulated and others being downregulated is in fact subsumed by the previous model, since the significance analysis of correlations or anticorrelations is identical and since the pathway activation metric incorporates the directionality explicitly through a change in the sign of the contributing genes.
We also consider an alternative scenario in which only 6 genes are upregulated in the 60 samples. Of the 6 genes, 3 are generated as above with σ1 = 0.25 and the other 3 with σ2 = 3. The rest of genes are modelled as N(0, 2) and are therefore not discriminatory. We call this synthetic data set "SimSet2", while the previous one we refer to as "SimSet1".
The algorithms described previously are then applied to the simulated data to infer pathway activity levels. To objectively compare the different algorithms we apply a variational Bayesian Gaussian Mixture Model [35] to the pathway activity level. The variational Bayesian approach provides an objective estimate of the number of clusters in the pathway activity level profile. The clusters map to different activity levels and the cluster with the lowest activity level defines the "ground state" of no activation. Hence we can compare the different algorithms in terms of the accuracy of correctly assigning samples with no activity to the ground state and samples with activity to any of the higher levels, which will depend on the predicted pathway activity levels.
Evaluation based on pathway correlations
One way to evaluate and compare the different estimation procedures is to consider pairs of pathways for which the corresponding estimated activites are significantly correlated in a training set and then see if the same pattern is observed in a series of validation sets. Thus, significant pathway correlations derived from a given discovery/training set ("train") can be viewed as hypotheses, which if true, must validate in the independent data sets. We thus compare the algorithms in their ability to identify pathway correlations which are also valid in independent data.
Specifically, for a given pathway activity estimation algorithm and for a given pair of pathways
(i,j)
, we first correlate the pathway activation levels using a linear regression model. Under the null, the z-scores are distributed according to t-statistics, therefore we let
t
ij
denote the t-statistic and
p
ij
the corresponding
P-
value. We declare a significant association as one with
p
ij
< 0.05, and if so it generates a hypothesis. To test the consistency of the predicted interpathway Pearson correlation in the validation data sets
D
, we use the following performance measure
V
ij
:
where the summation is over the validation sets,
S
is the threshold function of
p
ij
defined by
In the above, is the t-statistic of interpathway correlation estimated in validation set d ∈ D and de-notes its absolute value. Thus, the quantity V ij takes into account the significance of the correlation between the pathways (through the threshold function S), penalizes the score if the directionality of correlation is opposite to that predicted (through ) and weighs in the magnitude of the correlation association . For each method, we thus obtain a set of hypotheses and consistency scores over . Finally, an objective comparison between two different methods (m1, m2) for pathway activity estimation can be achieved by comparing the distribution of to that of over the common hypothesis space i.e . For this we used a two-tailed paired Wilcoxon test.
Results and Discussion
We argue that more robust statistical inferences regarding pathway activity levels and which use prior knowledge from pathway databases can be obtained by first evaluating if the prior information is consistent with the data being investigated (Figure
1
). If the expression level of a certain set of genes faithfully represents pathway activity and if these genes are commonly upregulated in response to pathway activation, then one would expect these genes to show significant correlations at the level of gene expression across a sample set, provided of course that differential activity of this pathway accounts for a proportion of the data variance. Thus, one may use a gene expression data set to evaluate the consistency of the prior information and to filter out the information which represents noise.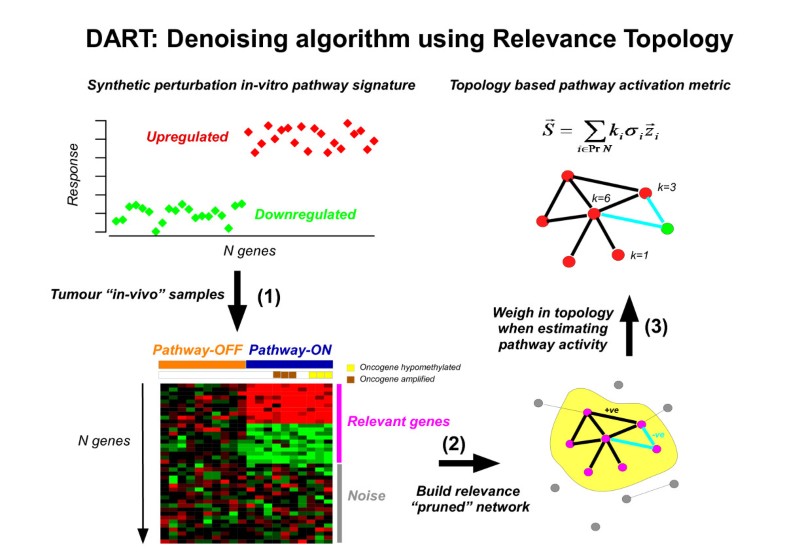 Conclusions
The DART algorithm and strategy advocated here substantially improves unsupervised predictions of pathway activity that are based on a prior model which was learned from a different biological system or context. It will be fruitful to apply DART and further extensions of it in the context of multidimensional cancer ge-nomic data, where reliable and robust molecular pathway correlates of (epi)genomic abnormalities, clinical and imaging traits are urgently needed.
Abbreviations
ER+:

(ER positive breast cancer)
ER-:

(ER negative breast cancer)
Declarations
Acknowledgements
YJ and KL are supported by the KCL-UCL Comprehensive Cancer Imaging Centre (CCIC), funded by CRUK & EPSRC, in association with the MRC and DoH and CRUK. AET is supported by a Heller Research Fellowship. AG is supported by the Breakthrough Breast Research Unit funding at KCL. GP is supported by a 1 year fellowship from the Comprehensive Biomedical Research Centre award to Guy's & St Thomas' NHS Foundation Trust, in partnership with King's College London and King's College Hospital NHS Foundation Trust; as well as a Cancer Research UK Clinical Training Fellowship. Patient tissue samples and gene expression data from Guy's Hospital samples (GH) were provided by Guy's & St Thomas' Breast Tissue & Data Bank, which is supported by the Department of Health via the National Institute for Health Research (NIHR) comprehensive Biomedical Research Centre award to Guy's & St Thomas' NHS Foundation Trust in partnership with King's College London and King's College Hospital NHS Foundation Trust.
Authors' Affiliations
(1)
KCL-UCL Comprehensive Cancer Imaging Center, London, UK
(2)
Statistical Genomics Group, Paul O'Gorman Building, UCL Cancer Institute, University College London, London, UK
(3)
Richard Dimbleby Department of Cancer Research, Randall Division & Division of Cancer Studies, King's College London, UK
(4)
Research Oncology, London, UK
(5)
Breakthrough Breast Research Unit, Guy's Hospital, King's Health Partners Academic Health Sciences Centres, London, UK
(6)
Department of Radiology, St Thomas' Hospital, London, UK
Copyright
© Jiao et al; licensee BioMed Central Ltd. 2011
This article is published under license to BioMed Central Ltd. This is an Open Access article distributed under the terms of the Creative Commons Attribution License (http://creativecommons.org/licenses/by/2.0), which permits unrestricted use, distribution, and reproduction in any medium, provided the original work is properly cited.