clusterMaker: a multi-algorithm clustering plugin for Cytoscape
BMC Bioinformatics
2011
12:436
Received: 8 August 2011
Accepted: 9 November 2011
Published: 9 November 2011
Abstract
Background
In the post-genomic era, the rapid increase in high-throughput data calls for computational tools capable of integrating data of diverse types and facilitating recognition of biologically meaningful patterns within them. For example, protein-protein interaction data sets have been clustered to identify stable complexes, but scientists lack easily accessible tools to facilitate combined analyses of multiple data sets from different types of experiments. Here we present clusterMaker, a Cytoscape plugin that implements several clustering algorithms and provides network, dendrogram, and heat map views of the results. The Cytoscape network is linked to all of the other views, so that a selection in one is immediately reflected in the others. clusterMaker is the first Cytoscape plugin to implement such a wide variety of clustering algorithms and visualizations, including the only implementations of hierarchical clustering, dendrogram plus heat map visualization (tree view), k-means, k-medoid, SCPS, AutoSOME, and native (Java) MCL.
Results
Results are presented in the form of three scenarios of use: analysis of protein expression data using a recently published mouse interactome and a mouse microarray data set of nearly one hundred diverse cell/tissue types; the identification of protein complexes in the yeast Saccharomyces cerevisiae; and the cluster analysis of the vicinal oxygen chelate (VOC) enzyme superfamily. For scenario one, we explore functionally enriched mouse interactomes specific to particular cellular phenotypes and apply fuzzy clustering. For scenario two, we explore the prefoldin complex in detail using both physical and genetic interaction clusters. For scenario three, we explore the possible annotation of a protein as a methylmalonyl-CoA epimerase within the VOC superfamily. Cytoscape session files for all three scenarios are provided in the Additional Files section.
Conclusions
The Cytoscape plugin clusterMaker provides a number of clustering algorithms and visualizations that can be used independently or in combination for analysis and visualization of biological data sets, and for confirming or generating hypotheses about biological function. Several of these visualizations and algorithms are only available to Cytoscape users through the clusterMaker plugin. clusterMaker is available via the Cytoscape plugin manager.
Keywords
Cluster AlgorithmFuzzy ClusterTree ViewUncentered CorrelationGenetic Interaction Data
Background
High-throughput techniques to generate genomic, proteomic, transcriptomic, metabolomic, and interactomic data continue to advance, generating huge data sets covering more species and more information about the biology of individual species than ever before. Along with this increase in the different types and amount of data, there have been many advances in analytical techniques. One particular technique that has seen wide use in 'omics studies is clustering. Clustering algorithms detect patterns within data sets, and organize related genes, proteins, or other key elements to highlight those patterns.
One of the most familiar approaches is the hierarchical clustering of genes and their expression levels under various conditions to produce a dendrogram and heat map (Figure
1A
) for analyzing and visualizing microarray data [
1
]. Hierarchical clustering has also been used to analyze genetic interaction data based on double-deletion mutants [
2
,
3
]. Such interaction networks can be represented as matrices of genes against genes, where each cell contains the strength of the interaction between two genes (Figure
1B
).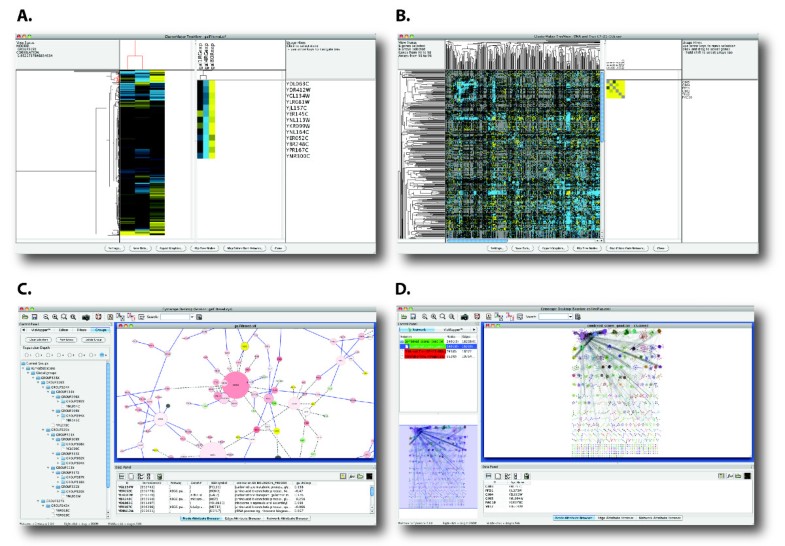 A second clustering approach identifies stable complexes from large sets of protein-protein interactions. Such network clustering algorithms include Molecular Complex Detection (MCODE) [4], Restricted Neighborhood Search Clustering (RNSC) [5], Super Paramagnetic Clustering (SPC) [6], Markov Clustering (MCL) [7, 8], and hierarchical clustering [9]. Given a protein-protein interaction network (Figure 1C), the goal is to isolate the complexes from the less stable or transient interactions (Figure 1D).
A third use of clustering is the identification of similar groups of proteins for the purpose of classification [10], that is, inferring properties of proteins of unknown function based on their similarity to proteins of known function. There are many approaches to this classification, including machine learning [11–13] (see [11] for a good overview) as well as clustering large groups of proteins based on either sequence or structural similarity metrics [7, 8, 14–28]. Clustering algorithms that have been applied to the categorization of proteins include Spectral Clustering of Protein Sequences (SCPS) [24], TransClust [25, 29], MCL [7, 8], Affinity Propagation [27], and FORCE [26].
Cytoscape [30, 31] is an open-source, cross-platform software package for visualizing and analyzing biological networks. Cytoscape provides an extensive plugin application programming interface (API) that allows programmers to extend the native capabilities of Cytoscape to provide new functionality. Cytoscape currently lists over 100 plugins, many of which perform some kind of clustering. However the user interface for each of these individual plugins is very different, and there is no interaction between them.
clusterMaker is a new Cytoscape plugin that provides many frequently used clustering algorithms, including nearly all of the algorithms named above as well as heat map and dendrogram visualizations. The visualizations are all linked to the Cytoscape network, allowing selections in the network to be reflected in one or more of the other views, and selections in the heat maps to be reflected in the network view and all other visible heat maps. clusterMaker currently provides ten clustering algorithms in two broad categories, network clustering and attribute clustering, together with a unified user interface.
Network clustering algorithms
Network clustering algorithms find densely connected regions in a network. There are multiple approaches to network clustering, including using graph algorithms to find dense regions, either using a local approach starting with a node neighborhood or using a global approach starting with the entire graph and iteratively partitioning it into clusters, and using linear algebra to operate directly on the adjacency matrix. The network clustering algorithms in clusterMaker are: MCL [7, 8], Affinity Propagation [27], MCODE[4], Community Clustering (GLay) [32, 33], SCPS [24], TransClust [25], and AutoSOME [34]. These algorithms are generally used for finding modules and complexes within protein-protein interaction networks [4, 33, 35, 36] and for identifying functionally related groups of proteins within large protein-protein similarity networks [7, 24, 25, 37]. clusterMaker also includes the Connected Components algorithm, which assigns existing network partitions (connected components) to clusters. clusterMaker provides the only implementations of SCPS and AutoSOME available within Cytoscape, and the only multi-threaded native Java MCL implementation.
Attribute clustering algorithms
Attribute clustering algorithms group nodes based on similarity of their node attributes or on the basis of a single edge attribute. The attribute clustering algorithms in clusterMaker are: Hierarchical, k-means, k-medoid, and AutoSOME. Note that AutoSOME is in both lists, and may be used to generate networks based on node attributes.
Hierarchical, k-medoid, and k-means algorithms are commonly used for clustering gene expression data [1] and genetic interaction profiles [2]. AutoSOME is typically used for clustering expression data and general network partitioning. In general, however, most of the clustering algorithms may be used for either purpose provided the data is transformed appropriately. clusterMaker provides the only implementation of these clustering algorithms in Cytoscape. In addition to the basic k-means and k-medoid algorithms, beginning with version 1.10, clusterMaker provides the facility to choose k by finding the k that maximizes the average silhouette for the solution [38]. Coupled with clusterMaker's heatmap and dendrogram visualization, this represents a reasonably complete clustering environment for the analysis and visualization of expression profiles and other microarray experiments within the context of pathway, protein-protein interaction, and other network-oriented biological data.
Implementation
clusterMaker is implemented as a plugin to the open source network analysis and visualization package, Cytoscape [30]. clusterMaker extends Cytoscape's capabilities by providing various clustering algorithms and associated visualizations, and intuitively links those to the network visualization provided by Cytoscape. clusterMaker is written entirely in Java to allow easy portability to any platform supporting the Java virtual machine.
clusterMaker exposes parameters for each clustering algorithm via a graphical user interface (GUI). When a user selects an algorithm, a dialog appears for specifying the node or edge attribute(s) to use for the data source, along with any algorithm-specific parameters such as k for k-means clustering, the expansion factor for MCL, the linkage for hierarchical clustering, and the distance metric for k-means, k-medoid, or hierarchical clustering. For example, the k-means, k-medoid, and hierarchical implementations support clustering on both genes (nodes) and arrays (attributes). A typical application might be to select a set of node attributes containing the expression change ratios for different time points or conditions compared to a control, and then perform hierarchical clustering on the nodes and (optionally) attributes. All of the clustering methods allow selection of a single edge numeric attribute for clustering. For k-means, k-medoid, and hierarchical clustering, this attribute is used to construct a symmetric adjacency matrix for clustering. For network clustering algorithms, the edge weight is assumed to be a similarity metric, although a number of conversions are provided. If no attribute is provided, a default weight of 1 is assigned to each edge in the network. Network clustering algorithms provide the option to set an edge weight cut-off, either by entering a value, viewing the histogram of values and using a slider to select the cutoff, or by a heuristic based on the histogram [39]. The detailed parameters for each algorithm are documented in the original papers or on the clusterMaker web site at: http://www.rbvi.ucsf.edu/cytoscape/cluster/clusterMaker.html.
Algorithm-specific implementation details
Each of the algorithms provided by
clusterMaker
has been integrated into the source code to provide a consistent user interface and operation. Table
1
lists the available algorithms, with brief descriptions and implementation information.
Table 1
clusterMaker algorithm implementation notes
| Algorithm | Description | Source | Details |
| --- | --- | --- | --- |
| Hierarchical | Standard hierarchical clustering as implemented by Eisen[1] | Cluster 3.0 package from Michiel de Hoon of the University of Tokyo | Ported by clusterMaker authors from C to Java |
| k-means | Standard k-means clustering as implemented by Eisen[1] with the addition of silhouette estimation of k | Cluster 3.0 package from Michiel de Hoon of the University of Tokyo | Ported by clusterMaker authors from C to Java. Silhouette implemented by clusterMaker authors. |
| k-medoid | Modification of k-means from above to use medoid rather than means | | Implemented by clusterMaker authors. Silhouette implemented by clusterMaker authors. |
| AutoSOME | The AutoSOME cluster algorithm [34] | The distributed AutoSOME implementation | Ported directly to clusterMaker by AutoSOME author |
| Affinity Propagation | The message passing-based approach to clustering by Frey and Dueck[27] | Implemented from the algorithm description in the original reference | Implemented by clusterMaker authors |
| Connected Components | Simple division based on connectivity | | Implemented by clusterMaker authors |
| Community (GLay) | Newman-Girvan[32] community clustering as implemented by Su, et al.[33] | The original GLay plugin for Cytoscape | Ported by clusterMaker authors |
| MCODE | Bader and Hogue[4] algorithm for finding modules in PPI networks | The MCODE Cytoscape plugin | Ported by clusterMaker authors |
| MCL | Markov clustering algorithm from van Dongen[8, 28] that uses random walks to simulate flow | Implemented from original thesis with reference to C implementation for validation of results. | Implemented by clusterMaker authors as a parallel algorithm to take advantage of multiple CPU cores. |
| SCPS | Spectral clustering algorithm for BLAST similarity networks[24] | Implemented from the algorithm description in the original reference using the authors' implementation to validate results | Implemented by clusterMaker authors |
| Transitivity Clustering | Transitivity based clustering approach from Wittkop, et al.[25] | Ported from Cytoscape TransClust plugin | Ported by original TransClust authors |
Visualization
clusterMaker
provides three different visualizations (types of display), depending on the algorithm. Any numeric attributes within the network can be displayed as a heat map (Figure
2B
). Heat maps are also used to show the results of k-means, k-medoid, and AutoSOME clustering, with each of the identified clusters separated by a bar in the heat map.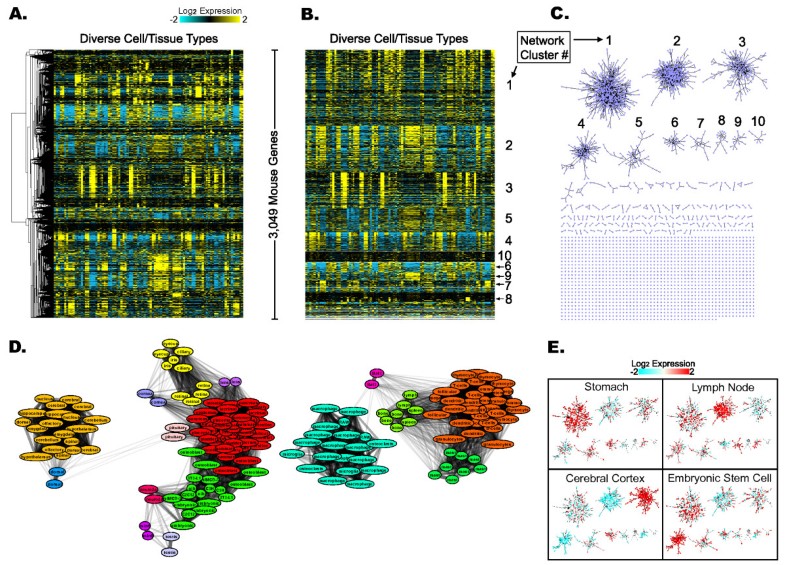 The second type of visualization, a tree view, is used by hierarchical clustering and is shown as a dendrogram combined with a heat map (Figures 1A, B, 2A). The heat map and tree view implementations were derived from Java TreeView [40], but were significantly modified to interact with the network and to function as embedded methods. Multiple heat maps or tree views may be active at the same time, allowing simultaneous display of different data sources or types. clusterMaker's heat map implementations (Eisen TreeView, Eisen KnnView, and HeatMapView) all provide the ability to map colors from the heat map onto the network. This mapping can be for a single attribute in the heat map or can be used to animate through some or all of the attributes.
The third type of visualization is the network view provided by Cytoscape, but constructed by one of clusterMaker's network clustering algorithms (currently Affinity Propagation, AutoSOME, Connected Components, Community, MCODE, MCL, SCPS, or Transitivity clustering). The output network shows only the intra-cluster edges (all inter-cluster edges are dropped) and the network is automatically arranged using the Cytoscape force-directed layout. The user may opt to redisplay the inter-cluster edges after the network has been laid out (Figure 1D).
All of the algorithms also provide the option of creating a Cytoscape group for each cluster. A group collects a set of nodes and their edges into one object that can be represented as a new node. For hierarchical clustering, the resulting groups are hierarchically constructed so that the user can view clustering results at any level of the dendrogram (Figure 1C - left side).
Selections in each view are linked across views. Selecting a node in Cytoscape will show that node in all of the currently displayed views. Similarly, selecting a node or group of edges in a view will select that node or group of edges in the current network, which will, in turn, update all other views. The user may also link multiple network views to allow for comparison between clustering algorithms or link heat maps or tree views to multiple different networks. Linked selection provides significant power to the user for exploring various data sets to corroborate computational results or formulate new hypotheses.
Cytoscape 2.8.2 with clusterMaker plugin version 1.10 was used for all of the analyses described here. Cytoscape is available from http://www.cytoscape.org and the clusterMaker plugin is available through the Cytoscape plugin manager. clusterMaker exports a number of Cytoscape commands to allow other Cytoscape plugins and software developers to take advantage of its features.
Results
We explore how clusterMaker and Cytoscape might be used together by presenting three example research scenarios. Our focus is on the computational tools rather than on the specific data; the scenarios are based on previously published studies and the results are not meant to represent novel findings. It is also the case that both clusterMaker and Cytoscape are relatively sophisticated tools, with many features that may require some effort to fully master. Our intent is not to illustrate all of the features available in these tools, but rather to provide examples of how they can be applied to gain insight into scientific problems.
Discussion
clusterMaker is not the first package to combine a number of clustering algorithms with several viewing options. The excellent MeV package [60, 61], which is part of the TM4 microarray analysis package, provides clustering algorithms and visualizations for analyzing microarray data. But clusterMaker, while providing fewer microarray analysis algorithms and visualizations than MeV, adds a relatively simple and consistent user interface together with the ability to interconnect multiple types of data (expression, genetic interaction, physical interaction) interactively, and to combine the power of cluster analysis with network analysis.
Such interconnections and combinations may provide additional confidence in the results, as some of the clustering methods complement one another, or simply a more in-depth exploration of the data. For example, the hierarchical and MCL clusters agree well in scenario 2, but the hierarchical heat map visualization shows the additional neighborhood context around the clusters. This context might be useful to show potential temporal interactions, or proteins that might be shared between complexes. Similarly, the use of multiple approaches in scenario 1 provides very different views of the data which can highlight relationships and groupings not obvious in any single view, and using multiple clustering approaches in scenario 3 improves our confidence in putative functional assignments.
A key feature of clusterMaker is the ability to link results across all views, whether heat map or network. This interactive linking is a critical aspect of the design and implementation of clusterMaker and allows researchers to explore data in a number of different ways without having to remember results or manually compare values.
clusterMaker is designed to be part of the Cytoscape environment. First, all of the clustering algorithms allow users to create Cytoscape groups that may be used by other Cytoscape plugins for further analysis, or by users to select all of the members of a given cluster or to collapse an entire cluster into a "meta node". Second, all of the algorithms store their results as Cytoscape attributes that are available to other plugins and saved with a Cytoscape session. Finally, clusterMaker exports all of its algorithms and visualizations for use by other plugins through the CyCommand API provided in Cytoscape. This provides a mechanism for other plugin developers to take advantage of clusterMaker's capabilities improving overall reuse. Through the Cytoscape commandTool plugin, users may script clusterMaker's clustering actions and visualizations through a command file.
Several improvements to clusterMaker will be implemented in the future. First, we plan to add a number of algorithms to clusterMaker, including HOPACH [62], Quality Threshhold [63], as well as fuzzy c-means [64] or other fuzzy clustering approaches. Second, additional pre-clustering and post-clustering filter options could be incorporated, such as the Fluff, and K-Core filtering options used in MCODE [4] or the Best neighbor methods provided by jClust [65]. Third, coupling enrichment analysis such as BiNGO [42] with clustering results could be very useful. Finally, there are several additional visualization options that might be added, including the addition of one-dimensional histograms to the tree and heatmap views, visual identification of clusters formed by selecting dendrogram cutoffs, interactive setting of parameters, and many others. We believe the needs of clusterMaker users and shifting biological data sets should be the primary driver in clusterMaker's evolution, so it is likely that as clusterMaker evolves other algorithms and visualizations will be added to the list.
Conclusions
clusterMaker is an important addition to the suite of Cytoscape plugins. It provides a clustering framework that allows users to compute and visualize clusters in multiple ways and interactively explore the results across all of the various approaches. clusterMaker's algorithms include several unique additions to Cytoscape, including hierarchical clustering, k-means and k-medoid clustering, AutoSOME, SCPS, and a multi-threaded Java implementation of MCL. It also adds to these unique algorithms unique visualizations including heatmaps with (TreeView) or without dendrograms (HeatMap, KnnView), clustered network views, and clustered network views with inter-cluster edges. Using clusterMaker, all of these visualizations may be linked together to support interactive exploration of the data sets. All of these algorithms and visualizations are available to be used by other Cytoscape plugins or through command scripts. These capabilities allow researchers to interactively explore, analyze and compare a variety of different data within a network context. We will be adding additional algorithms and visualizations to meet new clustering requirements as they arise.
Availability and requirements
Declarations
Acknowledgements
This work was supported by NIH grant P41 RR001081 to TEF. We thank Elaine C. Meng for her helpful comments in preparing this manuscript.
Authors' Affiliations
(1)
Department of Pharmaceutical Chemistry, University of California San Francisco, San Francisco, USA
(2)
Institute for Stem Cell Biology and Regenerative Medicine, Stanford University School of Medicine, Stanford, USA
(3)
Max Planck Institute for Informatics, Saarbrücken, Germany
(4)
Buck Institute for Age Research, Novato, USA
(5)
Bioinformatics Program, University of Michigan, Ann Arbor, USA
(6)
National Center for Integrative Biomedical Informatics, University of Michigan, Ann Arbor, USA
(7)
The Donnelly Centre, University of Toronto, Toronto, Canada
(8)
Department of Molecular Genetics, University of Toronto, Ontario, Canada
(9)
Department of Bioengineering and Therapeutic Sciences, University of California, San Francisco, San Francisco, USA
Copyright
© Morris et al; licensee BioMed Central Ltd. 2011
This article is published under license to BioMed Central Ltd. This is an Open Access article distributed under the terms of the Creative Commons Attribution License (http://creativecommons.org/licenses/by/2.0), which permits unrestricted use, distribution, and reproduction in any medium, provided the original work is properly cited.