Research article
Open Access
U-Compare bio-event meta-service: compatible BioNLP event extraction services
BMC Bioinformatics
2011
12:481
Received: 31 July 2011
Accepted: 18 December 2011
Published: 18 December 2011
Keywords
Support Vector MachineText MiningShared TaskEvent ExtractionEvent Argument
Abstract
Background
Bio-molecular event extraction from literature is recognized as an important task of bio text mining and, as such, many relevant systems have been developed and made available during the last decade. While such systems provide useful services individually, there is a need for a meta-service to enable comparison and ensemble of such services, offering optimal solutions for various purposes.
Results
We have integrated nine event extraction systems in the U-Compare framework, making them inter-compatible and interoperable with other U-Compare components. The U-Compare event meta-service provides various meta-level features for comparison and ensemble of multiple event extraction systems. Experimental results show that the performance improvements achieved by the ensemble are significant.
Conclusions
While individual event extraction systems themselves provide useful features for bio text mining, the U-Compare meta-service is expected to improve the accessibility to the individual systems, and to enable meta-level uses over multiple event extraction systems such as comparison and ensemble.
Background
Since the release of event-annotated corpora [1, 2], and due to the BioNLP shared task in 2009 [3] and 2011 [4], many event extraction tools for biological literature have become publicly available. While such tools provide useful functionalities individually, there are several obstacles hindering non-expert users from finding and utilizing the best tools for their specific challenges. First, such tools are not easy to use especially when they need to be customized, e.g. when used with a particular named entity recognizer. Second, individual tools are developed with different user interfaces, and it is often time-consuming to get accustomed with the various usages of tools, especially when multiple systems need to be tested for e.g. comparison. Thus, the interoperability and accessibility are crucial issues to improve the usability.
A similar case can be found with the BioCreative challenge [5, 6] and MetaServer [7]. BioCreative has been particularly concerned with extracting protein-protein interactions (PPIs). In the BioCreative II.5 challenge [5, 6], participants provided PPI extraction tools as web services through the BioCreative MetaServer [7]. Providing a unified interface to the input and output of the various PPI extraction tools, the BioCreative MetaServer enabled easy access to those tools, and showed the necessity of a meta-level service of information systems. In the BioNLP '09 shared task on event extraction [3], participants presented tools which extract biological events with richer and more fine grained information than the BioCreative challenges. However, the shared task required static files of processed data on a given corpus; event extraction tools themselves were not available. To resolve this issue, our event extraction meta-service now provides interactive event extraction services in the fine grained BioNLP shared task style.
Roughly speaking, the goal of the BioNLP shared task is to extract biological events from literature, given their raw text and protein annotations. The BioNLP shared task defines "txt", "a1" and "a2" formats for this event extraction task. A "txt" format file contains raw text of a biomedical paper, while the corresponding "a1" format file includes protein named entity boundaries annotated on that paper. Participants of the shared task were required to submit "a2" format files, which define extracted events and may refer to protein annotations in the corresponding "a1" files. In the shared task evaluation, submitted "a2" files were compared with the gold standard "a2" files which were manually annotated by human curators.
Our services are interoperable with other UIMA/U-Compare services, which allow users to create customized workflows easily. UIMA, Unstructured Information Management Architecture, is an interoperability framework for unstructured information in general. UIMA is provided as an Apache open source project and is widely used in the NLP domain. A UIMA component can either be a local service or a web service, and both types can be freely mixed to create a UIMA workflow.
U-Compare provides a broad range of UIMA compliant components including BioNLP components such as protein taggers and annotated corpus readers. Compatibility of these components is guaranteed by sharing data type definitions. U-Compare also provides a UIMA compliant integrated NLP platform. The U-Compare platform provides direct access to the U-Compare components, where local components are automatically downloaded and executed on demand. A local component has the advantage of portability although users are required to install the original tool in case of a non-Java implementation. On the other hand, a web service component can have limitations in its computational capacities. The U-Compare platform allows easy workflow creation from these components or any third party UIMA components. Additionally, U-Compare provides a comparison and evaluation feature implemented in a UIMA compliant way [8]. U-Compare shows the results of workflow runs both statistically and visually. All of these features are available without any programming necessity.
We have integrated the bio-event meta-service, which we describe in this paper, to the U-Compare platform. This integration could accelerate developments of text mining in the bioinformatics area. The most straightforward usage of our system would be to combine a few text mining tools and run the resulting pipeline on any text relevant to a specific biological use-case. Our system makes such a usage dramatically easier compared with the existing systems.
While our ready-to-use services themselves are very useful especially for the end users of text mining, comparison of the various bio-event services is critical when the users need to develop a state-of-the-art application. For example, developers need deeper analysis of the behaviours of the event extraction systems in order to select the most suitable service among available services. However, even the original service developers do not know the behaviour of their services, because those services are black-box and different text input would cause unknown behaviours. Therefore, users need to analyse comparisons of the service outputs by inputting text for a specific domain of interest. Our system is the first system to allow such a comparison of the event extraction services that output complex event structures. Our comparison system does not just calculate statistical scores but also helps users to analyse the comparisons by visualization features.
Furthermore, ensemble of the services has large potential to improve the individual performance. It is known in general that an ensemble of the text mining services could improve the performance significantly. Our system allows the creation of such an ensemble for end users.
All of the above use cases require the meta-service, which can provide compatible, interoperable, and ready-to-use bio-event services. As our system supports such usages, users can create text mining applications for their individual purposes in an efficient and effective way.
Results
We describe below possible use cases of our event extraction services. We assume that users would first create a workflow and run it, and subsequently analyse the result to find a relevant workflow for their use-case.
Workflow composition
Text processing workflows involving event extraction can be composed using a wide variety of NLP tools readily available in the U-Compare repository. For example, Figure
1
shows two protein taggers and two event extraction components among others from the repository. Given them, users can compose four workflows by simply combining them. In the U-Compare repository, there are currently four protein taggers and nine event extraction services. A workflow created in U-Compare can be saved in a local storage and launched by executing the Java command below: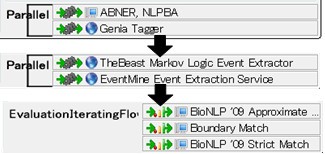 $ java -Djavaws.workflow.path="path/workflow.xml" -cp . UCLoader -jnlp http://u-compare.org/lib/u-compare-runworkflow.jnlp
which makes integration of the workflow into a user system straightforward.
Performance comparison
The performance of the workflows can be evaluated in various ways. For example, Figure
1
shows three quantitative evaluation methods available from U-Compare. Users can also evaluate the performance by directly reviewing the results (Figure
2
). Table
1
shows evaluation scores of our event extraction services using the test set of the BioNLP '09 gold standard corpus. Because implementation of the evaluation metric used in this paper is slightly different from the one used in the BioNLP '09 shared task, the evaluation scores are also different. The bottommost row of Table
1
shows the original F1 scores in the BioNLP '09 shared task while some of the services have updated their systems showing better performance. We will make the source code of the evaluation metric publicly available.

Table 1
Evaluation scores of event extraction services.
Participant

JULIE Lab

JReX

UTurku

EventMine

BExtract

VIBGhent

TheBeast

UMich

Moara

CCP-

BTMG

Rank in F1 score

#

1

2

3

4

5

6

7

8

9

Total

F1

51.09

49.91

48.20

44.48

42.44

37.19

36.34

29.50

22.03

PR

57.69

56.32

64.00

61.56

59.05

48.15

35.57

31.99

70.03

RC

45.85

44.81

38.65

34.82

33.12

30.30

37.15

27.31

13.07

Localization

F1

61.60

55.85

63.20

51.45

51.79

48.98

53.47

44.19

17.80

Binding

F1

49.24

45.43

39.86

26.97

34.42

34.50

31.75

28.36

20.92

Gene expression

F1

72.48

71.67

72.63

65.14

69.57

59.28

66.00

58.79

51.07

Transcription

F1

42.99

50.21

50.00

24.71

57.14

17.48

30.06

26.40

22.93

Protein catabolism

F1

80.00

50.00

60.87

60.00

68.97

72.00

58.06

50.00

40.00

Phosphorylation

F1

81.99

79.70

81.29

80.69

76.23

72.79

77.15

52.88

33.33

Regulation

F1

31.20

33.97

28.77

32.21

19.39

29.96

14.29

10.83

5.79

Positive

Regulation

F1

40.39

38.66

28.25

35.83

23.34

29.57

21.50

14.68

6.69

Negative

Regulation

F1

38.47

36.28

32.62

33.27

26.67

27.32

26.61

13.16

4.01

BioNLP '09 ST

Total Evaluation

F1

46.66

51.95

36.88

44.62

40.54

44.35

19.28

24.15

22.66
Ensemble result of event extraction services
Table
2
shows the result of the ensemble. While the best F1 score of the original event extraction services was 51.09, an averaged voting of the top 5 services performed 56.91. This 5.82 point increase in F1 score can be regarded as a significant improvement. The scores in Table
2
were obtained by selecting the best one among different threshold settings on the same test set data. For this reason, it would not be fair to directly compare these results with the original event extraction tools which are tuned on the development set data; instead this result does show the potential of an ensemble of event extraction tools.
Table 2
Result of the ensemble.
| Ensemble | F1 | PR | RC |
| --- | --- | --- | --- |
| Top 2 | 52.06 | 48.88 | 55.69 |
| Top 3 | 53.80 | 73.21 | 42.52 |
| Top 4 | 56.44 | 70.38 | 47.11 |
| Top 5 | 56.91 | 67.17 | 49.37 |
| Top 6 | 56.64 | 63.39 | 51.19 |
| Top 7 | 55.21 | 57.60 | 53.02 |
| Top 8 | 54.87 | 68.31 | 45.85 |
| Top 9 | 54.81 | 67.57 | 46.10 |
Although using top × services showed a single peak in their score curve in this case, the F-scores may not necessarily include sufficient information when selecting which services to include in the ensemble. For example, [CCP-BTMG] and [BExtract] are rule based systems while others are machine learning based systems. Thus [CCP-BTMG] and [BExtract] could potentially contribute to the ensemble performance even if their total evaluation scores were lower. Such a ranking which considers uniqueness of services rather than simply ranking by F-score is regarded as interesting future work.
Conclusions
We provide state-of-the-art services in an interoperable and ready-to-use way, which allows users to easily find and run customized workflows suitable to their purposes. Even though our event extraction services were originally created towards the same shared task goal, each service has different characteristics. Furthermore, each service may behave differently depending on its input. We showed that ensemble of event extraction services performs better than the original services as we can exploit these differences between the individual services.
As more event extraction tools will be published in the future, adding more compatible services is regarded as interesting future work. Processing larger data sets would also be a future work.
Methods
We provide nine state-of-the-art event extraction services, originally developed for the BioNLP '09 shared task. The required input of services is arbitrary text, with annotated protein named entity boundaries. Then all of the services have been made interoperable with U-Compare [9] which is an integrated NLP system based on the UIMA framework [10]. Exploiting the interoperability and the compatibility of these services, we performed ensemble, comparison and evaluation of these services. In this section we describe the details of our event extraction services and the ensemble methods.
Event extraction services
In this subsection, we describe the details of each event extraction service we provide.
U-Compare Bio-Event Meta-Service
We built the U-Compare bio-event meta-service which helps developers to easily deploy their event extraction services as a U-Compare compatible UIMA component. Each developer is simply required to prepare an event extraction tool, which accepts only raw text and protein boundary information as input, without any other preprocessing. The U-Compare bio-event meta-service has an open architecture where individual event extraction services can easily be registered to interoperate with other U-Compare components. An original event extraction tool should be first wrapped into a UIMA/U-Compare local service component. Then this local UIMA component can be deployed as a web service. Finally the new event extraction component, either local or web service, can be registered to the repository. We created a service development package which helps developing and deploying services with minimal human effort of the developers. This package provides a wrapper which converts BioNLP shared task format files (a1 file defines protein boundaries and a2 file contains event annotations) to/from UIMA data structure using U-Compare compatible type definitions. Developers then simply need to prepare a command line tool which receives the locations of the input text file and the input a1 file. Subsequently, the tool outputs the a2 file to a specified location. By specifying the tool's command path, our wrapper works as a local UIMA component. Deploying as a web service is also easily available by setting a few parameters such as a service port number. Either local or web service deployments are ready-to-run as generic UIMA components at this stage. While providing a service is an open procedure independent from the U-Compare platform, we integrated the event extraction services into the U-Compare platform. This integration allows users to skip an explicit installation process. We can integrate a new service as users require.
Ensemble of event extraction services
In this subsection, we first describe the comparison and evaluation methods. Then we describe the ensemble methods which further build upon the result of comparison and evaluation.
We created a BioNLP '09 style evaluation component which works together with the combinatorial comparison feature of the U-Compare platform. Figure
3
illustrates the architecture of this comparison and evaluation. The BioNLP '09 evaluation component supports a strict matching metric and an approximate matching metric, both for each event type as well as globally. We only use the approximate matching metric in this paper. The evaluation component calculates F1, precision and recall statistics for all of the possible pairs of components specified in the workflow. The evaluation component also holds information of matched and unmatched event instances, which is used in further analyses such as visualization. If one of the event extraction components is compared with our BioNLP corpus reader component, this comparison is regarded as an evaluation of that event extraction component using the BioNLP shared task's gold standard corpus. Otherwise, the comparison result shows the similarity between two event extraction components. Table
1
depicts the evaluation scores on the test set of the BioNLP '09 gold standard corpus for each event extraction service. The test set gold standard data is not publicly available for the developers to fairly compare their system performance.

As we created nine compatible event extraction components, the ensemble of these components would be a natural extension. We performed ensemble annotation by (weighted) majority voting. One issue when calculating votes is that we do not know which instances of extracted events can be considered as "equal" to sum up the voting counts. We implemented our evaluation component in a generic way, which can determine an equality of two arbitrary event instances using the evaluation metrics of the BioNLP shared task.
The next issue is vote weighting. Some of the event extraction components may perform better than others, or may output useful results which others cannot. Thus weighting votes depending on the characteristics of each event extraction component and would improve the final result. We performed a couple of different weighted voting experiments.
An averaged ensemble is a voting method where all of the annotations have an equal weight. For each extracted event, the voting threshold condition of an averaged ensemble is as follows:
while an optimal threshold value is unknown. Changing a threshold of a majority voting normally shows a trade-off between precision and recall. Hereafter we show the results of a single threshold value which is optimized to obtain the best F-score.
Using all of the available event extraction components may result in lower scores even if we assign weights to votes, because the characteristics of the components cannot be expressed in a single scalar value of weights. We tried using the top n (n = 2, 3, ..., 9) components to observe the influence of different component combinations on the final ensemble performance. This top n rank was decided by the F-scores evaluated by the test set of the gold standard corpus shown in Table 1.
Ensembles were performed by a U-Compare comparison workflow using UIMA components we created for this task. The workflow uses the following components: the BioNLP shared task reader as a collection reader; then a parallel aggregate which children are the shared task user data readers, each of them reading one individual participant's result; and finally the special ensemble component.
Declarations
Acknowledgements
This research was partially supported by KAKENHI 18002007 [YK, MM, JDK, SP, TO, JT]; JST PRESTO and KAKENHI 21500130 [YK]; the Academy of Finland and computational resources were provided by CSC -- IT Center for Science Ltd [JB, FG]; the Research Foundation Flanders (FWO) [SVL]; UK Biotechnology and Biological Sciences, Research Council (BBSRC project BB/G013160/1 Automated Biological Event Extraction from the Literature for Drug Discovery) and JISC, National Centre for Text Mining [SA]; the Spanish grant BIO2010-17527 [MN, APM]; NIH Grant U54 DA021519 [AO, DRR]; SR thanks Dr. Chisato Yamasaki and Dr. Tadashi Imanishi, BIRC, AIST, for their help; the Integrated Database Project (MEXT, Japan) [SR, RS, HWC], the Genome Network Project (MEXT, Japan) [SR, RS, HWC], the Center for Intelligent Information Retrieval [SR]; NIH grants R01LM009254, R01GM083649, and R01LM008111 [LEH]. Any opinions, findings and conclusions or recommendations expressed in this material are the authors' and do not necessarily reflect those of the sponsor.
Authors' Affiliations
(1)
Precursory Research for Embryonic Science and Technology (PRESTO), Japan Science and Technology Agency (JST), Saitama, Japan
(2)
National Institute of Informatics (NII), Tokyo, Japan
(3)
Department of Information Technology, University of Turku, Turku, Finland
(4)
Turku Centre for Computer Science (TUCS), Turku, Finland
(5)
Jena University Language & Information Engineering (JULIE) Lab, Friedrich-Schiller-Universität Jena, Jena, Germany
(6)
Computational Bioscience Program, University of Colorado Denver School of Medicine, Aurora, USA
(7)
Department of Computer Science and Software Engineering, Concordia University, Montréal, Canada
(8)
Department of Plant Systems Biology, VIB/Ghent University, Ghent, Belgium
(9)
The National Centre for Text Mining (NaCTeM) and School of Computer Science, the University of Manchester, Manchester, UK
(10)
National Center of Biotechnology-CSIC, Madrid, Spain
(11)
Department of Electrical Engineering and Computer Science, University of Michigan, Ann Arbor, USA
(12)
Department of Computer Engineering, Bogazici University, Bebek, IstanbulTurkey
(13)
School of Information, University of Michigan, Ann Arbor, USA
(14)
Department of Computer Science, University of Massachusetts Amherst, Massachusetts, USA
(15)
Department of Computer and Information Science (IDI), Norwegian University of Science and Technology (NTNU), Trondheim, Norway
(16)
Korea Institute of Science and Technology Information, Daejeon, South Korea
(17)
Database Center for Life Science (DBCLS), Research Organization of Information and System, Faculty of Engineering Bldg. 12, the University of Tokyo, Tokyo, Japan
(18)
Department of Computer Science, University of Tokyo, Tokyo, Japan
(19)
Microsoft Research Asia, Beijing, P.R.China
Copyright
© Kano et al; licensee BioMed Central Ltd. 2011
This article is published under license to BioMed Central Ltd. This is an Open Access article distributed under the terms of the Creative Commons Attribution License (http://creativecommons.org/licenses/by/2.0), which permits unrestricted use, distribution, and reproduction in any medium, provided the original work is properly cited.