Methodology article

Open Access
Tiling array data analysis: a multiscale approach using wavelets
BMC Bioinformatics
2011
12:57
Received: 24 November 2009
Accepted: 21 February 2011
Published: 21 February 2011
Abstract
Background
Tiling array data is hard to interpret due to noise. The wavelet transformation is a widely used technique in signal processing for elucidating the true signal from noisy data. Consequently, we attempted to denoise representative tiling array datasets for ChIP-chip experiments using wavelets. In doing this, we used specific wavelet basis functions, Coiflets, since their triangular shape closely resembles the expected profiles of true ChIP-chip peaks.
Results
In our wavelet-transformed data, we observed that noise tends to be confined to small scales while the useful signal-of-interest spans multiple large scales. We were also able to show that wavelet coefficients due to non-specific cross-hybridization follow a log-normal distribution, and we used this fact in developing a thresholding procedure. In particular, wavelets allow one to set an unambiguous, absolute threshold, which has been hard to define in ChIP-chip experiments. One can set this threshold by requiring a similar confidence level at different length-scales of the transformed signal. We applied our algorithm to a number of representative ChIP-chip data sets, including those of Pol II and histone modifications, which have a diverse distribution of length-scales of biochemical activity, including some broad peaks.
Conclusions
Finally, we benchmarked our method in comparison to other approaches for scoring ChIP-chip data using spike-ins on the ENCODE Nimblegen tiling array. This comparison demonstrated excellent performance, with wavelets getting the best overall score.
Keywords
Discrete Wavelet Transform
Wavelet Coefficient
Wavelet Decomposition
Resolution Level
Decomposition Level
Background
Tiling arrays have recently become widely used to investigate thousands of biochemical reactions in a parallel fashion. In oligonucleotide microarrays the probes are designed to match parts of the known genomic sequence. Genome tiling arrays include overlapping oligonucleotides designed to cover an entire genomic region of interest. These arrays are able to simultaneously monitor the expression of thousands of genes [1] as well as to identify the transcription factor binding sites [2]. Transcription factors are regulatory proteins which bind to DNA and control the gene transcription or biochemical activity of other regulatory proteins. The experimental technique to identify these regions of activity of the regulatory proteins on DNA involves the hybridization of immunoprecipitated DNA on a tiling microarray (ChIP-chip experiments)[3]. In this paper we examine data from two ChIP-chip experiments in order to identify regions of activity.
One common feature of all microarray experiments is that the signal of interest due to biochemical reactions is contaminated by noise. This noise can be mainly attributed to non-specific cross-hybridization. In the ideal case the oligonucleotides on the microarray only bind targets with exactly the right complementary sequences. In reality, however, lower affinity binding with other, imperfect sequences (known as mismatches) also occurs. In order to correct for this non-specific binding two samples labeled with red and green fluorescent dyes (Cy3 and Cy5) are hybridized on the same tiling array simultaneously. One sample, labeled with red dye, contains DNA immunoprecipitated with antibodies against the transcription factor of interest. Another sample, labeled with green dye, is derived from non-immunoprecipitated, genomic DNA and is used as a negative control.
Several statistical techniques have been developed for microarray data analysis [4–10]. Experimental data coming from the Pol II and histone modification ChIP-chip data show a broad distribution of the lengths of biochemically-active regions. The signal-of-interest on the tiling microarray exhibits triangle-like peaks of different widths [9]. There is both a scale and intensity separation between the useful signal and the noise in ChIP-chip experiments. Most of the existing ChIP-chip data analysis methods do not explicitly exploit this feature.
Signal decomposition using basis functions (wavelets) that resemble peaks makes this separation more apparent. Numerical implementation of the wavelet transformation is called Discrete Wavelet Transform (DWT). Computational cost of DWT scales linearly with the number of input data points (~O(N)). The same is also true for the computation cost of the moving window averaging. One of the major advantages of the DWT over the moving average window method is that DWT gives explicit representation of the signal at different lengthscales and the possibility to choose the type of wavelets for the DWT closely resembling the shape of the peaks we are trying to identify. One of the existing ChIP-chip data analysis methods [10] uses wavelets only as a denoising tool by thresholding the wavelet decomposition at a fixed level.
The peaks were detected not from the wavelet decomposition, but by applying Laplacian of a Gaussian (LoG) edge detector. We describe a method which is capable of delineating peaks of different sizes from the wavelet decomposition coefficients at different levels, and the range of sizes is determined by the algorithm parameters. Our method does not require any data pre-processing. Statistical analysis of the wavelet coefficients produces the probability density function of the signal intensity due to the non-specific hybridization and makes it possible to conduct an unbiased identification of protein binding site locations. Below we describe how to employ a wavelet algorithm to analyze the experimental data.
Methods
Mathematical formalism
In this section we will provide an overview of wavelet decomposition. The term "wavelets" is used to refer to a set of localized basis functions which posses a special structure. Wavelets are defined by two mutually orthogonal functions: scaling function ϕ and mother wavelet ψ. The rest of the basis functions can be obtained by performing dilation and translation operations with the scaling function and the mother wavelet. The fundamental idea behind wavelet analysis is that one can separate data based upon its scale. A very comprehensive review of wavelets can be found in [11].
In this work we use the discrete wavelet transform (DWT) algorithm proposed by Mallat [
12
]. This algorithm uses scales and positions based on powers of two (i.e. dyadic scales and positions). Mallat's algorithm takes the discrete input signal A(m) of length 2N and decomposes it into two signals: A(m+1) and D(m+1), each of length N. The results of this process are called approximation coefficients and detail coefficients. For ChIP-chip data, the approximation coefficients represent a relevant signal, whereas the detail coefficients represent noise. The approximation coefficients at scale (
m
+1) can be obtained from the approximation coefficients at the finer resolution scale (m) as follows [
11
]:
where c k , k = 1,.., 6 are the decomposition low-pass filter coefficients. For the Coif1 wavelet the numerical values are [13]:
c1 = -0.0157, c2 = -0.0727, c3 = 0.3849, c4 = 0.8526, c5 = 0.3379, c6 = -0.0727.
Similarly the detail coefficients at scale (m+1) can be obtained from the approximation coefficients at scale (m) as follows:
where b k , k = 1,.., 5 are the decomposition high-pass filter coefficients. For the Coif1 wavelet the numerical values of the coefficients are:
b1 = 0.0727, b2 = 0.3379, b3 = -0.8526, b4 = 0.3849, b5 = 0.0727, b6 = -0.0157.
A schematic view of the decomposition process is shown in Figure
1
.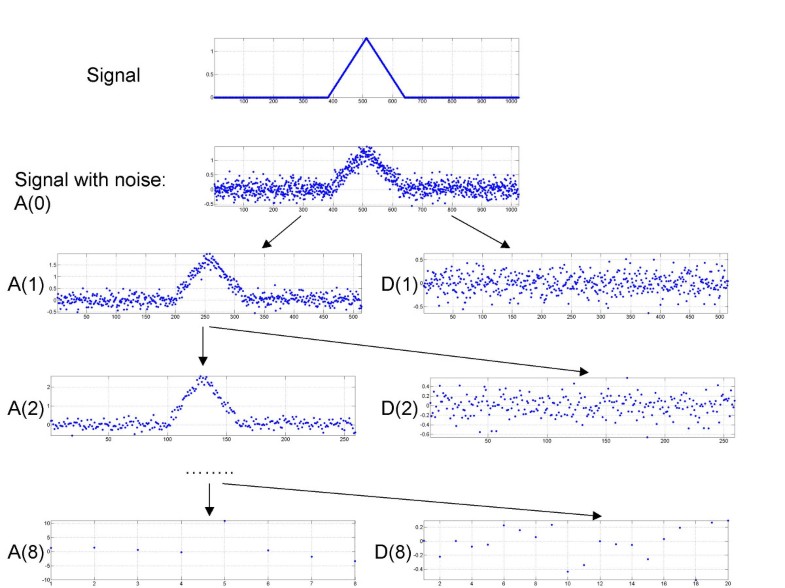 Equations (
1
) and (
2
) perform low-pass and high-pass filtering of the input signal. Approximation coefficients retain a low-frequency, smoothed version of the signal; whereas the detail coefficients capture the low-scale, high frequency component of the signal. Procedures (1) and (2) can be performed recursively using A(m+1) as the input signal. In practice, the discrete input signal is treated as the set of approximation coefficients at scale m = 0, and multilevel wavelet decomposition is performed using formulas (1) and (2). The decomposition (1)-(2) is reversible. Approximation coefficients at scale (m) can be reconstructed from the approximation and detail coefficients at scale (m+1):
For the Coif1 wavelet, the low-pass filter coefficients
f
and high-pass filter coefficients
g
are [
13
]:
The pyramidal structure of the algorithm makes signal decomposition (1)-(2) and signal reconstruction (3) computationally very efficient [11]. Additional file 1 Figure S1 shows the high-pass and low-pass filter coefficients for the decomposition and reconstruction procedures.
Specific datasets used for the analysis
All the analysis was performed using data from Nimblegen's ENCODE tiling arrays. The goal of the ENCODE (Encyclopaedia of DNA Elements) project [14] is to identify functional elements from a representative 1% of the human genome. This part of the human genome is represented on the Nimblegen ENCODE tiling array. The single array contains more than 384,000 unique 50-mer probes selected from 30 megabases of human sequence data specified by the ENCODE PROJECT CONSORTIUM [14]. These probes are spaced apart every 38 bases on the average, thus creating a 12-base overlap between probes. No probes were included for interspersed repetitive DNA, thus there are gaps in genome tiling paths on the array. The POL II (CTD4H8) and H3K36ME3 histone modification data were obtained from [15]. It is interesting to use these datasets to test our algorithm because they have broad peaks.
Results and Discussion
In the current work we propose a new computational approach to analyze ChIP-chip data using wavelet decomposition. A schematic view of the decomposition process is shown in Figure 1.
We use
Coiflets
(Coif1) as basis functions for the wavelet decomposition [
11
], as Coiflets have a nearly symmetrical, peak-like form of the mother wavelet. This shape resembles the tiling array signal profile at the transcription factor binding sites observed in ChIP-chip experiments (see top graph in Figure
2
). We chose Coiflets for the wavelet decomposition due to their properties of having the maximum number of zero moments while also having small widths (also called support in wavelet literature), ensuring a fast convergence rate [
11
].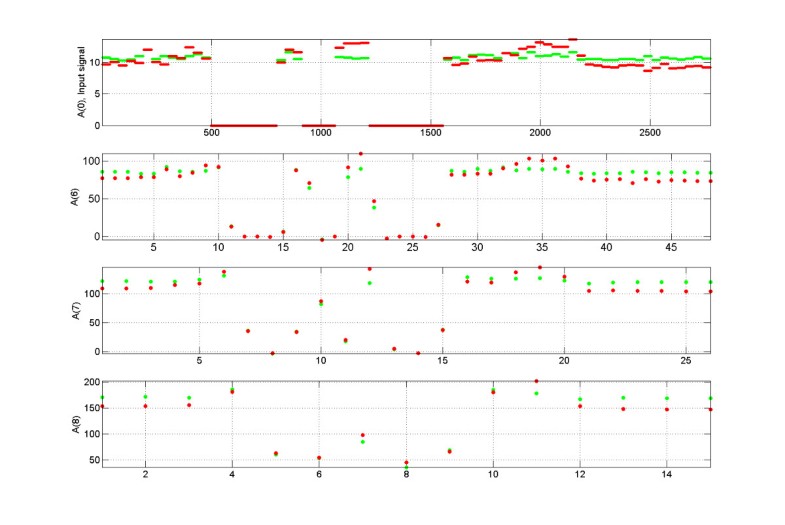 We applied a thresholding procedure to the wavelet coefficients at different resolutions in order to delineate the regions of biochemical activity of interest at the same confidence level for all relevant length-scales.
Conclusions
We analyzed tiling array data using wavelet transformations, and from the resulting wavelet coefficients we obtained clear intensity and length-scale separation between the background signal and the signal coming from the regions of biochemical activity. A thresholding procedure was applied to the wavelet coefficients at different resolution levels with the consistency constraint in order to delineate the regions of biochemical activity of interest at the same confidence level for all the relevant length-scales. This method was successfully applied to several ChIP-chip data sets, including Pol II and histone modification experiments. Our method demonstrated excellent performance using Spike-in data from the Nimblegen tiling array.
Declarations
Acknowledgements
The authors would like to acknowledge Raymond Auerbach, Sudhakar Chelikani, Lukas Habegger, Alex Urban and Sherman Weissman for useful discussions.
Authors' Affiliations
(1)
Diagnostic Radiology, Yale University, New Haven, USA
(2)
Molecular Biophysics & Biochemistry, Yale University, New Haven, USA
Copyright
© Karpikov et al; licensee BioMed Central Ltd. 2011
This article is published under license to BioMed Central Ltd. This is an Open Access article distributed under the terms of the Creative Commons Attribution License (http://creativecommons.org/licenses/by/2.0), which permits unrestricted use, distribution, and reproduction in any medium, provided the original work is properly cited.