Methodology article
Open Access
Natural product-likeness score revisited: an open-source, open-data implementation
BMC Bioinformatics
2012
13:106
Received: 26 October 2011
Accepted: 20 May 2012
Published: 20 May 2012
Abstract
Background
Natural product-likeness of a molecule, i.e. similarity of this molecule to the structure space covered by natural products, is a useful criterion in screening compound libraries and in designing new lead compounds. A closed source implementation of a natural product-likeness score, that finds its application in virtual screening, library design and compound selection, has been previously reported by one of us. In this note, we report an open-source and open-data re-implementation of this scoring system, illustrate its efficiency in ranking small molecules for natural product likeness and discuss its potential applications.
Conclusions
Our open-source, open-data Natural-Product-Likeness scoring system can be used as a filter for metabolites in Computer Assisted Structure Elucidation or to select natural-product-like molecules from molecular libraries for the use as leads in drug discovery.
Keywords
Natural ProductPortable Document FormatAtom SignatureSynthetic MoleculeCompound Collection
Background
Natural products (NPs) are small molecules synthesised by living organisms. In drug discovery, the class of NPs termed secondary metabolites that are involved in defence or signalling, are of particular importance because they were optimised during evolution to have effective interactions with biological receptors. They are therefore good starting points for designing new drugs[1]. Hence, Natural Product-likeness (NP-likeness) of a chemical structure can serve as a criteria in lead compound selection and in designing novel drugs[1]. In order to estimate NP-likeness of a molecule, prior knowledge such as physicochemical and structural properties of existing natural products have to be captured. In this work, we focus only on identifying structural features typical of natural products, and based on their presence, rank molecules of interest according to their NP-likeness.
Methods
CDK-Taverna version 2[2, 3] is an open-source Java tool kit to perform cheminformatics tasks, making use of the pipelining technology offered by Taverna version 2.2[4], an open-source workflow management system. The CDK-Taverna 2 plug-in is based on the Chemistry Development Kit (CDK)[5, 6] and few other open source Java libraries. The individual components required to score a small molecule for NP-likeness are implemented as CDK-Taverna workflows to be used intuitively by users without programming background. Source code for the CDK-Taverna 2 workers is freely available athttps://sourceforge.net/projects/cdktaverna2/.
The scorer is also available as standalone Java ARchive (JAR) package to be used as a library component in stand-alone or web applications. The standalone JAR and the source code is freely available for download athttp://sourceforge.net/projects/np-likeness/.
Results
The performance of the NP-likeness score depends, of course, on the choice of natural products and synthetic molecules in the training dataset. For the analysis of our engine's performance, natural products, synthetic molecules and query compound collections were all obtained from open access databases only. Our first subset of natural products (22,876 molecules) originates from the ChEMBL database[13], where we selected molecules extracted from the Journal of Natural Products. The second subset of natural products (39,162 molecules) comes from the Traditional Chinese Medicine Database @ Taiwan (TCM)[14]. Together, the natural product training set comprised 58,018 non-redundant structures. Training set of synthetic molecules comprised 113,425 clean lead-like compounds selected from the ZINC database[15]. Small molecules from DrugBank[16] and the Human Metabolome Database (HMDB)[17] were treated as our test sets. Besides that, PubMed abstracts reporting isolation of new NPs were text-mined for natural product's name and the names were converted into SMILES using Chemical Identifier Resolver[18] and the resultant set of 3610 non-redundant NPs was used as our test set.
The steps shown in Figure
1
were repeated for both training and test sets to calculate their atom signatures. To score test sets for NP-likeness, steps shown in Figure
2
were followed. The overall scores obtained in our test study ranged from -3 to +3. The more positive the score, the higher is the NP-likeness and vice versa. The distribution of scores obtained for the compounds in the test set is shown in Figure
3
. The distribution of the DrugBank compound set overlaps both the synthetic molecule and natural product structural space. This is expected because, in drug design experiments, the drug-like compounds often end up mimicking structural features of metabolites after the optimisation process[
19
]. Only one third of the natural products space captured by us overlaps with currently available common drugs. The text-mined natural products, as expected, almost completely overlaps the training natural products structural space occupying small additional structural space.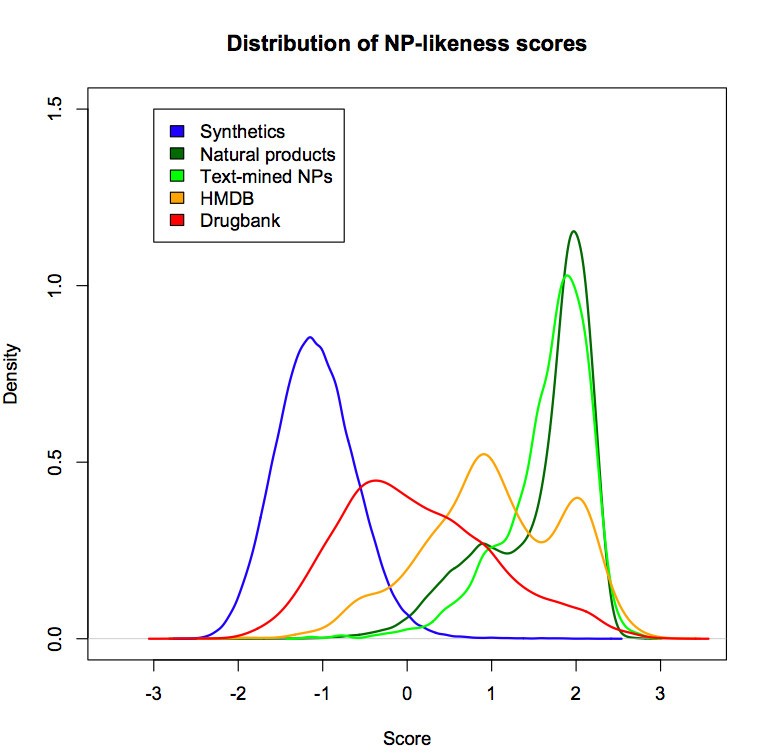 To validate our scoring system, 3610 text-mined NPs with additional 5000 synthetics were scored using both our system and the original implementation by Ertl et al[1]. Despite the much larger training set of the original system, the scores obtained showed a good correlation coefficient with r-value 0.94. Further, the scores obtained for the test set by replacing the training data in the original system with our open-data, showed very good correlation coefficient with r-value 0.97. Taking into account that two cheminformatics toolkits that have been used to calculate the values, differ slightly in handling of aromaticity, tautomerism, molecule normalisation etc and also slightly different types of substructure fragments, we consider this agreement very good and fully validating the new implementation of NP-likeness.
Conclusions
We have presented an open-source, open-data implementation of a Natural-Product-likeness scorer originally described by Ertl et al. Workflows for curation, training and scoring are implemented in the open-source workflow tool CDK-Taverna and published at myexperiment.org. A version of the scorer is available as an executable from command-line and as a library for inclusion in stand-alone or web applications. Training and test sets where extracted from open access databases such as ChEMBL, TCM, ZINC, DrugBank and HMDB. We replaced HOSE codes by Faulon's atom signatures as our circular fingerprint implementation which showed similar performance. With the available open-data and open-source tool-kits, we have implemented a NP-likeness scorer engine and successfully demonstrated its capability to differentiate the natural product compound collection from synthetic and drug compound collections identical to what was reported in the original paper. The engine can be used as a filter to remove improbable metabolite structures from chemical spaces generated from Computer Assisted Structure Elucidation (CASE) or to select natural-product-like molecules from molecular libraries for the use as leads in drug discovery. The open-source, open-data implementation allows other researchers to modify the workflows or to use larger collections of training molecules once they become available.
Declarations
Acknowledgements
KJ thanks PE and CS for their valuable suggestions and advice in implementing the scoring system. KJ also thanks her colleagues from Chemoinformatics and metabolism group at EBI for their active support and critical comments. All authors are very grateful to the open-source communities of CDK, Taverna and CDK-Taverna. This work was supported by the funds from the EMBL-EBI.
Author details
1Chemoinformatics and Metabolism, European Bioinformatics Institute (EBI), Cambridge, UK. 2Institute for Bioinformatics and Cheminformatics, University of Applied Sciences of Gelsenkirchen, Recklinghausen, Germany. 3Novartis Institutes for BioMedical Research, CH-4056 Basel, Switzerland.
Authors' Affiliations
(1)
Chemoinformatics and Metabolism, European Bioinformatics Institute (EBI), Cambridge, UK
(2)
Institute for Bioinformatics and Cheminformatics, University of Applied Sciences of Gelsenkirchen, Germany
(3)
Novartis Institutes for BioMedical Research, Basel, Switzerland
Copyright
© Jayaseelan et al.; licensee BioMed Central Ltd. 2012
This article is published under license to BioMed Central Ltd. This is an Open Access article distributed under the terms of the Creative Commons Attribution License (http://creativecommons.org/licenses/by/2.0), which permits unrestricted use, distribution, and reproduction in any medium, provided the original work is properly cited.