Web tools for large-scale 3D biological images and atlases
BMC Bioinformatics
2012
13:122
Received: 29 September 2011
Accepted: 7 June 2012
Published: 7 June 2012
Abstract
Background
Large-scale volumetric biomedical image data of three or more dimensions are a significant challenge for distributed browsing and visualisation. Many images now exceed 10GB which for most users is too large to handle in terms of computer RAM and network bandwidth. This is aggravated when users need to access tens or hundreds of such images from an archive. Here we solve the problem for 2D section views through archive data delivering compressed tiled images enabling users to browse through very-large volume data in the context of a standard web-browser. The system provides an interactive visualisation for grey-level and colour 3D images including multiple image layers and spatial-data overlay.
Results
The standard Internet Imaging Protocol (IIP) has been extended to enable arbitrary 2D sectioning of 3D data as well a multi-layered images and indexed overlays. The extended protocol is termed IIP3D and we have implemented a matching server to deliver the protocol and a series of Ajax/Javascript client codes that will run in an Internet browser. We have tested the server software on a low-cost linux-based server for image volumes up to 135GB and 64 simultaneous users. The section views are delivered with response times independent of scale and orientation. The exemplar client provided multi-layer image views with user-controlled colour-filtering and overlays.
Conclusions
Interactive browsing of arbitrary sections through large biomedical-image volumes is made possible by use of an extended internet protocol and efficient server-based image tiling. The tools open the possibility of enabling fast access to large image archives without the requirement of whole image download and client computers with very large memory configurations. The system was demonstrated using a range of medical and biomedical image data extending up to 135GB for a single image volume.
Keywords
Application Programmer InterfaceSection PlaneGlyphImage LayerInternet Browser
Background
Multi-dimensional images are integral to biomedical research with many large scale imaging initiatives now in place to capture image data with genomic-scale coverage. These can be high resolution two- and three-dimensional (2D & 3D) and time varying images from the cellular through to whole organism level of resolution [1]. This data acquisition has been matched by the development of image archive and database systems to support the curation and query of the data [2, 3]. Most of these systems will provide a number of visualisation options but in general these require the download of the full data-sets to be visualised using applications on the users' workstation. In addition there are now a number of image databases that include a standard spatio-temporal reference framework onto which large volumes of data are spatially mapped to enable cross-comparison, query and analysis. Visualisation of these mapped data-sets could imply massive download of data beyond the local disk capacity and available bandwidth. In this context therefore the ability to access 3D image objects over a wide-area network such as the Internet is imperative.Recent work has demonstrated the clear advantages of tile-based image transmission and many zoom-viewers have been developed for example by Google Maps (http://maps.google.com), Zoomify (http://www.zoomify.com) and OpenZoom (http://www.openzoom.org). The key benefit is that the client application only requests enough data to display at the resolution required and therefore the data download scales in proportion to the view-window size which is in most cases constant. In addition the tile-based approach can benefit from data-compression, asynchronous download and the use of caching which makes very effective use of the network and provides a fast response for the user.
Some solutions involve the Internet Imaging Protocol (IIP)[4], which is an open protocol that provides fast tiled delivery of large images through a multi-resolution image representation. IIP has been used in tele-pathology and educational archives [5]. It allows a region of interest to be selected at any zoom level and provides efficient image transmission. An IIP server has been developed (part of IIPImage at SourceForge) as an open-source resource [6].
However, IIP (and all other related protocols) may only be used with 2D images and a similar presentation method for 3D objects did not exist. Therefore we have developed extensions to the IIP protocol, which we call IIP3D, and have implemented an open-source server to deliver this service based on the highly efficient Woolz image processing library [7, 8]. In addition we have developed a number of browser-based applications for specific projects which we use to illustrate the capabilities of the system.
The importance of virtual slicing systems for remote access of images was previously noted [9] and the IIP protocol was identified as a suitable interface for independent client-server applications. However the availability and flexibility of these imaging systems was limited by the proprietary and costly nature of existing implementations. Current image servers, such as BrainMaps.org, are able to deliver 3D data although they provide only predefined 2D sections. Glatz-Krieger et al.[9] consider virtual slices only in the original focal planes of the biological material in the context of a 2D microscope slide. In this paper, we cut an arbitrary virtual section from the digitised 3D model. Such sectioning software exists, e.g. as commercial applications such as e.g. Amira [10] or open-source projects such as Slicer [11, 12], ImageJ [13] or our own applications MAPAINT[14] and the Java atlas viewer, JAtlasViewer viewers [15]. There are also online Java applications such as NeuroTerrain [16]. Java is often selected for compatibility and platform independence, but sometimes falls short of this in practice.
Tile based image delivery, that transmits the target as smaller image blocks, is known from commercial web applications such as Google maps. This runs in any web browser and does not require additional software or an applet. We have developed a server based on the open IIP protocol that can deliver arbitrary sections through large scale 3D image data providing a very fast and efficient display that can be accessed with standard browsers. The Visible Human project has generated several Internet based image servers and clients. The EPFL server [17] is the most similar to ours. It is a high throughput parallelised sectioning server using a FastCGI (FCGI) web interface. However it does not allow tiled requests and has a proprietary protocol. In addition, for the delivery of section data, the EPFL server requires a high performance cluster. In contrast, the IIP3D server will run on standard Linux-based servers, is open source and has been tested under Linux, Mac OS X and Windows.
To supplement the viewing of arbitrary sections through 3D image data we have developed clients which can visualise any number of image layers including indexed graphical overlays. Many "atlas" views of data include the display of graphically defined regions that correspond to a segmentation of the image space. Typically these atlas regions are constrained in number (usually 255 in the context of an 8-bit index image) and constrained spatially not to allow overlaps. In contrast we have developed an index image that can have an arbitrary number of regions with any combination of overlapping regions and these are provided as an indexed overlay with complete control over the colour and opacity of the individual regions.
In summary, we have extended an open protocol and associated tools which allow fast presentation of 3D volumetric data as arbitrary cut sections delivered at the level of detail and localisation requested, in the form of compressed tiled images. This system is open source, generic and integrable with other functionalities. This extended protocol is IIP3D and in the next section we present the implementation, followed by details of the server and client software. We present results of performance testing with multiple simultaneous access and show how the client software can be utilised for a number of atlas-based and large scale volume image delivery.
Results and discussion
IIP3D viewer
IIP3D is configurable for the application in use. We present the basic 3D browsing functionality, followed by the support of handling overlaid 3D image data and large databases. We exemplify these functionality on the male VisibleHuman dataset [24], adult mouse muti-modality Waxholm data [25], HUDSEN developing human brain atlas [26], fly brain atlas [27] and the eMouseAtlas atlas models [28].
3D browsing and multi-channel data
Figure
8
shows examples of browsing histological data. Parallel sections from objects are cut with the distance section tool and sectioning angles may be changed setting angle values as in Figure
8
a or by choosing a standard view (in this case sagittal) as in (Figure
8
b. The magnification tool allows zooming to details of the object (Figure
8
a,b), with the visible region shown in the locator window, this can be used to move the view. Tools are attached to a toolbar or may float on the page and are also collapsible. In Figure
8
a we show an arbitrary section through the E14.5 (Theiler stage 23,
http://emouseatlas.org/eAtlasViewer_ema/application/ema/wlz/EMA80.php
) mouse embryo and illustrate the measurement mode option. The IIP3D protocol provides a query capability for a 2D position in a given tile. In this case the server returns the corresponding original 3D location for a given point to enable a calculation of distance between the two marked points. In Figure
8
b we show the multi-channel display capability of the IIP3D viewer. For this example we have used the set of five 3D reconstructed images that are part of the Waxholm space atlas standard. These are three MR images (T2*, T2 weighted, T1), stained histology and a labelled tissue segmentation. Applications currently available are not able to simultaneously display sections form all five volumes primarily because of memory constraints of a typical desktop. Here the sections can be displayed in a web-browser and are presented as a
layer
model as found in graphical packages such as Adobe Illustrator and the open-source GIMP. The view selected shows the T2* image overlaid with a colour filtered section through the histology reconstruction. Colour filtering is part of the IIP3D protocol.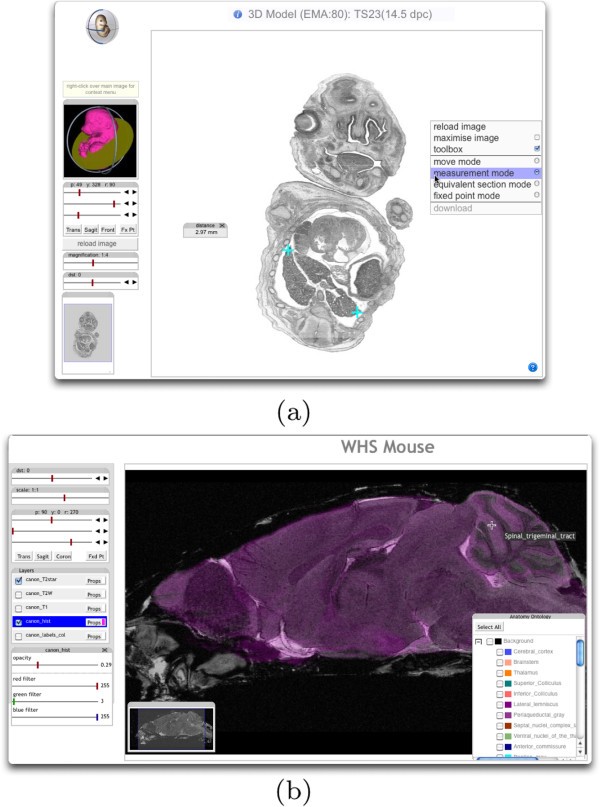 Large volumetric data
Large objects stored and visualised at high resolution may be read and served by the IIP3D server. These use the memory mapped data-structures that avoid the requirement to read the full dataset into main memory which for the larger volumes would not be feasible. In addition for archive data of many 1000s of smaller 3D volumes it enables fast access to any image where again it is not feasible to maintain the image data in memory. We have tested the system for image volumes ranging from 5 to 138 GB and found that the response was slightly slower but acceptable given that these are section views that can not for realised by
any other system
. In Figure
9
we show a view through a composite image comprising 8 full sets of the visible male 3D volume. This results in a 3D image with 4048 × 2432 × 3732 full colour (rgb
α
) voxels with a data volume of about 138GB. The memory mapped data format also allows us to routinely serve sections views from a multiple 3D image archive which now exceeds 4TB.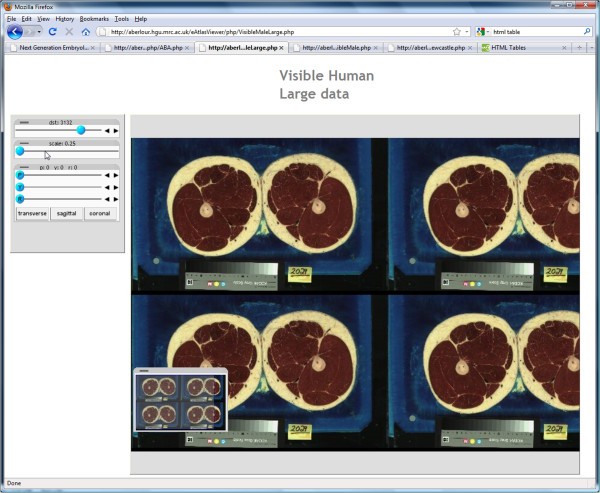 Annotation overlay
Figure 8b shows concurrent viewing of image layers with control of a colour filter and transparency across each image layer. The SEL command enables fine-grained control of colour and transparency of annotation overlays which can be considered as equivalent to an indexed image. An index defines a region of the 3D image space and the intersection of that 3D region with the current section will return tiles with those pixels given the requested colour and transparency. If two regions overlap in the same region then the colours will be merged. The result is a single layer that can be used to show regional annotations for example anatomical delineations or the presence of gene-expression. Pointing on the grey value brings up the name of the underlying single or multiple domain, if available. This is possible because the IIP3D compound object formalism allows annotated regions to overlap and there is no constraint in number.
Figure
10
illustrates the use of IIP3D to show anatomy overlay regions providing full control to the user to select which terms should be visible and the corresponding colours and transparencies. We show two examples. Figure
10
a is a view through the HUDSEN CS17 embryo (
http://hudsen.org
) with selected anatomical regions displayed plus the expression domain of the gene MAP2. Figure
10
b is a screen-shot of the new Virtual FlyBrain interface (
http://virtualflybrain.org
), which also delivers access to a database of brain-structure connectivity and gene-expression via context menu associated with the anatomy tree.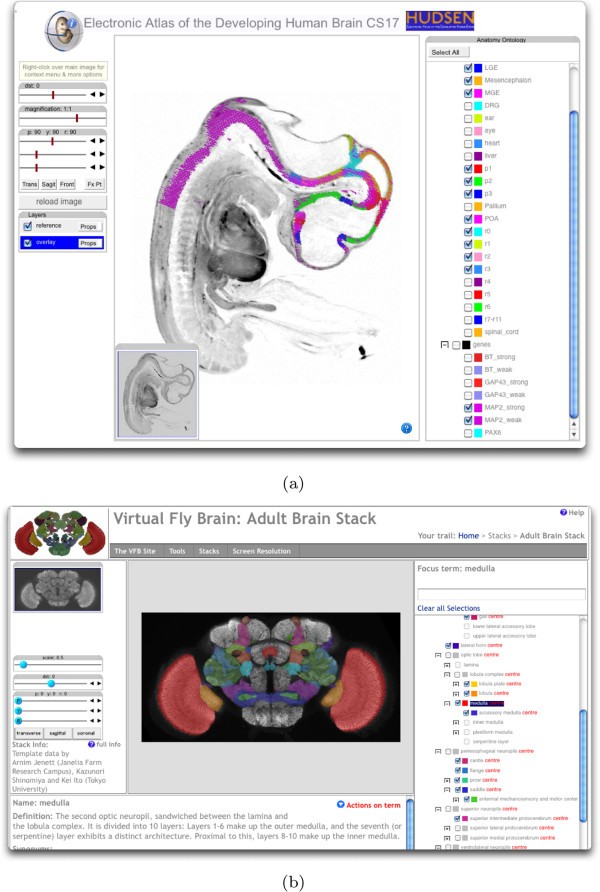 Conclusions
We have extended a protocol standard for tile-based viewing of 2D image data to include 3D volumetric data to enable virtual re-sectioning at arbitrary orientations through the volume. The protocol is also extended to handle index-image data giving control to the user of colour and transparency on each individual labelled region. On the basis of this protocol we have implemented an IIP3D server to deliver tiles for any requested section and a Javascript/Ajax viewer which provides a user-interface that will run within a web-browser. Performance tests on the server show that it can handle up to 60 simultaneous users without significant loss of performance as experienced by a typical user. The server can be scaled using a series of proxies to provide the required performance for higher access rates as required. The server code is implemented on a standard Linux-based machine and does not require special a HPC facility.
We have tested this system in the context of atlas-based biological data however it is clearly applicable to a wide range of image data for which arbitrary re-sectioning is a useful visualisation. This visualisation is typically the core requirement in basic science but also medicine where views through the data are the primary views needed by experts who want to see "the real data". It is complementary to recent development of in HTML5 in particular WebGL which is exemplified by the Google "Body Browser" demonstrator (http://bodybrowser.googlelabs.com). We plan to use IIP3D in a future WebGL based application to provide cut section image textures.
For archives of volumetric data or single very-large image volumes this server development is the only plausible mechanism to deliver views to users who do not have the required bandwidth, local storage capability or the compute capability to be able to download and view the data. Here we realise the benefit of low-bandwidth tile-based access to image data coupled with very efficient image-processing to calculate the virtual section tiles. This technology is open-source and will run on any unix-based web-server.
The IIP3D server allows access to independent software either as a standalone application or a more complex Java or Adobe Flash viewer. However, for flexibility and interoperability we provide a JavaScript API and viewer which runs in most up-to-date Internet Browser software, e.g. Internet Explorer, Safari, Firefox and Chrome but with some variation on behaviour arising from different ways in which the browsers have implemented standards (see the eMouseAtlas tested systems1).
Through the IIP3D API the 3D viewer can be integrated into complex applications such as Next Generation Embryology2 - a 3D spatio-temporal framework that augments IIP3D data in conjunction with a repository to deliver research and educational material. Users may add supplementary augmentation (points or region) to the 3D volume, together with texts, videos, external links.
The compound representation of multiple images (i.e. grey level, colour or segmented domains) and providing them as individual or composed images allows compact representation of related data, and offers a novel 3D visualisation of overlays. Also, it has power of representing overlapping domains that standard index-image representations can not provide. We have shown that the performance of our implementation of IIP3D scales well with the number of parallel requests. Grey level or colour data is successfully augmented with domain or gene expression data. Controls, such as sliders, layer selection tool or locator resemble functionality of know tools from desktop applications. These tools and the associated tiling code are all available as open-source.
Future developments of this software include grey-level transforms such as range slicing for 16bit medical data, extension to vector and scalar data and the introduction of a standard glyph library for location and directional marking. In the context of the client interface we will address usability by undertaking a user-evaluation study.
Availability and requirements
· Project name: Woolz IIP
· Project home page:http://www.emouseatlas.org/emap/analysis_tools_resources/software/wlziip.html
· Operating system(s): sever: Linux; client: platform independent
· Programming language: server: C and C++; client: JavaScript
· Other requirements: server: Woolz X.X, FastCGI library and web server with FastCGI enabled; client: Internet browser must support JavaScript and display images
· License: GNU GPL
· Any restrictions to use by non-academics: according to GNU GPL
Author's contributions
ZH designed and extended the original IIP protocol, coded the IIP3D server, suggested the existing compound Woolz object representation for domain data and wrote the first draft of this paper. BH and RB develop the Woolz image processing library, RB developed the Woolz sectioning algorithm and BH added support for memory mapped objects. NB integrated features of existing browser to provide a unified application programmer interface (API). NM added support of tree selection of anatomical hierarchy for overlaid images and provide input for viewer API standardisation. RB formulated the underlying ideas for using the IIP server for section data and managed the design and software development. All authors read and approved the final manuscript.
Abbreviations
IIP:

Internet Imaging Protocol
IIP3D:

3D extended Internet Imaging Protocol
FCGI/FastCGI:

Fast Common Gateway Interface.
Declarations
Acknowledgements
The authors would like to thank Tom Perry who developed the original version of the section viewer [20] and Newcastle collaborators Susan Lindsay and Janet Kerwin for letting us show the HUDSEN embryo data. We acknowledge support from the Medical Research Council, UK and NIH support under grant #1R01MH070370-01A2.
The Visible Male data is courtesy of National Library of Medicine, Visible Human Project, the CS17 embryo data is courtesy of the HUDSEN Electronic Atlas of the Developing Human Brain project, Newcastle University and the Waxholm data curtesy of the INCF (http://www.incf.org)
Authors' Affiliations
(1)
MRC Human Genetics Unit, Institute of Genetics and Molecular Medicine, Western General Hospital, UK
(2)
Informatics, Edinburgh University, UK
(3)
BAE Systems, Advanced Technology Centre, UK
Copyright
© Husz et al.; licensee BioMed Central Ltd. 2012
This article is published under license to BioMed Central Ltd. This is an Open Access article distributed under the terms of the Creative Commons Attribution License (http://creativecommons.org/licenses/by/2.0), which permits unrestricted use, distribution, and reproduction in any medium, provided the original work is properly cited