Enabling dynamic network analysis through visualization in TVNViewer
BMC Bioinformatics
2012
13:204
Received: 20 March 2012
Accepted: 20 July 2012
Published: 16 August 2012
Abstract
Background
Many biological processes are context-dependent or temporally specific. As a result, relationships between molecular constituents evolve across time and environments. While cutting-edge machine learning techniques can recover these networks, exploring and interpreting the rewiring behavior is challenging. Information visualization shines in this type of exploratory analysis, motivating the development ofTVNViewer (http://sailing.cs.cmu.edu/tvnviewer), a visualization tool for dynamic network analysis.
Results
In this paper, we demonstrate visualization techniques for dynamic network analysis by using TVNViewer to analyze yeast cell cycle and breast cancer progression datasets.
Conclusions
TVNViewer is a powerful new visualization tool for the analysis of biological networks that change across time or space.
Keywords
Visualization
Dynamic network analysis
Gene expression analysis
Background
The rapid development of high-throughput technology and increasing amounts of biological data promises greater insight into the complex interactions that govern cellular function. In particular, gene expression measurements can be used to infer network relationships between genes in a cell, potentially uncovering important interactions that perturb the cellular state [1–4]. Understanding these network relationships between genes can lead to greater insight into cellular processes, such as the cell cycle or disease progressions [5]. Traditionally, gene networks have been analyzed as static entities. However, biological processes such as development and disease progression evolve over time and react to changing environments. Representing these dynamic interactions with a single static network limits the biological insights that can be derived from analysis. Recently, biologists have attained a deeper knowledge of the functional and regulatory underpinnings of complex biological processes by studying dynamic gene-gene relationships [6–9]. In addition, recent algorithmic advancements allow these time-varying networks to be reverse engineered from a time series of molecular profiles. As techniques in dynamic network analysis continue to advance, tools that can visualize these complex networks will become increasingly important to understanding the systematic rewiring of the transcriptional regulatory circuitry that controls cell behavior.
Dynamic network analysis begins with data collection and the creation of a series of gene-gene interactions (networks) from the data (Figure
1
). Dynamic gene expression data is generally available as microarray samples that are collected over a time course or under multiple conditions. Many cutting-edge machine learning techniques are available to fully leverage the information stored within the data to create a series of related, evolving gene networks. Here, we list a few of these strategies. TESLA and KELLER builds off sparse regression techniques [
10
,
11
] and TV-DBN [
12
] estimates a chain of evolving networks using time-varying dynamic Bayesian networks. In addition, Robinson and Hartemink suggested learning a non-stationary dynamic Bayesian network using Markov Chain Monte Carlo sampling [
13
] and Lozano
et al.
proposed a different approach that uses the notion of Granger causality to model causal relationships among variables over time [
14
]. In contrast to linear time-varying networks, Treegl is a method for analyzing networks that evolve over tree-shaped genealogies (such as stem cell differentiation) [
15
]. Each of these strategies can be used to recover a series of networks from dynamic gene expression data for further analysis.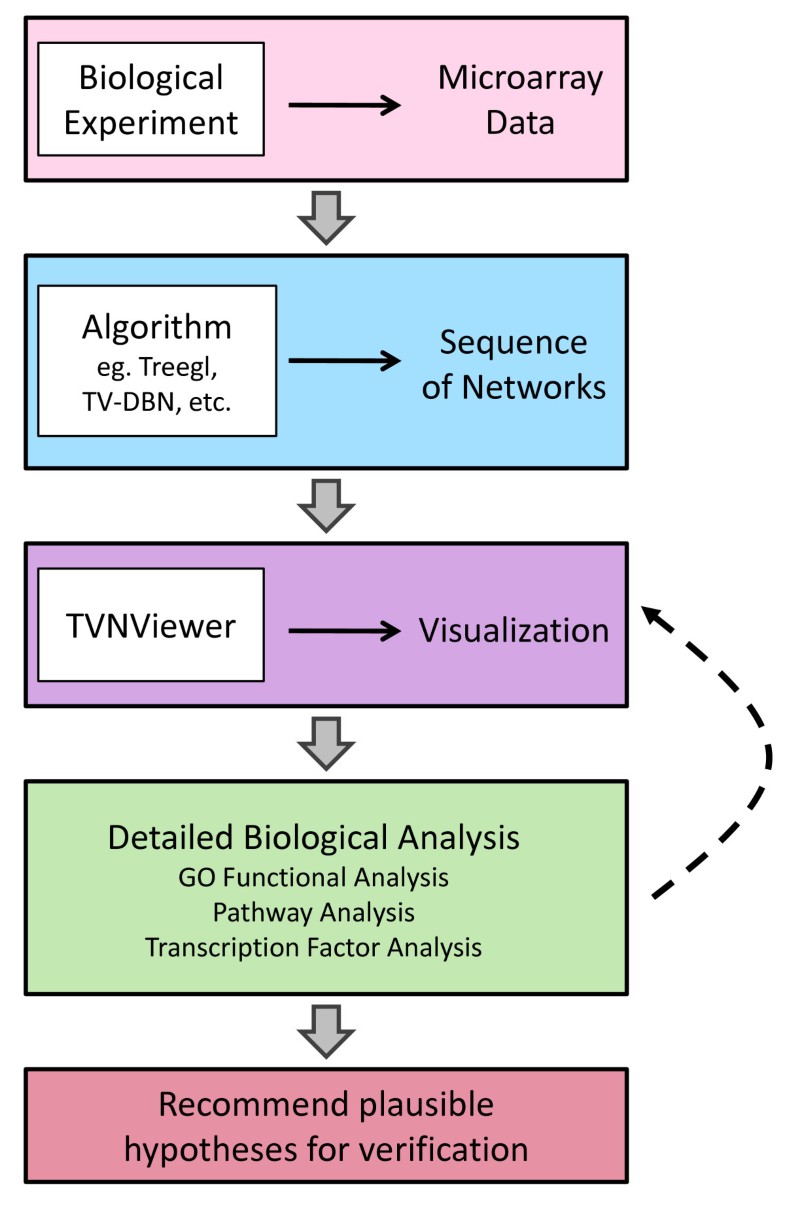 Once a series of networks is available for analysis, these networks must be explored to find the subtle (and obvious) changes in network topology. Analysts can examine the changing network topology to find key regulators that drive the network evolution. At this point, the focus becomes more exploratory than query driven. Information visualization, "the use of computer-supported, interactive visual representations of data to amplify cognition," as a field, touts its strengths at generating exploration-based insights, explanatory and persuasive interaction, and aesthetic representations [16]. Visualization techniques excel at providing an explanation of the overall structure of the data or finding weak or unexpected patterns most easily recognized by humans [17].
Because visualization naturally enables gene network analysis, many visualization tools have been developed to explore biological networks including Cytoscape [18], Osprey [19], VisANT [20], and Graphle [21]. Although many tools exist, the state-of-the-art tools in biological network analysis do not support the exploration of dynamic networks [22, 23]. While information visualization researchers have developed and evaluated techniques for dynamic network analyses of numerous kinds in other contexts, including social networks [24, 25], internet traffic networks [26], and even literature networks [27], these tools are not easily applicable in the biological context . Additionally, in our own experience exploring dynamic gene networks, we have found that multiple networks need to be visualized simultaneously and in real-time. To explore these networks, analysts must conveniently load and view a large number of networks and rapidly switch between networks to compare the topologies. Thus, given our experience and current visualization research, we have found that the visualization tools available for gene network analysis, such as Cytoscape, are insufficient to support the analysis of a large number of rewiring networks.
We present TVNViewer, an online visualization toolspecifically designed to support the discovery of spatial or temporal changes in network topology via exploration [28]. In addition to facilitating exploratory analysis, TVNViewer allows analysts to create the intuitive visualizations required to present their discoveries. In this paper, we demonstrate how the visualizations in TVNViewer facilitate dynamic network analysis through the analysis of two real datasets. The first dataset is a yeast (Saccharomyces cerevisiae) microarray dataset that contains 5610 genes measured at 25 time points across two cell cycles [29]. The networks at each time point have been recovered using Time-Varying Dynamic Bayesian Networks (TV-DBN) [12]. The second dataset is a breast cancer progression and reversal dataset [30]; breast cells grown in a 3D culture begin as normal cells, become malignant (cancerous), and are then reverted by drugs that inhibit various signaling pathways. The networks have been recovered using Treegl [15]. TVNViewer can be used to expose the similarities and differences of these cells states to reveal the effectiveness of various drugs.
The outline of the paper is as follows: we first discuss the implementation and design of TVNViewer and then show how the visualizations available in TVNViewer enable the analysis of the yeast and breast cancer datasets through several visualization strategies. Finally, we demonstrate the power of dynamic network analysis in TVNViewer via biological analysis of the breast cancer and yeast datasets.
Implementation
TVNViewer runs as a freely available online visualization tool, accessed from http://sailing.cs.cmu.edu/tvnviewer. We present several resources for analysts to learn how to use TVNViewer: extensive online documentation, video tutorials, and five example preloaded networks. Analysts who create an optional login can store up to ten datasets directly on the TVNViewer website. However, all TVNViewer functionality is available without a login through a temporary session. Data for TVNViewer is stored securely on the website in a MySQL database. Analysts can upload data onto the website as described in the online documentation.
TVNViewer itself is implemented using Adobe ActionScript, and thus runs on all major browsers with the freely-available Adobe Flash plug-in. TVNViewer is an open-source project; the source code for TVNViewer can be downloaded from the main website. To implement TVNViewer, we built off of Flare, an easily-customized, open-source web-visualization project (flare.prefuse.org).
In addition to providing different visual representations of the data, TVNViewer allows the analyst to customize network views to the analyst's preferred visual representation. Specifically, the analyst can adjust the size of the data nodes, choose to have the data nodes sized based on degree, adjust the font size of the labels, or change the visual thickness of the edges. Based on the size of the analyst's screen, TVNViewer dynamically resizes the visualization to ensure that all labels and nodes fit within the visualization window. The opacity of each edge in TVNViewer represents its weight in the network and can be adjusted by the analyst. Additionally, the analyst can select what edges and node labels are visible in the visualization. For example, consider the case where a network has many edges with a low weight. In this case, the analyst increases the minimum edge threshold and all edges below this threshold disappear, revealing the strongest interactions. Another scenario is where the analyst is interested in only a handful of genes or gene groups. In this scenario, the analyst can remove all other labels from the visualization, highlighting the specific genes of interest. Providing customizable, interactive visualizations like these allows analysts to enhance their own cognition by putting their knowledge into the analysis. Rather than constantly having to remember numeric or ordinal values for edge weights, for example, the visualization off-loads those considerations to the visual cortex, allowing the analyst to focus on analytic activities rather than the trivia of edge weights which are only valuable for the analyst in so far as they generate insights [31].
Results and discussion
In this section, we highlight some ofTVNViewer's visualizations available for dynamic network analysis. In each case, we use the yeast or breast cancer data to show how an analyst would use TVNViewer to discover patterns and information in the recovered set of networks. After the demonstrations, we will discuss the results of using TVNViewer for dynamic network analysis.
Conclusions
The cellular mechanisms responsible for progression through the cell cycle or the development of disease are complex and dynamic. Thus, many machine learning approaches have been designed to construct dynamic networks that model these processes. To fully exploit the information captured in these networks, we must have the visualization framework to simultaneously analyze a series of networks. However, current network visualization tools require extensive adaptation to explore a time series of networks. In many cases, this would require the generation of separate network visualizations, which cannot be easily compared and explored in real time.
In this work, we have demonstrated TVNViewer, a new visualization tool built for exploring the dynamic relationships between genes across a time series or in response to environment or disease. TVNViewer provides a clean interface that can be used to enable high-level functional and topological analysis in addition to highlighting more subtle network interactions over time. It facilitates a convenient and intuitive analysis of a yeast and breast cancer dataset that would not be possible using other gene network visualization tools. To conclude, TVNViewer can enable researchers to leverage the networks produced by machine learning and statistics methods through presenting the temporal context and combination of gene-level and functional-level information to allow for extensive biological analysis and interpretation.
Availability and requirements
·Project name: TVNViewer
·Project home page:http://sailing.cs.cmu.edu/tvnviewer
·Operating system(s): Platform independent
·Programming language: ActionScript
·Other requirements: Adobe Flash Player
·License: Noncommercial research use
·Any restrictions to use by non-academics: license needed
Declarations
Acknowledgements
This work is supported by the Defense Advanced Research Projects Agency [Z931302]; National Science Foundation [DBI-0640543, IIS-0713379]; National Institutes of Health [1R01GM087694, 1R01GM093156, 0015699]; National Science Foundation Graduate Research Fellowship (Grant No. 075) to AP; Natural Sciences and Engineering Research Council of Canada Fellowship to JX; and an Alfred P. Sloan Research Fellowship to EPX.
Authors' Affiliations
(1)
Joint Carnegie Mellon, University of Pittsburgh PhD Program in Computational Biology, Pittsburgh, USA
(2)
Lane Center for Computational Biology, Carnegie Mellon University, Pittsburgh, USA
(3)
Machine Learning Department, Carnegie Mellon University, Pittsburgh, USA
(4)
Human Computer Interaction Institute, Carnegie Mellon University, Pittsburgh, USA
Copyright
© Curtis et al.; licensee BioMed Central Ltd. 2012
This article is published under license to BioMed Central Ltd. This is an Open Access article distributed under the terms of the Creative Commons Attribution License (http://creativecommons.org/licenses/by/2.0), which permits unrestricted use, distribution, and reproduction in any medium, provided the original work is properly cited.