Methodology article
Open Access
Method: automatic segmentation of mitochondria utilizing patch classification, contour pair classification, and automatically seeded level sets
BMC Bioinformatics
2012
13:29
Received: 26 August 2011
Accepted: 9 February 2012
Published: 9 February 2012
Abstract
Background
While progress has been made to develop automatic segmentation techniques for mitochondria, there remains a need for more accurate and robust techniques to delineate mitochondria in serial blockface scanning electron microscopic data. Previously developed texture based methods are limited for solving this problem because texture alone is often not sufficient to identify mitochondria. This paper presents a new three-step method, the Cytoseg process, for automated segmentation of mitochondria contained in 3D electron microscopic volumes generated through serial block face scanning electron microscopic imaging. The method consists of three steps. The first is a random forest patch classification step operating directly on 2D image patches. The second step consists of contour-pair classification. At the final step, we introduce a method to automatically seed a level set operation with output from previous steps.
Results
We report accuracy of the Cytoseg process on three types of tissue and compare it to a previous method based on Radon-Like Features. At step 1, we show that the patch classifier identifies mitochondria texture but creates many false positive pixels. At step 2, our contour processing step produces contours and then filters them with a second classification step, helping to improve overall accuracy. We show that our final level set operation, which is automatically seeded with output from previous steps, helps to smooth the results. Overall, our results show that use of contour pair classification and level set operations improve segmentation accuracy beyond patch classification alone. We show that the Cytoseg process performs well compared to another modern technique based on Radon-Like Features.
Conclusions
We demonstrated that texture based methods for mitochondria segmentation can be enhanced with multiple steps that form an image processing pipeline. While we used a random-forest based patch classifier to recognize texture, it would be possible to replace this with other texture identifiers, and we plan to explore this in future work.
Keywords
True Positive RateAutomatic SegmentationGeodesic Active ContourRandom Forest ClassificationSingle Contour
Background
The improved resolution and amount of detail afforded by emerging electron microscopy techniques, such as serial block-face scanning electron microscopy (SBFSEM) [1], is enabling researchers to explore scientific questions that were previously impossible. SBFSEM enables mapping of subcellular structures within large 3D regions, 1 mm × 2 mm in the XY plane and greater than 0.5 mm in Z. However, the interpretation of data acquired with these techniques requires high-throughput segmentation that addresses the complexity and multi-scale nature of these data.
Biological motivation
The morphology and distribution of mitochondria has biological significance. For example, morphology of mitochondria has been studied as a means to detect abnormal cell states such as cancer [
2
]. Additionally, abnormal morphologies and distributions of mitochondria are associated with neural dysfunction and neurodegenerative disease [
3
]. As described previously, SBFSEM techniques, coupled to new staining protocols [
4
], are able to reveal both cell boundaries and many membrane-bounded intracellular components, such as mitochondria. Figure
1
shows slices of mouse cerebellum from a volume acquired with a specialized scanning electron microscope equipped with a high precision Gatan 3View ultramicrotome for serial blockface imaging, which involves use of a vibrating diamond knife to precisely plane away material from the surface of a specimen while imaging.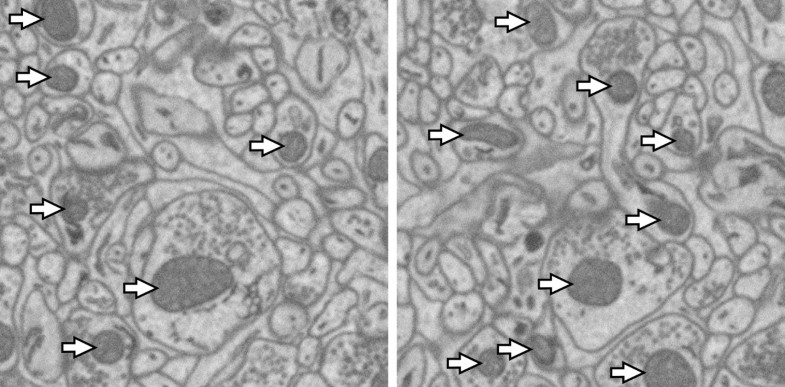 Current methods for extracting information from complex cellular datasets reflect a long history of incremental development. Following specimen preparation and data acquisition, image stacks must be segmented before cellular structure-function relationships can be fully analyzed. During segmentation, compartments of interest are delimited. Since segmentation is typically performed by hand or semi-automatically with manual correction, it can be notoriously time consuming and represents a clear bottleneck in cellular imaging [5, 6]. In a typical scenario, segmentation involves a single trained expert using automated algorithms or manually going through each individual slice and tracing contours around the structures of interest using a program such as IMOD [7], JINX [8], or any number of other specialized programs.
Serial blockface imaging modality
Specifically, this paper addresses segmentation of mitochondria in SBFSEM data. Other previously addressed technologies are serial section electron microscopy and focused ion beam serial electron microscopy (FIBSEM). We chose to use SBFSEM because it achieves full automation, acquires rapidly, produces well registered images, and has commercial availability. While FIBSEM has ability to image with higher Z resolution (5-6 nm between slices), SBFSEM affords a larger imaging surface and higher speed. Use of a microtome with SBFSEM is faster than the ion milling process of FIBSEM and allows for a larger cutting surface, ~2 mm2, compared to ~0.5 mm2 for FIBSEM[9].
Ability to rapidly scan tissue is important when acquiring large datasets and studying the distribution of structures within tissue. Acquisition time increases with finer resolution in XY and also increases with smaller Z step size [1]. While sampling with larger steps in X, Y, and Z requires that the automatic segmentation operate on sparser data, it makes the image acquisition more practical in terms of time and disk storage. We chose an XY pixel size of 10 nm × 10 nm and Z step size of 50 to 70 nm. At a rate of 10 microseconds per voxel, this would allow an acquisition rate of 0.5 to 0.7 cubic microns per second. Because a full dataset can cover millions of cubic microns, imaging can require multiple days of acquisition time and the acquisition rate is critical.
For each test, two subsets of data used for testing our method in this paper has dimensions of 3.5 microns × 3.5 voxels × 0.75 microns. We chose 10 nm × 10 nm × 50-70 nm voxel size suitable for imaging large blocks in reasonable time, and we show that our method is robust enough to perform well even with anisotropic resolution and sparse sampling (especially in the Z direction). The purpose of this work is to demonstrate accuracy and time feasibility of this method on test samples. We used a single core processor for all of the testing reported here. As future work, we plan to process full datasets using parallel processing resources with thousands of cores.
Previous work in automatic segmentation
The electron microscopic staining and imaging technology used for this work highlights intracellular structures, such as vesicles and mitochondria, as well as cellular membranes resulting in complex, textured images. While staining of multiple structures makes it possible to accomplish the identification of most cellular and subcellular tissue components simultaneously, it makes automatic segmentation and identification of these more challenging. Automatic segmentation accuracy is critical, as each manual correction requires human effort and ultimately increases the time and cost required for segmentation. Modern three dimensional TEM and SEM images involve a large number of objects with various three dimensional shapes. Image intensity alone does not accurately identify a given structure, and identification of objects typically involves a knowledge of various textures and shapes present in the data. Therefore, the numerous segmentation algorithms developed for other biomedical imaging modalities are not directly applicable to thin sections from TEM and serial block face derived SEM images. Level-set [10] and active contour segmentation methods are not effective when directly applied to automatically segmenting mitochondria in the data presented here because the edge attraction terms used in these methods are easily confused by the presence of significant textures. (However, we establish that a level set may be used effectively as a final step in a process.)
While progress has been made to develop automatic segmentation techniques appropriate for mitochondria [2, 11–15] and cells [16–20], there remains a need for more accurate, rapid, and robust techniques to delineate mitochondria in SBFSEM data. In [14, 2], and [15], primarily texture detection is used to segment mitochondria. Although texture based methods may be appropriate for high resolution thin section transmission electron microscopy (TEM) images, current SBFSEM technology does not provide the resolution required for distinct textures in neuropil.
In typical SBFSEM data, separation between XY planes may be greater than FIBSEM, with typical ranges of 30-100 nm, giving lower effective resolution in Z than × and Y. Rather than using only 3D operations, we use a combination of 2D and 3D processing. This allows us to take advantage of the higher resolution available in the XY plane. A 2D patch classifier is used at step 1. For step 2, we use a custom method of 2D contour identification which is based on isocontour detection and contour pair filtering. Use of 2D contours is advantageous because the contours often outline the mitochondria, which have various but often recognizable shape. At step 3, we use a 3D level set operation which increases the 3D smoothness of the detected structure and helps increase the true positive rate.
Lucchi et al. [12, 13] published a method for mitochondria segmentation in FIBSEM images achieving pixel classification accuracy as high as 98%. Note that accuracy is defined on pixel classification as (TP + TN)/(TP + FP + FN + TN), where TP is the number of true positives, TN is the number of true negative, FP is the number of false positives, and FN is the number of false negatives. To utilize 3D image information, Lucchi et al. used a classifier to recognize which pairs of 3D supervoxels are most likely to straddle a relevant object boundary. In their FIBSEM data, X, Y, and Z resolution are all 5-6 nm, which makes use of 3D supervoxel approach appropriate. However, to address SBFSEM data with generally coarser and anisotropic resolution, we use a different approach as described above.
In other previous work [21], shape rather than texture information is used for detection of mitochondria in 2D slices of FIBSEM data. Our goal differs from this in that we are concerned with segmentation, not only detection, in 3D images, and our approach uses information in more than one plane to discriminate between mitochondria and other objects.
We have previously explored use of texture and shape to automatically segment mitochondria in tomography [22], and SBFSEM [23]. In this work we present our complete multi-step method and test it against human segmentation. We demonstrate that similar accuracy can be achieved with SBFSEM which has different resolution characteristics than aforementioned techniques but allows rapid automated 3D scanning of relatively large three dimensional regions with commercially available microscopes.
Methods
The Cytoseg process (CP) for segmentation presented here consists of three steps (see Figure
2
): patch classification, contour set classification, and a level set operation. Each step produces output that feeds the following step(s) of the process. For the first step, we use a random forest classification technique for identification of pixels that belong to subcellular objects. This step serves to identify texture. The input vector is a set of values from an N×N patch of pixels. Results with mitochondria segmentation indicate that the patch classification learning process can be accomplished rapidly (for 1591 image patches, 13 seconds on single 2.6 GHz processor). For the second step, we perform random-forest-based classification on contours or pairs of contours generated by outlining connected components after thresholding the patch classification output with multiple thresholds. To produce smooth 3D objects, we apply a third step in which contours are used to find seed points for the initialization of geodesic active contour operations (from the Insight Segmentation and Registration Toolkit (ITK)) [
24
], which produces 3D blobs in an array of voxels. The following describes each step in detail:

Step 1: 2D patch classification
The first step consists of a patch classifier using a random forest [25]. A training data set is used with each pixel labeled mitochondria or not. The classifier uses raw pixel values from 2D image patches. The output of step 1 is a map of mitochondria probability. We chose 2D rather than 3D patches to produce a method that would be robust when there are significant gaps between XY slices.
Step 2: Contour Set Classification
In the second step, contours in XY planes of the volume are detected using multiple isocontours applied to the probability map from the pixel classifier of step 1. Isocontours are detected at 12%, 26%, 40%, 54%, 68%, 82%, and 96% of the total intensity in the probability map (14% intervals). After detection, contour pair classification serves to eliminate the extraneous contours that do not belong to mitochondria. In this paper, Ci, j is the contour of in XY plane i with index j. Contours of extreme size (perimeter less than 0.6 μm or greater than 6 μm) are not used. The extreme limits were determined based on the known size of mitochondria in our data. It is unlikely that such a large or small contour would delineate a mitochondria. For classification, contours can be grouped into sets of M contours in adjacent planes. We explore use of M = 1 and M = 2. When pairs of contours are used (M = 2), we eliminate pairs whose centers differ by a large amount. That is, we use all pairs Ci, m and Ci+1, n where Euclidean distance (in the XY plane) from the center of Ci, m to the center of Ci+1, n is less than D. Although the random-forest-based classification procedure is the primary means of identifying salient pairs, this elimination procedure reduces computation time by quickly removing many invalid pairs in which the two contours are very far apart are not delineating the same mitochondria. Based on experiment with our data, we chose D = 0.4 μm for results of this paper. Contour centers were calculated as the average of all points on the circumference.
The contour sets are classified based on geometric and pixel value-based features of each contour in the set. Seven features are used: (1) contour perimeter, (2) average gray value on the contour points, (3) average gray value of the probability map inside the contour, (4) area of the contour, (5) ellipse overlap, (6) ellipse width, and (7) ellipse height. Ellipse overlap is a measure of how elliptical the contour is. To compute this value, an ellipse is first fit to the contour. Ellipse width and height are the width and height of the ellipse that best fits the contour. The fraction of overlap between the area inside the ellipse and the actual contour area provides the ellipse overlap value. When two adjacent contours (Ci, m and Ci+1, n) are used for each example, the full feature vector consists of (1) the seven features of each contour, (2) the distance between the two contour centers, and (3) the difference of the seven features, yielding a total of 22 features per contour pair. For example, Figure 2(c) shows all detected contours and (d) shows remaining contours after classification and elimination of all pairs below a probability threshold of T = 0.25.
Step 3: 3D level set operation
In the third step, a "geodesic active contour" level set filter is then used to produce 3D blobs that represent mitochondria. The geodesic active contour filter takes two input images (1) the result of an input fast march filter and (2) the edge potential map. In our method, the input of the fast march filter is the probability map from step 1. For the edge potential map, we used the gradient magnitude of the probability map from step 1. The filter performs a level set operation to generate a final result. Proper seeding of the input fast march is critical to produce an accurate segmentation. The inner region of the contours detected in step 2 demarcates the initial seed points, while the gradient magnitude of the 3D probability map defines the edge potential image. The inner region of contours is found by taking the full region of the contour and eroding it by 10 pixels. The edge potential image produces a "force" so that the geodesic active contour filter operation tends to fill until it reaches the boundary of mitochondria and non-mitochondria voxels. Results are shown in Figure 2(e) and 6(b).
Results
A total of four test runs were performed to measure the performance of the method in various types of mouse brain tissue: cerebellum, dentate gyrus, and the CA3 division of hippocampus. The first test in cerebellar tissue is described in detail and then supplementary three tests are then described briefly in the additional testing section below. With each test, 15 slices are used for training data and 15 slices are used for testing. Accuracy for each of the 4 tests is reported in Table
1
.
| Test # | Tissue | TPR | FPR (RLF) | FPR (CP) | Accuracy (RLF) | Accuracy (CP) |
| --- | --- | --- | --- | --- | --- | --- |
| 1 | Cerebellum | 0.8 | 0.05 | 0.02 | 0.94 | 0.97 |
| 2 | Cerebellum | 0.9 | 0.11 | 0.03 | 0.89 | 0.96 |
| 3 | Dentate Gyrus | 0.84 | 0.29 | 0.02 | 0.72 | 0.97 |
| 4 | CA3 | 0.9 | 0.3 | 0.07 | 0.72 | 0.93 |
Discussion
This work explores the use of multistep segmentation involving patch classification, contour pair classification, and a level set operation. One alternative approach to the segmentation problem is to build a single highly accurate classifier, however this puts a significant burden on the classifier. To handle a complex problem such as automatic segmentation in neuropil, the classifier complexity is typically high, so the training time with a single classifier approach is significant and can require days of CPU time to train [17]. By splitting the problem into stages, training complexity can be reduced at each stage. In our process, the first two steps learn the texture and the shape independently and rapidly. Less than a minute of training time was required for training with the results presented in this paper. While the voxel classification step requires significant time (80 minutes for 2 million patches), it can be distributed among multiple cores as it operates on each patch independently. (Testing on larger datasets using parallel computing resources is a subject of future work.)
We designed each step to add to the accuracy of the process. Our first texture processing step enhances the mitochondria as shown in Figure 2(b), but allows many false positive pixels where texture is similar to mitochondria. The second step uses pairs of contours on adjacent plane and helps to reduce many false positive contour pairs as shown in Figure 2(d). We chose to use contour pairs because single contours are often not sufficient to identify structures. This mimics manual segmentation, where people often check multiple adjacent slices to identify a structure. Use of contour pairs makes use of two planes of information rather than one and increases the accuracy of identification. While the contour pair classification is effective for identifying contours that lie on mitochondria, it often detects somewhat misshapen contours with rough edges. To address this, we introduced a third step. Our third step relies on the fact that mitochondria typically have a smooth shape. A cleaner segmentation can be achieved by enforcing this smoothness using a level set operation.
To fully automate our level set step, we designed it to take seed points from the contour pair classification step and an edge potential map derived from the patch classification step as described earlier. The edge potential map is derived from the patch classification output rather from the raw image so that the level set tends to fill inside of the salient texture. For example, our results for Test 1 show that the final level set operation increased the true positive rate by 0.04 and the false positive rate by 0.0025. Even though the false positive rate increases slightly, the larger true positive rate increase represents an overall improvement. Figure 6 demonstrates this increase in true positives visually as many gaps in the segmentation are filled in with the level set operation.
The resulting combination of all steps is a new pipeline where each contributes to the final result. Compared to a single classifier, this pipeline helps break the problem down into more manageable pieces. In future work, each step can be refined separately, potentially by different image processing specialists, the first focusing on texture identification, the second on shape identification, and the third on enforcing smoothness appropriate for the structure being segmented.
Conclusions
In this paper, our goal was to develop a method for automatic segmentation of mitochondria in SBFSEM data. These datasets were particularly challenging because many internal structures were stained and spacing between slices was significant. We used both texture and shape information to identify mitochondria in a complex background. The technique involved three major steps that progressively build a final result. Our data had 4 to 7 times more resolution in the XY plane than Z, so we chose a combination of 2D (step 1 and 2) and 3D (step 3) processing that takes advantage of the extra resolution in the XY plane. In the first step, we showed that a random forest classifier applied directly to pixel values of 2D patches has good performance as a patch classifier. In step 2, we showed that detected contours in the probability map from step 1 can be refined using a contour pair classifier. We also showed the advantage of using contour pairs rather than single contours. In step 3, we showed that use of a level set procedure, operating on the probability map from step 1, and seeded with salient contour regions from step 2 can enhance and smooth final results. The output is smoothed in 3D to make visualization and manual corrections more manageable. As show in Table 1, 93-97 percent accuracy is achieved on three types of tissue. In future work, we plan to test with contour sets of three or more to improve contour set classification accuracy.
In addition to accuracy, another advantage of our pipeline design is modularity. As a subject of future work, each of the components of the pipeline may be improved or replaced to suite different problems or improve accuracy. For example, while we used a random-forest based patch classifier to recognize texture, it would be possible to replace this with other texture identifiers.
Although this method was tuned for mitochondria, it is flexible in that texture and shape are learned based on training data. Therefore, if given the proper training data, it may also be applicable to other structures with well defined shape and texture. Application to other structures is a subject for future testing.
Declarations
Acknowledgements
We thank Elizabeth Jurrus, Tolga Tasdizen, Steven Peltier, Andrew Noske, Guy Perkins, and Eric Bushong for helpful discussions and comments on manuscripts. We thank James Obayashi and Masako Terada for 3D data processing work.
Authors' Affiliations
(1)
Center for Research in Biological Systems, University of California, La Jolla, USA
Copyright
© Giuly et al; licensee BioMed Central Ltd. 2012
This article is published under license to BioMed Central Ltd. This is an Open Access article distributed under the terms of the Creative Commons Attribution License (http://creativecommons.org/licenses/by/2.0), which permits unrestricted use, distribution, and reproduction in any medium, provided the original work is properly cited.