Physicochemical property consensus sequences for functional analysis, design of multivalent antigens and targeted antivirals
BMC Bioinformatics
2012
13(Suppl 13):S9
Published: 24 August 2012
Abstract
Background
Analysis of large sets of biological sequence data from related strains or organisms is complicated by superficial redundancy in the set, which may contain many members that are identical except at one or two positions. Thus a new method, based on deriving physicochemical property (PCP)-consensus sequences, was tested for its ability to generate reference sequences and distinguish functionally significant changes from background variability.
Methods
The PCP consensus program was used to automatically derive consensus sequences starting from sequence alignments of proteins from Flaviviruses (from the Flavitrack database) and human enteroviruses, using a five dimensional set of Eigenvectors that summarize over 200 different scalar values for the PCPs of the amino acids. A PCP-consensus protein of a Dengue virus envelope protein was produced recombinantly and tested for its ability to bind antibodies to strains using ELISA.
Results
PCP-consensus sequences of the flavivirus family could be used to classify them into five discrete groups and distinguish areas of the envelope proteins that correlate with host specificity and disease type. A multivalent Dengue virus antigen was designed and shown to bind antibodies against all four DENV types. A consensus enteroviral VPg protein had the same distinctive high pKa as wild type proteins and was recognized by two different polymerases.
Conclusions
The process for deriving PCP-consensus sequences for any group of aligned similar sequences, has been validated for sequences with up to 50% diversity. Ongoing projects have shown that the method identifies residues that significantly alter PCPs at a given position, and might thus cause changes in function or immunogenicity. Other potential applications include deriving target proteins for drug design and diagnostic kits.
Keywords
West Nile VirusDengue VirusEnvelope ProteinDengue Hemorrhagic FeverCoxsackie Virus
Background
The most useful information one can glean from aligned sequences of proteins is first, the absolutely conserved residues, which are usually those that maintain the structure of the protein or are vital for function. The pattern, or profile of conserved residues in an alignment of a protein type can be used to identify proteins in the same group, that may have a similar structure [1–4]. In addition, the variance within the sequences, which may occur at specific positions due to random variation (i.e., in RNA viruses, an error prone polymerase), can also indicate a functional change. It is thus important to be able to separate background variation, which, in our approach, is assumed to cause little change in the physicochemical properties (PCPs) at a position, from those that alter these properties sufficiently to lead to a variance in protein function or immunogenicity [5–8].
Very large alignments present intrinsic problems in discriminating residue conservation or patterns of variance, and require special software even to view them. Another problem in dealing with biological datasets, such as the many Flavivirus sequences we have collected within the Flavitrack database [
9
,
10
], is that they often have a pronounced bias due to unequal distribution, which can arise from non-uniform sampling [
11
]. For example, one may have many closely related sequences from one epidemic, where serious infections occurred, but few from the intervening years, when most infections had a less lethal phenotype. Conventional methods for calculating consensus sequences assume an unbiased data set, and typically calculate only the most common amino acid in a column [
12
]. An example of such a consensus (Figure
1A
) shows that while it provides useful information on the degree of conservation of the amino acids in aligned sequences, it cannot suggest a rational choice of amino acid at highly variant positions. Profiling methods [
13
–
15
] based on amino acid scoring matrices can also be used to obtain a consensus sequence, but these are primarily designed to detect distantly related members of a set of proteins.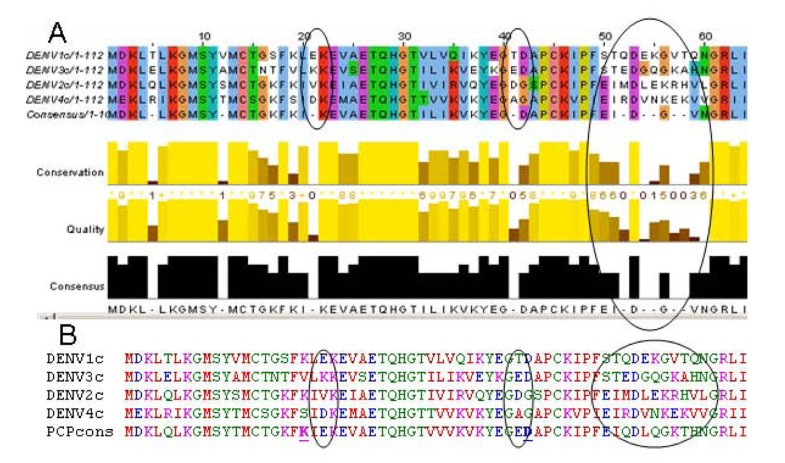 Here we show applications of a general method to calculate physicochemical property (PCP)-consensus sequences. The method is designed to filter noise due to random amino-acid variations within strains or subtypes from more significant variation. We first modeled PCP-consensus sequences for several proteins, and showed that they were stable after minimization with our FANTOM program. We have also produced several PCP-consensus proteins from synthetic gene sequences in E. coli and tested their ability to be recognized enzymatically and immunologically. As discussed below, PCP-consensus sequences have many uses, in sequence classification, epitope comparison, in defining multivalent sequences as immunogens for vaccine use, and for defining targets for multivalent drug design.
Methods
Deriving PCP consensus sequences
Our method assumes that one has a high quality alignment, of any number
N
of sequences with a maximum length L. Choosing an appropriate sequence grouping is a chicken/ egg problem, and will be discussed in more detail below. Multiple sequence alignments were generated with Clustalw 2.0.3[
16
], or MUSCLE [
17
,
18
], for very large alignments, using default parameters. It is best to check such large alignments for inappropriate gapping. Although there are statistical methods to do this [
19
], for the purposes of this early validation work, we have chosen homologous proteins where a representative protein structure is known, and sequence groupings that have more than 50% identity. This allows us to check that any gapping is consistent with secondary structure elements, and conservation of disulfide bonds and salt bridges.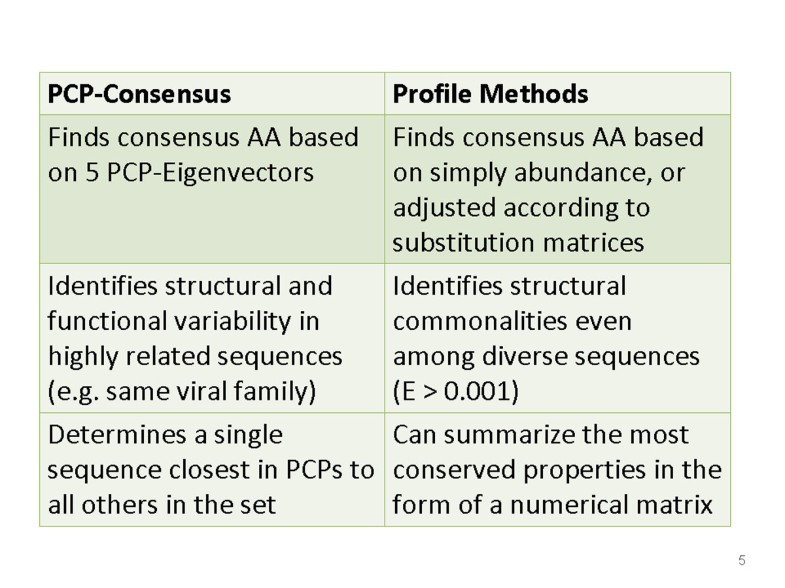 Figure
2
compares the differences in the purpose and method for obtaining a PCP consensus sequence with those of profiling methods. To obtain PCP-consensus sequences, at each position of the multiple alignment, one amino acid is chosen that best approximates the average value of the PCPs. The PCPs of the 20 amino acids are defined by a set of numerical descriptors, 5 Eigenvectors obtained by multidimensional scaling of over 200 unique property measurements [
20
]. Each amino acid can be discriminated from all the others as points in a five dimensional space, where the five dimensions, the first 5 eigenvectors, roughly correspond to hydrophobicity/hydrophilicity (E1); size (E2); alpha-helix propensity (E3); the property E4 is related to the partial specific volume, number of codons and relative abundance of the amino acids; and E5 correlates weakly with beta-strand propensity [
20
]. This 5-dimensional approach to similarity allows one to calculate a true consensus amino acid, i.e., the one closest in its PCPs to all others in the column, even at very variable positions. Given an amino acid alignment, the program selects an amino acid that is closest in the property space to the average values for all the other amino acids at each position. First, the average value of each of the 5 PCP- vectors
p
=E1,..,E5 is determined at each column, effectively turning an alignment of
N
sequences of maximum length L into a 5xL matrix:
where
N
is the number of amino acids in the given column of the alignment; and

, the value for the relevant p eigenvector for the jth amino acid. Then the consensus amino acid (
A
a
) is chosen from those occurring naturally at that position with the least Euclidean distance from the average:
The alignment independent scale factors b p were calculated so that vector values with higher relative entropies at a given column would be more significant, and were calculated as described elsewhere [9].
For very variable positions or highly biased datasets, the amino acids that naturally occur at each position can be used one time, without regard to their rate of occurrence in the column, to calculate the average values of the 5 property vectors. In that case, equation 2 can still be used, and the chosen "consensus" amino acid is simply that closest in its physical properties to all the naturally occurring amino acids. Other possibilities for dealing with bias in the data set, such as selective sequence weighting can also be used [21] to determine the property averaging method. This is an area for further study, as a completely mathematical solution for all situations is probably not possible.
It should be stressed that biological findings can be incorporated at any point in this process, in distinguishing sequences that have specific properties. Bioinformaticians should be aware that sequences grouped according to a biological assay may or may not correlate with distinctive genotypes. For example, the four types of Dengue viruses (DENV1-4), first characterized by Sabin in the early fifties based on immunological reactivity [22], segregate rather cleanly into four distinct genotypes (see below). However, human enteroviruses (HEV), designated Coxsackie virus A or B based on the type of paralysis they caused in newborn mice, did not separate neatly into two distinct sequence groups [23]. While we have relied on the strain designations in the NCBI for Flaviviruses, other useful data that should be part of the functional annotation (such as lethality) is often not specified by those providing the sequences to NCBI.
Models of PCP-consensus sequences were prepared with our MPACK modeling suite [24–27] using the crystal structure of the DENV-2 protein (1OAN.pdb) [28].
Conclusions
Defining PCP-consensus sequences can aid in analysis of large sequence datasets. The calculation method, based on a previously validated 5D-vector scale for the physicochemical properties of the amino acids, is straightforward, once a suitable alignment of related sequences is obtained. Having a rational consensus allows one to distinguish residue variations that significantly alter the properties at a given position. The method is thus suitable for application to many types of bioinformatics data.
The usefulness of the methodology in virology was demonstrated in two practical applications. A multivalent, PCP-consensus DENV vaccine candidate was designed, produced, and shown to bind antibodies against all four types of DENV. Also, a consensus HEV-VPg has similar properties, particularly pKa, conserved in wild type VPgs, and was uridylylated by two different HEV polymerases. This validated method should find application in many practical areas of virology and other areas of biology.
Declarations
Acknowledgements
We thank all coworkers from the UTMB, especially David Beasley for his invaluable assistance with all the DENV work, and Werner Braun for his thoughtful input on handling bias and alternate methods of consensus sequence determination; and the Xerox team of Dr. Reiner Eschbach for microtext versions of alignments.
Funding: The DENV vaccine project was supported in part by grant 1UL1RR029876-01 from the National Center for Research Resources, NIH to the Institute for Translational Studies of the UTMB, (support was to CHS and David Beasley for pilot protocols #763 and #809). Jessica A. Lewis is supported by a pre-doctoral Fellowship from the Sealy Center for Vaccine Development at the UTMB; Dr. Paul work is supported by NIH AI015122 to E. Wimmer. Kay Choi's work is supported by NIH grant 1R01AI087856. Development of the PCP-consensus method was supported in part by NIH grant AI064913 (to Werner Braun and CHS) and EPA-STAR grant RE-83406601-0 (to CHS). D.V.F. and G.J. v.d. H. v. N. are supported by The Netherlands Organization for Scientific Research (NWO). The computational resources of the Sealy Center for Structural Biology and Molecular Biophysics were also used in this project.
This article has been published as part of BMC Bioinformatics Volume 13 Supplement 13, 2012: Selected articles from The 8th Annual Biotechnology and Bioinformatics Symposium (BIOT-2011). The full contents of the supplement are available online at http://www.biomedcentral.com/1471-2105/13/S13/S1
Authors' Affiliations
(1)
Institute for Translational Sciences, Computational Biology, Sealy Center for Structural Biology and Molecular Biophysics, University of Texas Medical Branch, Texas, USA
(2)
Departments of Biochemistry and Molecular Biology, University of Texas Medical Branch, Texas, USA
(3)
Microbiology and Immunology, University of Texas Medical Branch, Texas, USA
(4)
Department of Pathology, University of Texas Medical Branch, Galveston, USA
(5)
Dept. of Molecular Genetics and Microbiology, Stony Brook University, Stony Brook, USA
(6)
Leiden Institute of Chemistry, Leiden University, Leiden, The Netherlands
Copyright
© Schein et al; licensee BioMed Central Ltd. 2012
This article is published under license to BioMed Central Ltd. This is an Open Access article distributed under the terms of the Creative Commons Attribution License (http://creativecommons.org/licenses/by/2.0), which permits unrestricted use, distribution, and reproduction in any medium, provided the original work is properly cited.