MALDI imaging mass spectrometry: statistical data analysis and current computational challenges
BMC Bioinformatics
2012
13(Suppl 16):S11
Published: 5 November 2012
Abstract
Matrix-assisted laser desorption/ionization time-of-flight (MALDI-TOF) imaging mass spectrometry, also called MALDI-imaging, is a label-free bioanalytical technique used for spatially-resolved chemical analysis of a sample. Usually, MALDI-imaging is exploited for analysis of a specially prepared tissue section thaw mounted onto glass slide. A tremendous development of the MALDI-imaging technique has been observed during the last decade. Currently, it is one of the most promising innovative measurement techniques in biochemistry and a powerful and versatile tool for spatially-resolved chemical analysis of diverse sample types ranging from biological and plant tissues to bio and polymer thin films. In this paper, we outline computational methods for analyzing MALDI-imaging data with the emphasis on multivariate statistical methods, discuss their pros and cons, and give recommendations on their application. The methods of unsupervised data mining as well as supervised classification methods for biomarker discovery are elucidated. We also present a high-throughput computational pipeline for interpretation of MALDI-imaging data using spatial segmentation. Finally, we discuss current challenges associated with the statistical analysis of MALDI-imaging data.
Keywords
Imaging Mass SpectrometryLaser Ablation Inductively Couple Plasma Mass SpectrometryScore ImagePeak PickingPeak Alignment
Introduction
In the last decade, matrix-assisted laser desorption/ionization-time of flight (MALDI-TOF) imaging mass spectrometry (IMS), also called MALDI-imaging [1], has seen incredible technological advances in its applications to biological systems [2–7]. While innovative ten years ago, applications to human or animal tissues are now fairly routine with established protocols already in place. New types of samples are continuously being analyzed (e.g. bacterial thin films [3], whole animal body sections [8], plant tissues [5], polymer films [9], and many more) with the main focus on proteomics. Although new IMS techniques are being introduced every year, our recent review [2] shows that MALDI-imaging plays the leading role in the new, rapidly developing field of IMS-based proteomics.
This paper consists of two parts. Firstly, we outline computational methods for MALDI-imaging data analysis with the emphasis on multivariate statistical methods, discuss their pros and cons, and give recommendations on their application. We hope to guide molecular biologists and biochemists through the maze of existing computational and statistical methods. While this paper does not elucidate the basics of existing methodologies, we try to give clear and concise recommendations on when certain methods should be applied. Secondly, we discuss current computational and statistical challenges in analyzing MALDI-imaging data. MALDI-imaging is a relatively new field with only a limited amount of laboratories performing data acquisition, although this number grows rapidly. Presently, this field has a high entry barrier for a computational scientist, since only a few datasets are publicly available. In addition, computational results are normally presented in proteomics or mass spectrometry journals, there fore the computational and statistical challenges are not known in the statistical or bioinformatic communities. We hope that the second part of this paper will attract scientists from these communities to contribute to the fascinating field of computational IMS.
As the field of MALDI-imaging is constantly evolving, novel MALDI-based techniques were recently introduced such as 3D MALDI-imaging [10], MALDI-FTICR- [11] or MALDI-Orbitrap-imaging [12]; however, this paper focuses primarily on conventional MALDI-imaging using a TOF mass analyzer. We do not consider computational methods developed for secondary ion mass spectrometry (SIMS) [13], another leading IMS technique, mainly because SIMS is not used in proteomic analysis with its mass range limited to below 1.0-1.5 kDa. Other emerging IMS techniques such as desorption electrospray ionization (DESI) [14], laser ablation inductively coupled plasma mass spectrometry (LA-ICP-MS) [15], or nanostructure-initiator mass spectrometry (NIMS) [16], are not considered either. In general, all computational methods discussed in this paper can be applied or are already applied (such as PCA in the context of SIMS, see later in the text) to all mentioned IMS techniques. Although we tried to consider only computational methods available in existing software packages, some methods require in-house implementation.
MALDI imaging mass spectrometry
Matrix-assisted laser desorption/ionization-time of-flight imaging mass spectrometry, also called MALDI-imaging, emerged in the late 1990s [
1
,
17
] and has opened new horizons for application of mass spectrometry in biology and medicine [
18
]. Once a sample is prepared for analysis (that involves mounting of tissue section, plant leaf or thin agar layer onto a MALDI target plate followed by matrix application), MALDI-imaging mass spectrometry measures mass spectra at discrete spatial points, providing a so-called datacube or hyperspectral image, with a mass spectrum measured at each pixel; see Figure
1
. A mass spectrum represents the relative abundances of ionizable molecules with various mass-to-charge (
m/z
) values, ranging for MALDI-TOF-IMS from several hundred
m/z
up to a few tens of thousands
m/z
. An
m/z
-value in MALDI mass spectrometry is usually interpreted as the molecular mass, since ions with a charge of +1 prevail. An intensity of a spectrum at an
m/z
-value represents the relative abundance of a compound with this
m/z
-value. Although MALDI is not a quantitative technique, it can to some extent be used for semi-quantitative comparisons based on the relative abundance of molecules within a spectrum or, after normalization of spectra (more on it later), between spectra [
19
].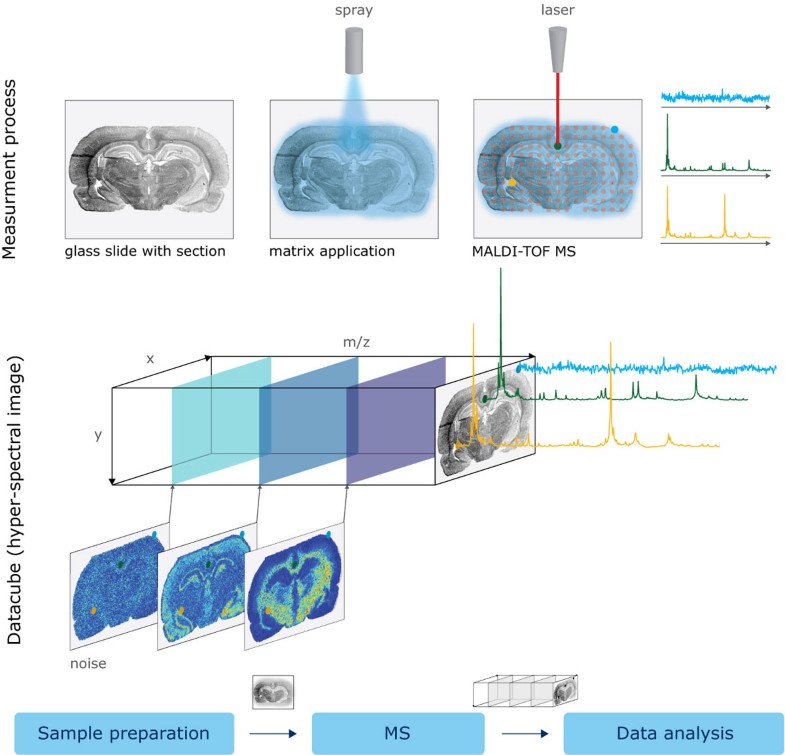 A state of the art MALDI-imaging dataset comprises a huge amount of spectra (usually 5,000-50,000 spectra) with each raw spectrum representing intensities measured at a large number (usually 10,000-100,000) of small m/z-bins and describing up to hundreds of different molecules. For any given m/z-value, the signal intensity at this m/z-value across all collected spectra can be visualized as a pseudo-colored image where each pixel is colored according to its spectrum intensity (sometimes called as a heat map), which we call an m/z-image. Definitely, understanding and interpreting such a multitude of spectra or m/z-images requires computational data mining methods. Although a dataset can be mined manually, this is a tedious work. Moreover, manual mining normally results in a few - sometimes arbitrarily selected - ions of interest, neglecting the major part of information represented in the IMS dataset.
An ultimate aim of processing, both manual and automated, of a MALDI-imaging dataset is to find m/z-values which correspond to ions of interest. These ions may be specific to a spatial region, e.g. be well co-localized with an anatomical region, or express difference between two spatial regions of one sample or between two different samples, e.g. be discriminative for a tumor region as compared with a control region. MALDI-imaging, as a non-targeted and label-free proteomic technique, delivers information about the wide range of molecules present in a sample and is well suited for discovery studies, e.g. for biomarker discovery. Computational methods are of special importance in discovery studies because manual data examination normally results in only a few - sometimes arbitrarily selected - ions. Such incomplete identification can undermine discovery. Once ions of interest are revealed with MALDI-imaging, they can be identified using MS-based proteomics identification methods; for a short review of identification strategies used in combination with MALDI-imaging, see [20].
For a broad review of technological principles and protocols used in IMS and, particularly, in MALDI-imaging, see the recent issue of Methods in Molecular Biology devoted to IMS [21]. Moreover, see recent surveys [2, 22, 23] for a mass spectrometric perspective and [3] for a microbiology perspective.
Computational methods
We have structured this section by grouping computational methods according to the tasks they perform: firstly, pre-processing of spectra, then unsupervised data mining methods which can be used for preliminary data examination, then supervised classification applied e.g. in biomarker discovery. A typical MALDI-imaging study results in a set of ions of interest, which are visualized as m/z-images corresponding to their m/z-values. In the last subsection, we discuss visualization of such images.
Current computational challenges
In this section, we consider current challenges associated with the statistical analysis of MALDI-imaging data. We hope that this discussion will be of interest to bioinformaticians and statisticians fostering computational research in this area.
Available software
The commercially available software for MALDI-imaging delivered by mass spectrometry vendors is aimed at data acquisition and does not provide capabilities for statistical analysis yet. Bruker Daltonik (Bremen, Germany) delivers flexImaging (visualization) and, optionally, ClinProTools (multivariate analysis, PCA, classification) which however can be used for small datasets only. Thermo Scientific (Waltham, MA, USA) provides ImageQuest (visualization). Waters (Manchester, UK) provides HDI Software (visualization) which can be coupled with MassLynx (peak picking) and MarkerLynx (PCA, orthogonal projection least squares), although no publications involving MarkerLynx are known yet. Shimadzu (Nakagyo-ku, Kyoto, Japan) provides Intensity Mapping (visualization, export). In addition to vendor-provided software, Novartis (Basel, Switzerland) provides the BioMap software which can be used for visualization and calculating basic statistics of the full dataset or of regions of interest. AB Sciex (Foster City, CA, USA) provides TissueView which is based on the BioMap software. Currently, in-house developments are necessary and Matlab is probably the most popular development and computing environment in the MALDI-imaging field.
Specific challenges of analyzing MALDI-imaging data
Two general considerations proved to be important in our practice when developing methods for processing MALDI-imaging data. Firstly, a MALDI-imaging dataset is large, that requires computational methods to be runtime and memory efficient. A typical dataset is comprised of 5,000-50,000 spectra, each having 10,000-100,000 intensity values. Datasets generated using upcoming high spatial resolution and high mass resolution MALDI-imaging techniques (e.g. MALDI-FT-ICR-imaging) or using 3D MALDI-imaging are several fold larger. At the same time, the first examination of acquired data is usually done on a workstation attached to the mass spectrometer. Processing single datasets on the same workstation is desirable, that imposes additional constraints regarding memory demands and computational costs. Ideally, the processing time should not exceed the acquisition time which is a few hours for a typical MALDI-imaging dataset. Secondly, MALDI-imaging data suffers from the strong pixel-to-pixel variation which can be significantly suppressed by using methods respecting spatial relations between pixels. As demonstrated by us, performing image denoising prior to clustering [30, 41] or considering each spectrum together with its spatial neighbors [32] leads to smoother and more detailed results. The advantage of respecting spatial relations between spectra was demonstrated for other problems as well [53].
Statistical modelling of pixel-to-pixel variability could help developing processing methods. However, this, as well as modelling of other statistical effects in MALDI-imaging data (noise, baseline generation, variability in the shape of a peak), is a scarcely studied field. Although a physical model of the time of flights distribution for MALDI-TOF mass spectrometry was proposed already in 2005 [27], a little progress is seen since then. The problem of statistical modelling for MALDI-imaging data is addressed only marginally [30]. Successful modelling of this data would provide a way of evaluation of computational methods by using simulated data. Additionally, the statistical modelling can be used for development of computational methods taking into account the statistical models, e.g. model-based classification methods or statistical image processing, as it was illustrated for SIMS data processing [54].
Quality assurance
Quality assurance for MALDI-imaging data is not developed yet. There exist no standard operation procedures for estimating the quality of a full dataset or single spectra. We have recently proposed a visualization method for a quick quality check [2], but there is a lot to be done in this area. Automatic quality evaluation of single spectra of a MALDI-imaging dataset is of special importance, since, due to biochemical complexity of a sample, and various weakly studied effects of matrix allocation and MALDI ionization, some spectra show artificial patterns leading to hotspots and distorting computational analysis. Such artificial spectra could be detected and removed by methods of outliers detection developed specifically for MALDI-imaging.
Noise-tolerant statistical learning
When preparing a training set of spectra in a MALDI-imaging biomarker discovery study, the annotation is normally done by a visual examination of a sample and by a manual annotation of regions representing different classes (e.g. tumor and control). However, due to the rough character of this annotation, and due to inherent chemical complexity on the scale resolved by MALDI-imaging, the annotation can be incorrect for a significant portion of spectra. For instance, some pixels in the region annotated as a control one, can contain tumor cells. In statistical learning, this effect is referred to as classification noise or noise in labels [55]. When classifying spectra of a MALDI-imaging dataset, classification methods tolerating classification noise or, in general, methods with high generalizability should be considered.
Combination with other 2D imaging modalities
Combination of MALDI-imaging and microscopy images of stained tissue used in immunohistochemistry can be used for improvement of MALDI-imaging data analysis. This approach is of special importance because the spatial resolution of MALDI-imaging is lower than of microscopy and the pixel-to-pixel variability is significantly stronger. Implementation of this approach requires special co-registration methods.
Declarations
Acknowledgements
The author thanks Michael Becker (Bruker Daltonik GmbH, Bremen, Germany) for providing the rat brain MALDI-imaging dataset, Jeramie Watrous (University of California San Diego, La Jolla, USA) for his comments on the manuscript, and the anonymous reviewers and the editor for their valuable remarks and suggestions.
This article has been published as part of BMC Bioinformatics Volume 13 Supplement 16, 2012: Statistical mass spectrometry-based proteomics. The full contents of the supplement are available online at http://www.biomedcentral.com/bmcbioinformatics/supplements/13/S16.
Authors' Affiliations
(1)
Center for Industrial Mathematics, University of Bremen, Bremen, Germany
(2)
Steinbeis Innovation Center for Scientific Computing in Life Sciences, Bremen, Germany
(3)
Skaggs School of Pharmacy and Pharmaceutical Sciences, University of California San Diego, La Jolla, USA
Copyright
© Alexandrov; licensee BioMed Central Ltd. 2012
This article is published under license to BioMed Central Ltd. This is an open access article distributed under the terms of the Creative Commons Attribution License (http://creativecommons.org/licenses/by/2.0), which permits unrestricted use, distribution, and reproduction in any medium, provided the original work is properly cited.