Multiple genome comparison based on overlap regions of pairwise local alignments
BMC Bioinformatics
2012
13(Suppl 19):S7
Published: 19 December 2012
Abstract
Background
Mancheron, Uricaru and Rivals (Nucleic Acids Res. 39:e101, 2011) recently introduced a new approach in the context of multiple genome comparison that allows to detect regions of strong overlaps in a set of pairwise local alignments between several reference genomes and one target genome. Such overlap regions are an important source of information in genome annotation.
Results
In this paper we introduce a series of algorithms that improve over the approach of Mancheron et al., both in terms of computational complexity and in practical runtime. We also extend the problem definition such that overlaps to different reference genomes can be rated differently and regions overlapping only a subset of the reference genomes are detected.
Keywords
Reference GenomeTarget GenomeBase IntervalUnweighted CaseModulo Operation
Background
Comparative approaches are an important source of information when it comes to the analysis of newly sequenced genomes. On the level of genes, the use of reciprocal BLAST hits is the most widely accepted approach suitable for tasks like gene annotation and the inference of homologies. However, it is a notoriously slow process, especially when it comes to all-against-all comparisons of several genomes, as commonly used in multiple genome comparisons. The alignment of whole genomes is known to be a computationally hard problem [1]. Heuristic approaches such as Shuffle-LAGAN [2] or MAUVE [3] involve a combination of chaining local alignments and inferring the history of large-scale genome rearrangement processes, which is an NP-hard problem of its own [1].
Recently, Mancheron et al. [4] pointed out that for many goals in multiple genome comparison, such as gene annotation, whole genome-based approaches as well as all-against-all BLAST comparisons are too involved. Instead they suggest to identify regions of strong overlaps in a set of pairwise local alignments between one target genome and any number of reference genomes. A strong overlap is a region that maps to at least one segment in every reference genome. If it is not contained in a bigger region that fulfills the same property, it is called a maximum common interval (MCI). In the same paper, Mancheron et al. present an algorithm to compute all MCIs for k genomes and a total number of n mappings in O(n log k) time and O(n) space. Note that the term "common interval" has been used previously in a different context, in order to describe a set of genes that occur as a consecutive block in two or more genomes [5, 6]. To avoid confusion of the two concepts, we use the term maximum overlapping interval (MOI) in this paper when referring to the concept of maximum common interval by Mancheron et al.
In this paper, we re-visit the above problem and introduce three new algorithms that improve the asymptotic time complexity as well as the practical performance over the approach of Mancheron et al. [4]. At first we present an algorithm that requires O(n) time and space. Then we show two variations of this basic algorithm: While the first modification reduces memory consumption but keeps the O(n) running time, the second one gives up on linear worst case runtime, but seems to have linear average runtime and is very fast in practice. We also introduce a generalization of the MOI problem, which includes the case where an MOI may map to only q out of k reference genomes. We show how the first two of our algorithms can be adapted to this variant.
Results and discussion
To analyze the practical run times of our algorithms, we implemented them in C++ and compared them to the original implementation of the approach by Mancheron et al. [4] which is part of the QOD-1.0.0 software package and available under the CeCILL software license.
All benchmarks were performed using an Intel(R) Core(TM)2 Duo CPU T8100 @ 2.10GHz processor with 4GB RAM running Linux 3.3.4. We used the gcc version 4.7 with compiler flags -Ofast and -march = nativeset. If no other values are given, the length of the target genome is 10 Mb and the length of the base intervals is normally distributed around a mean of μ = 2 Kb with a standard deviation of σ = 0.5μ. A total of 5 million intervals are distributed randomly into 200 collections. In order to compare the weighted and unweighted algorithms we set all weights to 1 and the threshold minWeight to k. Please note that the time for sorting the input is not included in any of the reported timings. In any case, sorting the input will virtually take the same time for all algorithms, even though QOD sorts every collection separately, while we sort all base intervals in a single list.
We ran several tests in order to evaluate the performance of the algorithms for various parameter settings. The results are shown in Figure
4
. In all tests our algorithms outperformed the algorithm used by QOD, and TestMOI is the fastest of all.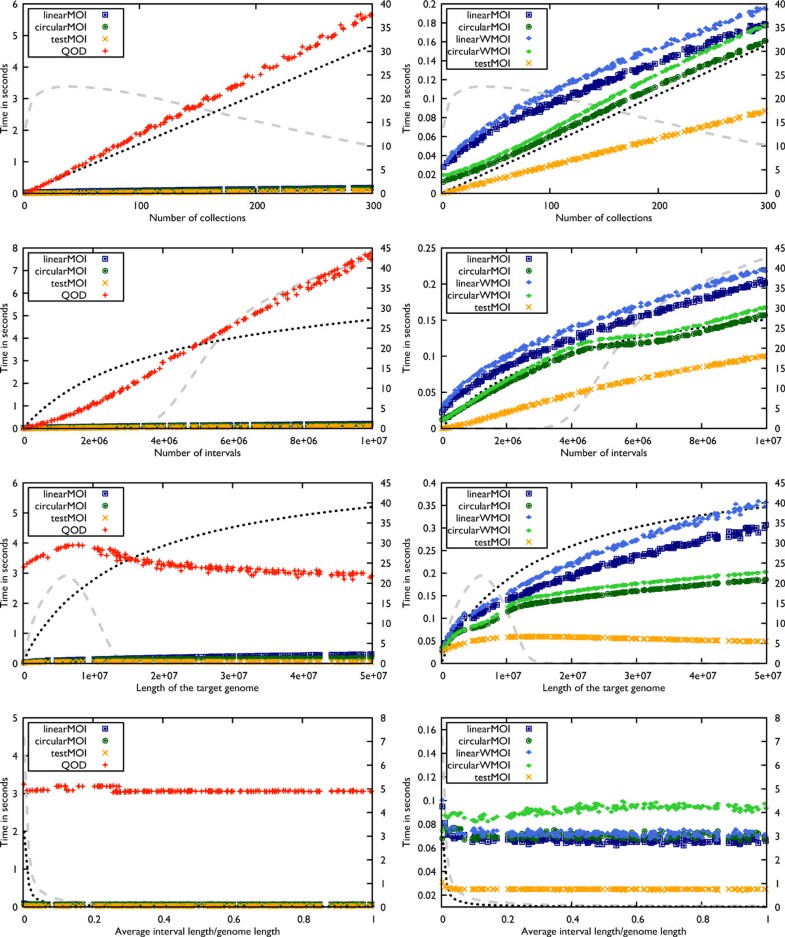 Conclusions
In this paper we studied an algorithmic problem that was recently introduced by Mancheron et al. [4] in the context of multiple genome comparison. The goal is to find regions of strong overlaps in a set of pairwise local similarities between several reference genomes and one target genome.
We have presented efficient algorithms to solve this problem, two of which have asymptotically optimal, linear runtime. The third one excelled in terms of practical performance. All three algorithms were shown to outperform the approach introduced by Mancheron et al. [4]. We have also generalized the problem such that segments in overlap regions can be scored differently based on the reference genome they originate from. We have shown how this problem can still be solved in linear time.
For further work it may be interesting to assign individual weights to the base intervals. However we would then have to consider also intervals that are nested into other intervals of lower weight and therefore lose the strict-linear ordering for processing the intervals. Hence, we can not expect that the algorithms we presented here will be easily adaptable to this problem and still run in linear time.
Declarations
Acknowledgements
Part of this work was funded by a postdoctoral fellowship of the German Academic Exchange Service (DAAD).
This article has been published as part of BMC Bioinformatics Volume 13 Supplement 19, 2012: Proceedings of the Tenth Annual Research in Computational Molecular Biology (RECOMB) Satellite Workshop on Comparative Genomics. The full contents of the supplement are available online at http://www.biomedcentral.com/bmcbioinformatics/supplements/13/S19
Authors' Affiliations
(1)
Department of Mathematics and Statistics, University of Ottawa, Canada
(2)
Technische Fakultät, Universität Bielefeld, Germany
Copyright
© Jahn et al.; licensee BioMed Central Ltd. 2012
This article is published under license to BioMed Central Ltd. This is an open access article distributed under the terms of the Creative Commons Attribution License (http://creativecommons.org/licenses/by/2.0), which permits unrestricted use, distribution, and reproduction in any medium, provided the original work is properly cited.