BEAT: Bioinformatics Exon Array Tool to store, analyze and visualize Affymetrix GeneChip Human Exon Array data from disease experiments
BMC Bioinformatics
2012
13(Suppl 4):S21
Abstract
Background
It is known from recent studies that more than 90% of human multi-exon genes are subject to Alternative Splicing (AS), a key molecular mechanism in which multiple transcripts may be generated from a single gene. It is widely recognized that a breakdown in AS mechanisms plays an important role in cellular differentiation and pathologies. Polymerase Chain Reactions, microarrays and sequencing technologies have been applied to the study of transcript diversity arising from alternative expression. Last generation Affymetrix GeneChip Human Exon 1.0 ST Arrays offer a more detailed view of the gene expression profile providing information on the AS patterns. The exon array technology, with more than five million data points, can detect approximately one million exons, and it allows performing analyses at both gene and exon level. In this paper we describe BEAT, an integrated user-friendly bioinformatics framework to store, analyze and visualize exon arrays datasets. It combines a data warehouse approach with some rigorous statistical methods for assessing the AS of genes involved in diseases. Meta statistics are proposed as a novel approach to explore the analysis results. BEAT is available at http://beat.ba.itb.cnr.it.
Results
BEAT is a web tool which allows uploading and analyzing exon array datasets using standard statistical methods and an easy-to-use graphical web front-end. BEAT has been tested on a dataset with 173 samples and tuned using new datasets of exon array experiments from 28 colorectal cancer and 26 renal cell cancer samples produced at the Medical Genetics Unit of IRCCS Casa Sollievo della Sofferenza.
To highlight all possible AS events, alternative names, accession Ids, Gene Ontology terms and biochemical pathways annotations are integrated with exon and gene level expression plots. The user can customize the results choosing custom thresholds for the statistical parameters and exploiting the available clinical data of the samples for a multivariate AS analysis.
Conclusions
Despite exon array chips being widely used for transcriptomics studies, there is a lack of analysis tools offering advanced statistical features and requiring no programming knowledge. BEAT provides a user-friendly platform for a comprehensive study of AS events in human diseases, displaying the analysis results with easily interpretable and interactive tables and graphics.
Keywords
Alternative SpliceData WarehouseMeta StatisticExon ArrayExon Expression
Background
In biological complexity generation, the AS mechanism is a major contributor to the diversity of proteome [1, 2]. Although it has long been presumed that only 5% of human genes was alternatively spliced, more recent estimates - based on experimental evidence and computational approaches using ESTs mapped onto mRNA sequences - showed a much higher rate of the phenomenon in human genes: the actual percentage of genes that exhibit AS events has grown up to 95% [3–8]. The AS mechanism is usually categorized into five basic modes: exon skipping of cassette exons, mutually exclusive exons, alternative donor site, alternative acceptor site, and intron retention. Exon skipping of cassette exons is the most common mode in mammalian pre-mRNAs, and it occurs when an exon is spliced out of the primary transcript or retained. In some cases, multiple cassette exons are mutually exclusive, producing mRNA that always includes only one of several exon choices. Defects in the AS mechanism have been involved in many diseases [9–11]. Exon array technology is a new type of microarray offering a more fine-grained chip to support global inference about gene expression at the level of individual isoforms and exons. It allows a more comprehensive analysis of the transcriptome, as well as the study of Alternative Splicing. One of the first uses of the Affymetrix GeneChip Human Exon 1.0 ST array [12] was the study of the aberrant splice variants involved in the initiation and/or progression of glial brain tumor [13]. Numerous studies followed, including amyotrophic lateral sclerosis and multifocal motor neuropathy [14], cystic fibrosis and several human cancers [15, 16].
Exon arrays are one of the first available chips to survey both gene expression and AS patterns on the whole-genome scale on a single array. One exon array is a chip containing about 5.4 million probes grouped in 1.4 million probesets, each one designed to map at most a single exon. Probesets are grouped into transcript clusters that are portions of the genome roughly corresponding to genes.
The output of an Affymetrix Exon Array is a binary CEL file containing probe level intensities from a single array. Affymetrix offers a toolbox essential for CEL files analysis, the Affymetrix Power Tools (APT) [17], and a set of library files with information useful for the preprocessing of raw data and the annotation of probesets and transcript clusters. Using APT, we extract numerical expression intensities for each probeset (called "exon level" expression), a summarization of transcript cluster expression intensity computed from its probesets ("gene level" expression), a quality assessment of each probeset value (DABG: Detection Above BackGround [18]) and a statistical value for the AS detection (MiDAS: Microarray Detection of Alternative Splicing [19]). For the analysis of AS events in the comparison between normal and pathological tissues, Affymetrix suggests as a standard analysis his MiDAS and classical t-test statistics. The evaluation of the AS trend is computed by the Splicing Index, a ratio between normal and pathological exon expression, each of them normalized on the overall gene level expression.
Other statistical algorithms, such as MADS [20] and FIRMA [21], have also been proposed. These methods focus their analysis on statistical computations, providing the users with command-line applications and requiring prior knowledge of statistical programming languages like R. AltAnalyze [22], easyExon [23] and Exon Array Analyzer [24] are the most recent tools for exon array analysis. AltAnalyze, when installed with DomainGraph plug-in of CytoScape, is a complex software workflow for the statistical and visual analysis of exon expression data, and it requires a minimum of 1 GB of RAM and from 1 up to 3 GB free hard-drive space for species gene databases, Affymetrix libraries and annotation files. Another stand-alone software is the java-based easyExon, which offers fewer facilities, as it provides expression statistics results with only a few biological annotations such as gene and GO annotations for probesets. Exon Array Analyzer is a web tool that allows the user to upload his CEL files and shows tabular exon and gene level expression results, together with MiDAS and FIRMA output.
The heaviest drawback of stand-alone software packages for exon array analysis is the huge requirement in RAM and hard disk space. They ensure privacy of data but they need an expensive setup and advanced programming skills for a flexible analysis. The available web tools, for their part, are not very complete as they lack in advanced analysis instruments. The most important limit of all the existing tools providing a graphical interface is forcing the user to input also some analysis parameters such as p-value thresholds and AS extraction algorithm option during the upload of CEL files. It means that the user must choose his analysis parameters even when he does not know how they will influence the results, and even if he wants to change just one parameter, he must restart the entire analysis process.
The aim of BEAT, the platform we describe in this paper, is to provide the scientific community with a user-friendly platform to analyze exon array datasets with rigorous statistical methods and an easy-to-use graphical user front-end. BEAT has been developed as a web tool because we think that the Internet is the most important means for spreading research results, using only a browser and the Internet connection (today even on mobile phones). At the same time we put attention on the security and privacy of data and result transfer. BEAT simplifies the exon array analysis workflow asking no preliminary parameters and displaying the results by interactive plots and tables. Furthermore, it introduces some new instruments to obtain very useful and easily interpretable results for each case study, such as the novel use of meta statistics and the possibility to exploit other clinical information about the patients for a multivariate analysis of exon expression intensities.
Results
BEAT has been tested on two new datasets of exon array experiments coming from colorectal cancer and renal cell cancer experiments, produced at Medical Genetics Unit of IRCCS Casa Sollievo della Sofferenza. The Colorectal cancer dataset is composed by pairs of normal and tumor colon specimens from 14 colorectal cancer (CRC) patients undergoing curative resection at the IRCCS Casa Sollievo della Sofferenza. None of the patients suffered from hereditary CRC or had received preoperative chemo-radiotherapy. The renal cell cancer dataset is composed by pairs of normal and tumor renal specimens from 13 renal cell carcinoma (RCC) patients.
All patients gave their informed consent to take part in this study. The study was approved by the Hospital Ethics Committee.
Both the datasets were profiled by the Affymetrix Human Exon 1.0 ST Array (5.4 mln probes; 1.4 mln probesets) and anonymous information about gender, age and cancer grading were collected from the medical records of the patients.
In order to test the performances of the platform, we have also uploaded a third case study containing 173 CEL files from colorectal cancer samples. This is a public dataset and it has been downloaded from ArrayExpress (E-GEOD-24551).
The three case studies have been imported in BEAT and their analysis results are publicly accessible and allow the user to explore all the features of the platform.
Figure
6
shows the results on a gene known to be correlated to CRC, the solute carrier family 39 (zinc transporter) member 14,
SLC39A14
[
49
]. Probeset expression plots reveal some evident AS events. In particular, we can see an over-expression of probeset 5 (corresponding to the fourth exon) and an under-expression of probesets 6 and 7 (the fifth exon). This phenomenon represents the well-established case of mutually exclusive exons for CRC tissues, and it is supported by opposite peaks in Splicing Index and small p-values results. Moreover, the AS event is also supported by the alternative transcripts in which the fourth and fifth exon never co-occur.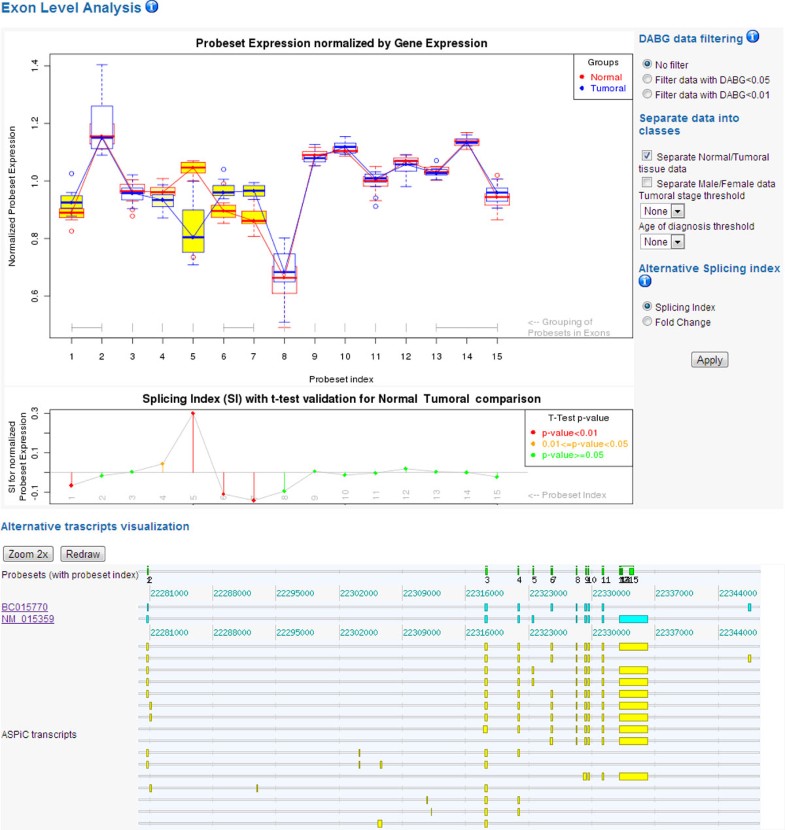 Using the dropdown menu on the top right of the page, the user can easily switch between all his "public" or "private" case studies to monitor the different behavior of a selected gene.
Discussion
Since the very first requirement analysis designed with biologists and clinicians, it emerged that the main features of the tool would have been ease of use and rapid access to interpretable statistical analysis results.
We have kept in mind these requirements developing a web application (paying attention to private data management) in which the user could perform each process of his study through few steps. In the case study loading procedure, for example, the user has only to upload his CEL file and the available clinical information, while all the other existent exon array tools ask for some analysis parameters immediately after CEL file selection. For instance, during the CEL file uploading in Exon Array Analyzer (another existing web tool for exon arrays), the user must define three sets of initial parameters: at first he has to map each CEL to non intersecting groups, then he has to define comparisons between coupled groups, and at least he must choose some threshold for the analysis algorithms. Then the analysis flow starts and the initial parameters can be changed only restarting the entire uploading procedure. Our analysis flow does not require initial parameters because it is designed to include all the statistical examinations. Threshold values can be chosen from the user when visualizing the final interactive plots, in order to see how the results change when varying the thresholds without reiterating all the analysis workflow.
A quick access to all the data is enabled by the data warehouse architecture underlying the tool. It integrates pre-calculation steps exploiting the use of data marts and fact tables. A comprehensive search page is provided to help the user retrieving the most important analysis results. All the other tools working with exon array lack in this feature; EAA, for instance, allows the user to search through the data only by gene symbol and by platform dependent identifiers defined by Affymetrix.
Finally, the architecture of BEAT has been conceived to manage scalability of data and analysis tools. Data scalability is guaranteed by the architecture of the data warehouse, in which each case study is stored in independent data marts and the system performances are not influenced by the growth in size of the data warehouse.
At the same time, the analysis workflow design allows an easy inclusion of new statistical tools that could became standard in exon array experiments.
Conclusions
With the progress of massive production of biological data, the bioinformatics community has to deal with a growing need of easy-to-use applications for managing a huge number of data.
BEAT provides a user-friendly application for a comprehensive study of Affymetrix Exon array data about human diseases. It offers useful analysis tools requiring no programming knowledge, and it shows the results with easily interpretable and interactive tables and graphics. The analysis workflow provides rigorous statistical methods performed on exon array data, and the results are stored in a data warehouse to ensure the optimization of the data retrieval process. The introduction of meta statistics offers a novel means of exploring results through a set of metrics that summarize gene and exon level expression statistics. AS events can be studied by comparing normal to pathological tissues and by performing a multivariate analysis on available medical record information, allowing biologists and clinicians to investigate changes in splicing patterns from a wider point of view.
The architecture chosen for the development of BEAT allows the improving of the platform with additional features and with a minimum programming effort. Some future developments are: integrating new statistical methods for AS analysis (like FIRMA); improving gene level analysis, in order to allow comparisons between exon arrays and microarrays results; extending the analyses to other exon array platforms and organisms.
Availability and requirements
BEAT is a web platform and it is freely accessible at http://beat.ba.itb.cnr.it.
The application has been tested with the latest versions of the following Internet browsers: Firefox 7, Chrome 14, Internet Explorer 9, Safari 5, Opera 11.
List of abbreviations used
APT:

Affymetrix Power Tools
AS:

Alternative Splicing
BEAT:

Bioinformatics Exon Array Tool
CEL:

Affymetrix Exon Array output file extension
CRC:

colorectal cancer
DB:

Data Base
DM:

Data Mart
DW:

Data Warehouse
ETL:

Extraction, Transformation, Loading
R:

is a language and environment for statistical computing and graphics
RCC:

renal cell carcinoma
RMA:

Robust Multi-chip Analysis.
Declarations
Acknowledgements
This work was supported by grants from Progetto Strategico Regionale PS_012 delibera G.R. n.1171/05 and MIUR MBLAB DM19410. We would like to thank Ernesto Picardi for his helpful comments and discussions about exon array statistical analysis, Nicola Losito for helping us with servers and data base management, Raffaella Stallone for her contribution in exon array experiment, Anna Panza for CRC sample collection, Cristina Consiglio and Maria Silvestri for proofreading the paper.
This article has been published as part of BMC Bioinformatics Volume 13 Supplement 4, 2012: Italian Society of Bioinformatics (BITS): Annual Meeting 2011. The full contents of the supplement are available online at http://www.biomedcentral.com/1471-2105/13/S4.
Authors' Affiliations
(1)
Institute for Biomedical Technologies of Bari - ITB, National Research Council, Bari, Italy
(2)
Medical Genetics Unit, Casa Sollievo della Sofferenza IRCCS, San Giovanni Rotondo Foggia, Italy
(3)
Institute of Intelligent Systems for Automation - ISSIA, National Research Council, Bari, Italy
(4)
Department and Laboratory of Gastroenterology Unit, Casa Sollievo della Sofferenza IRCCS, San Giovanni Rotondo Foggia, Italy
(5)
Department of Biomedical Science, University of Foggia, Foggia, Italy
Copyright
© Consiglio et al.; licensee BioMed Central Ltd. 2012
This article is published under license to BioMed Central Ltd. This is an open access article distributed under the terms of the Creative Commons Attribution License (http://creativecommons.org/licenses/by/2.0), which permits unrestricted use, distribution, and reproduction in any medium, provided the original work is properly cited.