Research article

Open Access
Quantifying variances in comparative RNA secondary structure prediction
BMC Bioinformatics
2013
14:149
Received: 30 November 2012
Accepted: 21 March 2013
Published: 1 May 2013
Abstract
Background
With the advancement of next-generation sequencing and transcriptomics technologies, regulatory effects involving RNA, in particular RNA structural changes are being detected. These results often rely on RNA secondary structure predictions. However, current approaches to RNA secondary structure modelling produce predictions with a high variance in predictive accuracy, and we have little quantifiable knowledge about the reasons for these variances.
Results
In this paper we explore a number of factors which can contribute to poor RNA secondary structure prediction quality. We establish a quantified relationship between alignment quality and loss of accuracy. Furthermore, we define two new measures to quantify uncertainty in alignment-based structure predictions. One of the measures improves on the "reliability score" reported by PPfold, and considers alignment uncertainty as well as base-pair probabilities. The other measure considers the information entropy for SCFGs over a space of input alignments.
Conclusions
Our predictive accuracy improves on the PPfold reliability score. We can successfully characterize many of the underlying reasons for and variances in poor prediction. However, there is still variability unaccounted for, which we therefore suggest comes from the RNA secondary structure predictive model itself.
Keywords
Markov Chain Monte CarloStructure PredictionInformation EntropyAlignment QualityReference Alignment
Background
RNA secondary structure prediction is still an important problem in computational biology. With the advent of next generation sequencing and RNA-seq technologies, many RNA structural changes are being found to play important roles in regulating gene expression [1, 2]. Gene regulation studies can now be done on a genome-wide scale. In some cases RNA secondary structures can be experimentally determined on a genome-wide level [3], but these methods require RNA isolation and many not preserve in vivo structures. RNA secondary structure prediction programs are still often used to predict structures across the genome [4]. The predicted secondary structures, and predicted structural changes, are being used to find relationships and suggest mechanisms in gene regulatory networks.
Some methods for RNA secondary structure prediction only consider a single sequence as input. However, prediction quality can be improved by using multiple sequences, assuming that RNA secondary structure is conserved through evolution. Even without a complex evolutionary model, these additional structural constraints provide valuable information on folding. Comparative methods for RNA secondary structure prediction are based on this observation, and use evolutionary information from multiple alignments to improve prediction quality.
Methods for RNA secondary structure prediction generally fall into two categories. Thermodynamic models make use of free-energy functions, which take experimentally determined energy parameters for individual structural elements. Dynamic programming is then used to find the secondary structure with the minimum free energy, which is reported as the predicted structure. This has been successfully implemented in programs such as RNAfold [5] and UNAfold [6]. Thermodynamic methods typically deal with the single-sequence prediction problem, but extensions such as RNAalifold [7] and PETfold [8] allow for comparative prediction.
Stochastic context-free grammars (SCFGs), on the other hand, define a probability distribution over the space of RNA secondary structures. Posterior decoding techniques are typically used to determine, for example, the maximum expected accuracy structure [9]. SCFGs have been used for the single-sequence prediction problem [10], but their advantage comes through coupling with a molecular evolution model. The first comparative SCFG-based approach was developed in Pfold [11, 12], where alignment column probabilities were determined through single and paired column evolution models, calculated via the Felsenstein pruning algorithm [13]. For a more complete review on RNA secondary structure prediction, see [14].
In genome-wide predictions of RNA secondary structure, the accuracy of the secondary structure pre-diction program is rarely factored into analysis. Typically only the mean accuracy is reported in RNA secondary structure prediction benchmarks [
14
], with the variance in the accuracy given little thought. Variance in accuracy is particularly problematic in the case of single-sequence prediction. Figure
1
shows the cumulative density function of predictive accuracy for two single-sequence applications of RNA secondary structure prediction, RNAfold and PPfold (a recent implementation of Pfold, [
15
]), on 443 sequences taken from the RNASTRAND database [
16
]. Additionally, a uniform (0,1) cumulative density function is shown for comparison. The figure illustrates that for sequences in this data set, the predictive accuracy of RNAfold and PPfold is not very much different from a random number between 0 and 1. When genome-wide RNA secondary structure prediction is done on a large number of single sequences, many predictions will be poor ones.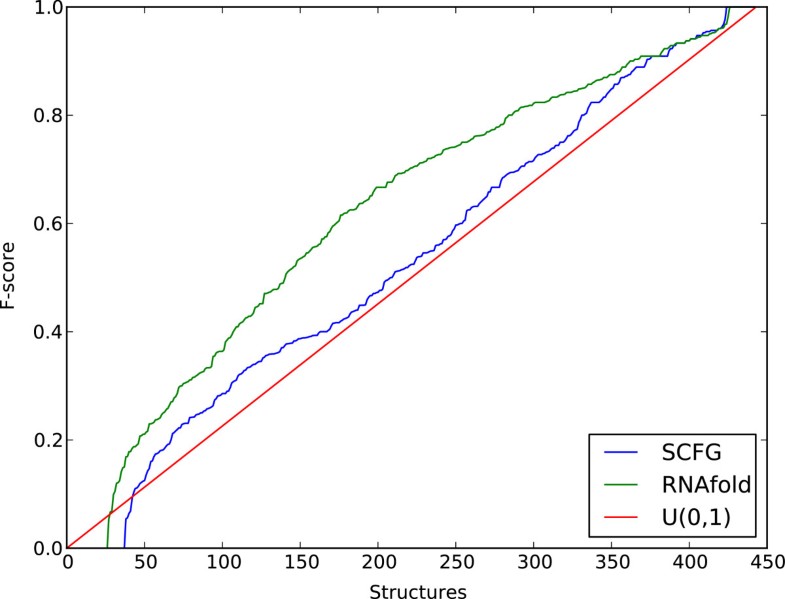 Consequently, it is important to understand more about the variability of RNA secondary structure prediction programs. In comparative prediction, there are many sources of variability: alignment quality, the number of sequences chosen and which alignment samples have been taken, the evolutionary relationships between sequences, as well as the ill-conditioned nature of the folding model itself. Understanding and quantifying these variances is key for biological applications that rely on these folding programs. Additionally, other bioinformatics software that utilize these folding programs- for example inverse RNA folding algorithms [17]- may often experience a fundamental limitation in performance due to variance in structure prediction quality.
Sequence alignment is a fundamental step in most comparative sequence analysis pipelines. The typical approach is to create a single, trusted multiple alignment of the sequences using methods based on an artificial scoring scheme and heuristics to find a highly scoring alignment [18, 19]. Although this methodology is successful when the alignment is well resolved, it has been shown in the context of downstream analyses that the end result can be highly sensitive to the choice of alignment [20-22]. RNA secondary structure prediction methods take a variety of approaches with respect to possible errors in RNA alignments. Some methods (e.g. [23]) invoke a fold-and-align approach directly, where alignment is done simultaneously with structure prediction. Pfold, instead, takes a fixed alignment as input, but allocates a nite probability to a nucleotide being any other nucleotide; this makes the model more robust to poor alignment quality. Most modern methods (e.g. [24]) still consider prediction from a single, fixed, alignment. Recently, alignment-free methods have also been proposed [25]. However, even after considering poor alignment quality, there are many additional variances associated with poor comparative RNA secondary structure prediction.
Sequence selection is another important variable. Alignment methods may produce poor alignments due to poor individual sequences, which will in turn produce poor structure predictions. There have been methods developed to select homologous sequences, particularly [26], which is based on evolutionary models and structural constraints. This is implemented in [27], which shows strong results in RNA secondary structure prediction can be found by selecting useful sequences.
In this paper we consider the problem of variances in comparative RNA secondary structure prediction. We present statistical analyses of different variances including the relationship between structure prediction quality and chosen alignment distance from the reference alignment, and a predictive algorithm for accuracy is provided. Factors like the number of sequences in the alignment and the evolutionary distance of the sequences are considered. Finally, a novel method is presented which extends information entropy for stochastic context-free grammars [28] to consider variation over alignments.
Statistical alignment
Statistical alignment [29] provides a solution to many of the issues encountered with the traditional approach of sequence alignment. It models sequence evolution as a stochastic process involving sequence insertions, deletions and character substitutions, which defines a probability distribution over the alignments of the sequences. Using techniques such as Expectation Maximisation or Markov Chain Monte Carlo (MCMC), it is possible to either maximize the likelihood of the alignment, or generate a representative set of putative alignments by sampling from the alignment distribution.
Several statistical alignment implementations have emerged in past years [30-33], some of which allow co-sampling other entities such as the evolutionary tree or the locations of cis-regulatory motifs. Such methods can highlight homoplasy and alignment uncertainty with high accuracy or can be used to decrease alignment uncertainty effects in downstream analyses, for instance protein secondary structure prediction [34].
StatAlign is a statistical alignment software package [32] that allows joint Bayesian analysis of multiple alignments, phylogenetic trees and evolutionary parameters. The background model for insertions and deletions is a modified version of the TKF92 model [35] as described in [34]. The indel model can be coupled with an arbitrary substitution model (many of which are distributed with the software, both for protein and nucleotide sequence data). The Bayesian analysis is based on MCMC, the transition kernels are improved versions of those in [34]. StatAlign generates random samples from the joint posterior distribution of sequence alignments, evolutionary trees and model parameters. This high-dimensional joint distribution can be analysed in several ways, ranging from the simple statistics of marginalised single dimensions (e.g. the posterior distribution of a single rate parameter) to the application of other tools to the alignment samples.
Alignment and RNA secondary structure accuracy metrics
To analyse variances of RNA secondary structure as alignment quality varies, we calculate a similarity score that measures how close a sample alignment is to the reference alignment. We use an alignment metric, taken from [36], which is generalised to an alignment method in [37].
Let be an alignment of a sequence
s
1
of length
n
to a sequence
s
2
of length
m
. Each column of can be expressed as pairs of the form , , and . We define
sets which represent 'homology', 'insertion' and 'deletion' respectively. Given these sets, we define the distance between two alignments and of two sequences s
1
and s
2
to be
For example, consider the case Then we have as there are no deletions, and as there are no insertions. This gives the distance between the alignments as zero, as would be expected.
Equation 1 can be generalised to sequence alignments with more than two sequences. Assuming now that
a
k
and are alignments of
m
sequences
s
1
, …, 
s
m
of lengths
n
1
, …, 
n
m
, we have
that is, summing all the pairwise alignment distances from Equation
1
. This alignment metric if is then normalized and subtracted from 1 to produce a similarity score
The denominator of the fraction, , is the normalizing constant, the maximum that the alignment distance can be. The similarity score is bounded by 0 and 1, with 1 indicating that the sample alignment is identical to the reference alignment.
RNA secondary structure metrics
There are a wealth of available metrics on RNA secondary structure [
14
,
38
]. Here we use sensitivity, positive predictive value (PPV), and F-score (the harmonic mean of sensitivity and PPV). Defining true positives (TP) as the number of base-pairs correctly predicted, false positives (FP) as the number of true base-pairs not predicted, and false negatives (FN) as the number of base-pairs predicted which are incorrect, we have
The strength of these RNA secondary structure accuracy metrics is that they are easy to interpret, and make it straightforward to compare methods across different datasets. An F-score of 1 would represent a structure prediction that was completely correct and an F-score of 0 a structure prediction that only predicted incorrect base-pairs.
Information entropy
As we later develop calculations for information entropy for a set of alignments, here we outline the computation of information entropy for a single alignment. The information entropy
H
of a probability distribution P with a set of events is defined as:
Information entropy is a measure for the "spread" of the probability distribution, and has well-defined lower and upper bounds. The minimum entropy of 0 occurs when there is only one outcome with probability 1, and the maximum entropy of log2 (n) occurs when there are n possible outcomes, each with probability 1/n, that is the uniform distribution. When the base of the logarithm is 2, the entropy is measured in bits. For a probability distribution, an entropy of k bits indicates that the expected value of the information content of observing a single outcome is k bits. In the context of secondary structure prediction, a low entropy therefore indicates that few secondary structures dominate the probability space, whereas a high entropy indicates a more even probability distribution over possible secondary structures. Thus, information entropy is a useful single quantity to characterize the underlying probability distribution of secondary structures.
The information entropy of the probability distribution over the possible secondary structures generated by a phylo-SCFG can be obtained using expected rule frequencies, which can be computed using the inside-outside algorithm [28]. This is outlined here.
Let the set of all derivations for the input alignment be Φ. Since the probability of a derivation
d
can be written as the product of the SCFG production rule probabilities and the phylogenetic probabilities, we can write the total probability
T
of the grammar producing the input string as
where P
G
[
d
] denotes the prior probabilities obtained from the SCFG part of the model, and P
T
[
d
] are the likelihood factors obtained from the phylogenetic model. Conditioning on producing the input string, the normalized probability of a derivation
d
is . Consequently, we have that the information entropy of the input alignment under the phylo-SCFG model is
which can be written using Equation
5
as
that is, separating out the SCFG contribution and the phylogenetic contribution. To calculate the entropy in practice, firstly we use a simplified form of the SCFG contribution. For a SCFG with set of production rules
R
, we can write the SCFG contribution in terms of the expected production rule frequency,
Secondly, we can simplify the phylogenetic contribution. Let
r
a
∈
R
be a SCFG rule which produces base pairs, and
r
b
∈
R
a SCFG rule which produces unpaired bases. Define 1
d
(
i
,
j
), the indicator function for whether the column pair (
i
,
j
) is emitted from a rule
r
a
(i.e. position
i
and
j
form a pair), and 1
s
(
i
), the indicator function for whether column
i
is emitted from a rule
r
b
(i.e. position
i
is unpaired). Finally, define
f
d
(
r
a
) as the frequency that rule
r
a
is used in derivation
d
. Then
As is the total probability under the model that positions i and j are emitted from a rule r a , and is just the total probability under the model that position i is emitted from a rule r b , the quantity can be computed using the expected rule frequencies obtained through the inside-outside algorithm [39].
Methods
Data
StatAlign Dataset
To test factors relating to alignment quality and secondary structure prediction quality, a large number of alignment samples from trusted reference alignments with known secondary structures are needed. We have created a curated RNA dataset based on the Rfam database [40] for the purposes of evaluating the framework. Alignments of homologous RNA sequences with known consensus secondary structure were extracted from Rfam seed alignments. From these, 50 RNA families with at least 50 sequences were randomly selected (see Additional file 1) in the section "StatAlign Dataset". From each family, in a pre-filtering step we removed divergent sequences with long indels, as follows. We defined insertion as consecutive non-gap characters of a sequence in the reference alignment which appear in columns where over 80% of the sequences have gaps. Deletions were defined analogously. Columns with fraction of gaps between 20% and 80% were regarded ambiguous and ignored. To over-penalize long indels, we applied the super linear score function l × log2 (l + 1) for indels of length l, indels being defined as above. Then, a sequence was removed from a family if its total indel score was beyond 20 and the difference between its indel score and the mean indel score in the family was beyond 3.7 times the standard deviation of the indel scores in family, i.e. if the sequence had significantly more and/or longer indels than what is representative of the rest of the family. Then, 50 sequences were selected at random, and further random selection was done to get pairs, triplets etc. up to 15 sequences in alignments. From these samples of known reference alignment, we could produce many different alignment samples using StatAlign [32]. For each RNA alignment, 200 alignment samples were taken, and the reference alignments were also kept to for comparison. We refer to this dataset throughout as the StatAlign dataset.
Random alignment data
We also wanted to measure the effect of alignment accuracy on secondary structure independently of alignment method. Therefore we created a dataset based on the RNA families of the StatAlign dataset, where alignments were sampled uniformly at various fixed distances from the reference alignment. Using the alignment distance measure in Eq.
2
, we created a Metropolis-coupled MCMC framework that runs several parallel MCMC chains to take alignment samples from the target distribution
where a r is the reference alignment, d is the target distance to get samples from and t is the temperature of the chain. To improve the mixing properties of the chains we allowed each chain to explore alignments that do not exactly match the specified target distance (with an exponentially decreasing probability, as described by Eq. 9) but then rejected non-exact matches when taking samples from the cold chain (t = 1).
The state space of the Markov chains is the set of all possible multiple alignments of the input sequences. Alignments that represent the same set of homology statements, and only differ by the order of the alignment columns, are treated as different (e.g. alignments and of the sequences A and B). The following basic alignment rearrangement moves are iterated:
1.

breaking an alignment column into two columns by moving one of its characters into a new column, placing gaps in every other row:
2.

the exact reverse of the previous, i.e. joining two compatible adjacent columns - one having gaps in all but one row, the other having a gap in that row - to form a single column (see above)

3.

relocating one character of a column to a gap position of an adjoining column:
As the space of alignments is vast and the moves are very local, to get a good approximation of uniform sampling, the number of steps that have to be done is on the order of millions, even for small inputs when a single chain is run. To this end, we created a special alignment representation where the above rearrangements can be carried out very efficiently (essentially constant time, i.e. in time proportional to column size but independent of the alignment length, even when the cost of randomly selecting the column to alter is included). For moderate input sizes (5-10 sequences of length 300-500) this representation allowed us to take 1.5 million rearrangement steps in a second (using a Java 6 implementation on one core of a 2.4 GHz Intel i3 processor).
A single chain is sufficient for small alignments, but very slow mixing becomes an issue for practical alignment sizes. We have found that standard parallel tempering techniques effectively speed up mixing if the chain temperatures are chosen correctly. Because the optimal temperatures vary significantly depending on reference alignment characteristics and target distribution, a simple acceptance optimization routine was added that tunes chain temperatures to achieve chain swap acceptance ratios between neighboring chains around a pre-set value. We found ratios 0.7-0.8 to be the most effective. With this framework, running 8-10 parallel chains was best to maximize the speed of convergence to the uniform distribution as compared to a single chain with sampling times 8-10-fold.
The above described framework was utilized to create a dataset consisting of the RNA families of StatAlign dataset, where for each family and each selection of 5 representative sequences from the family, 10 samples were taken at a distance corresponding to a similarity of 0.98 to the reference alignment (see Eq. 3), then 10 samples at a similarity of 0.96 etc., down to a similarity ratio of 0.6. We refer to this dataset as the Random Alignment dataset.
Extending information entropy to alignment space
The information entropy defined for a single alignment contains the length of the alignment as a parameter. Attempting to extend the measure to the probability mass over RNA secondary structure space, variable alignment length is a concern. For example, if we have two alignments and corresponding secondary structures
we would not want to suggest that these alignments give two different secondary structures. Consequently, we use a projection method to give alignment column pairing probability matrices the same dimension, so that the matrices can be averaged.
For a given set of input sequences, the sequence containing the greatest number of non-gap characters was chosen as the reference sequence. Each pairing probability matrix is projected by deleting columns and rows of the matrix corresponding to gap positions in the reference sequence, thus ensuring each matrix corresponding to an alignment sample has the same dimensions (a square matrix, with dimensions equal to the number of non-gap characters in the reference sequence). For example, we might start with an (n + 1) (n + 1) matrix, delete row i and column i due to a gap in position i in the reference sequence, then end up with an n × n matrix as required.
To calculate information entropy over alignments, we need to be able to calculate the probability of each alignment. However, we cannot calculate the information entropy explicitly, since the probability of a given secondary structure
ss
is
and there is no known efficient way to recurse over all possible alignments. Instead, we create an information entropy measure based on samples from the alignment space, and show that, in the sample-size limit, the alignment-sample information entropy tends to the true information entropy.
Consider alignment samples
a
1
, …,
a
n
from the space of all alignments of
m
sequences, sampled according to their probability. If we are using statistical alignment, as in StatAlign, we will be sampling alignments in this fashion. Then we have for a column c, once alignments have been projected to the same length, the probability of being unpaired
with an analogous result holding for paired columns. We now define a sample phylogenetic probability P
S
as the average of the sample phylogenetic probabilities:
To show this sample probability converges to the true probability as sample size tends to infinity, we first note that, rearranging Equation
12
:
with 1 being the indicator function. Hence
Taking the limit
n
 → 
∞
, by the weak law of large numbers
as required.
Now, we have from above that the entropy
H
Φ
(P) of grammar derivations Φ of a grammar
G
is
Since tree probabilities are the product of unpaired and paired column probabilities in the derivation, the tree probabilities can be recalculated from the sample of alignments. These can then be substituted into the above equation to get an approximation to the information entropy over the space of sampled alignments as well. We refer to this entropy of more than one alignment as the alignment consensus entropy.
Conclusions
In this paper we have explored a number of factors which can contribute to poor RNA secondary structure prediction quality. We established a relationship between alignment quality and expected loss of accuracy. Furthermore, we provided a method to predict alignment quality based only on statistical alignment samples. While our predictor of accuracy improves on the PPfold reliability score, there is still a large amount of variability unaccounted for, which we therefore suggest comes from the predictive model itself. To consider this further, we extended the information entropy measure for SCFGs to consider uncertainty in alignments.
The fact that our accuracy predictor did not account for all the variances associated with RNA secondary structure prediction, despite good predictors being found for alignment quality and a strong correlation between alignment quality and predictive accuracy, suggests that whilst alignment quality is an important factor, the predictive model itself determines plays a large part in the quality of prediction. Given what is shown in Figure 1 for single sequence predictions, that the accuracy of PPfold and RNAfold is very variable, it is unsurprising that variances remain. Clearly then, further efforts should be put into creating stronger single-sequence models, and then the advantages of evolutionary modelling and additional structural constraints will benefit further. The use of experimental data from new probing experiments as well as more biologically realistic constraints, such as kinetic or co-transcriptional folding, may improve the results of RNA secondary structure prediction.
Declarations
Acknowledgements
In part, this work was carried out as part of the Oxford Summer School in Computational Biology, 2012, in conjunction with the Department of Plant Sciences and the Department of Zoology. Funding was provided by the EU COGANGS Grant. ÁN would like to thank BBSRC for continued funding through OCISB. JWJA would like to thank the EPSRC for funding.
Authors' Affiliations
(1)
Department of Statistics, Oxford, UK
(2)
Bioinformatics Research Center, Aarhus University, Aarhus, Denmark
(3)
Computational Biology Group, University of Cape Town, Rondebosch, South Africa
(4)
Department of Computer Science, University of North Carolina at Chapel Hill, Chapel Hill, USA
(5)
Department of Mathematics, Reykjavik University, Reykjavik, Iceland
Copyright
© Anderson et al.; licensee BioMed Central Ltd. 2013
This article is published under license to BioMed Central Ltd. This is an Open Access article distributed under the terms of the Creative Commons Attribution License (http://creativecommons.org/licenses/by/2.0), which permits unrestricted use, distribution, and reproduction in any medium, provided the original work is properly cited.