CySBGN: A Cytoscape plug-in to integrate SBGN maps
Emanuel Gonçalves

1,

Martijn van Iersel

1 and

Julio Saez-Rodriguez

1

Email author
BMC Bioinformatics
2013
14:17
Received: 11 September 2012
Accepted: 27 December 2012
Published: 16 January 2013
Abstract
Background
A standard graphical notation is essential to facilitate exchange of network representations of biological processes. Towards this end, the Systems Biology Graphical Notation (SBGN) has been proposed, and it is already supported by a number of tools. However, support for SBGN in Cytoscape, one of the most widely used platforms in biology to visualise and analyse networks, is limited, and in particular it is not possible to import SBGN diagrams.
Results
We have developed CySBGN, a Cytoscape plug-in that extends the use of Cytoscape visualisation and analysis features to SBGN maps. CySBGN adds support for Cytoscape users to visualize any of the three complementary SBGN languages: Process Description, Entity Relationship, and Activity Flow. The interoperability with other tools (CySBML plug-in and Systems Biology Format Converter) was also established allowing an automated generation of SBGN diagrams based on previously imported SBML models. The plug-in was tested using a suite of 53 different test cases that covers almost all possible entities, shapes, and connections. A rendering comparison with other tools that support SBGN was performed. To illustrate the interoperability with other Cytoscape functionalities, we present two analysis examples, shortest path calculation, and motif identification in a metabolic network.
Conclusions
CySBGN imports, modifies and analyzes SBGN diagrams in Cytoscape, and thus allows the application of the large palette of tools and plug-ins in this platform to networks and pathways in SBGN format.
Keywords
Process DescriptionSystem Biology Markup LanguageLayout AlgorithmEntity RelationshipNode Shape
Background
The illustration of information in biology is frequently made using diagrams. Therefore, having a standard notation is very beneficial as it facilitates interpretation and forgoes the need for long and detailed explanations[1]. Motivated by this, a large community of biochemists, modellers and computer scientists proposed the Systems Biology Graphical Notation (SBGN)[1]. SBGN is an established effort for a standard graphical notation in biology. It leverages previous efforts, including Molecular Interactions Maps[2, 3] and Kitano process diagrams[4, 5], and extracts the best of graphical standard notations in other fields, such as Unified Modelling Language in software engineering.
SBGN is subdivided into three different and complementary languages: Process Description (PD), Entity Relationship (ER) and Activity Flow (AF). This subdivision allows SBGN to be accurate and assures an unambiguous representation[1]. PD focuses on the representation of temporal changes occurring between biochemical entities. All molecular processes and interactions and their results are depicted in PD diagrams. In contrast, the ER language depicts the effects among entities, emphasizing the influences that each entity has on each other and disregarding the transformations on itself (which are dealt with in PD diagrams). Finally, AF graphically shows the influence of activities such as inhibition or activation. To better represent these influences the diagram is simplified by ignoring biochemical details of the process and entity states, reducing the number of nodes when compared to an equivalent PD. These three languages together enable the users to represent all types of biological information from biochemical interaction maps to cellular signalling networks.
A graphical notation can only be shared and analysed if it is supported by network visualization tools. SBGN is currently supported by a list of 24 software packages (http://www.sbgn.org/), including CellDesigner[6], PathVisio[7] and VANTED[8, 9]. Cytoscape[10, 11], arguably the most popular tool in bioinformatics for visualization and analysis of biological networks, has support for the Systems Biology Markup Language (SBML)[12] natively and via the CySBML plug-in[13], and BioPAX[14] via the BiNoM plug-in[15]. However, it currently has no support for SBGN. The ability to import SBGN diagrams into Cytoscape would be very beneficial, as it would enable the use of all the network analysis features of Cytoscape and its plug-ins in SBGN maps. These include the analysis of the network properties (e.g. shortest paths, motif discovery), visualization of expression data, and pathway modelling.
Motivated by this, we have developed CySBGN, a new plug-in for Cytoscape that enables the full support of SBGN diagrams. CySBGN allows one to import and visualize SBGN diagrams stored in SBGN-ML format using the libSBGN library[16]. It is also possible to export small changes made in the SBGN diagram, such as node positions. Full integration with CySBML[13] and Systems Biology Format Converter[17] is available, allowing the user to automatically generate SBGN diagrams from SBML models. To validate the rendering of the diagrams with the plug-in, we tested it with a suite of SBGN diagrams that covers the three sub languages as well as all its shapes and connections. The plug-in applicability is also demonstrated by applying network analysis methods, in particular shortest path and motif discovery, from two different plug-ins in a PD diagram of the central plant metabolism.
Implementation
CySBGN enables the importation of SBGN diagrams into Cytoscape and it is compatible with the latest version of Cytoscape, version 2.8.3. All the entity and relationship nodes shapes defined in SBGN specifications for each language are supported.
Results and discussion
The accuracy of diagram rendering in CySBGN was validated by running a varied and extensive number of test cases containing maps from the three complementary languages of SBGN. For each case, we imported a SBGN-ML file and compared the generated diagram with the expected layout. The AF language was tested with 8 diagrams, the ER with 18 and the PD with 27, leading to a total of 53 different maps, covering almost all shapes and connection types. This suite of test cases is shared among other SBGN compliant tools, such as PathVisio[7] or SBGN-ED[20] (a VANTED[8, 9] plug-in which creates and edits SBGN diagrams). Hence, it is possible to compare the results obtained by CySBGN with the original (expected) diagrams and the ones obtained in other tools.
To perform automatically this comparison we developed a python script that generates a html page containing a side-by-side comparison showing the expected pictures of the SBGN maps and those obtained by CySBGN (see Figure
4
). The resulting maps are displayed in a matrix structure where the columns correspond to different applications and the rows to the different test cases. The first column refers to the original and correct drawing of the map and the last column is the drawing obtained by CySBGN. Due to its large size the comparison table is available as a supplementary file (Additional file
1
) and can also be visualized at
http://libsbgn.sourceforge.net/render_comparison/
.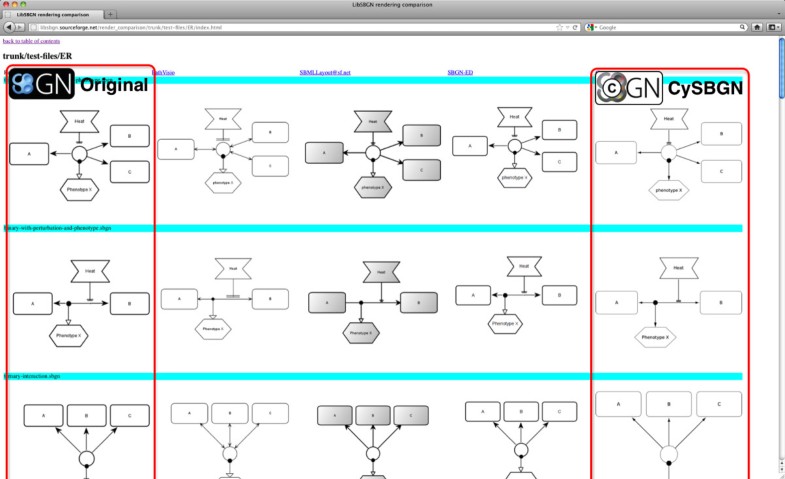 CySBML allows users to import SBML models directly from BioModels database[19], visualize and analyse them. We used this feature to test the automatic generation of SBGN diagrams from the SBML models. This allows one to pick a pathway from BioModels, download the respective SBML model and then generate the SBGN diagram that can be further used as a publication diagram or simply shared with other users. The plug-in's tutorial is available on the CySBGN web page (http://www.ebi.ac.uk/saezrodriguez/cysbgn/files/tutorial.pdf) and provides detailed step-by-step guides to all CySBGN features. Additionally, the plug-in's applicability is illustrated by using two different Cytoscape plug-ins to apply network analysis methods to SBGN diagrams. The first example shows the identification of the shortest path between pyruvate and succinate in a large metabolic network using the CytoHubba plug-in (http://hub.iis.sinica.edu.tw/cytoHubba/). The second example demonstrates how users can identify network motifs using the NetMatch[21] plug-in. Both examples use a large SBGN diagram of the plant central metabolism (1324 nodes and 1322 edges).
Future steps in CySBGN will focus on: (i) further integration with other Cytoscape plug-ins (e.g. BiNoM[15] integrates a wide variety of structure analysis methods and ways to convert the CellDesigner SBML extension to BioPAX and BioPAX to SBML), and (ii) improving the diagram export feature to allow a full mapping of the changes made to the SBGN diagram (i.e. allow the user to add/remove entities and arcs and also allow the storage of any other modifications made to the diagram). Furthermore, we will upgrade CySBGN compatibility to the upcoming version of Cytoscape, Cytoscape 3, when it is released.
Conclusions
Here we presented a new plug-in for Cytoscape, CySBGN, that provides support to SBGN diagrams. CySBGN allows one to load and visualize SBGN-ML models in Cytoscape and leverage all its repertoire of features and plug-ins. Among other features it also establishes a connection with the CySBML plug-in and SBFC, allowing the automated generation of SBGN diagrams of any imported SBML model. A detailed tutorial containing several step-by-step guides covering all CySBGN features is made available in the plug-in web page (http://www.ebi.ac.uk/saezrodriguez/cysbgn/files/tutorial.pdf).
Cytoscape's active community allows the development of the plug-ins to be processed smoothly. Thus, features like extending Cytoscape's supported edges and nodes shapes may be added in near future, consequently improving CySBGN. Moreover, there is an increasing number of plug-ins available[22], thus we expect more synergies of CySBGN with other plug-ins in the future.
Availability and requirements
Project name: CySBGN

Project home page: http://www.ebi.ac.uk/saezrodriguez/cysbgn/

Operating system(s): Platform independent

Programming language: Java

Other requirements: Java 1.6 or higher, Cytoscape 2.8.3

License: GNU GPL v3

Any restrictions use by non-academics: Only those imposed already by the license
Declarations
Acknowledgements
We would like to thank Nicolas Rodriguez for helping integrating SBFC library into CySBGN and Francesco Iorio for drawing the CySBGN logo. We acknowledge the financial aid received from the EU through project "BioPreDyn" (ECFP7-KBBE-2011-5 Grant number 289434), and from the LLP/Erasmus Programme.
Authors' Affiliations
(1)
EMBL - European Bioinformatics Institute, Cambridge, UK
Copyright
© Gonçalves et al; licensee BioMed Central Ltd. 2013
This article is published under license to BioMed Central Ltd. This is an Open Access article distributed under the terms of the Creative Commons Attribution License (http://creativecommons.org/licenses/by/2.0), which permits unrestricted use, distribution, and reproduction in any medium, provided the original work is properly cited.