We're sorry, something doesn't seem to be working properly.
Please try refreshing the page. If that doesn't work, please contact us so we can address the problem.
A novel approach for protein subcellular location prediction using amino acid exposure
BMC Bioinformatics
2013
14:342
Received: 23 August 2013
Accepted: 25 November 2013
Published: 28 November 2013
Abstract
Background
Proteins perform their functions in associated cellular locations. Therefore, the study of protein function can be facilitated by predictions of protein location. Protein location can be predicted either from the sequence of a protein alone by identification of targeting peptide sequences and motifs, or by homology to proteins of known location. A third approach, which is complementary, exploits the differences in amino acid composition of proteins associated to different cellular locations, and can be useful if motif and homology information are missing. Here we expand this approach taking into account amino acid composition at different levels of amino acid exposure.
Results
Our method has two stages. For stage one, we trained multiple Support Vector Machines (SVMs) to score eukaryotic protein sequences for membership to each of three categories: nuclear, cytoplasmic and extracellular, plus extra category nucleocytoplasmic, accounting for the fact that a large number of proteins shuttles between those two locations. In stage two we use an artificial neural network (ANN) to propose a category from the scores given to the four locations in stage one. The method reaches an accuracy of 68% when using as input 3D-derived values of amino acid exposure. Calibration of the method using predicted values of amino acid exposure allows classifying proteins without 3D-information with an accuracy of 62% and discerning proteins in different locations even if they shared high levels of identity.
Conclusions
In this study we explored the relationship between residue exposure and protein subcellular location. We developed a new algorithm for subcellular location prediction that uses residue exposure signatures. Our algorithm uses a novel approach to address the multiclass classification problem. The algorithm is implemented as web server 'NYCE' and can be accessed at http://cbdm.mdc-berlin.de/~amer/nyce.
Keywords
Support Vector MachineArtificial Neural NetworkAmino Acid CompositionSupport Vector Machine ModelProtein Pair
Background
The cell is a three-dimensional space separated into different compartments. These cellular compartments have different function and physicochemical environment. The cell's functional machinery - proteins - need to be present at specific cellular compartments so that cells can function properly. Wrong localization of proteins may lead to disease and cell death [1]. Therefore, subcellular location is a key-feature in the functional characterization of proteins [2].
Currently, most protein sequences in databases are the result of translation of hypothetical transcripts derived from genomic sequencing data [3]. Therefore computational prediction of protein features from their sequence is often used for designing strategies for experimental characterization of proteins and is also important for genome annotation and drug target identification [4, 5].
In particular, the computational prediction of subcellular location from protein sequence information has been attempted mainly using three approaches. One approach tries to identify motifs recognized by the sorting proteins and receptors of the protein transport machinery to move protein products from the cytosol to other subcellular locations [6]. This approach is limited by our knowledge of these signals; absence of detection of known motifs cannot be used to imply that a protein remains in the cytosol. A second approach uses sequence homology to proteins of experimentally verified localization under the assumption that similar proteins end up at similar subcellular locations [7, 8]. While this is true in general terms, there are many known exceptions for this rule (e.g. the proteins of the Lsg1 family of GTPases [9] or locations taken as known might be predicted or incorrect.
A third approach uses the amino acid composition of the protein as a proxy for location based on the hypothesis that the physicochemical properties of the residues of a protein must be somehow coupled to the physicochemical properties of the environment where the protein performs its function; therefore the differences between environments will be imprinted in the protein amino acid composition [10, 11]. This approach has the advantage that it can be applied to any set of compartments and proteins, provided one has enough data.
These three approaches have their strengths and disadvantages. A targeting signal prediction is, in principle, more reliable than a predicted location based on a close protein ortholog (or on a protein domain), which is itself better than location predicted on the basis of protein composition alone. However the existence of many proteins without known signals, known predicted domains associated to protein locations, or without homology to proteins of experimentally verified protein location, leaves room to make the prediction of protein location from composition alone a relevant objective.
While composition-based methods of prediction of location have not been extremely successful [12], we believe that these can be improved by using amino acid exposure. We previously studied how amino acid exposure influences the amino acid composition of proteins in different compartments and inferred that using this property should improve location prediction [13]. The rationale was that differently exposed residues have different evolutionary pressures to mutate towards specific amino acid types whose side chains have physicochemical properties that agree to the subcellular location where the protein performs its major activity. Since the publication of this previous work, much data on protein structures and experimentally verified protein locations have been deposited in public databases. Here, we present a novel analysis of the relation between protein amino acid exposure, residue type and subcellular location, which takes advantage of recent experimental data and methods for pattern-based classification and prediction of protein amino acid exposure.
As in [13], we will focus here on eukaryotic proteins and three locations: nuclear, cytoplasmic and extracellular. In addition, we will consider the necessity of introducing a fourth class and demonstrate that this can be predicted: proteins of nucleocytoplasmic localization. This class is not generally taken into account by methods of prediction of location, despite the fact that a large number of proteins are known to shuttle between nucleus and cytoplasm and perform functions in both compartments [14, 15]. Failure to consider this abundant class might lead to mediocre performance in subcellular location prediction [16].
Therefore, in this manuscript we present a hybrid method that uses a support vector machine (SVM) and an artificial neural network (ANN), trained on proteins of known location and structure for the prediction of the four locations mentioned above: nuclear (N), nucleocytoplasmic (Y), cytoplasmic (C) and extracellular (E). Study of the training set and of the ranges of exposure with better prediction performance gave us insight into the relationship between amino acid exposure and environment, showing that predicting class Y improves the general prediction performance, but also suggesting unexpectedly that buried residues carry location information that is different from the information carried by exposed residues.
Our method was adapted for use on sequences of unknown structure by using predicted amino acid exposure values with reasonable performance. Application of the method to pairs of homologous proteins with different experimentally known location (e.g. two homologous proteins where one is localized to the nucleus and the other to the cytoplasm) indicated that the method can find the appropriate location in cases where methods using homology would make a wrong inference. Finally, we implemented the method as a web tool accessible at http://cbdm.mdc-berlin.de/~amer/nyce.
Results and discussion
We developed an algorithm for protein location prediction that uses amino acid type and exposure to predict protein location. Our method benefits from the fact that there is evolutionary pressure for the selection of mutations that result in protein residues with side chains that have characteristic physicochemical properties according to the exposure of the residue and to the subcellular location of the protein. Our method does not use protein homology and accordingly can distinguish homologous proteins with different subcellular locations.
To generate a training dataset we first selected proteins annotated to occur in three major locations: nuclear (N), cytoplasmic (C) and extracellular (E), and not in other locations (see Methods for details; Figure
1
). Given the significant amount of proteins that shuttle between nucleus and cytoplasm (approximately one in three nuclear proteins) we considered an extra category (nucleocytoplasmic, Y). To obtain reliable information on amino acid exposure, we then selected proteins of known structure for each of these four categories (see Methods for details; Table
1
). We obtained values of residue accessibility for all amino acids of the sequences in this dataset that were covered by 3D-structural information (see Methods).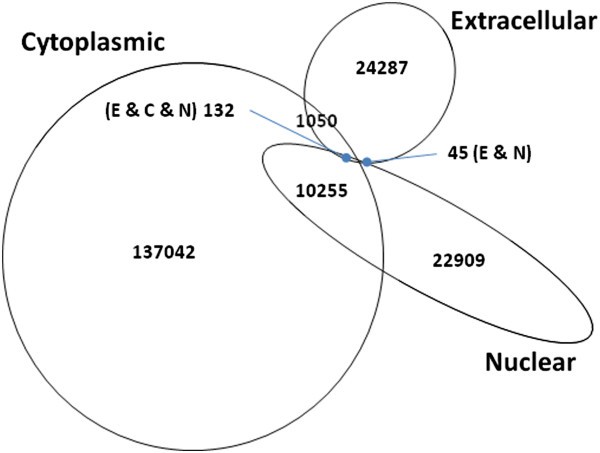 Table 1
Number of proteins with PDB information
| Location | Proteins |
| --- | --- |
| Nuclear | 336 |
| Nucleocytoplasmic | 347 |
| Cytoplasmic | 543 |
| Extracellular | 132 |
| Total | 1,358 |
We then studied the distribution of exposure values for the 20 different amino acids. We observed that residues with side chains belonging to the same physicochemical property group show similar frequency distributions (Figure
2
). For example the hydrophobic residues isoleucine (I), valine (V), leucine (L) and alanine (A) show very similar distributions with a very high frequency in the low accessibility region and fewer residues in the high relative accessibility region. Principal component analysis (PCA) of these data shows this more prominently (Figure
3
).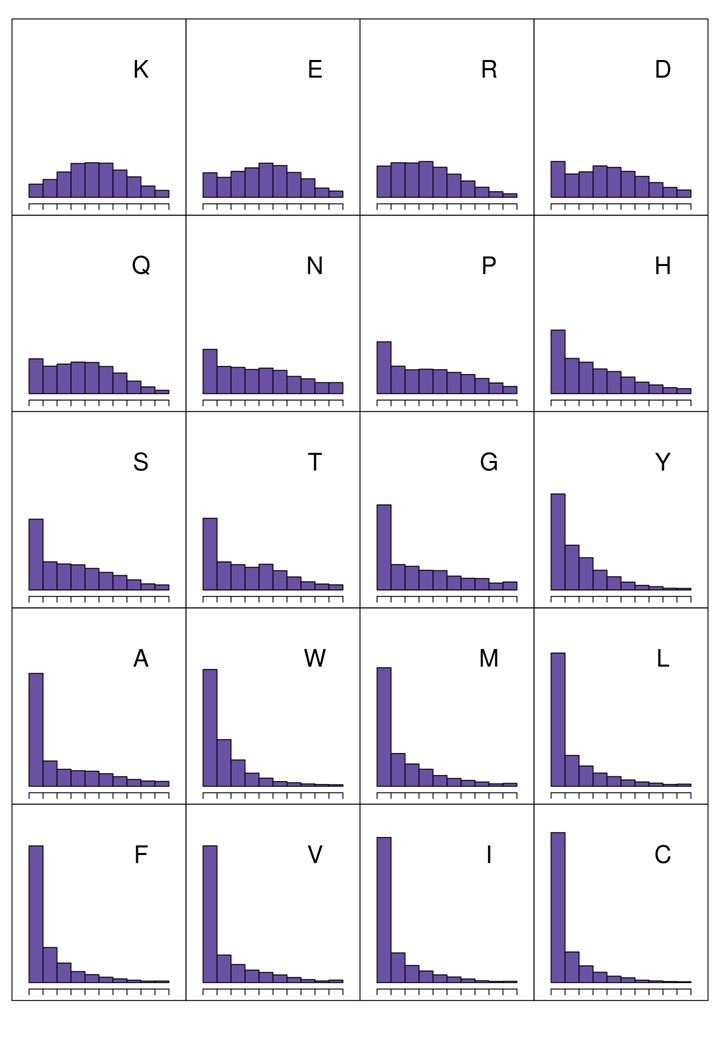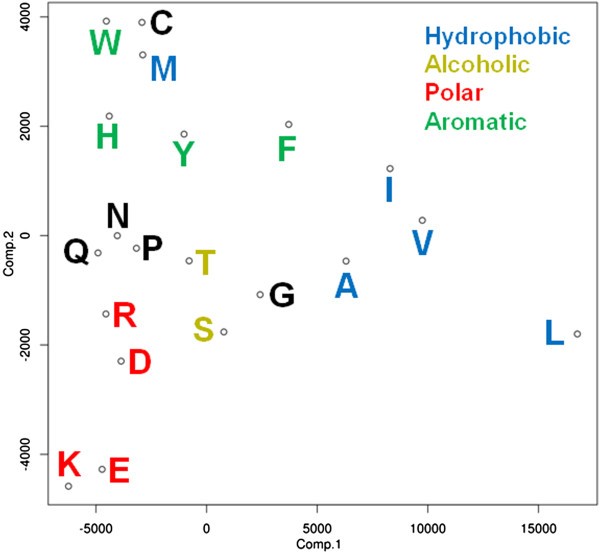 We then compared the distribution of exposure values for the 20 different amino acids in each of the four protein classes and observed variation for particular amino acids and protein locations (Additional file
1
: Figures S1-S4). For example, when we compare the distribution of exposure values for glutamine (Q) in different location classes we can see that glutamines in extracellular proteins are more buried than in intracellular proteins (Figure
4
). Conversely, cysteines in extracellular proteins have a distinct peak at high exposure values, which is absent from intracellular proteins (Additional file
1
: Figures S1-S4). These differences imply that exposure values can be used to predict protein location.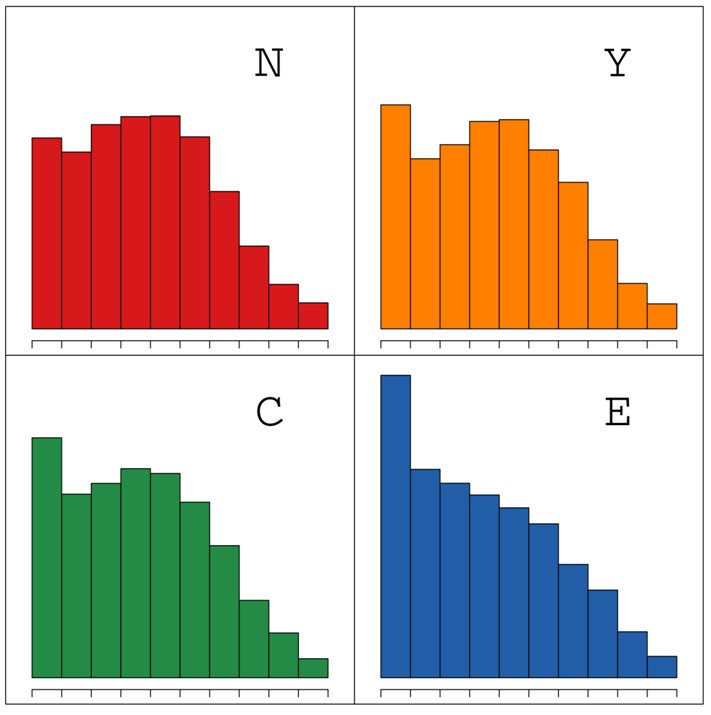 Conclusions
Our study demonstrated that the distribution of amino acids at different levels of exposure have signal about the location of proteins. Whereas exposed residues might have to adapt to the physicochemical properties of the environment and to interactions with particular macromolecular entities such as DNA, RNA, etc. [13], buried residues might also have location dependent roles; for example, extracellular proteins might have to have more stable cores to increase the stability of proteins exposed to conditions more variable than in intracellular regions [23]. While localization signals that guide protein sorting mechanisms are possibly the best predictor of a protein's location, protein amino acid composition can be a useful predictor of location if such signals are absent or unknown.
On a technical note, our method illustrates how a multi-class problem can be approached by using a two-step approach where first SVMs of different types score class membership for each one of several classes and in a second step an artificial neural network (ANN) integrates the data and reassigns membership considering all scores from the SVMs. This approach could be especially useful for other classification tasks in cases like ours where the number of test cases is relatively small and limits the number of input and outputs of the ANN. For example, we could not have trained the ANN directly on the 20- and 40-component vectors used as input for the SVMs with the few hundreds of examples of eukaryotic proteins of known location and structure available. In this respect, the SVM step can be considered as a kind of data compression prior to the use of an ANN. A Bayesian approach might also be feasible for this second step.
We note that our method depends on the quality of the predicted exposure values. Although SABLE has already high accuracy in the prediction of protein amino acid exposure [17], further developments in this field could eventually be used to improve our predictions towards accuracy values close to those obtained when using 3D-derived values of amino acid exposure.
Applying our approach to other protein location prediction problems, for example, for prokaryotic proteins, or for additional eukaryotic locations, is certainly possible but results will depend on the amount and quality of experimental data on protein location and on the amount of signal for each location present in the sequences of experimentally verified location. Expanding our method will thus require careful selection of training datasets considering new taxonomic divisions and locations in a case by case basis. We expect that the development of novel techniques for high-throughput characterization of protein location might eventually facilitate such development.
Declarations
Acknowledgements
We thank Katharina Stenin (Freie Universität Berlin) for help with the computation of homology pairs and Emmanuel Reynaud (University College Dublin) for discussions during the development of our work. A.M. is the recipient of a Helmholtz Graduate School International fellowship.
Authors' Affiliations
(1)
Computational Biology and Data Mining, Max Delbrück Center for Molecular Medicine, Berlin, Germany
Copyright
© Mer and Andrade-Navarro; licensee BioMed Central Ltd. 2013
This article is published under license to BioMed Central Ltd. This is an open access article distributed under the terms of the Creative Commons Attribution License (http://creativecommons.org/licenses/by/2.0), which permits unrestricted use, distribution, and reproduction in any medium, provided the original work is properly cited.