Computational tools for copy number variation (CNV) detection using next-generation sequencing data: features and perspectives
BMC Bioinformatics
2013
14(Suppl 11):S1
Published: 13 September 2013
Abstract
Copy number variation (CNV) is a prevalent form of critical genetic variation that leads to an abnormal number of copies of large genomic regions in a cell. Microarray-based comparative genome hybridization (arrayCGH) or genotyping arrays have been standard technologies to detect large regions subject to copy number changes in genomes until most recently high-resolution sequence data can be analyzed by next-generation sequencing (NGS). During the last several years, NGS-based analysis has been widely applied to identify CNVs in both healthy and diseased individuals. Correspondingly, the strong demand for NGS-based CNV analyses has fuelled development of numerous computational methods and tools for CNV detection. In this article, we review the recent advances in computational methods pertaining to CNV detection using whole genome and whole exome sequencing data. Additionally, we discuss their strengths and weaknesses and suggest directions for future development.
Keywords
Copy Number VariationWhole Exome SequencingWhole Genome Sequencing DataCopy Number Variation RegionCircular Binary Segmentation
Background
Genomic variation is comprised of single nucleotide variants (SNVs), small insertions or deletions (indels), copy number variations (CNVs), and large structural variants (SVs); these variants range from single base changes to large chromosomal-level alterations [1]. CNV refers to a type of intermediate-scale SVs with copy number changes involving a DNA fragment that is typically greater than one kilobases (Kb) and less than five megabases (Mb) [2]. The importance of CNVs was first recognized by their prevalence in healthy individuals [3, 4]. It is estimated that approximately 12% of the genome in human populations is subject to copy number change [5]. These pervasive CNVs in the genome are thought to have equal contributions to genetic variation in humans as another major type of variation, SNVs, which have long been considered the most abundant genetic variation in humans [6]. So far, approximately half of the reported CNVs overlap with protein-coding regions [3]. These gains and losses of gene copies might directly influence gene dosage within the CNV regions, which could result in a change of gene expression level. Similar to SNVs, CNVs do not necessarily have a negative effect on human health. However, among the large number of CNVs, some might have an association with, or directly involve in, diseases and phenotypes such as cancer and neuropsychiatric disorders [7, 8]. Generally, CNVs include deletions, insertions, and duplications of genomic regions. Because the lengths of CNVs vary greatly, the current computational tools usually target a specific range of CNV sizes. The readers may be aware that this review focuses on all types of CNVs including CNV events less than 1 Kb, intermediate structural variants greater than 1 Kb, and large chromosomal events over 5 Mb.
The traditional approach to identify CNVs employs cytogenetic technologies, such as karyotyping and fluorescence in situ hybridization (FISH) [9]. In 2003, genome-wide detection of CNVs was achieved using more accurate array-based comparative genomic hybridization (arrayCGH) and single-nucleotide polymorphism (SNP) array approaches [10]; these approaches, however, have suffered from several inherent drawbacks, including hybridization noise, limited coverage for genome, low resolution, and difficulty in detecting novel and rare mutations [11, 12].
Over the last few years, next-generation sequencing (NGS) has evolved into a popular strategy for genotyping and has included comprehensive characterization of CNVs by generating hundreds of millions of short reads in a single run [13]. Since 2005, several commercial platforms, including those from 454 Life Sciences, Illumina, Inc., and Life Technologies, have increased read generation throughput and base-calling accuracy unprecedentedly, enabling the sequencing of a whole human genome at a much lower cost and a faster turnaround time [12]. Compared to array-based approaches, where probes are predefined for limited genomic regions, short reads from NGS platforms are randomly sampled from the entire genome. The advantages of the NGS approach also include higher coverage and resolution, more accurate estimation of copy numbers, more precise detection of breakpoints, and higher capability to identify novel CNVs [1, 14]. Taking these advantages into account, a diverse set of tools has been developed to detect CNVs based on different features that can be extracted from NGS data.
To provide guidelines for the rapidly growing number of CNV studies using NGS, this review presents a systematic investigation of the 37 currently available tools, which differ in computational strategies to pinpoint CNVs in whole genome sequencing (WGS) data. In addition, 11 in silico tools specific to whole exome sequencing (WES) data are discussed separately due to the challenges unique to CNV detection in WES data. Based on the discussion of the functions and limitations of current CNV-calling tools, and perspectives for future development, we mainly focus on: (i) the key features for CNV calling tools using NGS data, (ii) the key factors to consider before pipeline design, and (iii) developing combinatorial approach for more accurate CNV calling.
Five strategies for CNV detection through NGS data
Many SV-detecting methods can be applied to CNV identification. So far, the NGS based CNV detection methods can be categorized into five different strategies, including: (1) paired-end mapping (PEM), (2) split read (SR), (3) read depth (RD), (4)
de novo
assembly of a genome (AS), and (5) combination of the above approaches (CB) (Figure
1
). Indeed, different strategies have their own advantages and limitations. Though there has been great progress in each category, none of the methods could comprehensively detect all types of CNVs. As summarized in Tables
1
,
2
,
3
,
4
, there are 6 PEM-based tools, 4 SR-based tools, 26 RD-based tools, 3 AS-based tools, and 9 tools for combinatorial approaches. Most PEM-, SR-, and CB-based tools are not specific to CNV detection but rather for SV identification, while the majority of RD- and AS-based tools are developed for the detection of CNVs instead of SVs. From the point of input materials, a majority (28) of the 48 tools listed in Tables
1
,
2
,
3
,
4
accept SAM or BAM files as input. Specifically, most RD-based tools start from SAM/BAM files with depth information, while PEM- and SR-based tools can accept FASTQ files since they may not use read depth information. Among these tools, 32 were implemented using R and/or C/C++ computer languages, as they are convenient in incorporating statistical models, improving computational efficiency, and distributing across multiple operating systems. Note that most of these tools are standalone instead of online tools, except for visualization.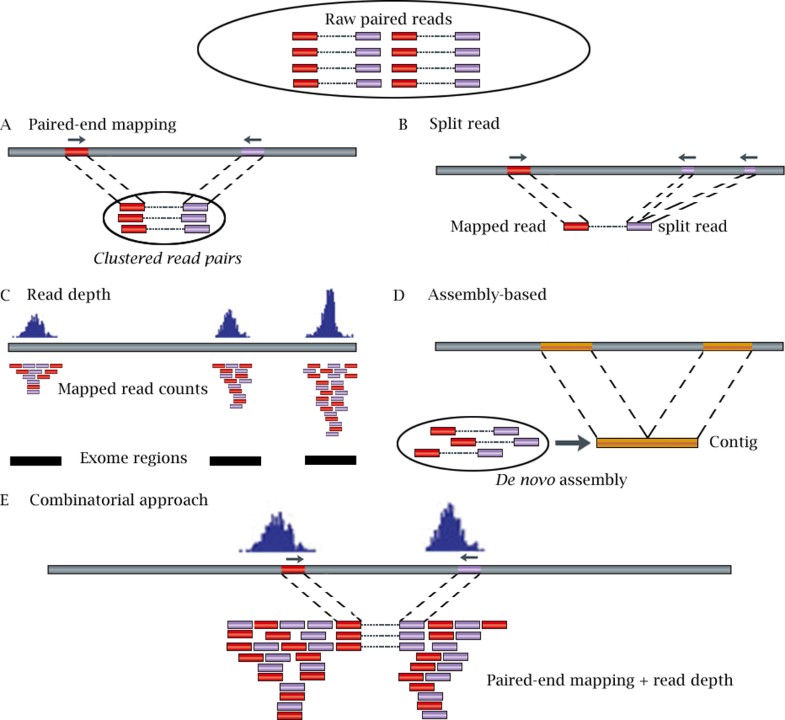 Table 1
Summary of paired-end mapping (PEM), split read (SR), and de novo assembly (AS)-based tools for CNV detection using NGS data
| Method | URL | Language | Input | Comments | Ref. |
| --- | --- | --- | --- | --- | --- |
| PEM-based | | | | | |
| BreakDancer | | Perl, C++ | Alignment files | Predicting insertions, deletions, inversions, inter- and intra-chromosomal translocations | [17] |
| PEMer | | Perl, Python | FASTA | Using simulation-based error models to call SVs | [18] |
| VariationHunter | | C | DIVETa | Detecting insertions, deletions and inversions | [20] |
| commonLAW | | C++ | Alignment files | Aligning multiple samples simultaneously to gain accurate SVs using maximum parsimony model | [21] |
| GASV | | Java | BAM | A geometric approach for classification and comparison of structural variants | [65] |
| Spanner | N/A | N/A | N/A | Using PEM to detect tandem duplications | [59] |
| SR-based | | | | | |
| AGE | | C++ | FASTA | A dynamic-programming algorithm using optimal alignments with gap excision to detect breakpoints | [23] |
| Pindel | | C++ | BAM /FASTQ | Using a pattern growth approach to identify breakpoints of various SVs | [22] |
| SLOPE | | C++ | SAM/FASTQ/MAQb | Locating SVs from targeted sequencing data | [26] |
| SRiC | N/A | N/A | BLAT output | CalibratingSV calling using realistic error models | [25] |
| AS-based | | | | | |
| Magnolya | | Python | FASTA | Calling CNV from co-assembled genomes and estimating copy number with Poisson mixture model | [58] |
| Cortex assembler | | C | FASTQ/FASTA | Using alignment of de novo assembled genome to build de Bruijn graph to detect SVs | [57] |
| TIGRA-SV | | C | SV callsc + BAM | Local assembly of SVs using the iterative graph routing assembly (TIGRA) algorithm | N/A |
Table 2
Read depth (RD)-based tools for CNV detection using whole genome sequencing data
| Tool | URL | Language | Input | Comments | Ref. |
| --- | --- | --- | --- | --- | --- |
| SegSeqa | | Matlab | Aligned read positions | Detecting CNV breakpoints using massively parallel sequence data | [33] |
| CNV-seqa | | Perl, R | Aligned read positions | Identifying CNVs using the difference of observed copy number ratios | [31] |
| RDXplorerb | | Python, Shell | BAM | Detecting CNVs through event-wise testing algorithm on normalized read depth of coverage | [28] |
| BIC-seqa | | Perl, R | BAM | Using the Bayesian information criterion to detect CNVs based on uniquely mapped reads | [41] |
| CNAsega | | R | BAM | Using flowcell-to-flowcell variability in cancer and control samples to reduce false positives | [44] |
| cn.MOPSb | | R | BAM/read count matrices | Modelling of read depths across samples at each genomic position using mixture Poisson model | [46] |
| JointSLMb | http://nar.oxfordjournals.org/content/suppl/2011/02/16/gkr068.DC1/JointSLM_R_Package.zip | R | SAM/BAM | Population-based approach to detect common CNVs using read depth data | [45] |
| ReadDepth | | R | BED files | Using breakpoints to increase the resolution of CNV detection from low-coverage reads | [38] |
| rSW-seqa | http://compbio.med.harvard.edu/Supplements/BMCBioinfo10-2.html | C | Aligned read positions | Identifying CNVs by comparing matched tumor and control sample | [34] |
| CNVnator | | C++ | BAM | Using mean-shift approach and performing multiple-bandwidth partitioning and GC correction | [40] |
| CNVnorma | | R | Aligned read positions | Identifying contamination level with normal cells | [32] |
| CMDSb | | C, R | Aligned read positions | Discovering CNVs from multiple samples | [47] |
| mrCaNaVar | | C | SAM | A tool to detect large segmental duplications and insertions | [35] |
| CNVeM | N/A | N/A | N/A | Predicting CNV breakpoints in base-pair resolution | [42] |
| cnvHMM | | C | Consensus sequence from SAMtools | Using HMM to detect CNV | N/A |
Table 3
Summary of bioinformatics tools for CNV detection using exome sequencing data
| Tool | URL | Language | Input | Comments | Ref. |
| --- | --- | --- | --- | --- | --- |
| Control-FREECa | | C++ | SAM/BAM/pileup/Eland, BED, SOAP, arachne, psi (BLAT) and Bowtie formats | Correcting copy number using matched case-control samples or GC contents | [53] |
| CoNIFERb | | Python | BAM | Using singular value decomposition to normalize copy number and avoiding batch bias by integrating multiple samples | [54] |
| XHMMb | | C++ | BAM | Uses principal component analysis to normalize copy number and HMM to detect CNVs | [55] |
| ExomeCNVc | | R | BAM/pileup | Using read depth and B-allele frequencies from exome sequencing data to detect CNVs and LOHs | [49] |
| CONTRAc | | Python | SAM/BAM | Comparing base-level log-ratios calculated from read depth between case and control samples | [77] |
| CONDEX | | Java | Sorted BED files | Using HMM to identify CNVs | [78] |
| SeqGene | | Python, R | SAM/pileup | Calling variants, including CNVs, from exome sequencing data | [79] |
| PropSeqc | | R, C | N/A | Using the read depth of the case sample as a linear function of that of control sample to detect CNVs | [52] |
| VarScan2c | | Java | BAM/pileup | Using pairwise comparisons of the normalized read depth at each position to estimate CNV | [50] |
| ExoCNVTestb | | Java, R | BAM | Identifying and genotyping common CNVs associated with complex disease | [56] |
| ExomeDepthb | http://cran.r-project.org/web/packages/ExomeDepth/index.html | R | BAM | Using beta-binomial model to fit read depth of WES data | [30] |
Table 4
Combinatorial bioinformatics tools for CNV detection using NGS data
Challenges and perspectives
Intensive efforts in recent years to develop computational tools for CNV detection have resulted in 48 tools, as described in this paper, which target specific ranges of CNVs by utilizing different computational strategies. Systematic comparison showed that only small overlapping SVs/CNVs are identified based on different tools in population-scale genome sequencing [59]. These small overlaps imply there may be different scales of SVs/CNVs in the human genome. Recently, distinct SV patterns were observed in experiments that used two libraries with different insert sizes [68]. This observation indicates the importance of choosing appropriate tools for a specific experimental design.
Despite improvements to NGS technologies and CNV-detecting tools, the identification of low coverage CNVs still remains a challenge. Although the RD-based approach has to correct distortions caused by NGS biases, the relationship between the read count and true copy number can be distorted by several effects. The PCR process is known to be one major cause of this distortion, where genomic fragments with a lower PCR amplification rate often result in less reads [69, 70]. Furthermore, sequencing process can also introduce system noise [55, 71]. It was reported that NGS has lower sequencing coverage in regulatory regions [71]. In particular, the capability of exome capture in the library preparation process complicates the connection between true copy number and read count for WES data. All these factors contribute to the difficulty in detecting the low coverage copy number. For the regions with a low read count, it is hard to articulate if it is indeed due to the low copy number or if it is a consequence of the aforementioned processes. In the following section, we focus on the RD-based strategy to discuss potential noise from NGS data and how to overcome these shortcomings using specific normalization. Since most of the PEM- and SR-based tools described here are general tools to detect SVs, their limitations and strengths were extensively reviewed previously [16].
One well-investigated bias in RD-based methods is related to GC content, the percentage of guanine and cytosine bases in a genomic region. GC content varies markedly along the human genome and across species and has been found to influence read coverage on most sequencing platforms. In a recent study of the Illumina HiSeq and Genome Analyzer systems [72], for example, a positive correlation between read coverage and GC content was observed when GC percentage is within the spectrum of 24 to 47%. To correct the GC bias, a widely used strategy in existing RD-based tools is to partition the genome into windows/bins of either fixed or various sizes [28, 31, 41]. The number of reads mapped to each window are counted and then normalized based on the GC content of this windowed region. The adjusted read count is then used as an indicator of the copy number of the corresponding genomic region. In NGS applications that involve a pair of disease and normal tissues taken from the same patient and sequenced on the same platform, the effect of GC bias can be effectively cancelled out by comparing the paired genomes directly at each region [31, 33, 41], thereby taking advantage of the similarity of GC bias between the two paired samples. For instance, CNAseg implemented an algorithm locally weighted scatterplot smoothing (LOWESS) regression to adjust the GC bias for matched samples in each 10-Kb window. Moreover, Discrete Wavelet Transform (DWT) is used to smooth the signals of mapped reads, which helps to obtain more accurate estimation of relative copy numbers between case and control samples.
Another major bias that affects CNV calling when using the RD-based approach originates from read alignment. In the alignment step, a significant portion of reads are mapped to multiple positions due to a short read length and the presence of repetitive regions in the reference genome. A variety of strategies have been proposed to assign ambiguously mapped reads to the reference genome, and each suggested approach has its own pros and cons, affecting read coverage and, hence, copy number in a different way. Some methods, e.g., BIC-seq [41] and SegSeq [33], completely ignore ambiguously mapped reads. Apparently, by counting only the uniquely mapped reads, these methods are not applicable to detect CNVs in homologous genomic regions. Other methods, e.g., CNVnator [40], randomly assign an ambiguous read to one of all possible positions to which this read is mapped by the aligner. Though capable of identifying copy numbers in repetitive genomic regions, this strategy suffers from false positive detection as a consequence of the random placement of ambiguously mapped reads. One possible direction to improve mapping sensitivity is to employ a soft clustering approach, which allows multiple good mappings [54]. Despite these improvements on mapping algorithms, all of the methods described here are still problematic in repeat regions. Allowing mismatches in repeat regions may increase sensitivity in the future.
To assist researchers in selecting the proper NGS tool(s) for their CNV studies, here, we summarize our discussion of SV-detecting tools collected in this paper. Several tools, such as JointSLM and ExoCNVTest, are applicable to detect common CNVs shared among multiple samples, while CoNIFER and XHMM are good for rare CNV identification from a population of WES samples. Additionally, Pindel is an effective tool for the detection of small deletions of lengths less than 300 bp, while RD-based tools are more suitable to characterize large CNV events. As for CNV breakpoints, SVseq is designed to identify deletion with exact breakpoint information from low coverage NGS data [73]. NovelSeq is specific to locate novel insertion. The tool inGAP-SV facilitates researchers to visualize the detected interesting CNV regions.
Compared with CNV detection using only single tool, the combination of different software has proved effective in improving CNV prediction accuracy. For example, a study that combined the results of BreakDancer and VariationHunter demonstrated higher sensitivity and specificity to detect SVs/CNVs [17]. This result implies that the combination of different PEM tools can help detect high confidence CNVs. In Table 4, we show that PEM-based tools are often combined with RD and AS approaches to improve both sensitivity and specificity for CNV detection using WGS data. Unlike WGS data, the discontinuous reads from WES limit the application of PEM-based methods. For example, the insert size for pair-end reads in WES may not be long enough to detect CNV using PEM-based methods. However, the SR-based tool SLOPE has good performance to pinpoint translocation events by focusing on small, targeted genomic regions. By recognizing the successful application of a combinatorial approach to detect CNVs from WGS data, the similar strategy to combine RD and SR features may provide more reliable CNV predictions from WES data [74]. In summary, incorporating various signatures to support the same CNV can dramatically improve both the statistical power and resolution of CNV size and breakpoints compared to each different strategy individually.
Competing for higher sequencing throughput, data accuracy and longer read lengths, today's sequencing technologies will continue to advance rapidly. One prominent development is the creating of third generation sequencing (TGS) technologies, which promise to provide dramatically longer read lengths. The first commercial TGS sequencer launched by PacBio (PacBio RS single molecule sequencing) can now produce reads of an average length 1300 bp, significantly longer than that of any NGS platforms today. Longer reads will greatly ease read alignment and CNV detection in repetitive regions of genome [75, 76]. These longer reads will significantly reduce mapping errors due to incorrect sequencing. The increased size of the short read will also strengthen the statistical power of the RD methods. In addition, all these improvements on mapping quality will benefit PEM methods to avoid false positives caused by chimera in the genome. For the SR methods, these longer reads may also ameliorate their inherent limitation of only detecting insertion events shorter than the average read length. Additionally, longer reads may improve assembly quality when implementing AS methods. The development of high resolution CNV detection tools is an iterative process of integrating new technologies' features and novel computational algorithms. Though these processes require committed efforts from industry-academy collaborative work, the fruitful understanding of human CNVs in healthy and disease conditions will be a worthy endeavor, which may not only allow discrimination of driver mutations for pathogenesis of Mendelian and complex diseases but also help to develop personalized medicine in the future.
Abbreviations
AS:

de novo assembly
BAM:

Binary version of a SAM file
CB:

Combinational approach
CBSm:

Circular binary segmentation
CGH:

Comparative genome hybridization
CNV:

Copy number variation
EM:

Expectation maximization
FASTQ:

Nucleotide sequence with its corresponding quality scores in text format
FISH:

Fluorescence in situ hybridization
HMM:

Hidden Markov model
INDEL:

Insertion and deletion
MSB:

Mean shift-based method
NGS:

Next-generation sequencing
PEM:

Paired-end mapping
R:

R language for statistical analysis
RD:

Read depth
SAM:

Sequence Alignment/Map file format
SLM:

Shifting level model
SNP:

Single-nucleotide polymorphism
SNV:

Single-nucleotide variant
SR:

Split read
SV:

Structural variant
WES:

Whole-exome sequencing
WGS:

Whole-genome sequencing.
Declarations
Acknowledgements
We appreciate Ms. Rebecca Hiller Posey for proofreading and polishing an earlier draft of the manuscript. This work was supported in part by the National Institutes of Health grants (R01LM011177, R21HG006037, P50CA095103,and P30CA68485), The Robert J. Kleberg, Jr. and Helen C. Kleberg Foundation (to Z.Z.), and Ingram Professorship Funds (to Z.Z.). The funders had no role in study design, data collection and analysis, decision to publish, or preparation of the manuscript.
Declarations
The publication costs for this article were funded by the corresponding author.
This article has been published as part of BMC Bioinformatics Volume 14 Supplement 11, 2013: Selected articles from The Second Workshop on Data Mining of Next-Generation Sequencing in conjunction with the 2012 IEEE International Conference on Bioinformatics and Biomedicine. The full contents of the supplement are available online at http://www.biomedcentral.com/bmcbioinformatics/supplements/14/S11.
Authors' Affiliations
(1)
Department of Biomedical Informatics, Vanderbilt University School of Medicine, Nashville, USA
(2)
Department of Cancer Biology, Vanderbilt University School of Medicine, Nashville, USA
(3)
Department of Psychiatry, Vanderbilt University School of Medicine, Nashville, USA
Copyright
© Zhao et al; licensee BioMed Central Ltd. 2013
This article is published under license to BioMed Central Ltd. This is an open access article distributed under the terms of the Creative Commons Attribution License (http://creativecommons.org/licenses/by/2.0), which permits unrestricted use, distribution, and reproduction in any medium, provided the original work is properly cited.