Fast discovery and visualization of conserved regions in DNA sequences using quasi-alignment
BMC Bioinformatics
2013
14(Suppl 11):S2
Published: 13 September 2013
Abstract
Background
Next Generation Sequencing techniques are producing enormous amounts of biological sequence data and analysis becomes a major computational problem. Currently, most analysis, especially the identification of conserved regions, relies heavily on Multiple Sequence Alignment and its various heuristics such as progressive alignment, whose run time grows with the square of the number and the length of the aligned sequences and requires significant computational resources. In this work, we present a method to efficiently discover regions of high similarity across multiple sequences without performing expensive sequence alignment. The method is based on approximating edit distance between segments of sequences using p-mer frequency counts. Then, efficient high-throughput data stream clustering is used to group highly similar segments into so called quasi-alignments. Quasi-alignments have numerous applications such as identifying species and their taxonomic class from sequences, comparing sequences for similarities, and, as in this paper, discovering conserved regions across related sequences.
Results
In this paper, we show that quasi-alignments can be used to discover highly similar segments across multiple sequences from related or different genomes efficiently and accurately. Experiments on a large number of unaligned 16S rRNA sequences obtained from the Greengenes database show that the method is able to identify conserved regions which agree with known hypervariable regions in 16S rRNA. Furthermore, the experiments show that the proposed method scales well for large data sets with a run time that grows only linearly with the number and length of sequences, whereas for existing multiple sequence alignment heuristics the run time grows super-linearly.
Conclusion
Quasi-alignment-based algorithms can detect highly similar regions and conserved areas across multiple sequences. Since the run time is linear and the sequences are converted into a compact clustering model, we are able to identify conserved regions fast or even interactively using a standard PC. Our method has many potential applications such as finding characteristic signature sequences for families of organisms and studying conserved and variable regions in, for example, 16S rRNA.
Keywords
Edit Distance
Hypervariable Region
Manhattan Distance
Cluster Threshold
Similar Segment
Background
With the development of Next Generation Sequencing techniques, there has been a massive increase in the number of sequences available. Analyzing such a large volume of sequence data presents a major computational challenge, especially since it often involves finding an optimal alignment between the sequences as a first step. Multiple Sequence Analysis (MSA), which is most commonly used for aligning a set of sequences, is computationally very expensive. In many bioinformatics applications (e.g., BLAST [1], BAlibase [2], T-Coffee [3], MAFFT [4], MUSCLE [5, 6], Kalign [7] and ClustalW2 and ClustalX2 [8]), sequence alignment and MSA play a critical role. Finding the optimal alignment for a large set of sequences that may be related by function, evolution, or structure is a computationally complex task and often involves use of high performance computing servers and resources.
Alternative approaches involve creating statistical signatures from nucleotide composition frequencies. These so-called alignment-free methods [9] are more efficient both in terms of processing time and storage requirements as they work with compact signatures and not the entire set of sequences. These methods also scale well for whole genome phylogenetic analysis [10] which is an improvement over existing methods. However, these methods do not retain any of the important local information, such as the GC content in particular areas of the sequences. Several other methods have tried to characterize sequences based on the repeated presence of certain shorter patterns [11, 12]. These methods are mostly used as heuristics for identification of smaller set of sequences.
It is well known that different regions of DNA sequences have different roles. For example, some regions are responsible for protein coding and are known as coding regions [13] while others are conserved across related species and can be an indication of evolutionary similarity. Thus, a flexible approach to sequence analysis is needed that can take advantage of computational efficiency of alignment-free techniques while still taking into account the unique properties of different regions of sequences.
In this work, we propose a novel method for discovering conserved regions across multiple sequences. Our method is based on position-sensitive word frequency analysis and uses high efficiency data stream clustering to find regions with similar word frequency distributions across multiple sequences. We refer to clusters as quasi-alignments, since a similar word frequency distribution in a cluster also means that the underlying segments are likely to be very similar. For the found clusters, we also retain important metadata such as the position of the clustered segments in the original sequences and the GC-content. This approach has previously been used for phylogenetic classification [14]. This paper expands our preliminary investigation into discovering similar segments [15] by developing a more rigorous theory of quasi-alignment, improved visualization and an expansion to the species level. We show how quasi-alignment can be used to quickly and efficiently discover conserved regions across multiple sequences. Finding stretches of identical sequences at the species level is useful for various applications including sequence identification and DNA barcoding [16].
Quasi-alignment via position-sensitive p-mer clustering
Results
We processed the entire Greengenes 16S rRNA database using the default settings for creating NSVs and GenModels and then analyzed the models for interesting patterns and clusters to search for highly similar or conserved regions across multiple sequences that may be related by taxonomy.
As an example, we present an analysis of the species
Leptotrichia buccalis
that belongs to the phylum
Fusobacteria
and genus
Leptotrichia
. The database contains 11 sequences of this species having lengths between 1310 and 1510 bases. We ran the position sensitive
p
-mer clustering algorithm on these sequences. The plot of the GenModel is shown in Figure
5
and the plot of the segments belonging to the 5 largest quasi-alignment is shown in Figure
6
. It is easy to see that most sequences follow a similar path with the exception of one sequence that starts a totally different path starting from quasi-alignment 20 and ending at quasi-alignment 32. This outlier sequence may have its bases shifted by a certain amount due to insertions or deletions giving it somewhat of a different frequency profile. Since the sequences belong to the same species, the hypervariable regions are expected to be highly conserved. The top 5 quasi-alignments contain segments that belong to hypervariable regions V2, V3, and V4. The bottom part of Figure
6
shows that the consensus of quasi-alignments peaks at the hypervariable regions. To check these results, we also performed MSA using Clustal [
8
] on the segments belonging to quasi-alignments 2 and 3. The average pairwise alignment score is 0.93, and many sequences being perfectly aligned with a pairwise alignment score of 1.00. The results are shown graphically in Figure
7
for a section of the 200 bases that are perfectly aligned.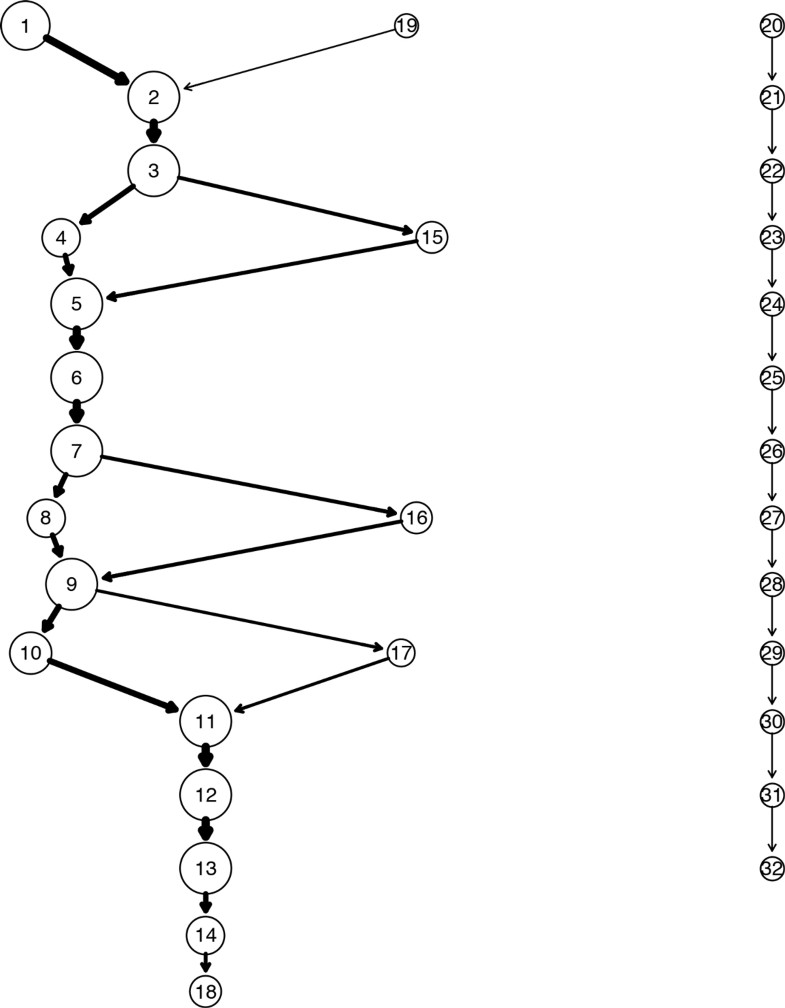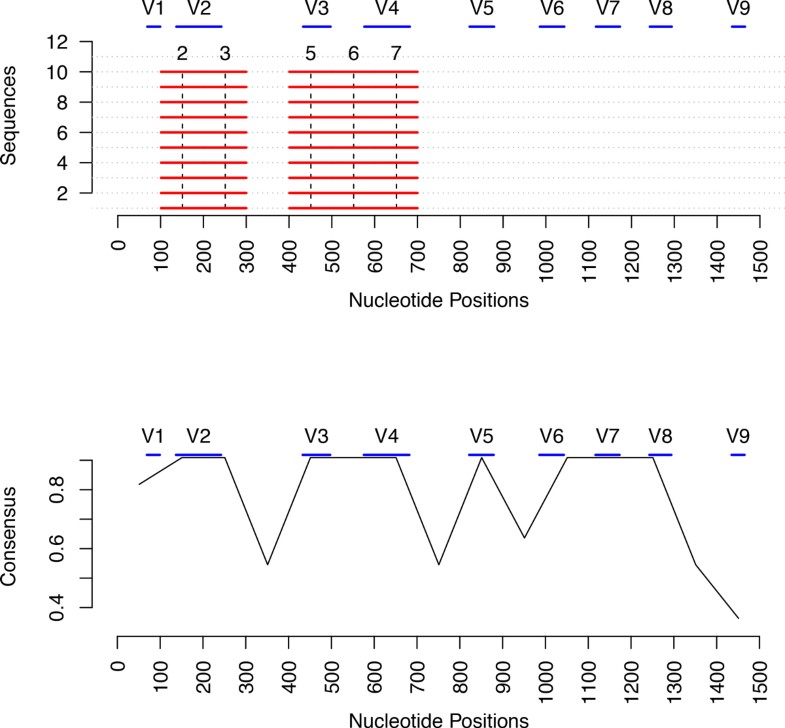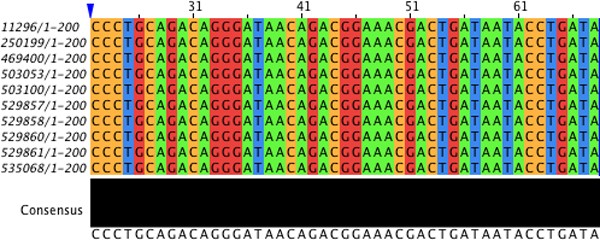 A second example comes for the species
Cetobacterium somerae
that belongs to the phylum
Fusobacteria
and
genus Cetobacterium
. There are 207 sequences in the dataset for this species having lengths between 1335 and 1472 bases. We created the GenModel shown in Figure
8
. Since there are about 20 times more sequences than for the earlier, the model is more complex and has many more clusters and related transitions. Still, we can see that there are certain clusters and transitions that are more pronounced and the most common path is 28 → 29 → 36 → . . . 26 → 27 → 35. The plot of the segments belonging to the top 5 quasi-alignments are shown in Figure
9
at the top and the consensus for the quasi-alignments is shown at the bottom. It is easy to see that the consensus mostly peaks at the location of the hypervariable regions, implying that these segments are similar and cluster together in the same quasi-alignment. We have also performed MSA on the segments belonging to the largest clusters and they have very high nucleotide similarity with several sub-regions having perfect matches.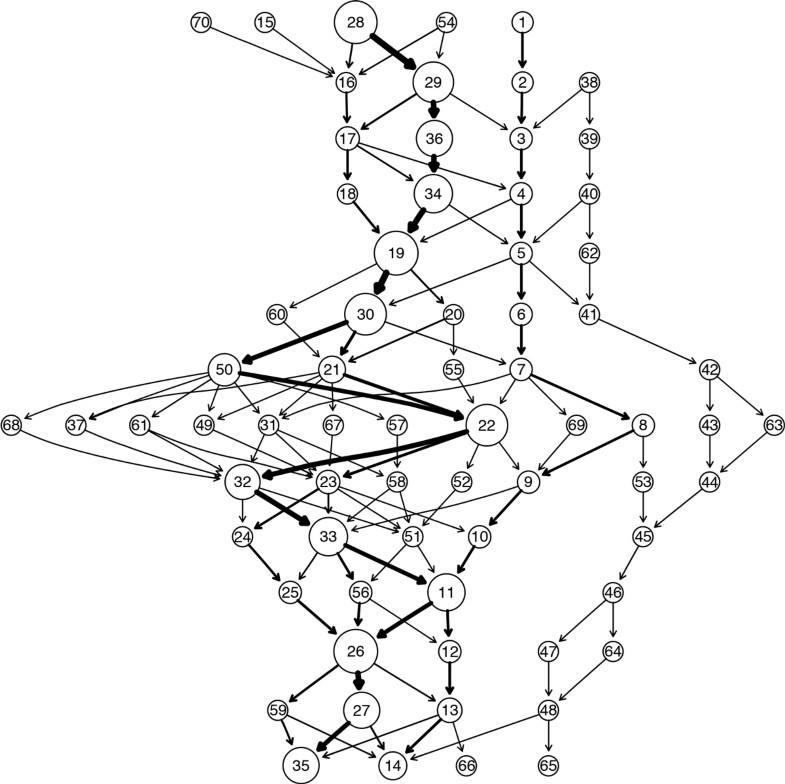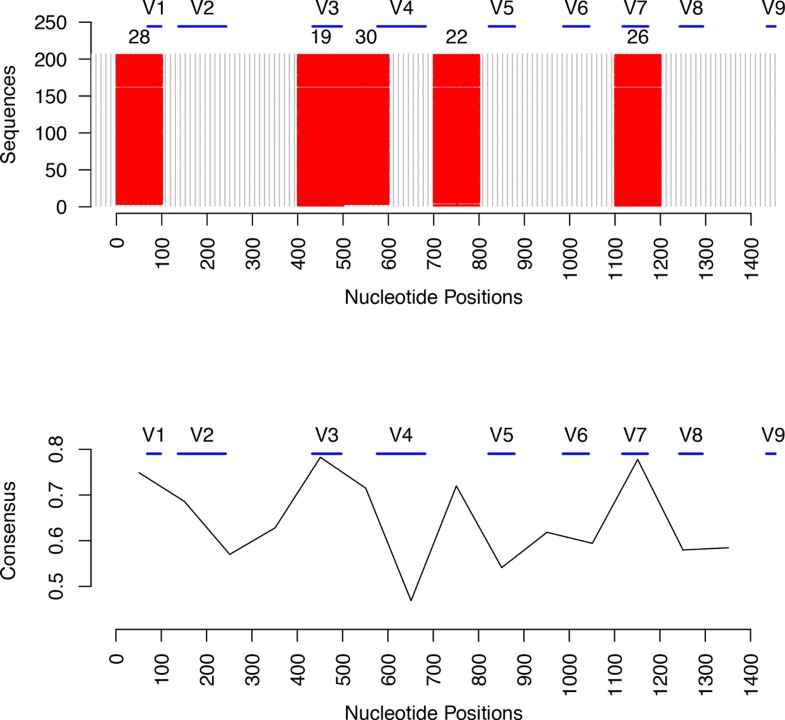 Applications
There are several possible applications of our method. The first is to discover regions of very high sequence alignment by limiting the search space to regions of strong quasi-alignment. For the case of the species Leptotrichia buccalis, we have identified in the sequences that the region between nucleotides 100 and 300 has a highly similar word frequency distribution. While this does not necessarily mean that all bases in this region will be perfectly aligned, it does indicate that this region is a good candidate for alignment. Therefore, the search space for the best alignment can be reduced from the entire sequence length to just the strongly quasi-aligned segments. This can result in substantial savings in computational resources and time and produce results more efficiently.
Another application is in the area of DNA barcoding [16], which seeks to identify species based on sequence segments that are standardized and well-conserved across sequences belonging to the same species. By using our methods, we can limit the search for DNA barcodes to those regions that are strongly quasi-aligned. For example, in case of the species Leptotrichia buccalis, we discovered the region between nucleotide base positions 100-300 contain highly similar sequences. Further analysis of MSA results reveals that in this region the nucleotide positions 122-168 and 183-235 are exactly identical. These regions can form the basis of a more thorough DNA barcoding analysis.
Run time analysis
The existing methods for analyzing a group of sequences for similarity rely mostly on Multiple Sequence Alignment (MSA). Finding the optimal MSA is known to be NP hard and thus computationally challenging [33, 34]. Various heuristics are currently used for MSA based analysis. Progressive alignment is a heuristic method that first constructs a guide tree based on relationships between the sequences and then builds the MSA by iteratively adding sequences from the guide tree to the alignment. The time complexity of progressive alignment is O(N2L2) where N the number of sequences having average length L [35].
In contrast to the above methods, position sensitive p-mer clustering makes just one pass through each of the sequences to create the NSVs and construct the GenModels. Thus, the time complexity of our method is O(LN) for N sequences of average length L. In addition, adding new sequences to an existing model is very easy since the use data stream clustering allows us to add new NSVs at any time.
The above advantages allow us to analyze a large set of sequences for similarity and allow easy discovery of conserved regions. Our algorithm can easily analyze the entire data set from the Greengenes [22] using a simple personal computer. Performing such an analysis using traditional MSA would require extensive server resources and computing time.
To compare run times of our method against MSA, we incrementally sampled between 10 and 100 sequences from the phylum
Fusobacteria
and ran quasi-alignment and the Clustal [
8
] implementation of MSA on them and noted the run times. The plot is shown in Figure
10
. It is clear that the run time for quasi-alignment increases linearly with the number of sequences while for Clustal it grows polynomially. Because of this, quasi-alignment scales well for larger number of sequences and can provide accurate results quickly and efficiently.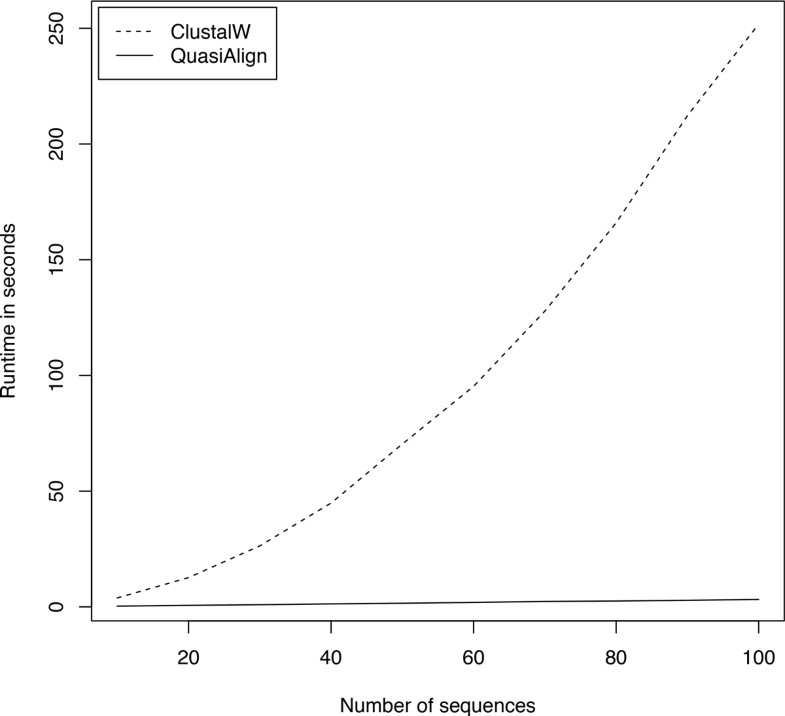 Conclusion
In this work, we have presented the foundation for quasi-alignment based on position sensitive p-mer clustering, a technique which applies high-throughput data stream clustering to produce GenModels, where strong clusters represent potential areas of high sequence similarity. In contrast to MSA heuristics, the runtime of quasi-alignment scales linearly in the number of sequences and the average sequence length. This allows us to process larger number of sequences efficiently. We carried out experiments for sequences consisting of single and multiple species and verified the accuracy of our results by comparing them to traditional MSA and using biological evidence from the hypervariable regions.
There are many possible applications such as identification of identical DNA fragments and their positions within multiple sequences for DNA barcoding studies. Our methods can reduce the search space from the entire length of DNA sequences to just those regions that are part of stronger quasi-alignments. Other applications might include identification of sequences from their quasi-alignment models and finding interesting regions within sequences, such as those with high GC content.
In this paper we have restricted our discussion to creating non-overlapping segments. For dealing with sequences which contain a larger amount of insertions and deletions or for classification of shorter fragments sampled randomly from the sequence, it is necessary to use overlapping segments while constructing GenModels. The runtime complexity increases only by the constant factor l, the segment length. We are currently working on expanding the QuasiAlign package to support use of overlapping segments.
Declarations
Acknowledgements
This research was partially supported by the National Human Genome Research Institute under grant no. R21HG005912 and by the National Science Foundation under grant no. IIS-0948893.
Declarations
The publication costs for this article were funded by the corresponding authors.
This article has been published as part of BMC Bioinformatics Volume 14 Supplement 11, 2013: Selected articles from The Second Workshop on Data Mining of Next-Generation Sequencing in conjunction with the 2012 IEEE International Conference on Bioinformatics and Biomedicine. The full contents of the supplement are available online at http://www.biomedcentral.com/bmcbioinformatics/supplements/14/S11.
Authors' Affiliations
(1)
Department of Computer Science and Engineering, Southern Methodist University, Dallas, USA
(2)
Department of Engineering Management, Information, and Systems, Southern Methodist University, Dallas, USA
Copyright
© Nagar and Hahsler; licensee BioMed Central Ltd. 2013
This article is published under license to BioMed Central Ltd. This is an open access article distributed under the terms of the Creative Commons Attribution License (http://creativecommons.org/licenses/by/2.0), which permits unrestricted use, distribution, and reproduction in any medium, provided the original work is properly cited.