MEIGO: an open-source software suite based on metaheuristics for global optimization in systems biology and bioinformatics
BMC Bioinformatics
2014
15:136
Received: 23 October 2013
Accepted: 24 April 2014
Published: 10 May 2014
Abstract
Background
Optimization is the key to solving many problems in computational biology. Global optimization methods, which provide a robust methodology, and metaheuristics in particular have proven to be the most efficient methods for many applications. Despite their utility, there is a limited availability of metaheuristic tools.
Results
We present MEIGO, an R and Matlab optimization toolbox (also available in Python via a wrapper of the R version), that implements metaheuristics capable of solving diverse problems arising in systems biology and bioinformatics. The toolbox includes the enhanced scatter search method (eSS) for continuous nonlinear programming (cNLP) and mixed-integer programming (MINLP) problems, and variable neighborhood search (VNS) for Integer Programming (IP) problems. Additionally, the R version includes BayesFit for parameter estimation by Bayesian inference. The eSS and VNS methods can be run on a single-thread or in parallel using a cooperative strategy. The code is supplied under GPLv3 and is available at http://www.iim.csic.es/~gingproc/meigo.html. Documentation and examples are included. The R package has been submitted to BioConductor. We evaluate MEIGO against optimization benchmarks, and illustrate its applicability to a series of case studies in bioinformatics and systems biology where it outperforms other state-of-the-art methods.
Conclusions
MEIGO provides a free, open-source platform for optimization that can be applied to multiple domains of systems biology and bioinformatics. It includes efficient state of the art metaheuristics, and its open and modular structure allows the addition of further methods.
Keywords
Local Search
Markov Chain Monte Carlo
Variable Neighbourhood Search
Benchmark Function
Scatter Search
Background
Mathematical optimization plays a key role in systematic decision making processes, and is used virtually in all areas of science and technology where problems can be stated as finding the best among a set of feasible solutions. In bioinformatics and systems biology, there has been a plethora of successful applications of optimization during the last two decades (see reviews in [1–5]). Many problems in computational biology can be formulated as IP problems, such as sequence alignment, genome rearrangement and protein structure prediction problems [1, 3], or the design of synthetic biological networks [6]. Deterministic and stochastic/heuristic methods have been extensively applied to optimization problems in the area of machine learning [2]. In addition to combinatorial optimization, other important classes of optimization problems that have been extensively considered, especially in systems biology, are cNLP and mixed-integer dynamic optimization. Such problems arise in parameter estimation and optimal experimental design [5, 7].
A number of authors have stressed the need to use suitable global optimization methods due to the non-convex (multimodal) nature of many of these problems [4, 8, 9]. Roughly speaking, global optimization methods can be classified into exact and stochastic approaches. Exact methods can guarantee convergence to global optimality, but the associated computational effort is usually prohibitive for realistic applications. In contrast, stochastic methods are often able to locate the vicinity of the global solution in reasonable computation times, but without guarantees of convergence. Metaheuristics (i.e. guided heuristics) are a particular class of stochastic methods that have been shown to perform very well in a broad range of applications [5].
Motivated by this, we developed the software suite MEIGO (MEtaheuristics for systems biology and bIoinformatics Global Optimization) which provides state of the art metaheuristics (eSS and VNS) in open-source R (here with the addition of the Bayesian inference method BayesFit) and Matlab versions (it is also available in Python via a wrapper for the R version). MEIGO covers the most important classes of problems, namely (i) problems with real-valued (cNLPs) and mixed-integer decision variables (MINLPs), and (ii) problems with integer and binary decision variables (IPs). Furthermore, MEIGO allows the user to apply parallel computation using cooperative strategies [10]. MEIGO can optimize arbitrary objective functions that are handled as black-boxes. Thus, it is applicable to optimize complex systems that may involve solving inner problems (e.g. simulations or even other optimization problems) to obtain explicit values for the objective function and/or the possible constraints. For example, CellNOpt [11], SBToolbox [12], AMIGO [13] and Potterswheel [14] use eSS for dynamic model calibration. Some recent successful applications of eSS in the field of systems biology can be found in [15–26]. It has also been shown that eSS outperformed the various optimization methods available in the Systems Biology Toolbox [27].
Implementation
MEIGO runs on Windows, Mac, and Linux, and provides implementations in both Matlab and R. So far, MEIGO includes: (i) eSS (Enhanced Scatter Search, [
30
]), for solving cNLP and MINLP problems, and (ii) VNS (Variable Neighbourhood Search), following the implementation described in [
35
], to solve IP problems (see Figure
1
). The R version of MEIGO also includes the Bayesian parameter inference method BayesFit. Cooperative parallel versions (CeSS, CVNS), which can run on multicore PCs or clusters, are also included. Cooperation enhances the efficiency of the methods, not only in terms of speed, but also in terms of range: the threads running in parallel are completely independent so they can be customized to cover a wide range of search options, from aggressive to robust. In a sense the cooperation, as it has been designed, acts as a combination of different metaheuristics since each of the threads may present a different search profile. Four different kernel functions per method are included depending on the programming language chosen and the parallelization capabilities. Parallel computation in Matlab is carried out making use of the jpar tool [
36
]. Parallel computation in R can be performed using the package snowfall [
37
].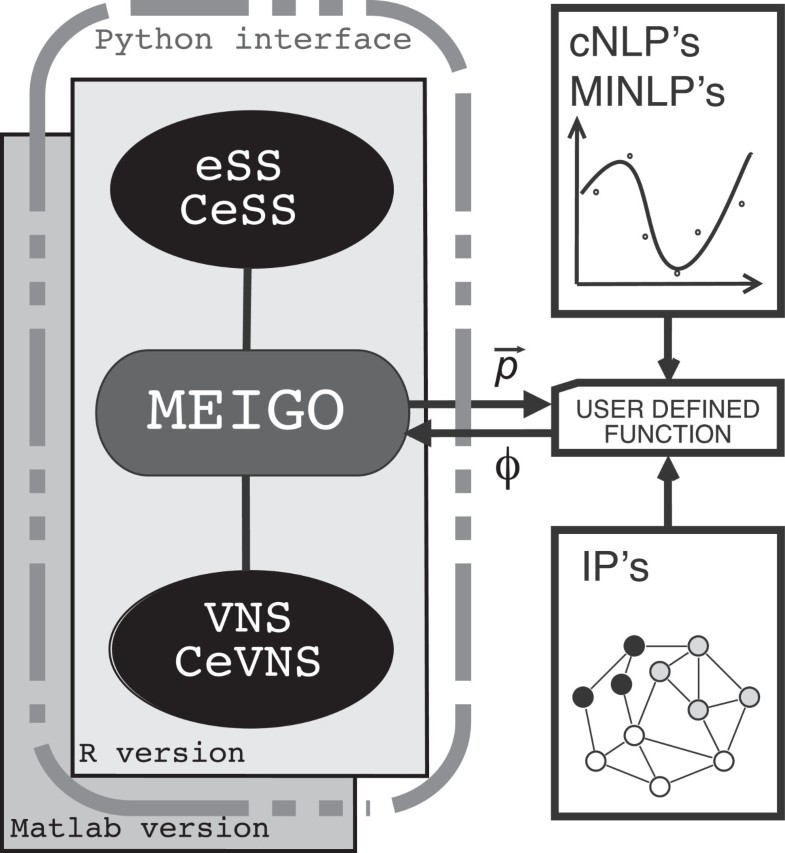 The methods implemented in MEIGO consider the objective functions to be optimized as black-boxes, with no requirements with respect to their structure. The user must provide a function that can be externally called for evaluation, accepting as input the variables to be estimated, and providing as output the objective value, ϕ, as a function of the input parameters. For constrained problems, the values of the constraints are also provided as output so that penalization functions can be calculated. For eSS and VNS, the user must define a set of compulsory fields (e.g. the name of the objective function, the bounds in the parameters, the maximum number of function evaluations). Further options take default values or can be changed. After each optimization, all the necessary results are stored in data files for further analysis with the tools provided by the host platforms. BayesFit is similarly robust to the form of the problem; in this case the likelihood function is provided by the user and this is incorporated into the calculation for the posterior probability for the parameter set, given the data.
Importantly, MEIGO is an open optimization platform in which other optimization methods can be implemented regardless of their nature (e.g. exact, heuristic, probabilistic, single-trajectory, population-based, etc.).
Illustrative examples
To illustrate the capabilities of the methods presented here, a set of optimization problems, including cases from systems biology and bioinformatics, have been solved and are presented as case studies. The examples include (i) a set of state of the art benchmark cases for global optimization (from the Competition on Large Scale Global Optimization, 2012 IEEE World Congress on Computational Intelligence), (ii) a metabolic engineering problem based on a constraint-based model of E. coli, (iii) training of logic models of signaling networks to phospho-proteomic data [38], and (iv) an additional toy logic model [22] to compare BayesFit to eSS. The corresponding code for these examples is included in the distribution of the MEIGO software.
Conclusions
Here, we present MEIGO, a free, open-source and flexible package to perform global optimization in R, Matlab, and Python. It includes advanced metaheuristic methods. Furthermore, its modular nature (Figure 1), enables the connection to existing optimization methods.
Availability and requirements
Project name: Metaheuristics for global optimization in systems biology and bioinformatics (MEIGO)Project home page:http://www.iim.csic.es/~gingproc/meigo.html Operating system(s): Windows, Linux, Mac OS X Programming language: Matlab 7.5 or higher and R 2.15 or higher Licence: GPLv3
Declarations
Acknowledgements
The authors thank Alexandra Vatsiou for testing MEIGO. We acknowledge the funding received from the EU through projects "BioPreDyn" (FP7-KBBE grant 289434) and "NICHE" (FP7-ITN grant 289384), from Ministerio de Economía y Competitividad (and the FEDER) through the projects "Multi-Scales" (DPI2011-28112-C04-03 and DPI2011-28112-C04-04), and from the CSIC intramural project "BioREDES" (PIE-201170E018).
Authors' Affiliations
(1)
Department of Applied Mathematics and Statistics, Universidad Politécnica de Cartagena, Cartagena, Spain
(2)
(Bio)Process Engineering Group, Spanish National Research Council, IIM-CSIC, Vigo, Spain
(3)
European Molecular Biology Laboratory, European Bioinformatics Institute, Wellcome Trust Genome Campus, Cambridge, UK
Copyright
© Egea et al.; licensee BioMed Central Ltd. 2014
This article is published under license to BioMed Central Ltd. This is an Open Access article distributed under the terms of the Creative Commons Attribution License (http://creativecommons.org/licenses/by/2.0), which permits unrestricted use, distribution, and reproduction in any medium, provided the original work is properly cited.