Research article
Open Access
Addressing the unmet need for visualizing conditional random fields in biological data
BMC Bioinformatics
2014
15:202
Received: 24 April 2014
Accepted: 10 June 2014
Published: 7 July 2014
Abstract
Background
The biological world is replete with phenomena that appear to be ideally modeled and analyzed by one archetypal statistical framework - the Graphical Probabilistic Model (GPM). The structure of GPMs is a uniquely good match for biological problems that range from aligning sequences to modeling the genome-to-phenome relationship. The fundamental questions that GPMs address involve making decisions based on a complex web of interacting factors. Unfortunately, while GPMs ideally fit many questions in biology, they are not an easy solution to apply. Building a GPM is not a simple task for an end user. Moreover, applying GPMs is also impeded by the insidious fact that the "complex web of interacting factors" inherent to a problem might be easy to define and also intractable to compute upon.
Discussion
We propose that the visualization sciences can contribute to many domains of the bio-sciences, by developing tools to address archetypal representation and user interaction issues in GPMs, and in particular a variety of GPM called a Conditional Random Field(CRF). CRFs bring additional power, and additional complexity, because the CRF dependency network can be conditioned on the query data.
Conclusions
In this manuscript we examine the shared features of several biological problems that are amenable to modeling with CRFs, highlight the challenges that existing visualization and visual analytics paradigms induce for these data, and document an experimental solution called StickWRLD which, while leaving room for improvement, has been successfully applied in several biological research projects.
Software and tutorials are available at http://www.stickwrld.org/
Keywords
Parallel coordinatesGraphical probabilistic modelsBioinformaticsConditional random fields
Background
Many biological domains are foundationally based in the study of complex systems of interacting parts. Unfortunately, working biological researchers are caught in a "Chicken and Egg" situation, where modeling approaches that can appropriately represent the complexity, aren't available for lack of tools that support their creation, and there are no tools to support complex model creation because, due to scarcity and difficulty in creation, there is little demand for the models.
Our goal in this manuscript is to catalog the necessary and sufficient features of a visualization or visual analytics system that enables development of useful statistical models of these interactions, and to demonstrate that such a system provides significantly improved insight into biological domains where current methods fail. Herein we document the variety of complex interactions that are critical components of usefully powerful models in many biological systems, outline the characteristics of statistical models that are appropriate for these systems, itemize the requirements for a visualization system intended to support development of such statistical models, and demonstrate that a prototype visual analytics system that addresses these requirements, provides novel and powerful insights into significant and challenging biological problem domains.
Complex networks of interacting features abound in biology
Proteins are molecular machines composed of a limited number of basic building blocks, assembled in a myriad of combinations and orders. Not only is the order of assembly important, but for appropriate function, the way that each of the building blocks fits together and interacts with its many spatially proximal (and not necessarily sequentially proximal) neighbors is critical. To make accurate predictions about how a change—a mutation—to a protein will affect its function, requires examining how that change will fit, and function, with many other building blocks in that specific protein. Genomic studies face similar challenges. The panoply of differences between one genome and another, ultimately make each individual distinct, but few of the the differences—inherited Single Nucleotide Polymorphisms, or de-novo mutations—act alone. Instead it is the combinations and mutual interactions of these differences that, in concert, determine the final phenotypic expression of each individual's genomic blueprint. On a larger scale, the complex interplay of normally commensal flora and fauna that inhabit the body is responsible for maintaining a dynamic polymicrobial homeostasis in the gut, mouth, nose, and elsewhere across the body, and minor perturbations to the supportive, competitive, antagonistic or symbiotic relationships amongst the microbial populations are the cause of many infectious diseases.
In each of these cases, domain researchers wish to understand how the system works, by cataloging the observable features of many individuals. From these observations, statistical models are built, that can for example, predict the likelihood that a newly observed individual is a member of the same population that defined the model. Alternatively they can be used to predict the likelihood that, if modified at some feature, a member of the population will still remain a member. In most domains the current state of the art is to build these models as though the features are statistically independent—despite a widespread understanding that this is not appropriate. This happens because there simply isn't a good, accessible way for the domain researchers to define appropriate statistical models that account for the dependencies. It is harder to find biological domains where this situation is not true, than additional domains where it is the standard.
An example of the type of data under consideration, and several canonical summarizations of this data are shown in Figure
1
. These data are prototypical of any collection of ordered categorical data: each row
i
contains a vector of categorical values representing one individual in the training set; each column
j
contains the categorical value assigned to each individual, for some specific feature; each letter
C
i,j
is simply a single-character symbol denoting the categorical value possessed by individual
i
, for some feature
j
. In practice, sequences in real biological domain problems can be a few hundred positions in length, and might require representing a few dozen different categories. While considerably larger domain problems do exist, in our experience we have found that being able to work with 500 positions and 26 categories has been sufficient to address the large majority of questions in several diverse domains.
Useful and appropriate statistical models must incorporate interactions
In all of these domains, the basic data are often represented as sequences, but are fundamentally about networks at the functional level. As a result, the most appropriate statistical models that can aid in understanding the data, and in making predictions about it, will be network-based, rather than sequence-based models. Recent interest in building statistical models based on weighted networks of interacting features holds great promise for these domains. With some variation amongst different graphical probabilistic model designs, the prototypical GPM encodes the marginal distribution of categories observed for each feature using weighted nodes in a graph, and the joint distribution of co-occurring features using weighted edges. Given these weights, which are annealed towards optimal values in a "parameter estimation" step based on training data, the GPM can then produce scores for new observations by integrating across the nodes and edges that those observations select.
Formally, this is to say that generalized GPMs calculate, based on a model-specific encoding of training data, P(Y1…Y n |X1…X m ), for a set of labels Y, and a set of observations X, where some or all of the elements of Y, may also be elements of X. Disguised by this description is the detail that GPMs do not treat X1..m as independent. Instead they also encode all pairwise, or potentially higher-order tuple, combinations of elements of X. In the specific varieties of GPMs in which we are interested, the pairwise combinations can have weights that are themselves conditional on the actual observations at each element of X.
In less formal terms, GPMs can calculate the probability that some collection of features Y1..n are a good fit for the training data, taking into account not just the individual fit of each Y i to the training data, but also (because Y may overlap X) the fit of each Y i in the specific context of the other observed features in Y.
This algorithmic process is an excellent match for what the real world is doing, when it integrates across, for example, the positional and interaction characteristics of a changed amino acid in a protein, to determine the relative activity of a mutant protein compared to the wild-type original. Biology does not evaluate the acceptability of the changed amino acid simply based on the characteristics of the protein family, but rather it evaluates it in the context of both the family characteristics, and of all of the other amino acids in that specific protein and how it has addressed the family needs. Unfortunately, despite the surprising parallels between the algorithmic form, and physical reality, these models have seen limited practical use in the bio/life sciences.
This failure can primarily be laid at the feet of two issues that have restricted the use of graphical probabilistic models largely to theory rather than practical application. The first is that GPMs require, a-priori, a network of features on which to compute statistics, and defining this network for anything beyond trivial data, is beyond the means of most domain researchers. This is especially true if the network connections and weights that must be computed upon, are dependent on the content of the data being analyzed. The second is that even when a realistic network of interactions can be intuited by domain scientists, there is no guarantee that a GPM based upon such a network can be tractably built. In biological domains where the basic understanding is that "everything is connected with everything else at least at some level", it is far too easy to build networks with intractably conflicting dependency loops in the network definition.
Visualization tools for building such models must represent interactions with adequate detail
Both of these problems can be addressed, if not eliminated, by visualization and visual analytics. However, no current tools provide an appropriate view of the complexity of the data that is necessary for this work. Standard approaches to network visualization are inadequate for several reasons. Chief amongst these, is the conditional existence and weight of network edges, dependent on the data. However, other issues also exist. The prototypical "node" in these domains is some measurable biological feature, such as the nucleotide in a particular position in a gene. The "edges" reflect interactions between that nucleotide and its neighbors. Because the interactions depend on the identity of the nucleotide found in that position in a specific instance of the gene, the edges, and edge weights between a node and other nodes, are dependent on the value found at the node.
It is important to understand that the bio/life-sciences need is not simply cataloging the strongest of these edges, but rather understanding the patterns and larger networks of the edges, including conditional features of those networks. In practice it is frequently loosely clustered groups of weak, conditional dependencies, that are more important for the domain scientists to understand, than the stronger singular dependencies within the data.
We could encode this as a vast number of alternative graphs, and select amongst them based on the data, however, less traditional graph formalisms enable this data to be encoded more intuitively. Because there is a fixed set of possible nucleotides that might occur at any node, one can model each node as containing a fixed set of weighted sub-nodes, with each of the dependent edges connecting appropriate sub-nodes from one node to another. As a result, any node
j
can be connected to another node
k
by multiple different weighted edges (possibly by the entire weighted bipartite graph between the subnodes of
j
and the subnodes of
k
).Graphically, we can represent this structure as shown in Figures
2
and
3
.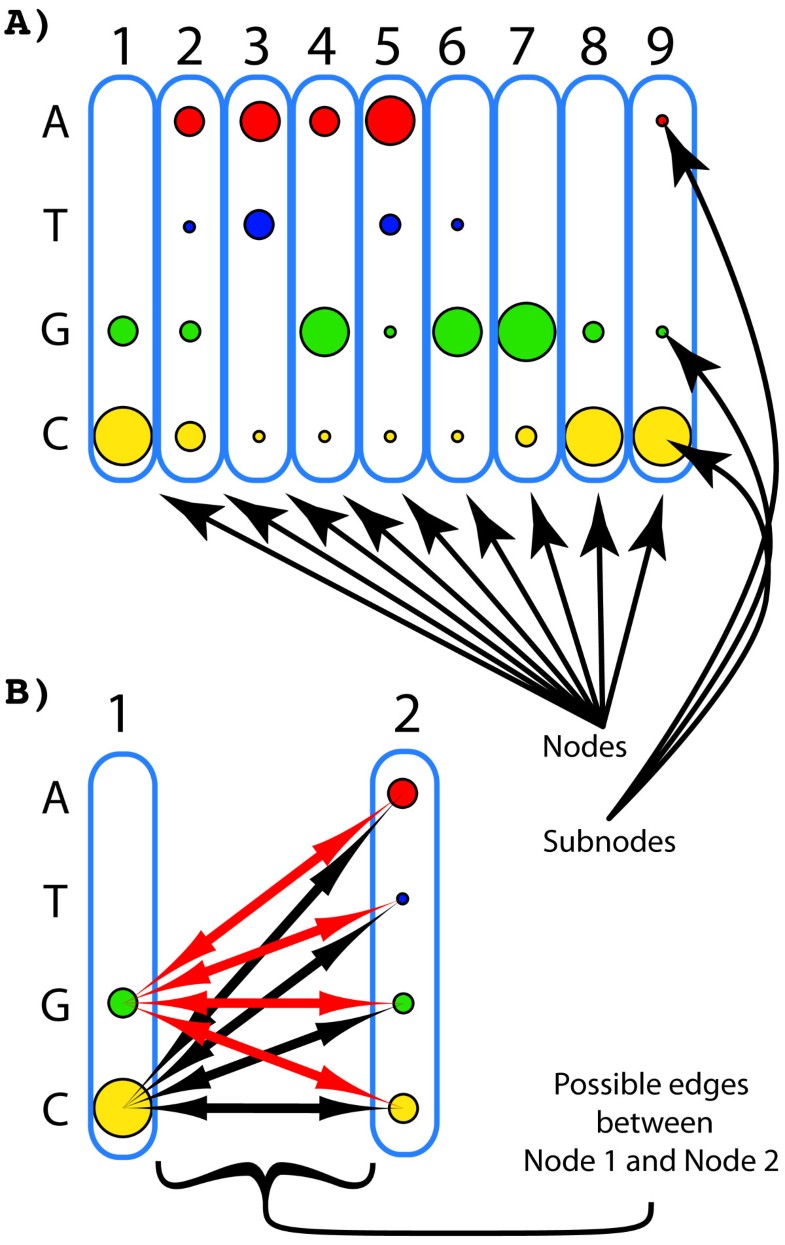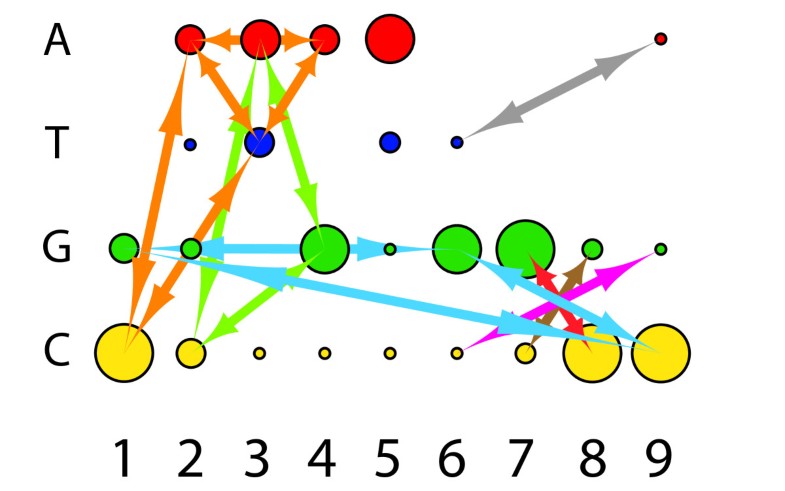 Formally, this suggests that our data is most appropriately modeled using either multigraphs, or metagraphs [1]. There are features that appear typical in the biological problems, however, that restrict the models to special cases of these formalisms; most specifically the restricted (typically identical) set of sub-nodes available in each node, the omission of edges between nodes and subnodes, and the omission of edges (because the subnodes are mutually exclusive categories within the nodes) between subnodes within the same node. As a result, general tools for multigraphs and metagraphs are unlikely to be optimal for addressing these problems.
User requirements
From the data shown in Figure
1
, the working researcher wants (and needs) to understand:
1.

The sequential order and relative location in the sequence, of each feature.

2.

The marginal distribution of each nucleotide (category) in each sequential position—i.e. the sequences predominantly contain a C or G symbol in the first position (Figure 2A, node 1, yellow and green circles), with few As or Ts, the second position contains an almost equal distribution of As, Gs and Cs, with slightly fewer Ts (Figure 2A, node 2, similar sized red, green and yellow circles, slightly smaller blue circle).

3.

The joint distribution of each possible pair of nucleotides as observed in the training sequences—i.e. a G at position 6, almost universally co-occurs with a C at position 9 (Figure 3, blue arrow between node 6, subnode G and node 9, subnode C); C at position 6 universally occurs with a G at position 9, a G at 7, co-occurs with a C at 8, etc.

4.

When the joint distribution is predictable from the marginal distributions (implying independence), and when the joint distribution differs from the expected distribution (implying dependence).

5.

The localized and distributed patterns of the marginal distributions, and interdependent joint distributions, across the entire sequence space—i.e. there are simultaneous dependencies between G 6 and C 9, C 6 and G 9, A 6 and T 9, T 6 and A 9, G 7 and C 8, C 7 and G 8, A 7 and T 8, and T 7 and A 8 (Figure 3, blue, magenta, red, brown and grey arrows between subnodes of nodes 6, 7, 8 and 9) which implies a biological feature called a "stem loop" structure. A biological expert end-user would choose to retain these dependencies in the model, regardless of their edge weights. There is also a quite interesting set of dependencies between different triples of nucleotides in columns 2, 3, and 4, knowledge of which is critical to understanding the biological function of these sequences, and which belie the suggestion from Sequence Logos (Figure 1D) that position 2 contains no information.
To put these needs and features in a biological context, the data shown in Figure
1
are gene sequences belonging to a subset of Archaeal transfer RNAs, and are the binding motif for an endonuclease that removes an intron [
2
]. The core of the biologically relevant motif is shown in Figure
4
, with the positions numbered as shown in Figures
1
,
2
and
3
. The paired nucleotides on the opposite sides of the upper stem, internal helix, and lower stem regions each mutually influence each others' identities though well-known Watson-Crick nucleotide interactions. Regardless of the statistical strength, or magnitude of the edges found between these in the training data, a biological end-user would prefer to retain these dependencies in the model, because proper Watson-Crick pairing is essential for this motif's biological function. In addition to these predictable dependencies however, there are additional interactions present between several unpaired positions, particularly in the 5' loop. If we manually wrap the dependency structure shown in Figure
3
around the biological structure, we arrive at Figure
5
. Despite the fact that the majority of the interactions present are not between sequential neighbors, it is critical to the biologist studying such a system, that the ordered, sequential property of the nucleotides is maintained in any representation. It is also critical to represent dependencies not just between the positions/nodes, but between the observed categories within the nodes, even for sequentially distant positions. At the same time, to support the researcher trying to model their data, none of the interactions can be arbitrarily sacrificed for simplification or clarity without inspection.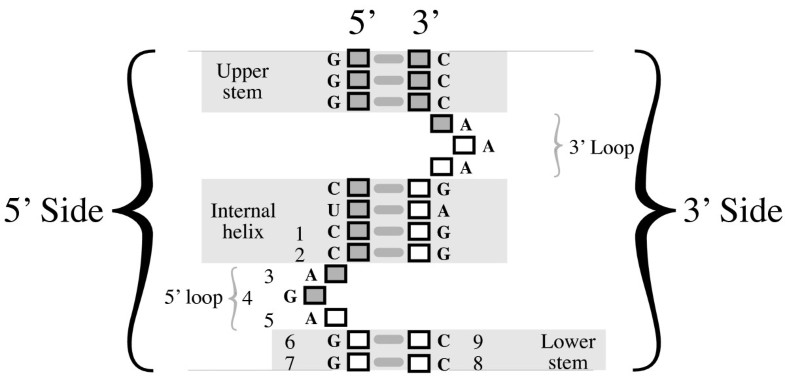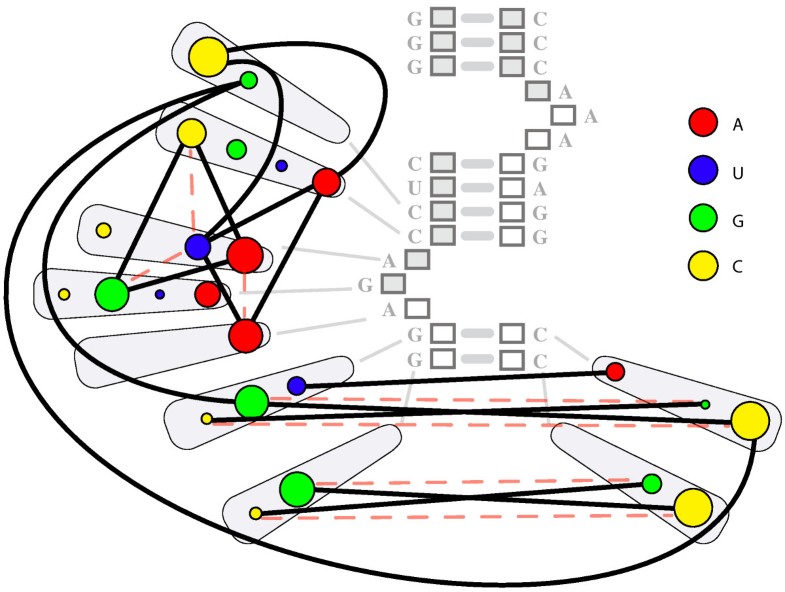 For practical applications, the researcher needs to be able to address similar problems with hundreds of sequential positions, and dozens of possible categories, and for which there is no simple physical structure to guide the layout. This makes manual layout and edge-routing impractical as a general approach.
Overridingly, while all of these needs could be addressed in, for example, a "small multiples" fashion by something as simple as graphically-represented contingency tables, a medium-sized sequence family with 300 positions, would require visualizing contingency tables. Visually integrating these to develop an understanding of patterns in the data quickly fails to inattention and change-blindness issues, and so ideally the end user needs all of this data to be presented seamlessly within a single visualization.
Results of biological application
We have applied these ideas in the development of a prototype visualization system, StickWRLD, and used this system in collaboration with several biological labs to create novel and powerful statistical models that are being used for productive work today. While StickWRLD was originally developed as an expedient solution to visually explore evolutionary dependencies in biological sequence families, our recent work has converted this system from one which simply displays dependencies, into one that supports the development of complex predictive statistical models for the dependencies it displays. And, as reported here, these statistical models are superior to models developed without an adequate understanding of the interdependency structure of the model features.
Amongst these are projects that examine the protein sequence–function relationship, and that identify nucleic-acid sequence motifs that are intractable to traditional alignment and search methods due to interaction of both sequence and structure information. In addition to these end-user projects that we briefly report on here, StickWRLD has also been applied to identifying interactions between treatment variables and their concerted effect on outcomes in premature infant care(in press), expression Quantitative Trait Locus analysis [3], and Personalized/Precision medicine [3]. In all of these applications, the complex statistical models that have been successful, would not have been possible without a tool that supported visualizing and exploring the complex networks of conditionally-interacting features that are present in the data. While we do not propose that StickWRLD is an ideal solution for visualizing these features, we suggest that it is a prototype for building these important models, from which improved tools may be derived.
Through the rest of this manuscript we will: examine the properties of a particular variety of GPM, the Conditional Random Field(CRF), that make them particularly appropriate for modeling many types of biological data and that must be usefully conveyed in visualizations for them; highlight the utility of CRFs in 2 distinct biological applications; illustrate the representational needs of CRFs and their similarity to categorical parallel coordinates; and suggest extensions to the parallel coordinates paradigm that we have found useful for applying CRFs to biological-domain problems in our group and for our collaborators.
Graphical probabilistic models
GPMs have a long and convergent history, originating in several fields including physics [4], genetics [5] and statistics [6, 7]. In each, the idea originated as a means to describe the interaction of variables. The common paradigm is of a set of nodes that describe variables or marginal distributions of variables, and a set of edges that connect these nodes, which encode the joint distribution of variables in the nodes that they connect.
Amongst the simplest GPMs, Markov Chain models are an example of a chain-topology probabilistic graphical model where the training data is used to generate a sequence of states, and transition probabilities between sequentially neighboring states [6, 8]. While such a model is typically thought of as generative, it can be used to determine the probability that a sequence of observed data was generated by the same process that produced the training data, essentially by walking the chain of states, following transitions based on the observations. Applications of this nature are frequently found in bioinformatic questions such as "is this gene a member of the same family as the genes in my training set?" Markov Chain models however, are memoryless. That is, the conditional distribution of future states in the chain at any given state, depends only on the current state, and not on the series of states that preceded it. Therefore, the transition followed based on an observation, depends only on the current state and the observation. This limitation is appropriate, only if the underlying data domain truly obeys this memoryless "Markov Property". If the underlying data can contain dependencies on distant states, violating the Markov Property, Markov Chain models are at best approximations of the characteristics of the training data.
Significantly, Markov Chain models can be well-represented by Parallel Coordinates visualizations of the node and transition structure. This near isomorphism (the potential for Markov Chain states to loop is omitted) between Parallel Coordinates and association rules on item sequences has been previously reported by Yang [[9]]. We propose that there is a more complete isomorphism between some classes of Graphical Probabilistic Models, and parallel axes on which a fully-connected graph for each feature vector is projected. The fundamental mappings are between nodes and categorical parallel axes, and conditional weighted edges and linked categories on the axes. Limitations on this mapping, and potential extensions to the parallel axis schema to overcome these limitations is outside the scope of this manuscript, but is the subject of another manuscript in preparation.
Generalized Graphical Probabilistic Models attempt to overcome the limitations of chain models, at least conceptually, by encoding arbitrarily complex networks of dependencies between states. For classification purposes, this provides significant benefits over previous methods that were limited to either assumptions of strict independence between features, or, assumptions of Markov Property memoryless dependence. Again conceptually, this means that GPMs can encode models for domains that violate the Markov Property. Such problem domains abound in areas from the biological sciences, where protein function is modulated by the dense network of contacts between amino acids in a three-dimensional structure, to economics, where stock prices are influenced by a dense network of suppliers, consumers and competitors. From identifying sites in the genome that possess complex combinations of signal sequences, to linguistics, to medical diagnoses, where a problem domain possesses interaction networks more complicated than linear graphs, GPMs that can encode this additional network information, produce more accurate results than linear chain models.
Unfortunately, these features are largely conceptual benefits of generalized GPMs, because due to violation of the Markov Property, network-connected GPMs cannot be "stepped through" in the same fashion that Markov Property chains can. Instead, to evaluate an observation at a particular state, the observations at all states connected to that state must be evaluated. If the graph-connectivity of the GPM is such that it contains cycles, then all of the nodes in the cycle must be evaluated simultaneously. As a result, the successes of GPMs, to date, are limited to domains where the interaction network is tree structured, or, where there are few conflicting observations found along any cycles in the network. For complex connectivity with many overlapping cycles and biologically realistic noisy data, annealing optimal node and edge weights to correctly represent the training data, becomes computationally intractable.
As a result, GPMs have the peculiar property that it is quite easy to describe the "conceptual GPM" that models a collection of training data—one simply builds a graph with nodes for the measurable features in the training data and connects them with edges describing the dependencies—but it is quite hard to convert this conceptual model into one that is actually computable. The currently extant solutions involve heuristic unrolling of cycles, or manual specification of the dependency graph, limiting practical applications of GPMs to either quite small, or to topologically simple problems.
For the purpose of this paper we are interested in undirected GPMs in which:
The dependency network may (theoretically) be complete across the nodes.

The node weights are conditional on the observations.

The dependency network edges and weights can be conditioned on the observations.
Such models, where the set of variables over which a joint distribution must be considered, and the weightings of their combinations are dependent on the values observed for the variables, are exemplified by Conditional Random Fields (CRFs). Much of the work presented here is guided by requirements for working with CRFs, but it is equally applicable to simpler densely connected dependency graphs models as well.
CRFs were originally described by Lafferty et al. in 2001, as an alternative to Markov Chain, and other GPMs, for building probabilistic models to segment and label sequence data [10]. Their development was motivated by the inability of Markov Chain models to address multiple interacting features and long-range dependencies between observations, and by branching biases in other models.
Lafferty proposed that CRFs be constructed by explicit manual specification of the connection topology for the states, and heuristic determination of transition parameters to fit the training data characteristics onto this a priori specified topology. In their development, Lafferty considered fully-hierarchicalized linearizations of the training model, and rejected these due to the potential combinatorial explosion that can occur if the training data implies many dependent transitions at each state (effectively, fully-hierarchical linearizations quickly reach a state where the number of linearized sub-models exceeds any possible number of observations in the training data, resulting in dramatic over-fitting errors). Likewise, initializing fully-connected training models and annealing them into a tractable state was also considered, and rejected due to difficulties in imposing prior structural knowledge on the final model.
Lafferty demonstrated that CRFs with low-order models of higher-order data, outperform chain GPMs with equivalent limitations, however the exact relationship between the predictive accuracy of a CRF model, and the detail with which it reproduces the real dependency structure of the training data, has not, to our knowledge, been described.
Several schemes have been proposed for using training data to estimate parameters in a computably-simple CRF, including two in the original description, and others that attempt to enhance the accuracy of CRFs for data that contains higher-order dependencies in the actual data distribution, than are encoded in the model. None of these produce stable solutions for systems containing complex graph connectivity, and usually only perform well with topologies no more complex than isolated cycles with no shared nodes or edges.
Results and discussion
The results we present here are the culmination of several years' analysis of what is required to solve typical biophysical domain tasks using GPMs in our labs, and those of our collaborators, as well as two examples of problems to which we have applied these techniques, through an experimental approach to meeting the analysis needs.
Conclusion
Moving parallel coordinates from the plane, into a volume in an interactive interface, enables the complete-graph nature of dependency networks to be visualized, understood and used in a fashion that is not possible with the pairwise dependency information to which 2D representations restrict the analysis. The ability to do this is critical for improving the utility of GPMs, which show significant promise for modeling many types of data where features interact, but which have thus far seen only restricted applications because of the difficulty in developing tractable, yet appropriately connected dependency networks for complex data.
We have demonstrated the application of a modified form of parallel coordinates in a volume, using our prototype implementation StickWRLD, for two very different types of GPM modeling problems. The first involved the development of a CRF where the evaluation "this new sequence is like (or unlike) the training data" can be used to predict that the functionality of a changed sequence will be like, or unlike the functionality of the parent. The second involved iterative refinement of a GPM from poorly aligned training data, where the detection of similar, but offset dependency networks in the training data are used to realign the training data, repeatedly strengthening the model. In both cases the predictions of the GPMs are being validated in our labs, with manuscripts in preparation for each.
By applying appropriate visual weight to edges, and eliminating from view, everything but the most important features, the volume version of categorical parallel coordinates can be transformed from a hopelessly complex representation, into a useful visual analytics tool in which users can explore the effect of different parameter choices and interactively select the data-implied dependencies to incorporate into a GPM model. Numerous filtering and selection schemes, as well as domain-appropriate feature clustering and display simplification schemes are present in the StickWRLD software interface, and the fundamental representation paradigm can be adapted to any form of mathematically symmetric statistical association detection. It is clear from testing that surprisingly simple statistics provide useful insight for building GPM models—simple residuals, as we originally described when casting StickWRLD as simply an exploratory tool [29] remain one of our most common approaches—though more sophisticated analyses ranging from Fisher's Exact Test of Association [30] to data input from arbitrary external applications have been applied as well. Experience with these options and experiments performed with them [31] suggest that there is no single scheme that is ideal for all data analyses, further underscoring the need for robust exploratory interfaces that enable the user to see and explore the network of interactions revealed by different approaches and focused upon by different filtering schemes. Experiments and optimizations in this area are ongoing.
Our successes with parallel coordinates in a volume demonstrate the improved understanding that derives from more complete dependency visualization, but they simultaneously open the door to new questions about the most appropriate statistical measures to aid the user in filtering the dependency network (is, for example, a simple threshold, the most appropriate way to segregate meaningful dependencies from unimportant ones?), and to new questions about the most appropriate representation for this type of data. Categorical parallel coordinates in a volume appear to be isomorphic to a type of metagraph in which one variety of nodes corresponds to parallel coordinate axes, with these nodes containing a second type of node, corresponding to ordered categories. Dependencies, as we have measured them, occur between the category-type sub-nodes, but there is no conceptual reason that dependencies between axes (for example, as detected by Mutual Information, or Joint Relative Entropy), or between categories and axes, could not also be incorporated in the model. Nor is there a reason that dependencies must be limited to pairwise interactions. Further exploration of visual paradigms for interacting with this more complete metagraph structure remain an interesting research topic, and will likely further improve GPM development tools in the future.
It is also likely that there are further optimizations of our visual representation that minimize the occlusion and complexity issues inherent in our 3D display. While our results demonstrate that static planar representations cannot provide the detailed insights necessary to address the domain needs for understanding complex metagraph-type-data, and that these needs are usefully addressed in the 3D domain, we do not suggest that there are not other interactive paradigms that might make these high-dimensional features accessible without requiring 3D exploration. We encourage further exploration of alternatives that retain the ability to display the full complexity of networks demonstrated by our StickWRLD experimental system.
Methods
Requirements and prototype methods for addressing these were developed by extensive study of several domain user groups and iterative refinement of approaches to address the shared needs across their domains.
Availability of supporting data
Abbreviations
GPM:

Graphical probabilistic model
CRF:

Conditional random field
ADK:

Adenylate kinase
PSSM:

Position specific scoring matrix
HMM:

Hidden Markov model
RNA:

Ribonucleic acid
DNA:

Deoxyribonucleic acid
2D:

Two dimensional
3D:

Three dimensional.
Declarations
Acknowledgements
This project was funded partially by Nationwide Children's Hospital, The Ohio State University, and by an NIH-AREA award (1R15GM94732-1 A1 to CL).
Authors' Affiliations
(1)
Nationwide Children's Hospital, Columbus, USA
(2)
The Ohio State University, Columbus, USA
(3)
Miami University, Oxford, USA
Copyright
© Ray et al.; licensee BioMed Central Ltd. 2014
This article is published under license to BioMed Central Ltd. This is an Open Access article distributed under the terms of the Creative Commons Attribution License (http://creativecommons.org/licenses/by/4.0), which permits unrestricted use, distribution, and reproduction in any medium, provided the original work is properly credited. The Creative Commons Public Domain Dedication waiver (http://creativecommons.org/publicdomain/zero/1.0/) applies to the data made available in this article, unless otherwise stated.