Native structure-based modeling and simulation of biomolecular systems per mouse click
BMC Bioinformatics
2014
15:292
Received: 2 June 2014
Accepted: 22 August 2014
Published: 29 August 2014
Abstract
Background
Molecular dynamics (MD) simulations provide valuable insight into biomolecular systems at the atomic level. Notwithstanding the ever-increasing power of high performance computers current MD simulations face several challenges: the fastest atomic movements require time steps of a few femtoseconds which are small compared to biomolecular relevant timescales of milliseconds or even seconds for large conformational motions. At the same time, scalability to a large number of cores is limited mostly due to long-range interactions. An appealing alternative to atomic-level simulations is coarse-graining the resolution of the system or reducing the complexity of the Hamiltonian to improve sampling while decreasing computational costs. Native structure-based models, also called Gō-type models, are based on energy landscape theory and the principle of minimal frustration. They have been tremendously successful in explaining fundamental questions of, e.g., protein folding, RNA folding or protein function. At the same time, they are computationally sufficiently inexpensive to run complex simulations on smaller computing systems or even commodity hardware. Still, their setup and evaluation is quite complex even though sophisticated software packages support their realization.
Results
Here, we establish an efficient infrastructure for native structure-based models to support the community and enable high-throughput simulations on remote computing resources via GridBeans and UNICORE middleware. This infrastructure organizes the setup of such simulations resulting in increased comparability of simulation results. At the same time, complete workflows for advanced simulation protocols can be established and managed on remote resources by a graphical interface which increases reusability of protocols and additionally lowers the entry barrier into such simulations for, e.g., experimental scientists who want to compare their results against simulations. We demonstrate the power of this approach by illustrating it for protein folding simulations for a range of proteins.
Conclusions
We present software enhancing the entire workflow for native structure-based simulations including exception-handling and evaluations. Extending the capability and improving the accessibility of existing simulation packages the software goes beyond the state of the art in the domain of biomolecular simulations. Thus we expect that it will stimulate more individuals from the community to employ more confidently modeling in their research.
Keywords
Protein folding
RNA folding
Native structure-based model
Molecular dynamics
GridBeans
Background
Great progress in experimental techniques, such as X-ray diffraction analysis and nuclear magnetic resonance spectroscopy, has led to a vastly increased diversity and quality of biomolecular structure data presented in the Protein Data Bank [1]. By combining this information with biomolecular simulation one can supplement static structural models with an increasingly detailed dynamic picture even for huge molecular machines like the ribosome [2, 3]. Still, exploring the dynamical nature of molecular life poses a significant challenge for present-day computational resources. While astonishing progress in this field has led to first all-atom protein folding simulations for small globular proteins on the millisecond timescale [4], the required specialized supercomputers are not publicly available.
An intriguing alternative to simulating these biomolecules with atomic resolution in physics-/chemistry-based forcefields is focusing on their essential features and coarse-graining (CG) either the resolution of the system or its forcefield [5, 6]. In such CG models, the granularity of the system is typically changed from an all-atom representation by mapping groups of atoms into single beads. This reduces the computational complexity and provides access to longer timescales and length scales. For example, in the MARTINI forcefield typically four heavy atoms and the associated hydrogens are mapped into a single bead representing the respective group [7]. Another approach, the so-called native structure-based modeling (SBM) [8–11], is based on energy landscape theory and the principle of minimal frustration [12]. Accordingly, the energy landscape has a funnel-like shape biased towards the native state of a protein. In a long evolutionary process, the energy landscape was smoothened by minimizing (energetic) roughness and frustration to enable efficient folding by ensuring a dominance of native interactions over non-native ones. Thus the structural information of the native state becomes an integral part of the model potential describing the interactions in the biomolecular system. Topological information, such as the contact map of the native state, is usually employed (Gō potentials [13]) initially within coarse-grained C α [14] or C β [15] models and more recently, within all-atom models [16]. The introduced bias towards the native state reduces the forcefield complexity without loss of essential information and enables the simulation on biologically relevant timescales, e.g. protein folding simulation [16] on the all-atom level on standard desktop computers. In many recent studies of protein dynamics SBM has become the tool of choice to rationalize experimental observations by means of computer simulations [17]. Structure based modeling provides now an established method for physical understanding of, e.g. folding pathways [14, 18], folding kinetics [19], effects like posttranslational modifications [20] or oligomerization [21]. The SBM has been generalized to describe also proteins with two or more stable native conformations [22] in order to model functional transitions, e.g. allostery and ligand binding. Moreover, transition states, which are experimentally directly not accessible, have been studied using SBM [23, 24]. Still, one might easily expect that focusing on native interactions and neglecting non-native interactions within SBM distorts simulation results. Significant effort has therefore been invested to examine to which extend non-native interactions play critical roles [17, 25–28]. In particular, recent work has carefully analyzed the role of native interactions in prior atomically resolved simulations [29, 30]. These studies have found dominance of native interactions to non-native ones and good agreement between results from CG SBM simulations and more fine-grained models [31]. Overall, SBM is accurate for the extreme case of minimal or no frustration, with all-atom models realizing all possible non-native interactions [32]. Somewhat surprisingly, neglecting non-native interactions does not significantly distort simulations results [17, 31]. This not only makes the minimalistic SBM very useful, but also suggests that naturally occurring proteins seem to possess low frustration [8, 33].
In numerous close collaborations between experimental and modeling research groups the SBM methods are applied [34–36]. To enable regular use by the community of, in particular, experimental scientists or other researchers who do not possess specialized programming and/or modeling experience, it seems senseful to establish a research infrastructure (similar to the PDB service) standardizing and simplifying the simulation setup and submission, as well as the evaluation of these simulations. This infrastructure should include services for development of novel models and adaption of existing models to new applications, and routine deployment of ready-to-go models. A first effort to establish such a service is the SMOG (Structure-based MOdels in GROMACS) web server [37] that is publicly available under http://smog-server.org/. This server provides a convenient setup of native structure-based simulations with several options for custom forcefield choice and parameterization. Going beyond mere folding, eSMBTools [38] is a Python-based toolkit allowing the simplified setup and evaluation of native structure-based simulations for proteins and RNA. The focus of this toolkit is enhancing these simulations by experimental or bioinformatics derived data, e.g. to enable the prediction of protein complexes or active conformations based on the statistical analysis of existing sequence databases [34, 39] or riboswitch folding [40]. In particular, forcefields and topologies of amino and nucleic acids are encoded in XML files making the toolkit easily extensible to other biomolecules, such as ligands.
Providing a modeling and simulation service for SBM solves several challenging issues which we outline in the following: i) The simulations require use of computing resources which are usually unavailable locally and the scientist has to face the high technical complexity of distributed computing infrastructure. To this end, several solutions providing access to remote computing resources already exist [41–43]. However, while hiding the complexity via virtualization of resources and abstraction, these middleware services are rather generic so that their direct use without the integration of the biomolecular model can pose even higher barriers for the end-user. ii) Multiple program codes (steps) have to be linked together in one composite application (workflow) via standard interfaces for automatic execution. Data sources and sinks at different workflow steps have to be linked via standard interfaces (dataflow). The existing solutions do not use generic standards (such as for example web services) but rather domain-specific solutions which have to be laboriously adapted to every new model and simulation. Currently, there are many program codes that do not blend in with each other and therefore efforts have been recently spent to partially alleviate this problem [44–46]. iii) The elements of the infrastructure exposed to researchers have to be reduced to minimum and made available via a modern graphical user interface (GUI). The challenging aspect is here the design decision what has to be included in the interface rather than the GUI implementation itself. The access to more functions improves the tool capabilities and flexibility but heightens the expert level.
In previous work, many of these issues have been tackled effectively for applications in high-throughput virtual screening [44], materials science [45, 47] and biomolecular NMR [46]. In particular, a data model based framework for data exchange between workflow steps has been proposed and a toolkit has been provided for automatic generation of a data access service for scientific applications [48]. Thereby, the issues outlined above can be treated by means of modern technologies such as web services and model-driven engineering leading to complete automation of the program interfaces, workflows and dataflows. A common approach which has been extensively applied is the science gateway (also known as web portal). For example, the virtual research community WeNMR has a large collection of portals providing production services for different applications in structural biology [49], including molecular dynamics simulations with Gromacs [50]. Data exchange in multi-step molecular simulations and analysis has been treated in several works previously [51–54]. Within the MoSGrid project the molecular simulation markup language (MSML) [51, 52] has been developed employing the concept of Chemical Markup Language (CML) dictionaries and used in quantum chemistry, molecular dynamics and docking simulations on the MoSGrid portal [55]. The Collaborative Computing Project for NMR (CCPN) [53] has provided a software framework that consists of a data model [54], the CcpNmr Analysis program, and a collection of additional tools, including the CcpNmr FormatConverter. The CCPN application programming interface (API) is available in three programming languages (C, Python and Java) and enables the integration of additional analysis and simulation software to build complex workflow applications.
In this paper, we present a software infrastructure which deploys SBM on distributed high-throughput computing (HTC) and high performance computing (HPC) resources providing a powerful interface for model development and user-friendly interface. The software provides a simple and still flexible graphical user interface for eSBMTools to allow end users to run SBM simulations without developing IT technical skills.
Implementation
We have adopted the principles of Service Oriented Architecture (SOA) [56] to design the implementation of the platform. Thus, many of the generic components required for the implementation are available in existing and well established grid and cloud middleware stacks, from which we have selected the UNICORE middleware [41]. UNICORE is a fully fledged and mature open-source middleware which has been deployed and supported on large computing infrastructures such as PRACE (http://www.prace-ri.eu/) in Europe and more recently also on XSEDE (https://www.xsede.org/) in the USA. Computing clusters and other HPC resources managed by common batch systems, such as SGE, LSF, PBS Torque and LoadLeveler, can readily be used with UNICORE. Currently, UNICORE offers four different client variants: command line client, graphical rich client, a portal client and a high-level API. The UNICORE Rich Client (URC) [57] provides us with the software basis to integrate eSBMTools within an application extension called GridBean [58]. In addition, UNICORE includes a workflow engine and a powerful graphical workflow editor, completely integrated in the service layer and the URC, respectively.
Furthermore, there are several alternative open source middleware solutions. In the following, we briefly review two of them. The Globus Toolkit [42] is a widely used open source toolkit which implements numerous standards (for example web services) and allows building infrastructures for grid (internet) computing [59]. It has overall standards conformity similar to that of UNICORE but does not provide graphical clients and portals and can be used with the Galaxy workflow system [60]. The middleware ARC (Advanced Resource Connector) [43] has been developed and included in the software stack of the European Middleware Initiative. It implements web services standards for server-client communication and provides a GUI client. ARC integrates with the third-party workflow engine Taverna [61].
Implementation architecture
Figure
1
shows the overall architecture of our eSBMTools integration. The main component is the SBM GridBean, a Java-based component, that captures and validates the SBM simulation parameters provided by the user via a GUI. The URC is the runtime container for the GridBean and provides the basic functionality to access UNICORE services e.g. for submitting and monitoring jobs, managing file storage and handling authentication and authorization.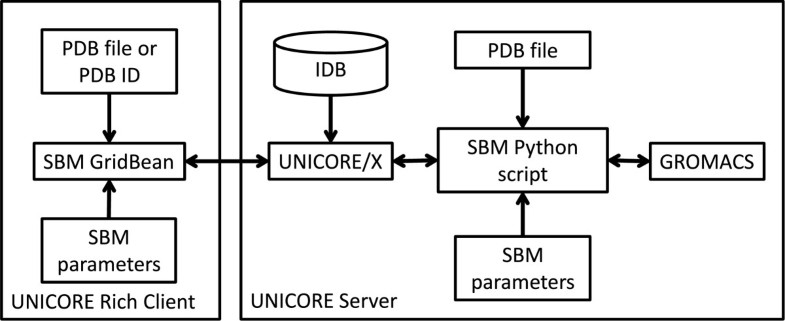 The implementation of the SBM GridBean is based on the GridBean API [58] and consists of three major parts:
A configuration file gridbean.xml which defines runtime parameters for the GridBean in the URC, e.g. names and versions of the GridBean and of the target application on the server;

A Java class containing the GridBean model which defines the job parameters and input/output files;

A plugin class which defines the graphical user interface and the mapping of the input components to the GridBean model. Here, a validator can be defined which performs type and plausibility checks on input parameters.
During job submission the URC translates the input from the SBM GridBean (model parameters, files, variables, required computing resources) into a JSDL (Job Submission Description Language) request which is then sent together with a PDB input file or a PDB ID to the UNICORE server. The UNICORE server has an incarnation database (IDB) which determines how to handle the incoming JSDL request. The IDB includes entries for all applications that are available to the URC for job submission. The IDB entry for the SBM application defines the Python interpreter as job executable and several parameters to configure the SBM Python script which is introduced in the next subsection.
SBM Python script
The SBM Python script is based on the Python toolkit eSBMTools [38] that provides a wide range of functionalities to setup and manipulate structure-based models and to evaluate simulation output. Along with modular functions, Python is platform-independent and readily available on most HPC systems. Therefore it is an excellent choice for the functionality that eSBMTools is aiming for. The script consists of various preprocessing and post-processing modules that include functions called by a central Python script. This Python script represents the functional core unit of the SBM GridBean. The toolkit interfaces with GROMACS, a molecular dynamics software package [62] in a version provided by the SMOG homepage [63] that features an extension called g_kuh. The GROMACS extension g_kuh calculates the number of formed native contacts within the structure for each dumped frame of the simulated trajectory. The number of formed native contacts is often referred to as the Q value.
Figure
2
shows a block diagram that depicts the utilized functionalities of the SBM Python script. The user provides a PDB ID [
1
] of the protein of interest and simulation options. The PDB ID is passed to the module
PdbFile
that prompts an according coordinate file download from the database. The PDB coordinate file and the provided options are processed by module
GoModel
that generates the required files for an SBM forcefield and atom coordinates in supported GROMACS file formats. Simulation options, e.g. temperature, simulation steps, random generation seeds, etc., are passed to module
MdpFile
that generates the simulation configuration file accordingly. After the GROMACS simulation the protein's trajectory is evaluated by modules
TopFile
and
Qvalues
that create plots of the protein's contact map and Q values trajectory, respectively. The contact map is a two-dimensional representation of the residue-residue contacts present in the native conformation and the Q value trajectory is the temporal evolution of the number of formed native contacts along the simulated trajectory.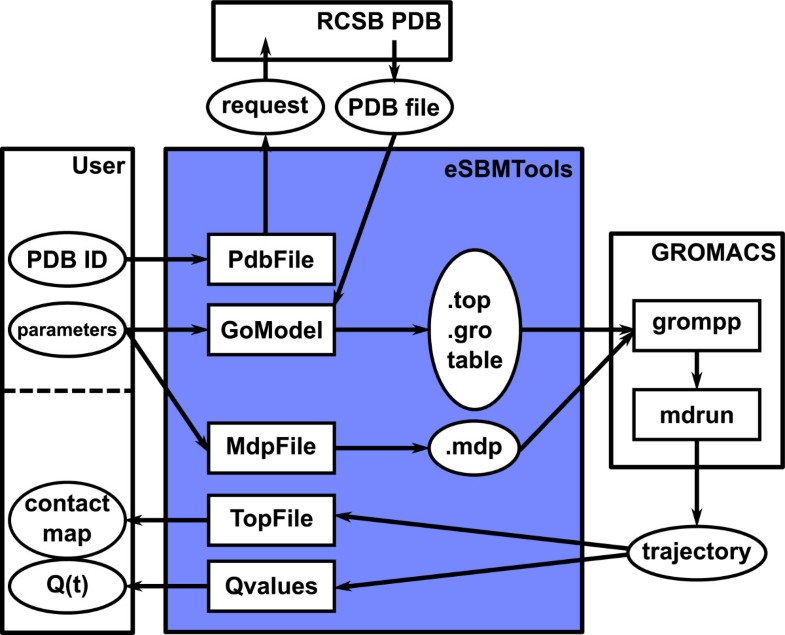 Conclusions
Significant progress on the technological side and the development of increasingly accurate forcefields enable biomolecular simulations which provide atomically detailed insight into the molecular machinery of life, yet require expert knowledge for the setup and analysis of data. One common class of such biomolecular simulations, native structure-based or Gō-type models, contributes to answer questions ranging from protein and RNA folding to function and structure prediction. We have developed a framework to facilitate construction and execution of workflows for these simulations based on the UNICORE middleware. We showed the straightforward setup of an exemplary workflow and expect that it can be adapted to individual projects as a service for the biomolecular simulation community.
Availability and requirements
Project name: UNICORE based integration of eSBMTools

Project home page: The home page of eSBMTools is http://sourceforge.net/projects/esbmtools. The source code of the SBM GridBean is available under

Operating system(s): Platform independent

Programming language: Java and Python

Other requirements: UNICORE (version 6) server is required on the server host, URC (version 6) on the client host, Java Runtime Environment on both the client and server hosts, and Python interpreter and GROMACS on the computing resource.

License: FreeBSD license (2-clause BSD license) for the SBM GridBean (Java source code) and GNU GPL (General Public License) for eSBMTools (Python source code)
Abbreviations
API:

Application programming interface
CML:

Chemical markup language
GUI:

Graphical user interface
HPC:

High performance computing
HTC:

High throughput computing
IDB:

Incarnation data base
IT:

Information technology
JSDL:

Job submission description language
MD:

Molecular dynamics
MDP:

Molecular dynamics parameter
MSML:

Molecular simulation markup language
NMR:

Nuclear magnetic resonance
PDB:

Protein data bank
RNA:

Ribonucleic acid
SBM:

Structure based modeling
SMOG:

Structure-based MOdels in GROMACS
SOA:

Service oriented architecture
SSL:

Secure socket layer
URC:

UNICORE Rich Client
XML:

Extensible markup language.
Declarations
Acknowledgements
A.S. acknowledges support from the Impuls- und Vernetzungfonds of the Helmholtz Association. This work has been partially funded by the 7th Framework Programme of the European Commission within the Research Infrastructures with grant agreement number RI-261594, project MMM@HPC.
Authors' Affiliations
(1)
Steinbuch Centre for Computing, Karlsruhe Institute of Technology (KIT), Eggenstein, Germany
(2)
Department of Physics, Karlsruhe Institute of Technology (KIT), Eggenstein, Germany
Copyright
© Lutz et al.; licensee BioMed Central Ltd. 2014
This article is published under license to BioMed Central Ltd. This is an Open Access article distributed under the terms of the Creative Commons Attribution License (http://creativecommons.org/licenses/by/4.0), which permits unrestricted use, distribution, and reproduction in any medium, provided the original work is properly credited. The Creative Commons Public Domain Dedication waiver (http://creativecommons.org/publicdomain/zero/1.0/) applies to the data made available in this article, unless otherwise stated.