Research article
Open Access
Metabolic network prediction through pairwise rational kernels
BMC Bioinformatics
2014
15:318
Received: 11 April 2014
Accepted: 23 September 2014
Published: 26 September 2014
Abstract
Background
Metabolic networks are represented by the set of metabolic pathways. Metabolic pathways are a series of biochemical reactions, in which the product (output) from one reaction serves as the substrate (input) to another reaction. Many pathways remain incompletely characterized. One of the major challenges of computational biology is to obtain better models of metabolic pathways. Existing models are dependent on the annotation of the genes. This propagates error accumulation when the pathways are predicted by incorrectly annotated genes. Pairwise classification methods are supervised learning methods used to classify new pair of entities. Some of these classification methods, e.g., Pairwise Support Vector Machines (SVMs), use pairwise kernels. Pairwise kernels describe similarity measures between two pairs of entities. Using pairwise kernels to handle sequence data requires long processing times and large storage. Rational kernels are kernels based on weighted finite-state transducers that represent similarity measures between sequences or automata. They have been effectively used in problems that handle large amount of sequence information such as protein essentiality, natural language processing and machine translations.
Results
We create a new family of pairwise kernels using weighted finite-state transducers (called Pairwise Rational Kernel (PRK)) to predict metabolic pathways from a variety of biological data. PRKs take advantage of the simpler representations and faster algorithms of transducers. Because raw sequence data can be used, the predictor model avoids the errors introduced by incorrect gene annotations. We then developed several experiments with PRKs and Pairwise SVM to validate our methods using the metabolic network of Saccharomyces cerevisiae. As a result, when PRKs are used, our method executes faster in comparison with other pairwise kernels. Also, when we use PRKs combined with other simple kernels that include evolutionary information, the accuracy values have been improved, while maintaining lower construction and execution times.
Conclusions
The power of using kernels is that almost any sort of data can be represented using kernels. Therefore, completely disparate types of data can be combined to add power to kernel-based machine learning methods. When we compared our proposal using PRKs with other similar kernel, the execution times were decreased, with no compromise of accuracy. We also proved that by combining PRKs with other kernels that include evolutionary information, the accuracy can also also be improved. As our proposal can use any type of sequence data, genes do not need to be properly annotated, avoiding accumulation errors because of incorrect previous annotations.
Keywords
Metabolic networkPairwise rational kernelsSupervised network inferenceFinite-state transducersPairwise support vector machine
Methods
Pairwise rational kernels
In this section, we propose new pairwise kernels based on rational kernels, i.e., Pairwise Rational Kernels (PRKs). They are obtained using rational kernels as the simple kernels k. We have defined four PRKs, based on the notations and definitions in the Background Section above.
Definition 1
Given X⊆Σ∗ and a transducer U, then a function is:
a Direct Sum Pairwise Rational Kernel (K PRKDS ) if

K((x1,y1),(x2,y2))=U(x1,x2)+U(y1,y2)+U(y1,x2)+U(x1,y2)

a Tensor Product Pairwise Rational Kernel (K PRKT ) if

K((x1,y1),(x2,y2))=U(x1,x2)∗U(y1,y2)+U(x1,y2)∗U(y1,x2)

a Metric Learning Pairwise Rational Kernel (K PRKM ) if

K((x1,y1), (x2,y2)) = (U(x1,x2)-U(x1,y2)-U(y1,x2) +U(y1,y2))2

a Cartesian Pairwise Rational Kernel (K PRKC ) if

K((x1,y1),(x2,y2))=U(x1,x2)∗δ(y1=y2) +δ(x1=x2)∗U(y1,y2) +U(x1,y2)∗δ(y1=x2) +δ(x1=y2)∗U(y1,x2)

where δ(x=y)=1 if x=y and 0 otherwise, ∀x,y∈X.
Following Theorem 1, if we construct U using a weighted transducer T, such as U=T∘T-1, then we guarantee U is a Positive Definite and Symmetric (PDS) kernel. PDS is a needed condition to use kernels in training classification algorithms. Since all the kernels defined above are results of PDS kernel operations, the PRK kernels are also PDS [35].
Algorithm
We have designed a general algorithm, Algorithm 2, to compute the kernels, using the composition of weighted transducers. This is a an extension of Algorithm 1. It uses as an input the transducers , , , , that represent the sequences x1,y1,x2,y2∈X and the Weighted Finite-State Transducer U, and outputs the value of K((x1,y1),(x2,y2)).
In our implementation described below, we use the n-gram rational kernel as the kernel U (see the n -gram kernel as a rational kernel Section for more details). Then, the complexity of steps (i) and (ii) are . Step (iii) adds a constant time complexity. We conclude that PRKs based on n-gram kernels can also be computed in time .
Experiments
In this section we describe experiments to predict metabolic networks using pairwise SVMs combined with PRKs. We aim to prove the advantage of using PRKs to improve execution time during the computation of the pairwise kernels and the training process, while maintaining or improving accuracy values.
Results and discussion
Table 2 shows the SVM performance, execution times and 95% CIs grouped by the kernels mentioned above. As we can see, the experiments using only the PRK have the best execution times (Exp. I) as the transducer representations and algorithms speed up the processing. However, the accuracy is not comparable to Experiments II and III. Similar results were obtained by Yu et al. [29] with PPI networks. They stated simple sequence-based kernels, such as n-gram, do not properly predict-protein interactions. However, when Yu et al. [29] combined sequence kernels with other kernels that incorporate evolutionary information, the accuracy of the model predictor was improved. We obtained similar results applied to metabolic networks predictions: when the PHY and PFAM kernels were included (Experiments II and III, respectively), accuracies were improved while maintaining adequate processing times. The best accuracy value was obtained by combining the PRK-Metric-3gram and PFAM kernels (average AUC=0.844). Other papers have used similar kernel combinations to improve the prediction of biological networks, such as Ben-Hur et al. [22] and Yamanishi [9]. However, rational kernels have not been used in previous research.
Ben-Hur et al. [22] report an average AUC value of 0.78 for PFAM kernels, while Yamanishi [9] reports an average AUC of 0.77 for the PHY kernel for predicting Saccharomyces cerevisiae metabolic pathways. We have previously developed similar experiments but using SVM methods [7]. As a result, we obtain AUC values of 0.92 for PFAM kernel and 0.80 for PHY kernel, with execution times of 12060 and 7980 seconds, respectively. However, in all cases a random selection of negative and positive training data was used. As noted by Yu et al. [29], the average AUC values obtained by random selection of data for training machine learning tools results in a bias towards genes (or proteins) with large numbers of interactions. As such, the high AUC results in these previous works cannot be directly compared to the results in this paper. We have employed the balanced sampling techniques suggested by Yu et al. [29] to combat bias in the training set. Our results, with average AUC values in the range 0.5-0.844, are comparable to and exceed in cases the results obtained by Yu et al. [29] with balanced sampling, which range from 0.5-0.75 across several different kernels for protein interaction problems. We have also obtained these results in execution times of 15-140 seconds. With the exception of the direct sum kernel, all of the confidence intervals are above the behaviour of a random classifier.
We developed one more experiment with the PFAM kernel as a simple kernel of the Pairwise Tensor Product (K pfam ) using a balanced sampling as suggested by Yu et al. [29]. Note that it is not a PRK; it is a regular pairwise kernel using PFAM as a simple kernel, similar to the example in the Using pairwise kernel and SVM to predict metabolic networks Section. As a result, the average AUC was 0.61 and the execution time was 122 seconds. When we compare these values with the results in Table 2 Exp. I, we can see that the kernels KP R K M-3g r a m and KP R K C-3g r a m have better average accuracy (i.e., 0.641 and 0.640, respectively) with lesser average execution times (17.4 and 15.0 seconds, respectively). In addition, when the Pairwise Rational Kernel 3-gram was combined with the PFAM kernel in the Exp. III, (i.e., Tensor Product Pairwise Rational Kernel - KP R K T-3g r a m + K pfam ), the average accuracy value (average AUC=0.827) was better than the Pairwise Tensor Product (K pfam ), while the execution time just was increased 14.8 seconds (i.e., from 122 seconds, using K pfam , to 134.8 seconds, using KP R K T-3g r a m + K pfam ).
In order to statistically compares theses results, we applied the McNemar's non-parametric statistical test [
44
]. McNemar's tests have been recently used by Bostanci et al. [
45
] to prove significant statistical differences between classification methods. McNemar's test defines a
z
score, calculated as:
where Nfs is the number of times Algorithm A failed and Algorithm B succeeded, and N sf is the number of times Algorithm A succeeded and Algorithm B failed. When z is equal to 0, the two algorithms have similar performance. Additionally, if N fs is larger than N sf then Algorithm B performs better than Algorithm A, and vice versa. We computed the z scores considering Algorithm A as the SVM algorithm using the Pairwise Tensor Product (K pfam ) and three different Algorithm Bs, using SVM with three different PRKs from Table 2 (i.e., KP R K M-3g r a m, KP R K C-3g r a m and KP R K T-3g r a m + K pfam mentioned above). In all cases, we obtained z scores greater than 0 (i.e., 4.73, 4.54, 7.51), which mean the PRKs performed better. These z-score also proved that the difference was statistically significant with a confidence level of 99% (based on Two-tailed Prediction Confidence Levels described by [45]).
The Cartesian Kernel has not been widely used since it was defined by Kashima et al. [10]. Kashima et al. [10] used Expression, Localization, Chemical and Phylogenetic kernels to predict metabolic networks. Each of these are non-sequence kernels. In the current experiments we computed, for first time, the pairwise Cartesian kernel with a rational kernel (sequence kernel) to represent sequence data for metabolic network prediction. Cartesian kernels [10] have been defined as an alternative to improve the Tensor Product Pairwise Kernel [22] computation performance. In the three experiments shown in Table 2, we confirmed this definition, as we have obtained better accuracy and execution times when we used the Cartesian Pairwise Rational Kernel (KP R K C-3g r a m) rather than the Tensor Product Rational Kernel (KP R K T-3g r a m). Comparing our results with Kashima et al. [10], we obtained better average AUC values (i.e., 0.844 vs 0.79), and approximately the same average of the execution times (i.e., 93 seconds). Kashima et al. [10] used non-sequence data and random selection of positive and negative data for training.
Figure
4
shows the results of the experiments comparing the PRK framework with other pairwise kernels. The three comparative groups described in Table
1
were used. As can be seen, the execution times were better when the PRKs are used in the three groups. This proves that PRKs compute faster because rational kernels use finite-state transducer operations and representations, improving the performance.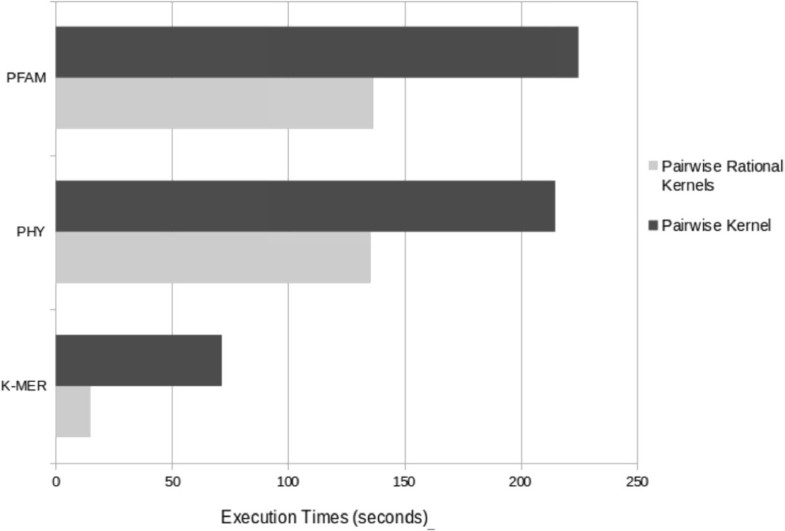 The power of using kernels is that almost any sort of data can be represented using kernels. Therefore, completely disparate types of data can be combined to add power to kernel-based machine learning methods [8]. For example, coefficients describing relative amounts of metabolites involved in a biochemical reaction (i.e., stochiometric data) can also be represented as kernels and added to strength the predicting model. For example, the reaction catalyzed by fructose-bisphosphate aldolase [EC 4.1.2.13] splits 1 molecule of fructose 1,6-bisphosphate into 2 molecules of glyceraldehyde 3-phosphate, where the relative amounts of substrate and product are represented by the coefficients 1 and 2, respectively. A stoichiometric kernel therefore would encode coefficients for all substrates and products, where enzymes that do not interact would have stoichiometric coefficients of 0. Other authors [46–48] have defined and used similar types of stochiometric data, which can be converted into kernels to be consider with PRKs.
Conclusion
In this paper, we introduced a new framework called Pairwise Rational Kernels, where pairwise kernels are obtained based on transducer representations, i.e., rational kernels. We defined the framework, developed general algorithms and tested on the pairwise Support Vector Machine method to predict metabolic networks.
We used a dataset from the yeast Saccharomyces cerevisiae to validate and compare our proposal with similar models using data from the same species. We obtained better execution times than the other models, while maintaining adequate accuracy values. Therefore, PRKs improved the performance of the pairwise-SVM algorithm used in the training process of the supervised network inference methods.
In these methods, the learning process are executed once to obtain the decision function. The decision function can be used as many times as necessary to predict interaction between the other sequences in the species and predict the metabolic pathways.
The methods in this research used sequence data (e.g., nucleotide sequences) to predict these interactions. Genes do not need to be correctly annotated as the raw sequences can be used. Therefore, our methods were able to avoid the error accumulation due to wrong gene annotations.
As future work, our proposal will be used to produce a set of candidate interactions of pathways from the same and other species, that could be experimentally validated. As well, other pairwise rational kernels may be developed using other finite-state transducers operations.
Declarations
Acknowledgements
This work is funded by Natural Sciences and Engineering Research Council of Canada (NSERC) and Microbial Genomics for Biofuels and Co-Products from Biorefining Processes (MGCB2 project).
Authors' Affiliations
(1)
Department of Computer Science, University of Manitoba, Winnipeg, Canada
(2)
Department of Plant Science, University of Manitoba, Winnipeg, Canada
Copyright
© Roche-Lima et al.; licensee BioMed Central Ltd. 2014
This article is published under license to BioMed Central Ltd. This is an Open Access article distributed under the terms of the Creative Commons Attribution License (http://creativecommons.org/licenses/by/4.0), which permits unrestricted use, distribution, and reproduction in any medium, provided the original work is properly credited. The Creative Commons Public Domain Dedication waiver (http://creativecommons.org/publicdomain/zero/1.0/) applies to the data made available in this article, unless otherwise stated.