Methodology article
Open Access
tigaR: integrative significance analysis of temporal differential gene expression induced by genomic abnormalities
BMC Bioinformatics
2014
15:327
Received: 30 May 2014
Accepted: 25 September 2014
Published: 2 October 2014
Abstract
Background
To determine which changes in the host cell genome are crucial for cervical carcinogenesis, a longitudinal in vitro model system of HPV-transformed keratinocytes was profiled in a genome-wide manner. Four cell lines affected with either HPV16 or HPV18 were assayed at 8 sequential time points for gene expression (mRNA) and gene copy number (DNA) using high-resolution microarrays. Available methods for temporal differential expression analysis are not designed for integrative genomic studies.
Results
Here, we present a method that allows for the identification of differential gene expression associated with DNA copy number changes over time. The temporal variation in gene expression is described by a generalized linear mixed model employing low-rank thin-plate splines. Model parameters are estimated with an empirical Bayes procedure, which exploits integrated nested Laplace approximation for fast computation. Iteratively, posteriors of hyperparameters and model parameters are estimated. The empirical Bayes procedure shrinks multiple dispersion-related parameters. Shrinkage leads to more stable estimates of the model parameters, better control of false positives and improvement of reproducibility. In addition, to make estimates of the DNA copy number more stable, model parameters are also estimated in a multivariate way using triplets of features, imposing a spatial prior for the copy number effect.
Conclusion
With the proposed method for analysis of time-course multilevel molecular data, more profound insight may be gained through the identification of temporal differential expression induced by DNA copy number abnormalities. In particular, in the analysis of an integrative oncogenomics study with a time-course set-up our method finds genes previously reported to be involved in cervical carcinogenesis. Furthermore, the proposed method yields improvements in sensitivity, specificity and reproducibility compared to existing methods. Finally, the proposed method is able to handle count (RNAseq) data from time course experiments as is shown on a real data set.
Keywords
IntegrationEmpirical BayesSemi-parametricINLAHigh-dimensional
Background
Cervical cancer is caused by infection with high-risk types of the human papillomavirus (HPV) followed by additional changes in the host cell genome. Insight in genes that are consistently altered over time will improve our understanding of the molecular mechanisms driving cervical carcinogenesis. These genes may provide novel biomarkers for early detection of cervical cancer as well as potential therapeutic targets. High-throughput techniques, such as microarrays and next generation sequencing, are tools for fast high-resolution genome-wide molecular profiling. Applying these techniques to measure genes at consecutive moments in time at multiple molecular levels generates a description of the occurrence of molecular abnormalities during cervical carcinogenesis.
A longitudinal in vitro system of four independent cell lines immortalized with either HPV16 or HPV18, previously shown to faithfully mimic cervical carcinogenesis at the (epi)genetic level [1–3], was used in this study. Cell lines were assayed for gene expression (mRNA) and gene copy number (DNA) with microarrays at consecutive moments in time, representing distinct stages of transformation. Abnormalities in DNA copy number were previously shown to directly affect expression of the genes located within these abnormalities and are believed to facilitate the identification of functionally relevant gene expression changes [4]. Integrating these two molecular levels will yield models of cancer development and progression, thereby reducing the complexity of (cervical) carcinogenesis [5]. We present a method that, in contrast to existing methods, is able to integrate DNA copy number and gene expression over time, while identifying temporal differential gene expression.
Available methods in current literature for time-course differential gene expression analysis can only be applied to a single molecular level. Since microarrays have become widely used for studying genome-wide gene expression, a range of statistical methods have been tailored for the identification of differentially expressed genes in microarray time-course experiments. Several of these methods are developed in an empirical Bayes framework [6–9]. Tai and Speed [9] use multivariate empirical Bayes statistics to rank time-course gene expression profiles. Their method is applicable to both single-condition and multiple-condition datasets and includes a variance stabilization imposing common matrix as a gene-specific variance-covariance matrix. Alternative approaches involve spline-based methods which fit a smoothed curve to the longitudinal data to use for statistical testing [10–12]. Storey et al. [11] use a population average time curve based on natural cubic splines to capture dynamics in gene expression levels and employ the F-test to identify significant genes. On the other hand, BATS [13] combines these two: it employs gene-wise functional modelling to explain temporal differential gene expression, which is casked in a hierarchical Bayesian framework.
In this article we present a method for identification of temporal differential gene expression driven by genomic abnormalities, introducing several new concepts. First, employing low-rank thin-plate splines and empirical Bayes shrinkage, identification of temporal differential gene expression is improved in terms of sensitivity, specificity and reproducibility. Second, including DNA copy number as a time-varying molecular covariate reduces residual variance and allows for the identification of genes which have variation in expression over time caused by genomic abnormalities. Genes with expression levels affected by DNA copy number aberrations have the capability to contribute to malignant cell growth [4, 14]. Identification of these genes is therefore essential for a better understanding of cancer development in general. Third, we impose a multivariate spatial prior for the DNA copy number effect to make the estimate more stable, borrowing information from neighboring features. Furthermore, by changing the link function our method can straightforwardly deal both with continuous and count data. To illustrate the wide applicability of our method we applied it to HPV-induced transformation (microarray) and head & neck cancer (RNA-seq) data.
Methods
A method for the identification of temporal variation in gene expression (due to genomic abnormalities) from an integrative genomics study with a time-course set-up is presented. The variation in gene expression over time is described by a generalized linear mixed model employing low-rank thin-plate splines. Hyperparameters of the model are estimated from the data with an empirical Bayes procedure. With parameter estimates at hand, we describe how relevant hypotheses may be tested. The section concludes with extensions of the model and practical considerations for its application.
Results and discussion
HPV-induced transformation
The proposed method is demonstrated on data of an experiment on HPV-induced transformation. The experiment intends to faithfully mimic cervical cancer development employing a HPV-immortalized in vitro cell line model. Hereto two cell lines are affected with HPV16 and two with HPV18 [26]. Over time these cell lines acquire genomic and transcriptomic changes. To assess these changes, the genomic and transcriptomic characteristics of the cell lines are measured at eight time points by means of oligonucleotide microarrays. The preprocessing of the DNA copy number data comprises of median normalization and segmentation using the circular binary segmentation (CBS) method [27]. Similarly, the gene expression data are background corrected using robust multi-array average (RMA) [28] and between-array normalized by the robust quantile method. Finally, the resulting expression intensity values are transformed using the variance stabilizing transformation [29]. DNA copy number is assigned to each transcript from the expression array by the overlapPlus matching procedure of [15] which uses chromosomal location information. The final data set contains genomic and transcriptomic information on 37768 features, however in this section analysis is performed only on one chromosome which contains 2202 features.
We now turn to the identification of genes with differential expression over time. To this end only the expression data features are used, ignoring the effect of genomic aberrations in Model (2). Gene j exhibits temporal gene expression if is rejected. This corresponds to a spline differing from a flat line, and thus indicating changes in expression levels over time. Temporal gene expression is identified both with a common and different spline(s) for the cell lines. In both analyses the optimal number of knots equals two (determined by the procedure described in the Section 'Practical considerations'). Specification of the prior distribution and description of the hyperparameter estimations for can be found in the Section 'Estimation'.
The common and different spline models employed for the identification of temporal differential expression are now extended to include DNA copy number (as originally proposed in the Section 'Model'). As noted in the Section 'Practical considerations' the flexibility of the spline may consume part of the DNA copy number effect. The proposed remedy limits (via projection) the spline basis to the space orthogonal to space spanned by the DNA copy number information. To assess the potential gain of the orthogonalization each analysis, with common and different spline(s), is done with and without orthogonalization. Prior distributions are as before. The number of knots is determined as done previously (optimal number still equals two). For each analysis hyperparameters of DNA copy number and spline(s) are re-estimated by the empirical Bayes procedure.
We first discuss the number of features with differential temporal expression (given in the second row of Table 1). As in the analysis without DNA copy number, the different spline model identifies substantially more features than the model with a common spline for the cell lines. Orthogonalization of the (common) spline basis onto the DNA copy number data misses one feature in comparison to the non-orthogonalized analysis. This feature is found only with the non-orthogonalized spline basis. In the latter analysis it only passes the significance threshold by a small margin. Hence, in these data the effect of orthogonalization on the identification of temporal differential expression is limited.
Another striking feature of Table 1 is the difference between the number of significant features with differential temporal expression and those with a gene dosage effect: the former exceeds the latter (in case of the full model with different splines per cell line). In part this difference is explained by the flexibility of the splines. But also by the presence of many other regulators of gene expression (e.g. microRNA, methylation, transcription factors) that result in temporal differential expression are captured by the splines. On the other hand, comparing the analyses with a common spline more significant gene dosage effect than temporal differential expression is found. This is due to the fact that DNA copy numbers may strongly correlate with gene expression over time. Features with expression levels that do not consistently (over cell lines) co-vary with DNA copy number are missed by the common spline model (and not including the gene dosage effect).
Head-and-neck cancer
To illustrate the wide applicability of our framework, we present the analysis of sequencing data from a head-and-neck cancer study endowed with a time-course set-up. Oshlack et al. [32] noticed that there are currently no appropriate methods for the analysis of RNA-seq data from time-course experiments. The head-and-neck study aims to identify temporal differential expression due to overexpression of a particular microRNA. MicroRNAs are small 20-22nt non-coding RNAs that inhibit expression of their target genes. The microRNAs recognize these genes by their seed sequence that is complementary to a sequence in the 3' untranslated region (UTR) of the target transcripts. One gene can be targeted by multiple microRNAs and one microRNA may target a multitude of genes. It is therefore not simple to find a specific relevant target gene of a microRNA. In a previous functional screen microRNAs were identified that specifically kill head and neck cancer cells, but not normal cells [33]. The respective target genes of these microRNAs were to be identified in a follow-up experiment. In this follow-up experiment cells of a squamous cell carcinoma cell line were transfected by a microRNA mimic and a control. The transfected cells were grown in vitro and sampled at six time points. Transcript levels of the 2×6 samples were sequenced. Data were mapped to the human genome and raw count data (reads) per gene transcript were used and not summarized per gene. Their normalization comprises rescaling by a the trimmed mean of each sample's library (following [32]). Normalized data are rounded to the closest integer to retain the count interpretation of the data.
Model (2) cannot be directly applied to the sequencing data, as the normal distribution is often a poor approximation for the distribution of counts. The normality assumption is replaced by the (zero-inflated) negative binomial [17, 34]: -. The mean μi,j,t of the counts is (after transformation by the inverse of the link function) still modeled by the right-hand side of Model (2) with assumptions on model parameters in place. Hyperparameters are then estimated via the empirical Bayes procedure previously described.
The analysis of the head-and-neck cancer data concentrates on two main questions: identification of tags with temporal variation and those different between the two conditions. To answer this, Model (2) is used without the DNA copy number term (which is not included in the experiment). Common and different spline models are employed as in the Section 'HPV-induced transformation'. Parameter
γ
j
is the main parameter of interest and the analysis compares the model with and without time effect. The optimal number of knots (again two, for both models) is determined using the procedure described in the Section 'Practical considerations'. Prior distributions for cell line and time effect are as in the Section 'Estimation'. Hyperparameters are estimated for each analysis separately, but only the variance of the random time effect is shrunken via the empirical Bayes procedure. Counts of are fitted using the model with same and different splines as illustrated for one RNA-seq tag in Figure
8
.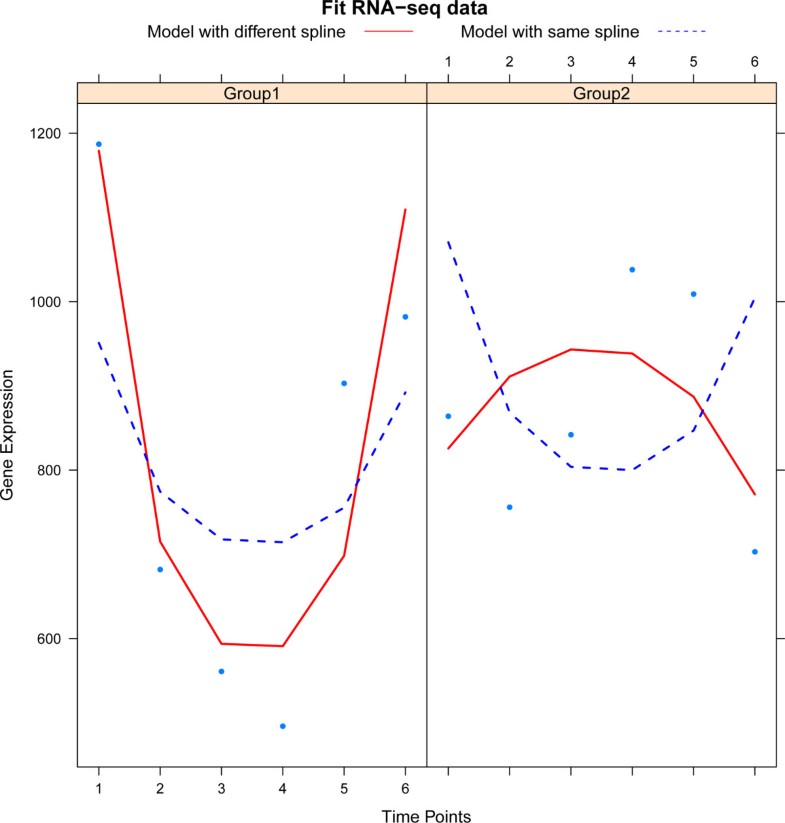 The number of tags with a significant (at the 5% FDR level) temporal variation identified equals 8416 (10951) for the common (different) spline model. As observed in the analysis of the HPV-induced transformation data, the use of a different spline leads to many more findings. Again, this is explained by the improved fit due to a more flexible model. In particular, all the tags identified with the same spline model are also found by its flexible counterpart.
Comparison
The proposed method is compared to three well-known alternatives for significance analysis of time-course microarray data: EDGE, [11], timecourse, [9], BATS [13, 35], and a reference method. The reference method comprises a standard frequentist approach. It fits a linear mixed-effect model, while the null hypothesis is evaluated through an analysis of variance approach (anova), comparing two nested models (with and without random effects).
These competitors have not been designed for the analysis of integrative genomics studies with a time-course set-up. Hence, our method is applicable to a wider class of studies. Besides this qualitative argument, we wish to have a quantitative comparison of the methods. To this end the comparison is restricted to time-course genomics studies involving only a single molecular level. Moreover, to avoid bias of any of the methods by a particular model choice, the comparison is done on two real data sets. The first is the HPV-induced transformation data from the Section 'HPV-induced transformation', limited to the gene expression levels only. The other data set is included in the EGDE-package [11], where gene expression has been monitored in four individuals from a control and endotoxin-treated group. Samples have been collected at five different time points: 2, 4, 6, 9 and 24 hours after treatment. One individual lacks data for the control group at two time points (4 and 6 hours). Since the timecourse method cannot deal with missing time-points this individual is omitted from the analysis. At each time point expression levels of 800 genes are available.
We now briefly describe the other methods used in the comparison: EDGE, BATS and timecourse. For a more detailed description please refer to the corresponding references.
EDGE ([11]) captures the temporal variation in the expression levels of gene j by means of a p-dimensional B-spline basis. Temporal differential expression is evaluated by an F-statistic measuring the goodness-of-fit of the null hypothesis (a flat or constant spline) in comparison to the alternative hypothesis. In the comparison EDGE is used with default parameter settings.
Method timecourse ([9]) uses novel multivariate empirical Bayes statistic to rank time-course gene expression profiles. Gene expression in timecourse method is assumed to follow a multivariate normal distribution with gene-specific mean and covariance. Conjugate priors are assumed on the unknown parameters. Hyperparameters of the conjugates are estimated from the data. Timecourse yields stable variance estimates by borrowing (co)variance information across genes. The posterior distribution and test statistics are obtained in an analytic form. Genes may be ranked using either Hotelling T2 or MB-statistics. For the comparison we used the timecourse R-package with standard settings and Hotelling T2-statistic, due to the balancedness of the study design (equal number of replicates per gene).
Finally, BATS ([13]) which combines characteristics from previously described methods. Similar to EDGE gene expression variation over time is modelled by a polynomial function, while imposing a hierarchical Bayesian model on the parameters (as timecourse). BATS is flexible in its choice of the prior for dispersion related parameters, it offers delta, inverse Gamma and exponential priors. Significance analysis is based on the genes' Bayes factors, while multiplicity correction is addressed in Bayesian manner ([36]).
Sensitivity and specificity of the four aforementioned methods are compared in both data sets. Hereto knowledge of the genes with true temporal differential expression is needed. In its absence we constructed a consensus set which fulfills this role. That consensus set comprises of the features identified by all four methods. Sensitivity is then the proportion of features with temporal differential expression correctly identified as such. On the other hand, specificity is the proportion of features which are correctly identified as features without differential expression over time (hence, rightly not significant). Sensitivity and specificity of each method are assessed for various numbers of significant features.
Figure
9
presents the resulting sensitivity and specificity for the HPV-induced transformation data. The left panel of Figure
9
compares the sensitivity. While BATS, timecourse and EDGE are more or less on a par, they all have a lower true positive rate than tigaR. With respect to the specificity, the methods are more or less on a par with tigaR having a slightly lower false positive rate than the other methods. This is confirmed (though much less pronounced) by the results from the EDGE-package data (see Additional file
1
, Section 6). For both sensitivity and specificity the methods perform similarly with tigaR having a marginal lead.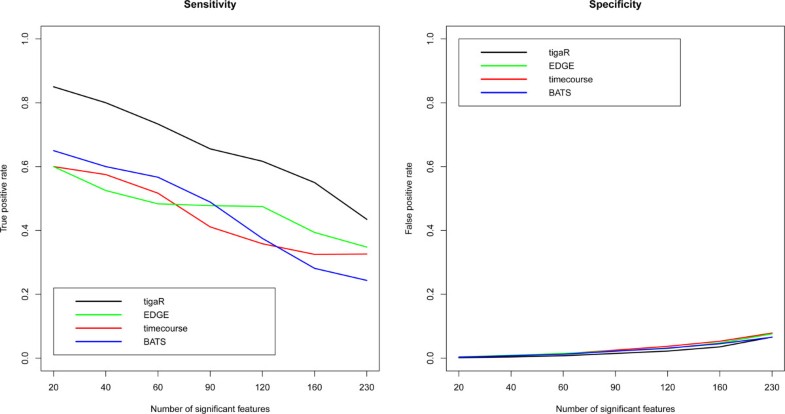 Furthermore, we compared the reproducibility of the five methods (now including reference method). Hereto each data set was divided into two equally sized groups. We assessed how well the results of the two splits coincided. This boils down to the application of each method on both splits. The overlap in significant features for each method was determined.
Figure
10
shows the reproducibility of each method on the data set from the Section 'HPV-induced transformation'. It reveals that BATS and tigaR reproduce substantially better than the competitors. This is confirmed in the other data set (see Additional file
1
, Section 6). The superior reproducibility is most likely a consequence of the empirical Bayes approach (borrowing of information stabilizes estimates) in tigaR and very informative priors in BATS. The tigaR, BATS and timecourse-methods do much better than EDGE in both data sets. The former three all exploit the Bayes principle (in different ways though) which improves estimates of the variance parameters, while EDGE does not.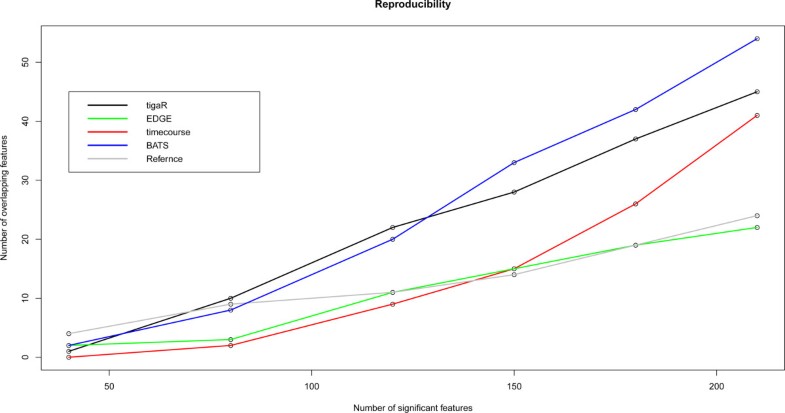 Conclusions
We presented a method for the analysis of integrative (onco) genomics studies with a time-course experimental design. The method identifies temporal differential gene expression while accounting for time-varying molecular covariates like DNA copy number changes. Simultaneously, the method assesses which of these covariates significantly contributes to temporal differential gene expression. The method employs a mixed model describing the temporal changes in gene expression in terms of DNA copy number and a (low-rank thin-plate) spline which captures additional temporal variation in the transcript levels. The method estimates the parameters of this model by means of an empirical Bayes procedure that 'borrows information' across genes. The empirical Bayesian procedure shrinks the parameter estimates (towards zero), thus accounting for multiplicity. This shrinkage enhances the reproducibility of the results. In a direct comparison with other methods for the identification of temporal differential expression, the proposed method proved to be a strong competitor, particularly in terms of reproducibility. In addition existing methods cannot incorporate additional genomics data. Furthermore, our method is straightforwardly applicable to count data resulting from RNA-seq experiments. Application to an integrative oncogenomics study, involving HPV-transformed cell lines, confirmed genes CADM1 and SLC25A36, known to be implicated in the development of cervical cancer. The presented methodology also identified other, novel and potentially interesting genes. These are currently under investigation and will be reported in a follow-up medical paper. Preliminary pathway analysis already showed that genes identified from this dataset by tigaR but not by the other methods were enriched for genes involved in cellular transformation.
Our ongoing research concentrates on two extensions of the proposed method. First, we are considering the inclusion of microRNA data. MicroRNAs affect expression levels post-transcriptionally. However, which microRNA targets which mRNA is only partially known. Hence, integration of temporal microRNA expression data also needs to address the problem of selecting the microRNAs targets. With the number of microRNAs known and typically measured in time-course integrative genomics studies being larger than the number of samples (# time points × # cell lines) this adds an additional layer of complexity to the problem.
The second extension comprises the integration of pathway information. This requires a multivariate formulation of the model for temporal changes in gene expression. Next to DNA copy number changes now the changes in transcript levels of other genes in the pathway may need to be included. A key challenge here is to 'borrow information' within and between pathways.
The methodology described in this paper is implemented in the R-package tigaR available upon request from the first author (v.miok@vumc.nl).
Declarations
Acknowledgements
This research was funded by a grant from the VU University Medical Center-Cancer Center Amsterdam (VUMC-CCA, project CCA2011-5-02).
Authors' Affiliations
(1)
Department of Epidemiology and Biostatistics, VU University Medical Center, Amsterdam, The Netherlands
(2)
Department of Pathology, VU University Medical Center, Amsterdam, The Netherlands
(3)
Department of Mathematics, VU University Amsterdam, Amsterdam, The Netherlands
(4)
InteRNA Technologies BV, Utrecht, The Netherlands
(5)
Department of Otolaryngology/Head-Neck Surgery, VU University Medical Center, Amsterdam, The Netherlands
Copyright
© Miok et al.; licensee BioMed Central Ltd. 2014
This article is published under license to BioMed Central Ltd. This is an Open Access article distributed under the terms of the Creative Commons Attribution License (http://creativecommons.org/licenses/by/4.0), which permits unrestricted use, distribution, and reproduction in any medium, provided the original work is properly credited. The Creative Commons Public Domain Dedication waiver (http://creativecommons.org/publicdomain/zero/1.0/) applies to the data made available in this article, unless otherwise stated.