Research article
Open Access
SketchBio: a scientist's 3D interface for molecular modeling and animation
BMC Bioinformatics
2014
15:334
Received: 24 April 2014
Accepted: 19 September 2014
Published: 30 October 2014
Abstract
Background
Because of the difficulties involved in learning and using 3D modeling and rendering software, many scientists hire programmers or animators to create models and animations. This both slows the discovery process and provides opportunities for miscommunication. Working with multiple collaborators, a tool was developed (based on a set of design goals) to enable them to directly construct models and animations.
Results
SketchBio is presented, a tool that incorporates state-of-the-art bimanual interaction and drop shadows to enable rapid construction of molecular structures and animations. It includes three novel features: crystal-by-example, pose-mode physics, and spring-based layout that accelerate operations common in the formation of molecular models. Design decisions and their consequences are presented, including cases where iterative design was required to produce effective approaches.
Conclusions
The design decisions, novel features, and inclusion of state-of-the-art techniques enabled SketchBio to meet all of its design goals. These features and decisions can be incorporated into existing and new tools to improve their effectiveness.
Keywords
Molecular modellingAnimationCollision detection
Background
SketchBio is a new tool to help scientists think about 3D molecular structures and interactions and to communicate them to others.
We found ourselves repeatedly using 2D hand-drawings of complex 3D structures and their interactions in discussions with our close collaborators in cell biology, pathology, and chemistry, despite the fact that the 3D crystal structures of the proteins making up these structures were known. Overall structure comprehension was advanced when a hired artist produced 3D scale models and computer models of the structures [1]. Our group is not alone. Discussions among collaborators are often done using 2D whiteboard sketches. Presentations often consist of pasted images and 2D PowerPoint animations.
Due to the difficulties involved in learning and using 3D modeling and rendering software, many scientists hire professional computer programmers and/or animators to work with them to create models and animations rather than use these programs themselves. This indirection both slows the discovery process and provides opportunities for miscommunication. This paper describes an effort to provide scientists with a tool that is so rapid to learn and powerful to use that they can create these models and animations themselves.
This tool should be general and widely useful. Many researchers studying cell structure and physiology seek to construct and evaluate dynamic models that incorporate random thermal motion as well as conformational changes induced through intermolecular interactions. Discovering, testing, and communicating hypotheses about these interactions requires the development of complex animated 3D molecular structures. Modeling, simulation, and rendering these hypothetical scenarios involves using a number of tools and databases (PDB, PyMol, Blender, NAMD, etc.) and then converting files to pass geometry and animations between tools. It also involves manual placement and orientation of 3D objects, which is currently done using 2D input devices and by-eye detection and avoidance of collisions. As a result, it often takes a team months to produce an acceptable model or animation.
The aim was to produce a tool that reduces this to a single person working for hours or days.
This paper describes that tool, SketchBio.
Driving problems
Fred Brooks posits that the best way to construct a tool that is generally usable is to focus on several very different specific problems and build a tool that solves them [2]. This approach was followed here.
The first driving problem for this project was to construct a protofibril model based on geometric constraints among a set of individual fibrinogen molecules. The protein fibrinogen is the main component of blood clots, where it is converted into fibrin and links together with other fibrin molecules to form strands. Two of these strands join together to form a protofibril, which form thick fibers that make up a large portion of the blood clot. Based on the crystallized structures of fibrin monomers from different species and on only two sets of known interactions [3], one collaborator sought to construct 3D protofibril structures matching those seen in her data, which suggested a structure in which two fibrin strands twist around each other, and wanted to create a model that shows this interaction at the molecular level. Over several months, this collaborator and her students worked with a computer scientist to use the powerful UCSF Chimera tool to construct such a model ("snapshots" and modeling of the early stages in fibrin polymerization, submitted). Building this model required repeated iteration of hand-placement of two molecules (using multiple 2D mouse interactions), followed by using replication tools to develop candidate models, which were then evaluated against the data. The desired use of SketchBio was to construct this protofibril rapidly and semi-automatically by specifying which location on each fibrin should be in close contact with other molecules and by specifying that the molecules do not overlap. This same capability will enable generation of other self-symmetric structures such as actin filaments and microtubules.
The second driving problem was to construct 3D models and animations of the interaction between actin filaments and vinculin. Actin filaments are one of the three main components of a cell's cytoskeleton, and the protein vinculin binds to actin filaments, connecting them to other actin filaments or different proteins.
The third driving problem was to construct models of the mitotic spindle, a structure that separates chromosomes during cell division. As in the fibrin case, each step of model generation required support from an artist, animator, and/or programmer to convert a collaborator's concepts into geometry for rendering and simulation.
The final driving problem involved cell division (mitosis). Many proteins beyond cohesin and condensin contribute to mitosis. Scientists are able to fluorescently label both these proteins and chromosome locations and determine relative distances and orientations between pairs of proteins. With accurate localization and tracking for 3D images, these techniques provide partial information on the 3D layout of proteins and chromosomes in wild-type and mutant mitotic spindles. Building models to match this information requires the development of semi-automatic layout of proteins. This will provide a partial set of constraints for scientists to construct protein-protein and protein-chromosome complexes that match experimental data. With these enhancements, SketchBio could be widely useful to other researchers for the generation of hypothetical protein-complex structures from partial data.
Design goals
The application-specific needs from the above collaborators can be summarized as a set of domain-independent design goals for SketchBio:
Easy to learn and to use. Scientists must be able to rapidly construct models and animations on their own using interfaces that enable them to concentrate their mental efforts on the design challenge rather than decyphering the interface.

Support molecular operations. It must be easy to load molecules, extract the relevant substructures, describe conformational changes, group molecules, and color according to standard data.

Appropriately constrain layout. Some molecular structures should not overlap, others (drug vs. protein) overlap as part of their function, others (fibrin, actin) assemble into repeated structures. In some cases, the distances between individual elements is known but their 3D layout is not. Supporting all of these cases will enable a biologist to most rapidly explore the space of possible conformations to produce consistent models.

Support rapidly iterated, in-context design. Understanding the interactions between dozens of molecules requires repeated adjustment of proposed locations and motions. The reasonableness of interactions depends on nearby molecules, which change over time. Generating consistent models requires trying and optimizing many potential solutions before the final model is found.

Support high-quality rendering. Once a proposed model has been completed, static and animated images that use the most-effective lighting and surface rendering techniques are critical to conveying the model and its behavior to others.
Methods
SketchBio is a system for understanding subcellular biology by building complex 3D macromolecular structures and animating the structures over time.
The modeling and rendering of these hypothetical structures currently involves using a number of tools and databases and converting files and data to pass between tools.
SketchBio harnesses state-of-the-art tools and libraries into a seamless workflow. It brings best-practice interaction and display techniques to bear on molecular modeling, including bimanual real-time direct interaction and shadow-plane depth cues. It adds three novel features that accelerate this workflow: crystal-by-example, pose-mode physics, and spring-based connectors. Its design decisions (a direct-manip-ulation, real-time interface; harnessing tools rather than re-implementing techniques; and making a system usable in the scientists' labs) led to a system that met all of the design goals.
Results and discussion
SketchBio has been used by a several scientists and has demonstrated success in meeting its design goals.
Easy to learn and use
To measure the ability of scientists to learn and use the system, SketchBio was shown to a visiting graduate student from NIH. She is interested in using the system to study the proteins involved in cell focal adhesions. After a 30-minute training session where she saw us using the system, she was able to use SketchBio to load, replicate, and place the molecules into relevant configurations.
After similar initial training, and with access to the manual, a biochemistry graduate student used the system to generate both static and animated multi-protein models.
He created a model to compare the importance of electrostatics between two different models for vinculin tail interaction with actin [38, 39].
He also created an animation of vinculin binding to an actin fiber for use in a talk, based on the model presented in [
40
]. This video used crystal-by-example to generate the actin and used traslucent connectors to indicate the connection between the head and tail domains of vinculin – a region for which there is no crystal structure. The model in SketchBio is shown in Figure
8
and a frame from the resulting video at approximately the same time is shown in Figure
9
.Finally, he produced both a SketchBio animation and a Microsoft PowerPoint animation of molecules (using images of molecules pre-rendered from a single viewpoint), as shown in Figure
10
, to test their relative speed and effectiveness. The PowerPoint animation took 50 minutes of concentrated effort to produce, while the SketchBio animation took 100. He reports that the PowerPoint animation failed to accurately show rotation of the vinculin tail domain, to show the linker region that scales as the domains move apart, to show a change in actin movement rate, and to accurately portray relative size and orientation of the molecules. He reports that the increase in correct presentation of the science was was well worth the increased time.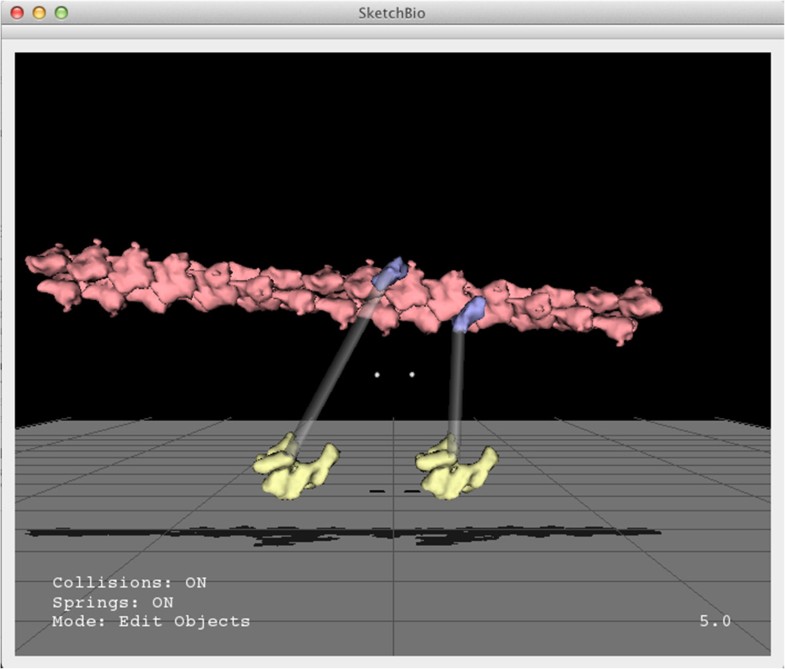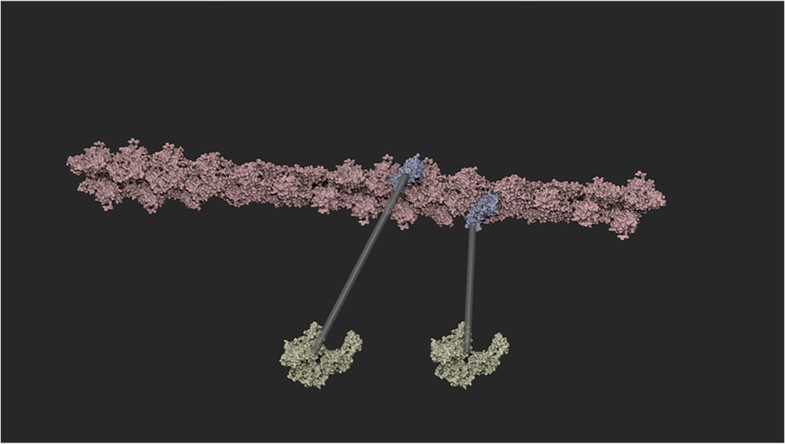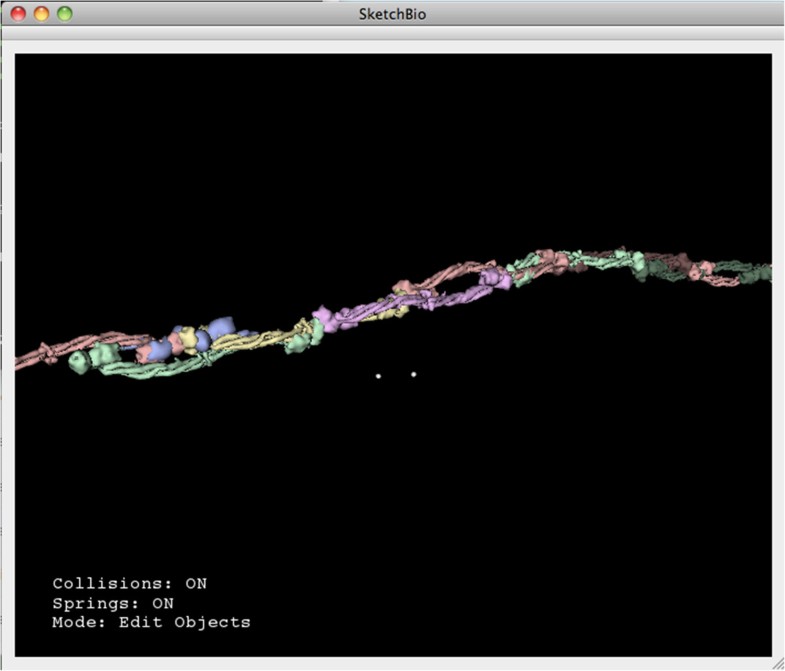 Support rapidly-iterated, in-context design
To measure the speed of complex model construction, a task was repeated using SketchBio that had been done beforehand. Constructing the protofibril models for the first driving problem took a computer scientist 3–3.5 hours by hand-editing transformations within Chimera (a task challenging for biologists to learn). Using an early prototype of SketchBio, he constructed the protofibril seen in Figure
11
in 1.5 hours (a task a biologist would be expected to do just as rapidly). The lack of depth cues became apparent as he spent most of the time trying to figure out the relative depth between the tracker and the molecules, prompting the addition of the shadow plane. With this addition and other features, he reconstructed the model in 35 minutes. In all cases, the desired model was known a-priori; all cases measure time on task and do not count the time spent learning how to use the tool. In this case, SketchBio enabled model creation in about one-fifth of the time for a case of interest to a scientist.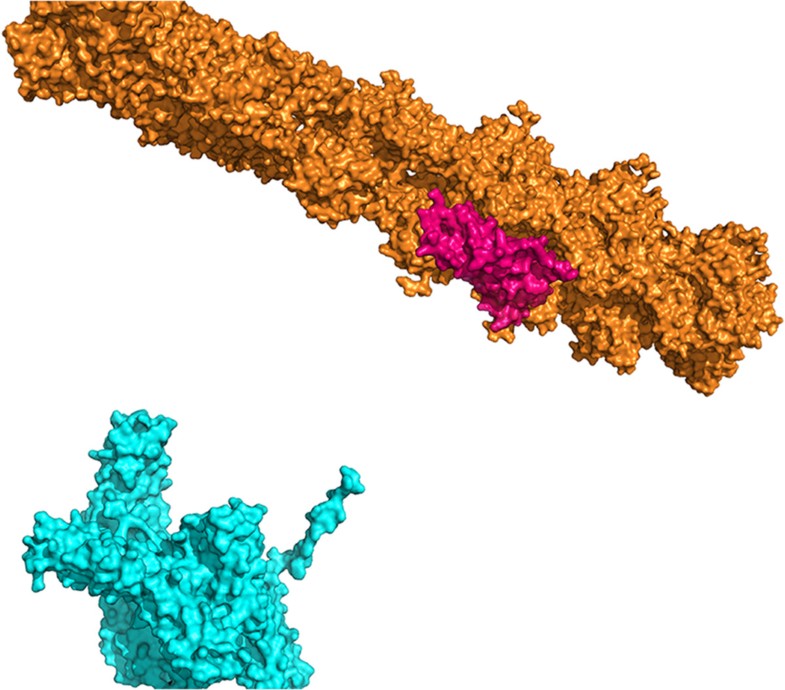 To further measure the effectiveness of SketchBio for the rapid construction of animations, it was used to create an animation of actin and vinculin (see Additional file
1
). Researchers were able to load the molecules, replicate them, place them, plan camera and motion paths, and start rendering in half an hour. The first-person design view and available pre-animation were crucial to this process, enabling design intent to be rapidly translated into action and evaluation, resulting in uninterrupted planning and design iteration.
Additional file 1: Video showing SketchBio features being used to construct a molecular video.(MP4 19 MB)
These cases indicate that a series of brief training videos plus the online manual should suffice to get new users started, that scientists are able to use SketchBio on their own, and that SketchBio compares favorably to existing methods of producing animations and structural models.
Support molecular operations
The video in Additional file 1 shows that a user who is familiar with both tools is able to load, select subsets, and attach two molecules six times as fast using SketchBio as using the combination of Chimera and Blender. As part of development, a Chimera plug-in was created to export the standard molecular labelings (main-chain index, partial charge, etc.) in a VTK data structure, enabling them to be used to color the molecules. Scientist are able to use familiar PDB file and substructure names to load and extract subsets of molecules. The animation and object-grouping features have been used to produce models and animations meeting their needs.
Appropriately constrain layout
Pose-mode physics, with the option to turn it off, supports both preventing and allowing overlap between molecules, as appropriate to the task. The crystal-by-example feature has been used to produce both protofibrils and actin filaments from their monomers. Fixed-length springs provide the ability to rearrange sets of moluecules while maintaining the specified pairwise separations among them.
Support high-quality rendering
The image frames in the paper and video in the associated online materials demonstrate full-resolution rendering with intra- and inter-object shadowing displaying both complex local shape and 3D relationships between objects.
Limitations and future work
After successfully using SketchBio for his initial needs, one user requested new features. He is particularly interested in using SketchBio as a thinking tool to determine how mutations in vinculin turn normally-straight actin filament bundles into helices. Forming a model to fit experimental data can be challenging. A module is under construction to optimize the placement of molecules based on a set of constraints. The resulting optimization algorithms will enable other scientists to semi-automatically construct multi-protein structures that match negative stain electron microscopy images.
Collaborators' projects have so far involved hand-placed molecules of density sufficiently small to be understood when all of them are visible. Thus, SketchBio does not yet support automatically-placed molecules to fill the space, nor does it require complex occlusion-handling procedures. As the user base grows, SketchBio is expected to need to harness importance-based rendering techniques and autofill algorithms to handle a large number of background molecules. These more complex scenes will also require the ability to label important molecules.
The motion of objects could be changed to directly map the user's hand motion instead of moving toward it via force and torque being applied. This would provide a direct mapping of hand location to object location and possibly a better interface. This could be combined with the collision detection type where objects are only allowed to move to a location if the result is collision free. The disadvantage of this approach is that the smoothing by the forces and torques will not occur; transmitting any jitter in the device input directly to object motion.
SketchBio currently supports only rigid structures for modeling and collision detection. Molecular dynamics simulation is something SketchBio does not do directly. This decision was motivated by the time cost of performing the molecular dynamics and the requirement to provide real-time user interaction. SketchBio may eventually harness an external molecular dynamics simulator, but SketchBio will only be used to specify input configurations for the simulation or easily create videos from its output. While SketchBio will not support molecular dynamics directly, a molecular docking capability involving two individual molecules could be added.
To avoid dependence on a particular hardware vendor, SketchBio is being actively ported to use a pair of Nintendo WiiMote controllers instead of the Razer Hydra controller. Its use of the VRPN library supports switching devices by renaming the device and input for each function; a general-purpose mapping layer has been added that reads from a configuration file to enable the user to customize this remapping. This enables new SketchBio users to continue to use the tool until the next-generation Razer Hydra is released.
One consequence of the choice to provide a uniform environment that wraps functions from other programs is that not all features of the wrapped programs are available from within SketchBio. This limitation is mitigated by enabling the user to export Blender files for later offline rendering and to import arbitrary geometry, but then the user has to learn the complexities of the other tools to use these features. If it is the case that most of these features are needed the interface to SketchBio will eventually become as complex as the sum of the tools it wraps. Existing users have been able to develop models and animations without using most of the tools.
Conclusions
SketchBio is a new tool that enables scientists to rapidly construct and validate hypothetical macromolecular structures, to animate these structures, and to produce high-quality rendered animations. It has been tested and shown to meet its design goals:
Easy to learn and to use. Scientists rapidly constructed models and animations on their own.

Support molecular operations. By harnessing PyMol and Chimera.

Appropriately constrain layout. Configurable collision detection, fixed-length springs, and crystal-by-example support all listed cases.

Support rapidly iterated, in-context design. Real-time 6-degree-of-freedom interaction, live animation preview, and viewpoint control enable embedded design.

Support high-quality rendering. By harnessing Blender.
SketchBio includes state-of-the art bimanual interaction, drop shadows to improve depth perception, and other standard modeling and animation behaviors (grouping, spline interpolation, level-of-detail rendering, rapid collision detection, real-time preview).
SketchBio also includes novel interaction and computational techniques that directly support the construction of macromolecular structures. Crystal-by-example and pose-mode physics both provide improved modeling capabilities and both enable more-rapid collision detection. Spring connectors show unspecified interactions and support semi-automatic structure formation. These capabilities can be added to existing and new molecular modeling tools to provide the same acceleration of model building and evaluation.
Both crystal-by-example and pose-mode physics enable real-time collision detection to scale to much larger collections of molecules than are possible using existing techniques that must check for collisions among all objects. The ability to load arbitrary geometry files enables the tool to scale beyond molecule types that can be found in the protein data bank.
The design decisions (a direct-manipulation, real-time interface; harnessing tools rather than re-imple-menting techniques; and making a system usable in the scientists' labs) led to a system that met all of the design goals and is being used by scientists. The relative benefits of these decisions outweighed their potential pitfalls, making them likely choices for other designers.
SketchBio is built using portable libraries and has been compiled and used on Windows, Mac OS X, and Ubuntu Linux. The source code for SketchBio, along with descriptions and videos can be found at http://sketchbio.org.
Abbreviations
PQP:

Proximity query package
VRPN:

Virtual Reality Peripheral Network
PDB:

Protein data bank.
Declarations
Acknowledgements
This work was supported by NIH 5-P41-EB002025.
Molecular graphics and analyses were performed with the UCSF Chimera package. Chimera is developed by the Resource for Biocomputing, Visualization, and Informatics at the University of California, San Francisco (supported by NIGMS P41-GM103311).
Blender (blender.org) is used to perform 3D rendering. Blender is an open source project supported by the Blender Foundation and the online community.
Early versions of SketchBio used PyMol (pymol.org) to import data from the PDB. PyMol is an open source project maintained and distributed by Schrödinger.
We thank Ping-Lin ("Joe") Hsiao for evaluating the effectiveness of SketchBio on the construction of protofibrils. We also thank our collaborators Susan Lord, Sharon Campbell, and Kerry Bloom, and the rest of the UNC CISMM group.
Authors' Affiliations
(1)
University of North Carolina at Chapel Hill, Chapel Hill, USA
Copyright
© Waldon et al.; licensee BioMed Central Ltd. 2014
This article is published under license to BioMed Central Ltd. This is an Open Access article distributed under the terms of the Creative Commons Attribution License (http://creativecommons.org/licenses/by/4.0), which permits unrestricted use, distribution, and reproduction in any medium, provided the original work is properly credited. The Creative Commons Public Domain Dedication waiver (http://creativecommons.org/publicdomain/zero/1.0/) applies to the data made available in this article, unless otherwise stated.