SPiCE: a web-based tool for sequence-based protein classification and exploration
BMC Bioinformatics
2014
15:93
Received: 7 October 2013
Accepted: 26 March 2014
Published: 31 March 2014
Abstract
Background
Amino acid sequences and features extracted from such sequences have been used to predict many protein properties, such as subcellular localization or solubility, using classifier algorithms. Although software tools are available for both feature extraction and classifier construction, their application is not straightforward, requiring users to install various packages and to convert data into different formats. This lack of easily accessible software hampers quick, explorative use of sequence-based classification techniques by biologists.
Results
We have developed the web-based software tool SPiCE for exploring sequence-based features of proteins in predefined classes. It offers data upload/download, sequence-based feature calculation, data visualization and protein classifier construction and testing in a single integrated, interactive environment. To illustrate its use, two example datasets are included showing the identification of differences in amino acid composition between proteins yielding low and high production levels in fungi and low and high expression levels in yeast, respectively.
Conclusions
SPiCE is an easy-to-use online tool for extracting and exploring sequence-based features of sets of proteins, allowing non-experts to apply advanced classification techniques. The tool is available at http://helix.ewi.tudelft.nl/spice.
Keywords
Sequence-based
Data visualization and exploration
Protein feature extraction
Protein classification
Background
The sequence of a protein contains valuable information about its characteristics. Various sequence-based prediction methods exploit this to classify proteins according to specific properties, such as localization [1], function [2], or solubility [3]. This has resulted in relevant and frequently used bioinformatics tools [4] that are offered by a growing number of easily accessible websites and webservices [5–7].
Sequence-based protein classifiers assign class labels to proteins based on a set of features, real numbers that capture some sequence property. This process entails three distinct steps. First,
feature extraction
is required to map protein sequences to points in a feature space (Figure
1
A). Next, a classifier is constructed to optimally separate protein classes in this feature space (
training
, Figure
1
B), using a set of proteins with known class labels. Finally, the trained classifier can be applied to predict class labels for new proteins (
testing
, Figure
1
C). Additionally, features and feature distributions can be visualized to explore differences between protein classes by eye.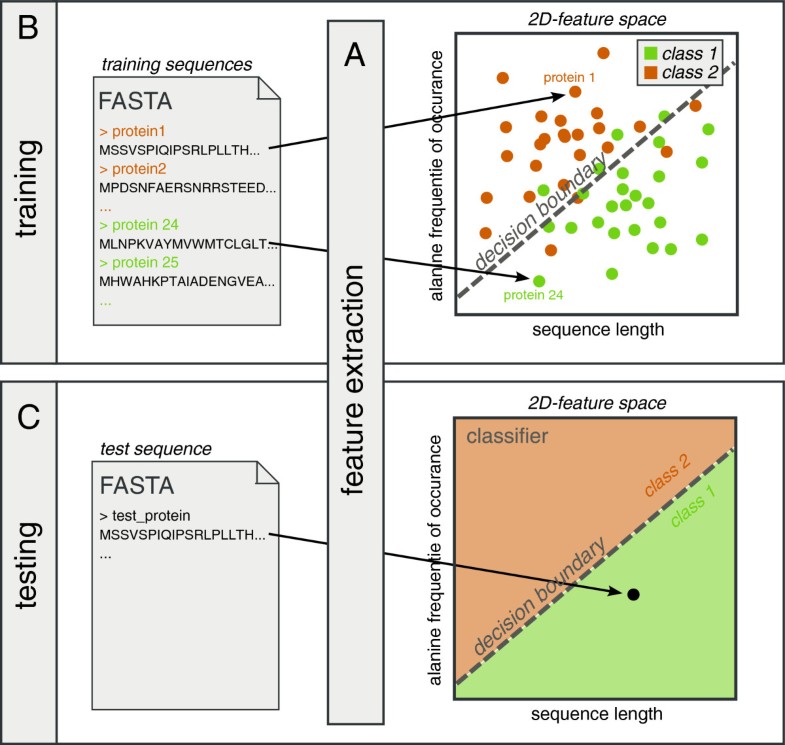 Software tools are available for each of these three steps. Feature extraction is available as software package [8] and through web services [9–12] and an extensive range of classification software has been developed [13, 14], some of which include feature visualization [15]. However, combined application requires installing different software packages and programming efforts to convert data according to the requirements of each tool. For the construction of specialized high-performance classifiers, the overhead of deploying such a pipeline may be acceptable or even required, because this usually involves extensive exploration of many combinations of (customized) features, types of classifiers, and parameter settings. However, it precludes easy access to these methods for non-expert users.
We set out to offer basic protein classification functionality in a single environment to allow for quick and easy exploration of user-defined protein classes, without the need for any programming, data conversion or software installation. To this end we introduce SPiCE, a web-based tool for Sequence-based Protein Classification and Exploration. SPiCE makes powerful data exploration techniques accessible to non-experts; additionally, expert bioinformaticians can exploit the back-end software to perform customized and/or computationally expensive tasks on a local computer.
Implementation
Before describing the SPiCE functionality, some classification concepts and the offered sequence-based features will be introduced in the following two sections.
Results and discussion
To validate the system, we reproduced results of previous work in which a data set was employed to construct classifiers predicting successful high-level production of extracellular proteins in Aspergillus niger[32]. The used data set consists of 345 secretory proteins that were over-expressed in A. niger and tested for detectable extracellular concentrations by putting the obtained extracellular medium on a gel after growing the culture in shake flask. A label 'high' was assigned to proteins for which a band on the gel was observed and a label 'low' to the others, resulting in 167 high-level and 178 low-level proteins. This labeled protein set can be loaded as an example project in SPiCE.
The amino acid composition was calculated and used for the construction of a linear support vector machine (10-fold double-loop cross-validation), providing results that are in agreement with the results described earlier [
32
]. Similar to the observations in that work, the
t
-statistics reveal strong predictive capacity for the tyrosine, asparagine, arginine, and lysine features (Additional file
1
: Figure S1), which can also be observed in the histograms (Additional file
1
: Figure S2). The scatter plot in Figure
4
shows the obtained class separation by using the two features with the lowest (negative) and highest
t
-value respectively. For the hierarchically clustered feature matrix in Figure
5
, clustering of proteins (rows) with the same label indicate that these features are useful for classification. Classifier construction resulted in a cross-validation performance of 0.837 area under the ROC curve (Additional file
1
: Figure S4), again similar to results obtained in [
32
].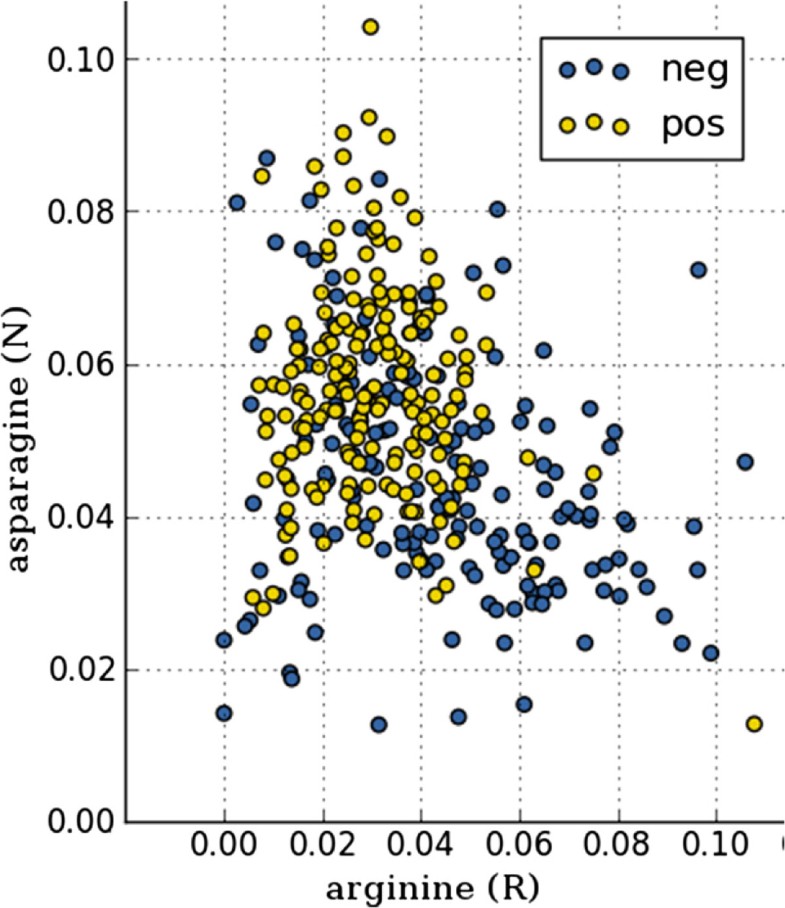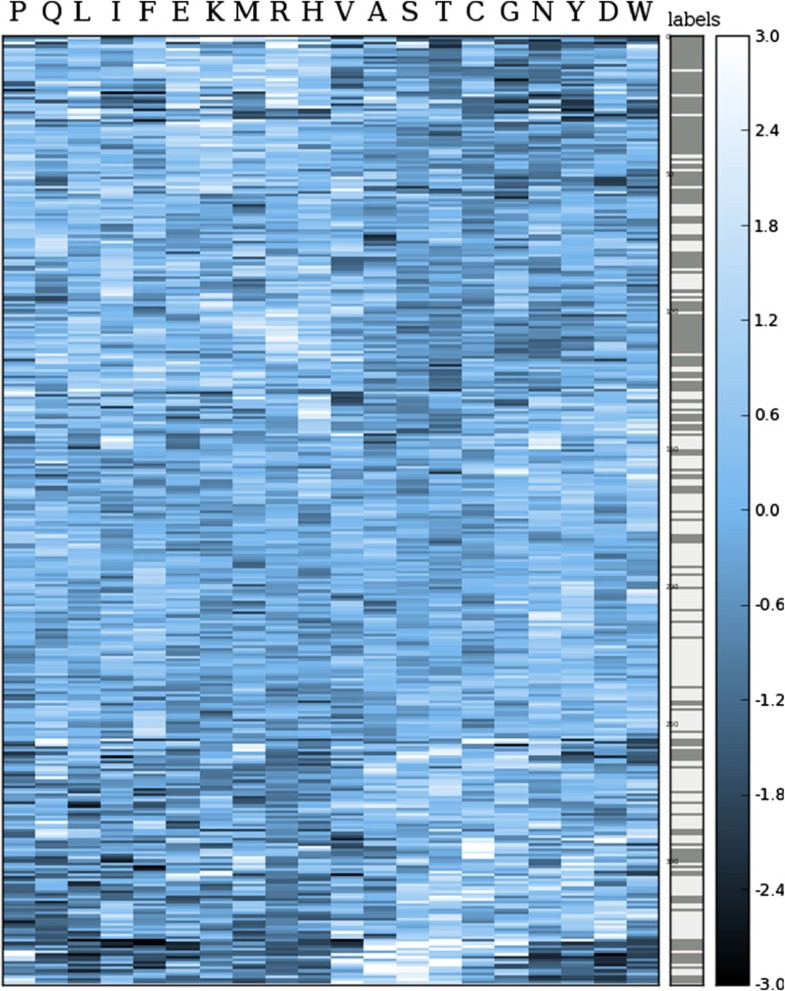 Additionally, we used a yeast protein expression data set to illustrate the ease with which one can explore differences between user-defined protein classes. For this data set, yeast proteins were split into low-level and high-level expressed based on data found in [33], in which Saccharomyces cerevisiae open reading frames were tagged with a high-affinity epitopes and expressed from their natural chromosomal location after which protein abundances were measured during log-phase growth by immunodetection of the tag. As a pre-processing step, to avoid a bias for sets with highly similar proteins, BLASTCLUST[34] was used to reduce sequence redundancy. After that the list of proteins was ordered by expression level. The top and bottom 1000 proteins were labeled 'high' and 'low' respectively. This data is also available as an example project.
Using the
t
-statistics table in Figure
6
, quick exploration of the amino acid composition reveals a preference for alanine, valine, and glycine in the high-expression class, whereas low-expression proteins contain relatively many asparagines and serines. The alanine and serine histograms in Figure
7
, the features with minimal and maximal
t
-value respectively, indeed show shifted means of the class distributions. A classification performance, again using a linear support vector machine and 10-fold cross-validation, of 0.794 area under the ROC-curve (Additional file
1
: Figure S8) showed good predictive capability of the amino acid composition. The predictive capability using the codon composition proved even better, resulting in a performance of 0.856 area under the ROC-curve (Figure
8
).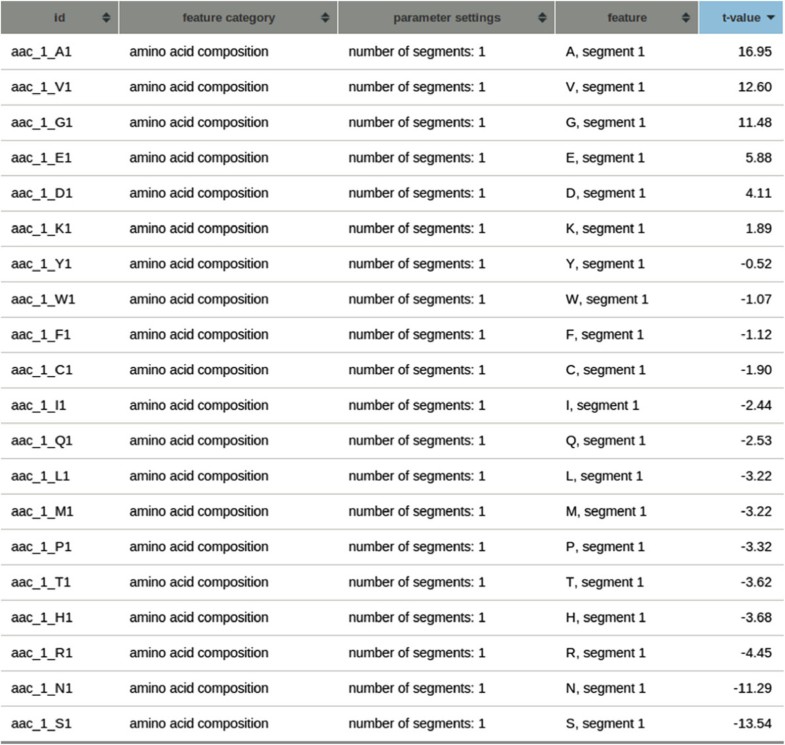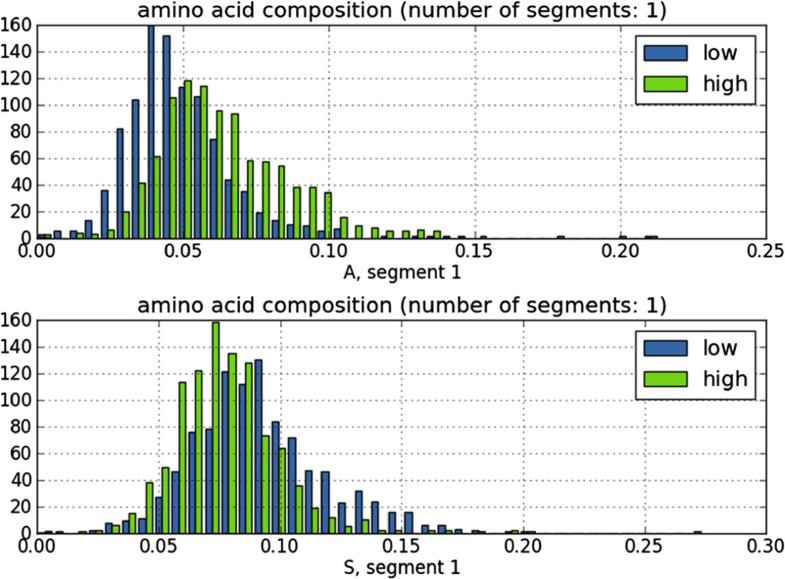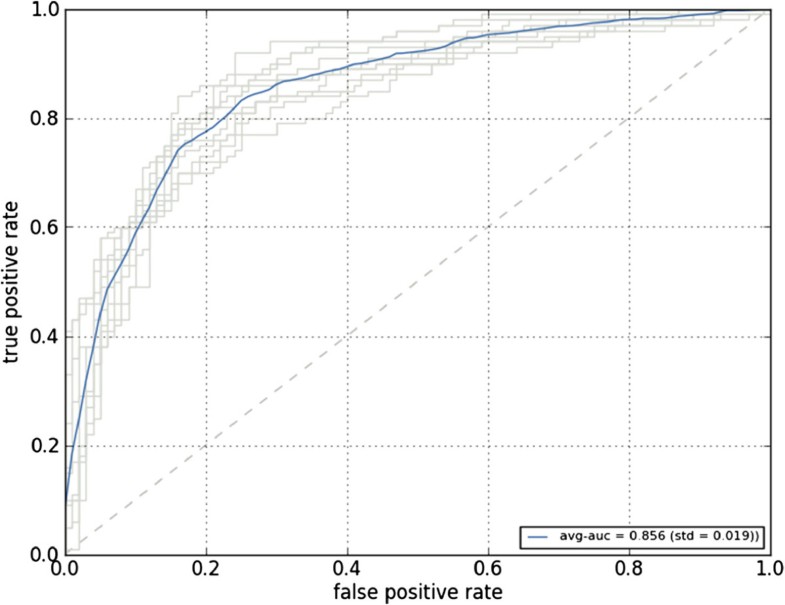 For further exploration of the system, two additional example projects can be initiated. One entails protein subcellular localization in human, a data set of 2580 proteins categorized into 14 different subcellular locations as taken from [35]. The other is a solubility data set obtained from [36], consisting of 17.408 yeast proteins that are split into two equal sized classes: soluble and insoluble.
Conclusion
SPiCE provides easy access to visualization and classification methods for a set of labeled protein sequences. After uploading a FASTA file with protein sequences and a label file with protein labels, the website can be used to calculate sequence-based features, to visualize the resulting feature matrix, and to train and test classifiers for predicting class labels, enabling quick exploration of sets of labeled proteins. The back-end software is made available for expert users to perform customized and computationally demanding tasks on a local computer.
Availability and requirements
Declarations
Acknowledgements
This work was supported by the BioRange programme of the Netherlands Bioinformatics Centre (NBIC) and was part of the Kluyver Centre for Genomics of Industrial Fermentation, both subsidiaries of the Netherlands Genomics Initiative (NGI).
Authors' Affiliations
(1)
Delft Bioinformatics Lab, Department of Intelligent Systems, Faculty Electrical Engineering, Mathematics and Computer Science, Delft University of Technology, Delft, The Netherlands
(2)
DSM Biotechnology Center, Delft, The Netherlands
(3)
Netherlands Bioinformatics Centre, Nijmegen, The Netherlands
(4)
Kluyver Centre for Genomics of Industrial Fermentation, Delft, The Netherlands
Copyright
© van den Berg et al.; licensee BioMed Central Ltd. 2014
This article is published under license to BioMed Central Ltd. This is an Open Access article distributed under the terms of the Creative Commons Attribution License(http://creativecommons.org/licenses/by/2.0), which permits unrestricted use, distribution, and reproduction in any medium, provided the original work is properly cited.