linkedISA: semantic representation of ISA-Tab experimental metadata
BMC Bioinformatics
2014
15(Suppl 14):S4
Published: 27 November 2014
Abstract
Background
Reporting and sharing experimental metadata- such as the experimental design, characteristics of the samples, and procedures applied, along with the analysis results, in a standardised manner ensures that datasets are comprehensible and, in principle, reproducible, comparable and reusable. Furthermore, sharing datasets in formats designed for consumption by humans and machines will also maximize their use. The Investigation/Study/Assay (ISA) open source metadata tracking framework facilitates standards-compliant collection, curation, visualization, storage and sharing of datasets, leveraging on other platforms to enable analysis and publication. The ISA software suite includes several components used in increasingly diverse set of life science and biomedical domains; it is underpinned by a general-purpose format, ISA-Tab, and conversions exist into formats required by public repositories. While ISA-Tab works well mainly as a human readable format, we have also implemented a linked data approach to semantically define the ISA-Tab syntax.
Results
We present a semantic web representation of the ISA-Tab syntax that complements ISA-Tab's syntactic interoperability with semantic interoperability. We introduce the linkedISA conversion tool from ISA-Tab to the Resource Description Framework (RDF), supporting mappings from the ISA syntax to multiple community-defined, open ontologies and capitalising on user-provided ontology annotations in the experimental metadata. We describe insights of the implementation and how annotations can be expanded driven by the metadata. We applied the conversion tool as part of Bio-GraphIIn, a web-based application supporting integration of the semantically-rich experimental descriptions. Designed in a user-friendly manner, the Bio-GraphIIn interface hides most of the complexities to the users, exposing a familiar tabular view of the experimental description to allow seamless interaction with the RDF representation, and visualising descriptors to drive the query over the semantic representation of the experimental design. In addition, we defined queries over the linkedISA RDF representation and demonstrated its use over the linkedISA conversion of datasets from Nature' Scientific Data online publication.
Conclusions
Our linked data approach has allowed us to: 1) make the ISA-Tab semantics explicit and machine-processable, 2) exploit the existing ontology-based annotations in the ISA-Tab experimental descriptions, 3) augment the ISA-Tab syntax with new descriptive elements, 4) visualise and query elements related to the experimental design. Reasoning over ISA-Tab metadata and associated data will facilitate data integration and knowledge discovery.
Keywords
Resource Description FrameworkMapping FileResource Description Framework DataSyntactic ElementInvestigation File
Background
The movement for open science and open research data is being increasingly embraced by the research community, including researchers [1], funders and regulators [2, 3], and journal editors [4, 5]. Shared datasets are truly useful if the information is provided in a standardised manner to ensure they are comprehensible and, in principle, reproducible, comparable and reusable. Data management, sharing policies and plans have emerged to ensure the resulting data is well annotated and shared appropriately. The experimental context (or metadata) should be richly described following community-standards, where these exists, and the information should be made available in formats for both human and machine consumption. Several community-driven efforts aim to develop data reporting standards (e.g. [6–9]). Describing the experimental metadata, however, is a time-consuming task requiring user-friendly tools with two key features: implementation of standards in an invisible manner, hiding as much of their complexities as possible, and adaptability to the diverse types of studies and analytical techniques currently in use by researchers.
The Investigation/Study/Assay (ISA) metadata tracking framework [
10
] is an exemplar open source system that facilitates standards-compliant collection, curation, visualisation, storage and sharing of datasets. It was originally designed for multi-omics experiments in the life sciences but, since then, it has been applied to a variety of domains. It leverages other platforms to enable analysis and publication [
11
–
13
]. At the heart of the ISA framework, there is the general-purpose ISA-Tab file format [
14
], focusing on the description of the experimental metadata, and building on the
Investigation, Study
and
Assay
categories. The metadata in each of these categories is kept into three tab-delimited files, respectively. An
investigation
file maintains metadata about the project context and links to one or more
study
files. A
study
file describes a unit of research, describing the subjects of study and how they are obtained. Those subjects are then used in one or more
assay
files, which in turn, describe analytical measurements. The ISA-Tab format defines the syntactic elements of the ISA infrastructure and the ISA-Tab specification [
15
] determines the way in which the syntactic elements can be combined (see Figure
1
, syntactic and specification layers).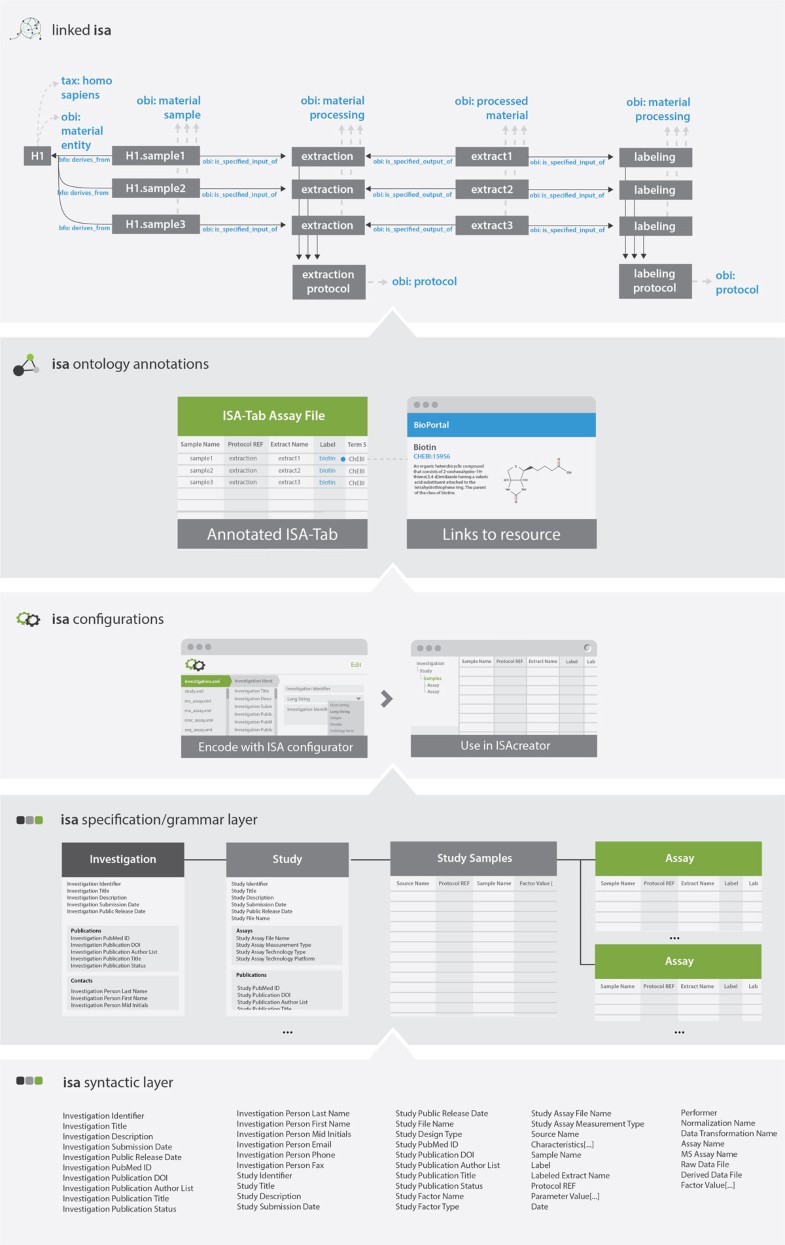 The extensible, hierarchical structure of the ISA-Tab format enables the representation of studies employing one or a combination of assays and technologies, focusing on the description of its experimental metadata. Due to its general-purpose nature, the level of granularity of the descriptors and underlying semantics of the ISA-Tab format is customisable and depends on the type of experiment (e.g. a plant-based metabolomics study would require descriptors different from one studying gene expression in mammalian stem cells).
These customisations can be expressed as ISA configurations (or templates) for each specific type of assay, as defined by the entity they focus to measure and the technology they use (see Figure 1, configurations layer). Each template will define a specific arrangement of the ISA syntactic elements, i.e. a specific set of fields, to describe those assay types. For example, for a transcription profiling assay, i.e. the measurement is transcription profiling, using DNA microarray technology, the assay file structure starts identifying the samples, which are transformed into an extract and then a labeled extract, where each transformation is defined as an application of a protocol. The protocol itself is defined in the investigation file and referenced from the assay file.
The tabular format was chosen because it is user-friendly, as most scientists are familiar with spreadsheet manipulation software. While the format provides syntactic interoperability, the underlying semantics of the tabular format are left to the users interpretation and it is not amenable for straightforward machine manipulation and elucidation.
The ISA-Tab specification encourages users to provide ontology annotations, aiming at assigning unambiguous definitions of elements and harmonisation across ISA-Tab datasets (see Figure 1, ontology annotations layer).
Accompanying the format, the ISA software suite [11, 14, 16, 17] allows to create and edit ISA-Tab files but also to persist, store, serve and convert them to a growing number of related formats. The framework is used by an expanding community, the ISA Commons [18] to deliver a growing ecosystem of public and internal resources - in increasingly diverse set of life science and biomedical domains -- ranging from international public repositories [19], institutional repositories [20] to funded research consortia [21] and data journals [12, 13].
Semantic web standards [22] offer a variety World Wide Web Consortium (W3C) recommended technologies to support data sharing and reuse in a machine readable format, susceptible to automatic inferencing. These technologies enable information integration and re-use of common vocabularies. Among them, the Resource Description Framework (RDF) [23] is a standard model for data exchange and integration on the web. RDF represents information in the form of statements, which take the form of triples <subject, predicate, object>. The subject refers to the resource being described, the predicate is the property or relation being considered, and the object is another resource or a specific value, representing the value assumed by the subject for the specific property. The subject and predicate are identified with Uniform Resource Identifiers (URIs), and the object can be a URI or a literal value. URIs identify the names of resources and are a key component of the semantic web standards. They allow for global naming and referencing to web resources.
On top of the RDF data representation, a common domain model is required for applications to be able to exchange meaningful information. This is achieved with a vocabulary layer composed of standards such as the RDF Schema (RDFS) [24] and the Web Ontology Language (OWL) [25]. RDFS offers ways to define class/property hierarchies and domain/range of properties. OWL extends RDFS, offering more expressivity (e.g. inverse, transitive, symmetric, functional or inverse functional properties, cardinality restrictions on classes) tied in a logics-based formal framework relying on description logics [26].
In this work, we introduce a novel methodology to transform the ISA-Tab format (ISA-Tab) into RDF (see Figure 1, linkedISA layer). We introduce a new software component of the ISA framework: the linkedISA conversion tool, relying on mappings from the ISA syntax to multiple community-defined, open ontologies. We present an evaluation of the resulting RDF representation by running queries over it, and showing that the ISA-Tab information is preserved and extended with newly added entities. The queries were applied in Bio-GraphIIn [17], a web-based application supporting integration of the semantically-rich experimental descriptions. We also demonstrate the queries over the conversion of the Nature Scientific Data journal ISA-Tab datasets [13].
This transformation to RDF complements ISA-Tab syntactic interoperability with semantic interoperability and exploits the ontology annotations available in the ISA-Tab format. The conversion relies on mapping files to specify the semantic framework to be used, allowing the users to convert ISA-Tab files into semantic representations relying on different OWL ontologies. The canonical mapping provided within the linkedISA tool adopts the Ontology for Biomedical Investigation (OBI) [27] and core ontologies under the Open Biological and Biomedical Ontologies (OBO) Foundry umbrella [8]. But, mappings to the provenance ontology (PROV-O) [28] and to the SemanticScience Integrated Ontology (SIO) [29] are also included.
Discussion
A number of projects have applied semantic web technologies to the description of life science experimental data.
Wang et al [43] discussed the advantages of using RDF over the eXtended Markup Language (XML) for representing and integrating omics data. They emphasized the syntactic and document-centric nature of XML, preventing to reach the level of interoperability required by current dynamic bioinformatics systems.
McCusker et al [44] worked on representing the provenance of microarray experiments by converting the MicroArray Gene Expression Tabular (MAGE-Tab) format [45] into RDF. Mapping MAGE files into the Open Provenance Model (OPM) and the Proof Markup Language (PML), they demonstrated the feasibility by converting one experiment from the ArrayExpress database [46] as a step towards a vision of a uniform representation of provenance in a translational research pipeline. As our work is based on the ISA-Tab format, which is used to represent multi-omic (and multi-assay) experiments and expands beyond MAGE-Tab envelop, our conversion tool encompasses McCusker et al results. We currently provide a mapping to the PROV-O ontology as default. Other provenance models can be added, simply by providing an additional mapping file to our converter, a feature which illustrates the flexibility of our implementation, as it decouples the mapping from the conversion engine.
Deus et al [47] also presented a methodology using RDF for integrating microarray-based transcriptomics experimental descriptions from three different source representations: the Gene Expression Atlas [48], the W3C BioRDF task force [36] and the Harvard Stem Cell Institute (HSCI) blood genomics project [49]. Each of the repositories had an independent RDF conversion of the microarray-based data, relying on different ontologies. Deus et al identified a set of patterns to transform SPARQL queries to interrogate the three diverse RDF representations of the distributed microarray experiments resources. Their work focused on reporting gene expression data only.
Anguita et al [50] also worked in providing an RDF interface to data sources based on MAGE standards. Their tool, called RDFBuilder, acts as a wrapper service supporting SPARQL queries over ArrayExpress data. They do not rely on external ontologies to convert the microarray data. Instead, RDFBuilder converts the MAGE Markup Language (MAGE-ML), i.e. the database schema, into RDF, rather than the actual data.
The ToxBank project [21] has provided a transformation from ISA-Tab to RDF with their isa2rdf code [51], which relies on Jena RDF API [52] and ToxBank specific vocabularies. While similar in scope, the isa2rdf is specialized and does not provide the OWL support we sought.
Conclusions
The Investigation/Study/Assay (ISA) metadata tracking framework -- composed of the ISA-Tab format and multiple open source software tools -- facilitates standards-compliant collection, curation, visualization, storage and sharing of datasets, leveraging on other platforms to enable data analysis and data publication.
This manuscript introduced the linkedISA conversion software that transforms ISA-Tab formatted experimental information into RDF triples, following the linked data approach. The conversion relies on a mapping file, resolving the ISA syntax into popular BFO-based ontologies. When available, the linkedISA representation capitalizes on the existing ISA-Tab ontology-based annotations provided by the user. Furthermore, exploiting the extensibility characteristics of RDF, it augments annotation with new elements derived from what implicit information stated in ISA-Tab. ISA-Tab syntactic interoperability has been complemented by semantic interoperability, by producing a machine processable and semantically rich representation of ISA-Tab formated data.
We underlined the generic nature of the conversion and provided a roadmap to deal with domain specific complex representation in ISA-Tab format. Indeed, the conversion can be refined via new mapping files to replace or augment the generic mappings we provide, so that the specific patterns can be processed with the necessary level of detail and accuracy.
We demonstrated some of the advantages of the generated linkedISA representation by:
1.

presenting a set of queries that illustrates how the linkedISA representation enables easy retrieval of experimental information, not available otherwise.

2.

showing how SPARQL CONSTRUCT statements can be harnessed to produce automatic annotations of experimental metadata. The procedure allows to perform metadata-driven annotation automatically, without human intervention. Quality checks of existing annotations (e.g. identifying that an experiment had been incorrectly tagged) or generation of new annotations can therefore be carried out based on curator-defined rules or information on ontological artefacts.

3.

presenting several examples where the linkedISA conversion has been applied: the Bio-GraphIIn web application (that provides new ways to explore and query datasets, clearly showing the different study groups and allowing cohort creation across studies), conversion of Nature's Scientific Data ISA-Tab datasets, a reproducibility case study over a GigaScience's article and a pattern for biodiversity datasets.
Ongoing work covers the following plans:
Finally, we would like to underline how this work highlighted the value of good curation and annotation practices as their implementation and enforcement significantly impact the meaningfulness of the conversion and the downstream possibilities of data exploration and linking. As more experience is gained, we hope to further document best practices.
Declarations
Acknowledgements
The authors would like to thank their funding support to BBSRC BB/I000771/1, BB/I025840/1 and BB/J020265/1, EU COSMOS EC312941 and the University of Oxford e-Research Centre. They also would like to thank Pavlos Georgiou for his contributions to Bio-GraphIIn and the linkedISA RESTful service development.
Declarations
The publication costs for this work were funded by EU COSMOS EC312941.
This article has been published as part of BMC Bioinformatics Volume 15 Supplement 14, 2014: Semantic, social, mobile applications for bioinformatics and biomedical laboratories: selected works from the 13th International Workshop on Network Tools and Applications in Biology (NETTAB 2013). The full contents of the supplement are available online at http://www.biomedcentral.com/bmcbioinformatics/supplements/15/S14.
Authors' Affiliations
(1)
Oxford e-Research Centre, University of Oxford, Oxford, UK
Copyright
© González-Beltrán et al.; licensee BioMed Central. 2014
This article is published under license to BioMed Central Ltd. This is an Open Access article distributed under the terms of the Creative Commons Attribution License (http://creativecommons.org/licenses/by/4.0), which permits unrestricted use, distribution, and reproduction in any medium, provided the original work is properly cited. The Creative Commons Public Domain Dedication waiver (http://creativecommons.org/publicdomain/zero/1.0/) applies to the data made available in this article, unless otherwise stated.