Research article
Open Access
Combining gene expression data from different generations of oligonucleotide arrays
BMC Bioinformatics
2004
5:159
Received: 06 July 2004
Accepted: 25 October 2004
Published: 25 October 2004
Abstract
Background
One of the important challenges in microarray analysis is to take full advantage of previously accumulated data, both from one's own laboratory and from public repositories. Through a comparative analysis on a variety of datasets, a more comprehensive view of the underlying mechanism or structure can be obtained. However, as we discover in this work, continual changes in genomic sequence annotations and probe design criteria make it difficult to compare gene expression data even from different generations of the same microarray platform.
Results
We first describe the extent of discordance between the results derived from two generations of Affymetrix oligonucleotide arrays, as revealed in cluster analysis and in identification of differentially expressed genes. We then propose a method for increasing comparability. The dataset we use consists of a set of 14 human muscle biopsy samples from patients with inflammatory myopathies that were hybridized on both HG-U95Av2 and HG-U133A human arrays. We find that the use of the probe set matching table for comparative analysis provided by Affymetrix produces better results than matching by UniGene or LocusLink identifiers but still remains inadequate. Rescaling of expression values for each gene across samples and data filtering by expression values enhance comparability but only for few specific analyses. As a generic method for improving comparability, we select a subset of probes with overlapping sequence segments in the two array types and recalculate expression values based only on the selected probes. We show that this filtering of probes significantly improves the comparability while retaining a sufficient number of probe sets for further analysis.
Conclusions
Compatibility between high-density oligonucleotide arrays is significantly affected by probe-level sequence information. With a careful filtering of the probes based on their sequence overlaps, data from different generations of microarrays can be combined more effectively.
Keywords
Array GenerationOligonucleotide ArrayInclusion Body MyositisInflammatory MyopathyArray Type
Background
By providing a genome-wide view of gene expression, microarrays have become a common exploratory tool in many areas of biological and clinical studies [1–3]. While there are several different microarray platforms, photolithographically synthesized oligonucleotide arrays from Affymetrix have become one of the principal technologies. These arrays feature multiple 25-mer probes (a "probe set") for each gene, with their measurements summarized into a single number for the estimated expression level of that gene. Because of the important role played by this technology, many methodological studies have focused on improving the extraction of information from these arrays, from image analysis and the proper role of perfect and mismatch probes to distributional properties of the measurements and optimal statistical tests for differential expression [4, 5].
Large-scale gene expression data often contain a large amount of noise from various experimental factors. Fortunately, in most cases, the technical variability is relatively small compared to the biological one and its effect can be minimized by using a sufficient number of replicates [6–8]. However, the high cost of microarray experiments often prevents gathering of enough samples for a reliable analysis in a single laboratory. In such cases, employing existing microarray datasets from other studies can be an efficient way of improving the reliability of a study. Moreover, as the number of publicly available datasets grows rapidly on public data depositories (e.g., Gene Expression Omnibus [9]; Stanford Microarray Database [10]; ArrayExpress at EBI [11]), it is clear that these datasets should be combined to generate a more comprehensive understanding of underlying biology.
Several issues have made this process difficult so far. First, different datasets have been processed using different procedures due to a lack of uniform standards, e.g., for background correction, normalization, and calculation of expression values. This makes it difficult to compare them directly. Raw data files are generally unavailable and, even if they are, reprocessing them requires substantial effort. Second, we have lacked datasets with enough controls and replicates, performed under a proper experimental design and with adequate annotations, in order to make proper comparisons. Third, possibly the most troublesome, the experiments have been performed on many different platforms, with significant differences among them. Even within a single platform, technological and algorithmic advances as well as the evolving annotations of the genomes have resulted in succeeding generations of arrays with substantial modification from one generation to the next. Until now, several studies have found varying degrees of disagreement between platforms, sometimes with large discrepancies that call into the question the reliability of certain conclusions reached in microarray studies [12–19]. A comparison of two Affymetrix arrays, HuGeneFL and HG-U95A, was made previously, but only with the conclusion that the reproducibility is high when the two probe sets share many exact probes and that it is low when they do not [20].
In this work, we carry out a thorough examination of the comparability between the two generations of Affymetrix human GeneChip arrays, HG-U95Av2 and HG-U133A, both of which have been used extensively for studying human gene expression patterns. We then propose a method for enhancing their comparability. The analysis we carry out is made possible by a dataset consisting of the same tissue samples hybridized on both platforms. The procedure is illustrated in Figure
1
. Using our replicate dataset, we first examine the effectiveness of three schemes for matching the probe sets across different arrays. We then quantify the surprising amount of difference in analysis results between the platforms, as revealed in correlation analysis, hierarchical clustering, and selection of differentially expressed genes. We find that comparability can be improved by rescaling expression values or data filtering but that these techniques are limited to few specific analyses. As a generic method for comparative analysis, we propose selecting a subset of probes that have sequence overlaps with the probes on the other array and recalculating the expression levels based only on this subset. We demonstrate that this probe filtering significantly improves the reproducibility, without eliminating a significant number of genes from the analysis.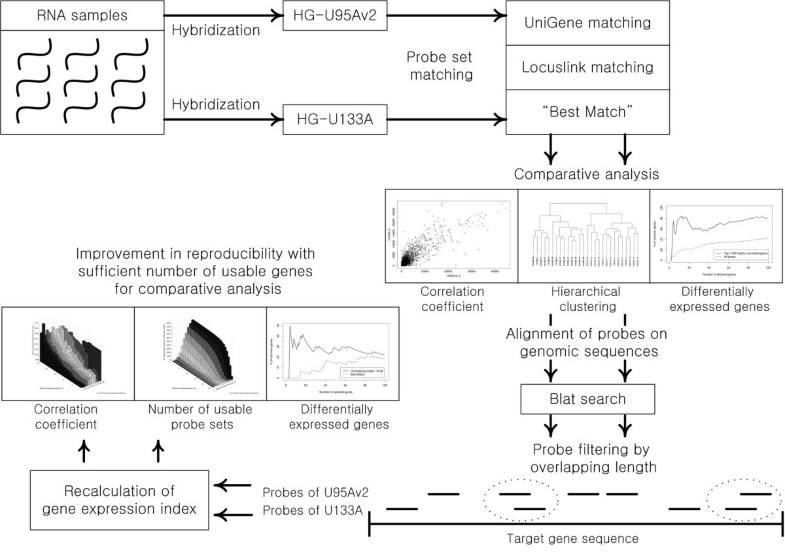 Conclusions
Comparative analysis of different microarray types has a potential to generate more comprehensive and reliable results by fully exploiting available data. Understanding and resolving both the inter-platform and inter-generation data remain an important and challenging practical issue. So far, attempts at such comparisons have been few, and many were limited to simple observations of low correlations in expression values. In this work, we provided a more quantitative and comprehensive description of the issues and inconsistencies through the analysis of a unique dataset consisting of HG-U95Av2 and HG-U133A hybridizations for each of the sample biopsies, and then we described a general method for resolving some of the problems.
We first observed in cluster analysis that with a standard matching of genes, the dominant feature of the dataset is not the sample characteristics but the array type. But we found that for clustering, this problem can be mitigated by rescaling each gene. We note, however, that this method is effective under certain assumptions, e.g., that there are enough samples for each array type and that each dataset does not contain unrelated experiments. If two groups of patients under study are measured on two different arrays, for example, a gene scaling will simply make the samples more homogeneous and reduce the differences between the groups. We also examined the inconsistencies in the list of differentially expressed genes obtained in the two cases. The overlap was very low, indicating that such a list may be platform-dependent and must be interpreted with caution. Some data filtering steps, either by selecting a subset of genes that are empirically shown to be well-correlated between platforms or by focusing only on highly-expressed genes, can be helpful at times, but they do not resolve the underlying problem.
Our approach based on the probe-level sequence information resulted in a significant improvement in the reproducibility in terms of correlation coefficients and selection of differentially expressed genes. As the probes aligned to multiple regions in the genome are eliminated and the probes that share larger segments are selected, the expression values become more consistent. This result is promising because it does not use data-dependent information such as the empirical correlation for each gene between different versions of arrays, which can only be obtained through special datasets such as ours. We examined the effect of the minimal sequence overlap length and the minimum number of probes per gene on the reproducibility, and found that, when the parameters are chosen properly, higher correlation can be attained while retaining a large number of probes for further analysis. We also examined the deviation from the original data when new expression values are calculated after probe filtering. In general, we recommend the minimum overlapping length of 18 ~ 20 bp and that at least 10 ~ 20% of probes in a probe set be present in the filtering step for a comparative analysis between U95Av2 and U133A.
Combining data across multiple platforms remains a formidable challenge. As a first step, we have studied the issues associated with combining data from multiple generations of a single platform and proposed one method. From our analysis, it is clear that technological issues can have significant effect and that one should be aware of the potential pitfalls in studies involving more than a single array type. In principle, the approach of selecting probes with sequence overlaps can be applied to other array types as well as to different versions of oligonucleotide arrays. For example, to study expression profiles of conserved regions across species using a different array for each species, more accurate results may be obtained by using only a subset of probes with sequence similarity. In each case, appropriate criteria for the length of overlap and the number of probes needed for a robust estimate of a probe set value need to be investigated for different contexts, but the results we provide in this work can serve as a guide.
Methods
Microarray data
Muscle tissue samples of 14 patients with inflammatory myopathies were collected. Among the 14 patients, 5 had dermatomyositis (DM) and 9 had other inflammatory myopathies including necrotizing myopathy, inclusion body myositis, granulomatous myositis, and polymyositis. Because the molecular profile of DM is sufficiently different from those of the rest, we can think of the DMs as one group and the rest as the other group in a two-group comparison [26]. Total RNA was extracted from muscle biopsy tissues and labeled. A portion was hybridized to HG-U95Av2 arrays; the remaining supply was frozen and then later hybridized to HG-U133A arrays at the same facility.
Matching probe sets between U95Av2 and U133A
Although they belong to the same oligonucleotide array platform, the changes from the older version (U95Av2) to the newer one (U133A) were substantial: 1) Main source of probe selection region is different (UniGene Build 95 and 133; for the U133 set, other sequence databases such as dbEST were extensively used for choosing the probe selection region); 2) The number of probe pairs was reduced from 16 to 11 for a single gene; and 3) Probe selection method was improved [25]. The annotation for each probe set in U95Av2 and U133A was obtained from NetAffx Analysis Center (NetAffx annotation files (annotation date: 12/10/2003)) [27]. According to the annotation information, U95Av2 has 12,625 probe sets, which are annotated by 9,091 UniGene and 8,672 LocusLink identifiers. The newer version U133A consists of 22,283 probe sets annotated by 13,624 UniGene and 12,769 LocusLink identifiers. Here, the UniGene identifier was assigned by matching the representative sequence of each probe set to the UniGene database at the time of annotation. The LocusLink identifier was derived from the matched UniGene record (Annotation Methodology, Affymetrix web site).
For considering variations in the probe sets for the same transcript between different array versions, Affymetrix provides the probe set matching tables for comparative analysis. These matching tables were constructed based on the sequence information of probe sets as follows [21]. First, all possible probe set pairs between two array generations were checked by their similarity in the representative sequence for selection. Among the selected probe set pairs, "Good Match" pairs were chosen by the following criteria: 1) Percent identity between the representative sequences >90%; 2) Length of the representative sequence >100 base pairs (bp); 3) At least one perfect match (PM) probe of one array generation should be perfectly aligned to the probe selection region of the other array generation. In addition, "Best Match" is a subset of Good Match selected by more stringent criteria on the similarity of probe set pairs [21]. Best Match is used in the rest of the paper as it performs better than Good Match in all instances. When there is more than one probe set matching on either or both arrays, we take the average of the measurements.
BLAT for the alignment of probes
For improving compatibility between U95Av2 and U133A, those probes whose sequence overlapped with any of the probes for the same gene on the other platform were selected. The extent of overlap necessary is described in the Results section. First, all the perfect match (PM) probes were aligned to the coding regions of the genome. Of commonly used short sequence alignment tools such as SIM4 [28], SPIDEY [29], and BLAT [30], we used BLAT (build version 26, available at http://www.soe.ucsc.edu/~kent/exe/ as a stand-alone program) because it appears to be more accurate and faster than others for matching short sequences with high sequence identity (more than 90%). BLAT has been used previously for annotating the probe sets of HG-U95Av2 in GeneAnnot system from Weizmann Institute of Science [31]. The alignment was done on the human chromosome sequence Build 34 (July 2003 freeze), available at UCSC Genome Bioinformatics (ftp://hgdownload.cse.ucsc.edu/goldenPath/hg16/chromosomes/[32]). We ran BLAT with its default options (-tileSize = 11 -minMatch = 2 -minScore = 30, -minIdentity = 90 -maxGap = 2), without the overused tile file to avoid missing any matches. From the BLAT search result, only the 25-mer perfect alignments were considered for further analysis. All probes aligned to more than two regions in genomic DNA were discarded because of the possibility of cross hybridization. In each matched probe set pair, the overlapping lengths between all the possible PM probe pairings (16 × 11) were calculated.
Filtering probes by overlapping length
The length of the overlap between probe sequences (1 bp ~ 25 bp) was used as a criterion for choosing probes for comparative analysis. The expression values were recomputed each time using only the selected probes by masking out the other probes from the raw (.cel) files. The values were calculated by the Statistical Expression Analysis Algorithm using Microarray Suite version 5.0 (MAS 5.0) (Affymetrix, Santa Clara, CA) without linear scaling to target intensity. MAS 5.0 is a robust estimator of expression index based on one-step biweight estimation algorithm, considering both perfect match (PM) and mismatch (MM) probes. This algorithm alleviates the problem of unstable expression values to some extent when a fraction of the probes is eliminated in our analysis.
Declarations
Acknowledgements
KBH was supported by the Korea Science and Engineering Foundation (KOSEF) and by the Korea Ministry of Science and Technology under the NRL Project; SWK was supported by 5U01HL066582-04 from NIH; PJP was supported by K25-GM67825 from NIH.
Authors' Affiliations
(1)
School of Computer Science and Engineering, Seoul National University, Seoul, Korea
(2)
Molecular Medicine, Beth Israel Deaconess Medical Center, Boston, USA
(3)
Bauer Center for Genomics Research, Harvard University, Cambridge, USA
(4)
Department of Neurology, Brigham and Women's Hospital, Boston, USA
(5)
Children's Hospital Informatics Program, Boston, USA
(6)
Harvard-Partners Center for Genetics and Genomics, Boston, USA
Copyright
© Hwang et al; licensee BioMed Central Ltd. 2004
This article is published under license to BioMed Central Ltd. This is an open-access article distributed under the terms of the Creative Commons Attribution License (http://creativecommons.org/licenses/by/2.0), which permits unrestricted use, distribution, and reproduction in any medium, provided the original work is properly cited.