Methodology article

Open Access
The tissue microarray data exchange specification: implementation by the Cooperative Prostate Cancer Tissue Resource
BMC Bioinformatics
2004
5:19
Received: 17 December 2003
Accepted: 27 February 2004
Published: 27 February 2004
Abstract
Background
Tissue Microarrays (TMAs) have emerged as a powerful tool for examining the distribution of marker molecules in hundreds of different tissues displayed on a single slide. TMAs have been used successfully to validate candidate molecules discovered in gene array experiments. Like gene expression studies, TMA experiments are data intensive, requiring substantial information to interpret, replicate or validate. Recently, an open access Tissue Microarray Data Exchange Specification has been released that allows TMA data to be organized in a self-describing XML document annotated with well-defined common data elements. While this specification provides sufficient information for the reproduction of the experiment by outside research groups, its initial description did not contain instructions or examples of actual implementations, and no implementation studies have been published. The purpose of this paper is to demonstrate how the TMA Data Exchange Specification is implemented in a prostate cancer TMA.
Results
The Cooperative Prostate Cancer Tissue Resource (CPCTR) is funded by the National Cancer Institute to provide researchers with samples of prostate cancer annotated with demographic and clinical data. The CPCTR now offers prostate cancer TMAs and has implemented a TMA database conforming to the new open access Tissue Microarray Data Exchange Specification. The bulk of the TMA database consists of clinical and demographic data elements for 299 patient samples. These data elements were extracted from an Excel database using a transformative Perl script. The Perl script and the TMA database are open access documents distributed with this manuscript.
Conclusions
TMA databases conforming to the Tissue Microarray Data Exchange Specification can be merged with other TMA files, expanded through the addition of data elements, or linked to data contained in external biological databases. This article describes an open access implementation of the TMA Data Exchange Specification and provides detailed guidance to researchers who wish to use the Specification.
Keywords
Perl Script
Common Data Element
Cooperative Prostate Cancer Tissue Resource
Information Management Service
Open Access Document
Background
TMA technology was introduced in 1998 [
1
]. A TMA fundamentally differs from a conventional glass slide only in the number of tissue samples included [see Figure
1
]. Tissue microarrays typically contain between 100 and 1,000 core tissue samples. A single TMA block can be sectioned and distributed to dozens of laboratories, saving years of preparation time, hundreds of thousands of dollars in tissue collection costs, and conserving experimental reagents by measuring a marker's distribution on hundreds of specimens arrayed on a single glass slide [
1
]. Several studies have demonstrated the value of TMAs to validate the biologic relevance of candidate genes expressed in prostate cancers [
2
–
6
].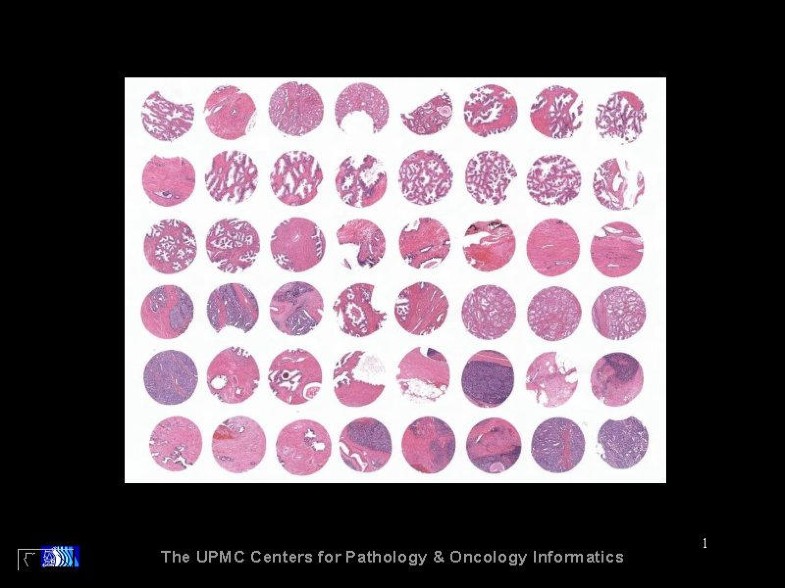 Because TMAs are designed to answer questions applicable to pathologic lesions with specific sets of attributes (e.g. stage or grade or diagnostic subtype), preparation of a TMA requires access to large archives of paraffin embedded tissues. Each TMA core tissue must be annotated with clinical, demographic or histopathologic information so that measurements on the TMA core samples can result in clinically useful correlations. To ensure inter-laboratory reproducibility, information describing the preparation of TMA blocks and slides need to be provided along with the TMA data records.
The Cooperative Prostate Cancer Tissue Resource (CPCTR) is a multi-institutional virtual tissue bank funded by the U.S. National Cancer Institute (NCI) to provide researchers with samples of prostate cancer tissues [7]. The member institutions of the CPCTR are New York University, George Washington University, University of Pittsburgh and Medical College of Wisconsin. The CPCTR began service to the cancer research community on December 6, 2001. The CPCTR has over 5,000 prostate cancer specimens including radical prostatectomy cases (paraffin and fresh-frozen) and paraffinized needle biopsies. The CPCTR represents the largest repository of histologically-characterized and clinically annotated prostate cancer tissue in the USA. All accrued cases undergo pathology review and all clinical data is collected using methodology standardized across the participating institutions. CPCTR resources are available to all researchers, academic and commercial. Further information can be obtained from the CPCTR website [8].
The CPCTR has constructed a prostate cancer TMA implemented in conformance with the new TMA Data Exchange Specification (herinafter designated "the Specification"). The Specification was developed through a series of open workshops sponsored by the National Cancer Institute and the Association for Pathology Informatics [9]. Tissue data included in the CPCTR TMA database is de-identified, and assembled in an open access database to permit data sharing, in compliance with current NIH policy on data sharing [10] and in concert with ongoing NIH initiatives to develop new methods for sharing research data [11, 12].
Results and Discussion
The TMA data exchange specification was designed to allow TMA database files to be totally self-describing. The properties of a self-describing database file would include:
1.

An informative header that explained the purpose of the file and provided all the information to understand the file (i.e., its organization).

2.

Information regarding the creation of the file (e.g., creator, date of creation)

3.

Rights of use (e.g. specifying any restrictions on use)

4.

5.

Methodology (e.g. how the data contained in the file was obtained)

6.

7.

Metadata (the data that describes or defines the actual data)

8.

Metadata definitions (clear descriptions and definitions of the metadata)
The typical database contains data (property #6) but nothing else in the way of self-descriptive annotation. The CPCTR implementation of the Specification has all eight properties and employs the following enhancements:
1.

Uses Uniform Resource Locators (URLs) to link the TMA database with web documents that provide detailed information supplementing the metadata tags. These external URLs are:

a.

A link to the Dublin Core Meta Data Elements used in the header section of the document [13].

b.

A link to the ISO-11179-compliant listing of Common Data Elements (CDEs) provided in the Specification [14].

c.

A link to the CPCTR CDEs [15].

d.

Links to external documents that provide methodologies for preparing CPCTR TMA blocks and sectioning slides [16, 17].

3.

Supports complex TMAs within a single TMA file. In this case, a single TMA file contained four blocks, with cores from a single tissue samples appearing in multiple locations in more than one block.

2.

Protects patient privacy (by deidentifying all data)

3.

Allows data sharing (by permitting free distribution of the XML data document)
Conclusions
Tissue microarrays allow for the high throughput analysis of tissue samples and their association with clinical or outcomes data. Yet these experiments require a large amount of information for the subsequent analysis and evaluation, in particular by interested second parties. The Specification provides an accurate and reproducible method for the transfer of this information as is required for inter-laboratory reproducibility. One of the most important problems with modern data specifications is the daunting technical expertise required for their implementation. The Specification was written to permit maximal flexibility and minimal implementation requirements [9]. This study demonstrates that the Specification can be implemented using a simple Perl script that converts an Excel database into XML-tagged data elements. The resulting large section of core-related XML text can be simply inserted into a conformant document containing header, block and slide information. The resulting TMA database can be validated with a Perl script provided with the Specification document.
Declarations
Acknowledgements
This work was supported by four grants from the National Cancer Institute for the support of the Cooperative Prostate Cancer Tissue Resource: U01 CA86772, U01 CA86743, U01 CA86735, and U01 CA86739. With the exceptions of Jules Berman and Kevin Dobbin, the authors are funding recipients of these grants. Jules Berman and Kevin Dobbin performed this work as part of his regular activities as a U.S. government employee. Hang Liu, of the University of Wisconsin, is acknowledged for writing a Perl script that extracted the array locations for core samples.
Authors' Affiliations
(1)
Cancer Diagnosis Program, National Cancer Institute, National Institutes of Health, Bethesda, USA
(2)
Department of Pathology, University of Wisconsin, Milwaukee, USA
(3)
Department of Pathology, University of Illinois Medical Center, Chicago, USA
(4)
Department of Pathology, New York Medical Center, New York, USA
(5)
Department of Pathology, George Washington University Medical Center, Washington, USA
(6)
Center for Pathology Informatics and Benedum Oncology Informatics Center, University of Pittsburgh Medical Center, Pittsburgh, USA
Copyright
© Berman et al 2004
This article is published under license to BioMed Central Ltd. This is an Open Access article: verbatim copying and redistribution of this article are permitted in all media for any purpose, provided this notice is preserved along with the article's original URL.