Methodology article
Open Access
Unraveling condition specific gene transcriptional regulatory networks in Saccharomyces cerevisiae
BMC Bioinformatics
2006
7:165
Received: 14 September 2005
Accepted: 21 March 2006
Published: 21 March 2006
Abstract
Background
Gene expression and transcription factor (TF) binding data have been used to reveal gene transcriptional regulatory networks. Existing knowledge of gene regulation can be presented using gene connectivity networks. However, these composite connectivity networks do not specify the range of biological conditions of the activity of each link in the network.
Results
We present a novel method that utilizes the expression and binding patterns of the neighboring nodes of each link in existing experimentally-based, literature-derived gene transcriptional regulatory networks and extend them in silico using TF-gene binding motifs and a compendium of large expression data from Saccharomyces cerevisiae. Using this method, we predict several hundreds of new transcriptional regulatory TF-gene links, along with experimental conditions in which known and predicted links become active. This approach unravels new links in the yeast gene transcriptional regulatory network by utilizing the known transcriptional regulatory interactions, and is particularly useful for breaking down the composite transcriptional regulatory network to condition specific networks.
Conclusion
Our methods can facilitate future binding experiments, as they can considerably help focus on the TFs that must be surveyed to understand gene regulation.
(Supplemental material and the latest version of the MATLAB implementation of the United Signature Algorithm is available online at [1] or [see Additional files 1, 2, 3, 4, 5, 6, 7, 8, 9, 10])
Keywords
Transcriptional Regulatory NetworkInput GeneLink ModelStar ModelAmino Acid Starvation
Background
Transcriptional regulation is fundamental to translating genetic information into biological function, and is thus critical for understanding cell adaptation, differentiation, and pathological transformation. One challenge is to decipher the intricate network of transcriptional interactions, so as to better appreciate functional relationships and to discern disease states.
Using published high-throughput mRNA expression data, several groups have proposed algorithms to computationally construct transcriptional regulatory networks for S. cerevisiae [2]. One approach, as presented by Segal et al. [3], is to use a probabilistic expression model, in which regulatory relationships can be deduced by the correlation of co-expression between a DNA-binding transcription regulator and its target gene3. Other approaches, such as those recently published by Rice et al. [4], use gene perturbation to infer the direction of regulatory effects4. However, there are limitations to the reverse-engineering approach to deriving transcriptional regulatory networks from expression data [5]. Correlation matching does not distinguish regulators from target genes. It is difficult to discern whether the correlated target is directly or indirectly regulated. Additional information, such as protein-DNA binding, can be integrated into transcriptional regulatory networks, as described by Bar-Joseph et al [5], for validating direct regulator-target interaction.
Recently, the genomic binding sites of 203 yeast transcriptional regulators were identified using ChIP-on-chip experiments under a limited number of growth conditions [6]. The results showed that regulator binding is highly dependent upon the environmental conditions of the cell. These experiments provide information on condition-specific TF binding events, which may be associated with activation or inhibition of the target genes. However, binding between a TF and a target gene in a given condition is not sufficient to predict whether a target gene will be expressed in this condition [7]. Therefore it would be highly advantageous to develop a computational approach for predicting the biological conditions under which each regulator-target gene link in the known regulatory network is active.
In this paper, we present an approach based on a variant of the signature algorithm [
8
–
10
] to extend known transcriptional regulatory networks. Our computational approach, which integrates binding and expression information, enables us not only to identify new condition-specific transcriptional regulatory interactions, but also to predict the conditions in which each link in the known regulatory network is active (as schematized in Fig.
1
).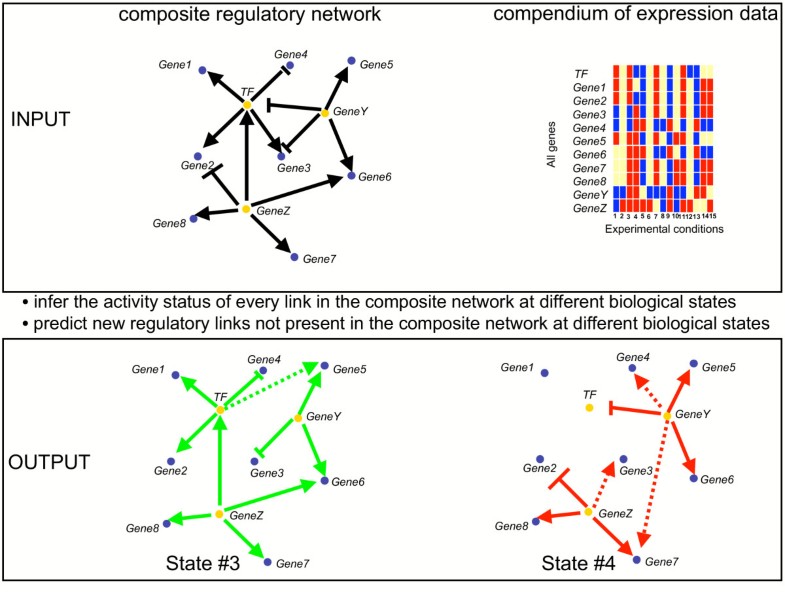 Discussion
We present a novel method for identifying new transcriptional regulatory interactions together with the conditions in which these new and experimentally known interactions are active. An important feature of our method is the utilization of a composite regulatory network consisting of known TF-target gene interactions, where these links have been identified in different studies and experimental conditions. To the best of our knowledge, this is the first introduction of a methodology for de-composition of the composite network to condition specific networks. The novelty of this method is that predictions are based on the integration of this a priori transcriptional regulatory network information with a compendium of gene expression profiles as well as matching of TF DNA binding motifs (PWMs) to promoter sequences of candidate target genes. Our models employ the united signature algorithm, which efficiently captures both negatively- and positively-correlated genes under specific experimental conditions. This algorithm makes it possible to identify inhibitory and stimulatory regulatory interactions.
This approach confers a number of advantages over previously published transcriptional network studies: (1) it predicts not only a TF-target gene direct regulatory relationship, but also determines whether this relationship is inhibitory or stimulatory, (2) for each regulatory link it provides a unique subset of conditions (selected from a large compendium of experimental conditions) in which it is expected to be active, (3) its prediction rate is relatively high. Improved prediction rates can be attributed to: (i) the use of comprehensive biological input that includes all the known transcriptional regulatory links, large gene expression datasets and TF-DNA binding motif information, (ii) utilization of PWMs in discriminating between direct and indirect interactions of co-expressed TF-gene pairs, (iii) the unique properties of the united signature algorithm (USA) involving the input of known inhibitory and stimulatory TF-gene interactions, which in turn allow us to identify transcriptional modules consisting of negatively as well as positively correlated genes under experimental conditions relevant to the activity or inactivity of TFs.
Methods employing prior knowledge of TF binding motifs are limited by the reliability of binding predictions, which depend on the quality of the PWMs of each TF. The challenge of integrating TF binding and expression array data is further complicated by the fact that, in most cases, the gene expression profiles were not generated under the same experimental conditions used to collect ChIP-on-chip data. We endeavored to match each condition-specific ChIP-on-chip experiment to expression profiles generated under the most similar experimental environment. Nevertheless, collection of binding and expression data is ideally done under the same experimental conditions to reveal the condition specific transcriptional regulatory network [7, 23].
Intersections between experimental conditions present in the UTMs of converging links can indirectly reveal some of the combinatorial regulations in the yeast regulatory network. A plausible mechanism for predicting the combination of TFs that regulate a target gene is to use a deconvolution model [24] or regression model in which the expression profiles of its regulators play the role of predictor variables. We attempt to directly model these TF combinations using a reversed-STAR model, in which the central gene is the target gene and all the links in this local network emanate from its regulators. This model led to results with low overlap with ChIP-on-chip experiments (data not shown). Future experiments will allow us to significantly improve the performance of this model by substituting the mRNA expression profiles of the regulators with protein expression and phosphorylation profiles.
Conclusion
We have presented two models for extending the yeast transcriptional regulatory network. The LINK model is particularly useful when the TF has a single target, whereas the STAR model is applicable when the TF has multiple targets. The LINK model is based on the assumption that mRNA levels of a target gene and its regulator are highly correlated. The picture is more complicated for proteins that undergo post-translational modification (such as phosphorylation) to become functional. With the STAR model the TF expression pattern is not taken into consideration and there is no assumption regarding co-expression of a TF and its target gene at the mRNA level. These models complement each other, and are best used in combination, as shown here.
This approach makes experimentally testable predictions that can considerably narrow the scope of TFs that must be surveyed to understand gene regulation.
Declarations
Acknowledgements
We thank Drs. Uri Alon and Nadav Kashtan of the Weizmann Institute of Science for data and correspondence concerning the S. cerevisiae transcriptional regulatory networks. We are also grateful to Drs. Naama Barkai and Jan Ihmels of the Weizmann Institute for granting us access to their ISA program and S. cerevisiae microarray expression dataset. We would also like to thank Alexandre Blais and Brian Dynlacht for continuous interest and helpful comments.
Authors' Affiliations
(1)
Department of Cell Biology, NYU School of Medicine, Skirball Institute of Biomolecular Medicine, New York, USA
References
Supplemental material[http://saturn.med.nyu.edu/~kluger/YeastNetwork/supplementary.html]
Luscombe NM, Babu MM, Yu H, Snyder M, Teichmann SA, Gerstein M: "Genomic analysis of regulatory network dynamics reveals large topological changes,". Nature 2004, 431: 308–12. 10.1038/nature02782View ArticlePubMedGoogle Scholar
Segal E, Shapira M, Regev A, Pe'er D, Botstein D, Koller D, Friedman N: "Module networks: identifying regulatory modules and their condition-specific regulators from gene expression data,". Nat Genet 2003, 34: 166–76.View ArticlePubMedGoogle Scholar
Rice JJ, Tu Y, Stolovitzky G: "Reconstructing biological networks using conditional correlation analysis,". Bioinformatics 2005, 21: 765–73. 10.1093/bioinformatics/bti064View ArticlePubMedGoogle Scholar
Bar-Joseph Z, Gerber GK, Lee TI, Rinaldi NJ, Yoo JY, Robert F, Gordon DB, Fraenkel E, Jaakkola TS, Young RA, Gifford DK: "Computational discovery of gene modules and regulatory networks,". Nat Biotechnol 2003, 21: 1337–42. 10.1038/nbt890View ArticlePubMedGoogle Scholar
Harbison CT, Gordon DB, Lee TI, Rinaldi NJ, Macisaac KD, Danford TW, Hannett NM, Tagne JB, Reynolds DB, Yoo J, Jennings EG, Zeitlinger J, Pokholok DK, Kellis M, Rolfe PA, Takusagawa KT, Lander ES, Gifford DK, Fraenkel E, Young RA: "Transcriptional regulatory code of a eukaryotic genome,". Nature 2004, 431: 99–104. 10.1038/nature02800PubMed CentralView ArticlePubMedGoogle Scholar
Blais A, Tsikitis M, Acosta-Alvear D, Sharan R, Kluger Y, Dynlacht BD: "An initial blueprint for myogenic differentiation,". Genes Dev 2005, 19: 553–69. 10.1101/gad.1281105PubMed CentralView ArticlePubMedGoogle Scholar
Bergmann S, Ihmels J, Barkai N: "Iterative signature algorithm for the analysis of large-scale gene expression data,". Phys Rev E Stat Nonlin Soft Matter Phys 2003, 67: 031902.View ArticlePubMedGoogle Scholar
Ihmels J, Bergmann S, Barkai N: "Defining transcription modules using large-scale gene expression data,". Bioinformatics 2004, 20: 1993–2003. 10.1093/bioinformatics/bth166View ArticlePubMedGoogle Scholar
Ihmels J, Friedlander G, Bergmann S, Sarig O, Ziv Y, Barkai N: "Revealing modular organization in the yeast transcriptional network,". Nat Genet 2002, 31: 370–7.PubMedGoogle Scholar
Cheng Y, Church GM: "Biclustering of expression data," presented at ISMB'00. 2000.Google Scholar
Getz G, Levine E, Domany E: "Coupled two-way clustering analysis of gene microarray data,". Proceedings of the National Academy of Sciences 2000, 97: 12079–12084. 10.1073/pnas.210134797View ArticleGoogle Scholar
Hartigan JA: "Direct clustering of a data matrix,". J Amer Statist Assoc 1972, 67: 123–129. 10.2307/2284710View ArticleGoogle Scholar
Kluger Y, Basri R, Chang JT, Gerstein M: "Spectral biclustering of microarray data: coclustering genes and conditions,". Genome Res 2003, 13: 703–16. 10.1101/gr.648603PubMed CentralView ArticlePubMedGoogle Scholar
Lazzeroni L, Owen A: "Plaid models for gene expression data,". Statistica Sinica 2002, 12: 61–86.Google Scholar
Sharan R, Shamir R: "CLICK: A clustering algorithm with applications to gene expression analysis," presented at ISMB'00. 2000.Google Scholar
Zhu Z, Pilpel Y, Church GM: "Computational identification of transcription factor binding sites via a transcription-factor-centric clustering (TFCC) algorithm,". J Mol Biol 2002, 318: 71–81. 10.1016/S0022-2836(02)00026-8View ArticlePubMedGoogle Scholar
Elkon R, Linhart C, Sharan R, Shamir R, Shiloh Y: "Genome-wide in silico identification of transcriptional regulators controlling the cell cycle in human cells,". Genome Res 2003, 13: 773–80. 10.1101/gr.947203PubMed CentralView ArticlePubMedGoogle Scholar
Matys V, Fricke E, Geffers R, Gossling E, Haubrock M, Hehl R, Hornischer K, Karas D, Kel AE, Kel-Margoulis OV, Kloos DU, Land S, Lewicki-Potapov B, Michael H, Munch R, Reuter I, Rotert S, Saxel H, Scheer M, Thiele S, Wingender E: "TRANSFAC: transcriptional regulation, from patterns to profiles,". Nucleic Acids Res 2003, 31: 374–8. 10.1093/nar/gkg108PubMed CentralView ArticlePubMedGoogle Scholar
Wingender E: "TRANSFAC, TRANSPATH and CYTOMER as starting points for an ontology of regulatory networks,". Silico Biol 2004, 4: 55–61.Google Scholar
Herrgard MJ, Covert MW, Palsson BO: "Reconciling gene expression data with known genome-scale regulatory network structures,". Genome Res 2003, 13: 2423–34. 10.1101/gr.1330003PubMed CentralView ArticlePubMedGoogle Scholar
Milo R, Shen-Orr S, Itzkovitz S, Kashtan N, Chklovskii D, Alon U: "Network motifs: simple building blocks of complex networks,". Science 2002, 298: 824–7. 10.1126/science.298.5594.824View ArticlePubMedGoogle Scholar
Cam H, Balciunaite E, Blais A, Spektor A, Scarpulla RC, Young R, Kluger Y, Dynlacht BD: "A common set of gene regulatory networks links metabolism and growth inhibition,". Mol Cell 2004, 16: 399–411. 10.1016/j.molcel.2004.09.037View ArticlePubMedGoogle Scholar
Kao KC, Yang YL, Boscolo R, Sabatti C, Roychowdhury V, Liao JC: "Transcriptome-based determination of multiple transcription regulator activities in Escherichia coli by using network component analysis,". Proc Natl Acad Sci USA 2004, 101: 641–6. 10.1073/pnas.0305287101PubMed CentralView ArticlePubMedGoogle Scholar
Costanzo MC, Crawford ME, Hirschman JE, Kranz JE, Olsen P, Robertson LS, Skrzypek MS, Braun BR, Hopkins KL, Kondu P, Lengieza C, Lew-Smith JE, Tillberg M, Garrels JI: "YPD, PombePD and WormPD: model organism volumes of the BioKnowledge library, an integrated resource for protein information,". Nucleic Acids Res 2001, 29: 75–9. 10.1093/nar/29.1.75PubMed CentralView ArticlePubMedGoogle Scholar
Lee TI, Rinaldi NJ, Robert F, Odom DT, Bar-Joseph Z, Gerber GK, Hannett NM, Harbison CT, Thompson CM, Simon I, Zeitlinger J, Jennings EG, Murray HL, Gordon DB, Ren B, Wyrick JJ, Tagne JB, Volkert TL, Fraenkel E, Gifford DK, Young RA: "Transcriptional regulatory networks in Saccharomyces cerevisiae,". Science 2002, 298: 799–804. 10.1126/science.1075090View ArticlePubMedGoogle Scholar
Hughes TR, Marton MJ, Jones AR, Roberts CJ, Stoughton R, Armour CD, Bennett HA, Coffey E, Dai H, He YD, Kidd MJ, King AM, Meyer MR, Slade D, Lum PY, Stepaniants SB, Shoemaker DD, Gachotte D, Chakraburtty K, Simon J, Bard M, Friend SH: "Functional discovery via a compendium of expression profiles,". Cell 2000, 102: 109–26. 10.1016/S0092-8674(00)00015-5View ArticlePubMedGoogle Scholar
Mewes HW, Amid C, Arnold R, Frishman D, Guldener U, Mannhaupt G, Munsterkotter M, Pagel P, Strack N, Stumpflen V, Warfsmann J, Ruepp A: "MIPS: analysis and annotation of proteins from whole genomes,". Nucleic Acids Res 2004, 32(Database):D41–4. 10.1093/nar/gkh092PubMed CentralView ArticlePubMedGoogle Scholar
Copyright
© Kim et al; licensee BioMed Central Ltd. 2006
This article is published under license to BioMed Central Ltd. This is an Open Access article distributed under the terms of the Creative Commons Attribution License (http://creativecommons.org/licenses/by/2.0), which permits unrestricted use, distribution, and reproduction in any medium, provided the original work is properly cited.