Research article

Open Access
A novel scoring schema for peptide identification by searching protein sequence databases using tandem mass spectrometry data
BMC Bioinformatics
2006
7:222
Received: 20 December 2005
Accepted: 26 April 2006
Published: 26 April 2006
Abstract
Background
Tandem mass spectrometry (MS/MS) is a powerful tool for protein identification. Although great efforts have been made in scoring the correlation between tandem mass spectra and an amino acid sequence database, improvements could be made in three aspects, including characterization ofpeaks in spectra, adoption of effective scoring functions and access to thereliability of matching between peptides and spectra.
Results
A novel scoring function is presented, along with criteria to estimate the performance confidence of the function. Through learning the typesof product ions and the probability of generating them, a hypothetic spectrum was generated for each candidate peptide. Then relative entropy was introduced to measure the similarity between the hypothetic and the observed spectra. Based on the extreme value distribution (EVD) theory, a threshold was chosen to distinguish a true peptide assignment from a random one. Tests on a public MS/MS dataset demonstrated that this method performs better than the well-known SEQUEST.
Conclusion
A reliable identification of proteins from the spectra promises a more efficient application of tandem mass spectrometry to proteomes with high complexity.
Keywords
Peptide
Experimental Spectrum
Relative Entropy
Tandem Mass Spectrum
Random Match
Background
A major goal of proteomics is to study biological processes comprehensivelythrough the identification, characterization, and quantification of expressed protein in a cell or a tissue. Recently, tandem mass spectrometry has been shown to be a powerful tool for sensitive high-throughput identification of proteins [
1
,
2
]. Following enzymatic digestion of proteins, the resulting peptides are separated in the mass analyzer according to their mass to charge ratio (m/z-value). Peptides with the same m/z value are mostly brokeninto two fragments at a single peptide bond, forming N-terminal ions, i.e.
a
,
b or c
-ion and C-terminal ions, i.e.,
x
,
y or z
-ion. All ions are then detected to generate a MS/MS spectrum (See Figure
1
). In a mass spectrum, the intensity of a peak is generally proportional to the frequency of ions with the corresponding m/z-value [
3
].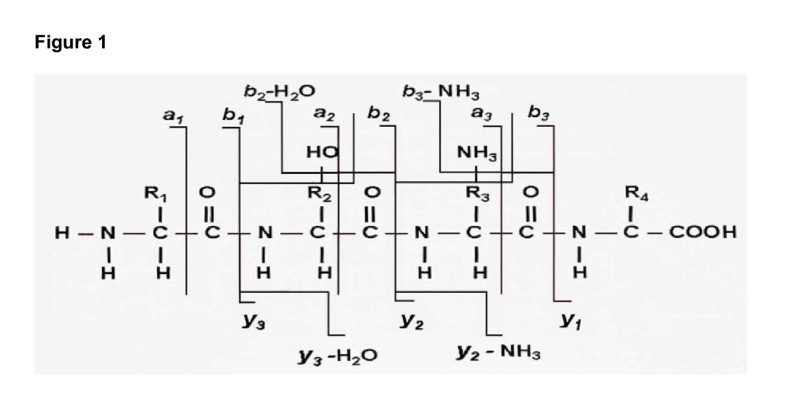 A number of factors complicate the interpretation of MS/MS data. Neither the peaks corresponding to the a/b/c versus the x/y/z ions, nor the charge states of the ions are known. Some product fragments may be absent because either the fragments are in a neutral state or the precursorion hardly breaks down into these products; and unexplainable peaks may appear as the result of contamination or rare fragmentation styles. In addition, some peaks deviate from their expected positions because the corresponding ions contain isotopic atoms or have lost a chemical group. Consequently, effective identification of proteins remains a challenge [4].
Existing methods for interpreting mass spectrum data can becategorized into two types: database searching methods and 'de novo' approaches independent of databases. Most database searching methods start with construction of a hypothetic spectrum for each peptide derived from a protein database, followed by comparing hypothetic and experimental spectra. The peptides with the highest score are reported as potential solutions. Employing this strategy, many systems have proven fairly successful [3, 5, 6].
An effective scoring function for evaluating matches between experimental spectrum and candidate peptide is a key issue in the interpretation of a mass spectrum. Most scoring functions, such as SEQUEST [5] and Sonar http://65.219.84.5/ProteinId.html are based on shared peaks. p-value is an alternative way to evaluate the probability of recognizing a set of fragments in a protein database, as implemented in MOWSE http://www.hgmp.mrc.ac.uk/Bioinformatics/Webapp/mowse/, Mascot [7] and ProbID [8]. Characterizing ion types and their probabilities, Dancik et al [9] proposed a likelihood-based approach, which was generalized in SCOPE [10] to involve more prior knowledge. An extension of Dancik's scoring approach into an intensity-based statistical scorer incorporated a variety of experimental observations and prior knowledge on peptide fragmentation [11]. ProbID [8], a method based on a probabilistic model, adopted a Bayesian approach to interpret mass spectra data.
Random matching between experimental and theoretical masses may bring aboutfalse-positive results, giving rise to another key problem of peptide identification---the criteria for evaluation of the reliability of the matching. The difference between the highest and second highest scores [5] and p-value [7] estimate are used to filter false positives. Jan Eriksson [12] and Keller [13] built a model to work out the distribution ofscores from random matches, which allowed significance testing undergeneral database searching constraints. Therefore, filtering criteria to distinguish a valid match from all matches should be developed towards being dependent on quantitative estimates rather than on experience.
The present paper aims to tackle the two problems mentioned above.
1.

We introduce a new, effective probabilistic scoring function. Adopting astatistical model similar to Dancik et al [8], we have employedrelative entropy (i.e., K-L distance) to measure the similarity between hypothetic and experimentally observed spectra. We present a brief proof toshow that relative entropy is indeed the simplified form of the conditionalprobability that the spectrum is generated from the peptide.

2.

We present an EVD-based criterion to distinguish valid matches from random ones. Each spectrum will acquire the best score from correlation with all candidate peptides. Such best scores conform to the extreme value distribution, which underlies the quantitative threshold of the significance test.
A system written in C, the Protein Identifier (PI), was implemented adopting the relative entropy scoring function and tested on real data. Tests showed that it performed better than a widely used cross-correlation scoring approach [5]. For the sake of convenience, we have made the program available on our website PI http://www.bioinfo.org.cn/MSMS/papers/supp1/.
Result and discussion
We performed the parameter learning, the hypothetic spectrum generation andthe search procedure on the chosen dataset as described above (See Methods section)
Conclusion
In this paper we present a novel method for correlating peptides with tandem mass spectra. The collision-induced dissociation is analyzed as a random event and occurrence probabilities for characteristic ions are calculated. By using these parameters, a statistic model to predict the theoretical spectra for peptides is built. Based on the hypothetical spectra, the relative entropy is presented to correlate the experimental spectra with the hypothetical ones. Then it is pointed out that the score of spectra obeysthe superposition of two extreme value distributions, which allows the quantitative estimate for the confidence of peptide assignments. Computational experiment was done on two public databases and it showed that the performance of the present method was is superior in comparison with SEQUEST.
Declarations
Acknowledgements
We express great gratitude to Dr. Andrew Keller for providing the MS/MS data and detailed answers to our questions. We are grateful to Dr. Geir Skogerbo for his patient modifying our English writing. This work was supported, National Sciences Foundation of China Grant No. 39890070, 60496320, 60373044, National Key Basic Research & Development Program 973 under Grant No. 2002CB713805, 2003CB715900, and anopen task of Shanghai Key Laboratory of Intelligent Information Processing Fudan University No. IIPL-04-001.
Authors' Affiliations
(1)
Institute of Biophysics, Chinese Academy of Sciences, Beijing, China
(2)
Institute of Computing Technology, Chinese Academy of Sciences, Beijing, China
Copyright
© Zhang et al; licensee BioMed Central Ltd. 2006
This article is published under license to BioMed Central Ltd. This is an Open Access article distributed under the terms of the Creative Commons Attribution License (http://creativecommons.org/licenses/by/2.0), which permits unrestricted use, distribution, and reproduction in any medium, provided the original work is properly cited.