Methodology article

Open Access
BranchClust: a phylogenetic algorithm for selecting gene families
BMC Bioinformatics
2007
8:120
Received: 08 December 2006
Accepted: 10 April 2007
Published: 10 April 2007
Abstract
Background
Automated methods for assembling families of orthologous genes include those based on sequence similarity scores and those based on phylogenetic approaches. The first are easy to automate but usually they do not distinguish between paralogs and orthologs or have restriction on the number of taxa. Phylogenetic methods often are based on reconciliation of a gene tree with a known rooted species tree; a limitation of this approach, especially in case of prokaryotes, is that the species tree is often unknown, and that from the analyses of single gene families the branching order between related organisms frequently is unresolved.
Results
Here we describe an algorithm for the automated selection of orthologous genes that recognizes orthologous genes from different species in a phylogenetic tree for any number of taxa. The algorithm is capable of distinguishing complete (containing all taxa) and incomplete (not containing all taxa) families and recognizes in- and outparalogs. The BranchClust algorithm is implemented in Perl with the use of the BioPerl module for parsing trees and is freely available at http://bioinformatics.org/branchclust.
Conclusion
BranchClust outperforms the Reciprocal Best Blast hit method in selecting more sets of putatively orthologous genes. In the test cases examined, the correctness of the selected families and of the identified in- and outparalogs was confirmed by inspection of the pertinent phylogenetic trees.
Keywords
Orthologous Gene
Yersinia Pestis
Sulfolobus Solfataricus
Recent Gene Duplication
Complete Cluster
Background
The problem of gene family selection from any given set of taxa is one of the primary tasks in evolutionary genomics. The correct identification of orthologs (i.e. genes whose deepest relationship represents a speciation event [1]) is crucial for reconstruction and interpretation of phylogenetic trees; and for addressing the following questions: How many common genes are shared by different species? What is the extent of the core of genes that shares a common history? Which genes underwent duplication, were lost, or horizontally transferred between different lineages? Most of the known methods used for detection of orthologs are based on sequence similarity and genome-specific best hits [2]. Phylogenetic methods are more reliable but they are difficult to automate and the complexity grows with the increase of the number of taxa in question.
Another important task in molecular evolution is to ascribe a gene function to open reading frames in a newly sequenced genome. Today's gene annotation techniques are based largely on a search for homologous sequences with known functions, with orthologs more likely to have identical functions as compared to paralogs. The methods are based on sequence similarity searches using BLAST [3] as a primary tool, and PSI-BLAST [4] or HMM-based methods for profile searching [5]. The final stage of positioning of an unknown sequence in a phylogenetic tree in order to infer its function either needs to be performed manually by the curator, or is omitted entirely, which can be problematic because changes in substitution rate frequently lead to situations where the closest phylogenetic neighbor does not correspond to the highest scoring hit in a BLAST search [6]. The algorithm we propose here fully automates the process of assembling gene families for any given number of taxa and also aids sequence annotation because it positions an unknown gene sequence in a phylogenetic tree containing both paralogs and orthologs from closely related species.
Today, a widely used method to identify sets of orthologs from a set of
n
species is the reciprocal best BLAST hit method (e.g., [
7
,
8
]). The method requires strong conservative relationships among the orthologs so that if a gene from species 1 selects a gene from species 2 as a best hit when performing a BLAST search with genome 1 against genome 2, then the gene 2 must in turn select gene 1 as the best hit when genome 2 is searched against genome 1. For a set of
n
species the reciprocal BLAST hit method requires the presence of all pairwise reciprocal connections between all species as depicted on Figure
1A
.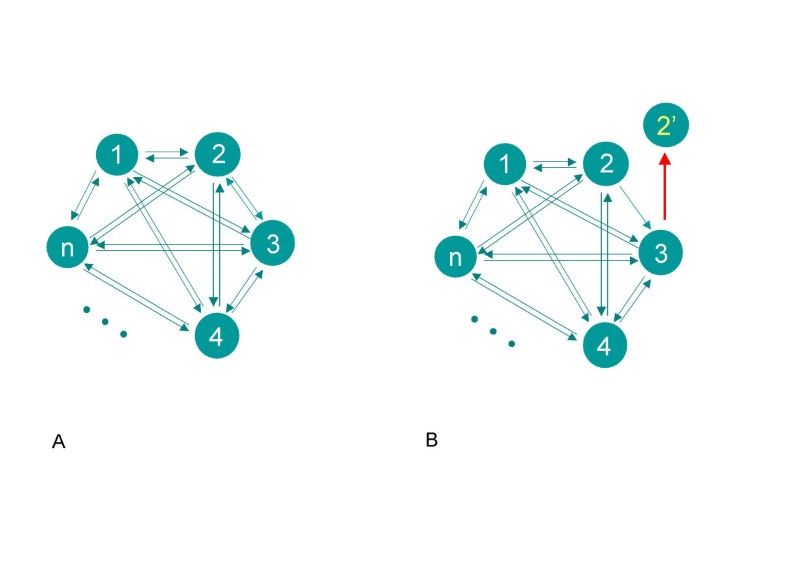 The reciprocal BLAST hit method is very stringent and succeeds in the selection of conserved orthologs with a low false positive rate [9], but it often fails to assemble sets of orthologs in the presence of paralogs. Figure 1B illustrates how reciprocity is broken in the presence of paralogous gene 2' closely related to gene 2. Genes 2 and 2' could be inparalogs [10] that resulted from a recent gene duplication. In this example gene 3 chooses gene 2' instead of gene 2 as a best BLAST hit, preventing both paralogs from being appropriately recognized as orthologs [1].
Figure
2
gives an example where reciprocity fails in a case of four species (two archaea and two bacteria) for a conserved anciently duplicated protein, ATP synthase ATP binding subunits. In the case of the catalytic subunits (ATP-A, Figure
2A
), reciprocity is broken when ATP-A from
Escherichia coli
and
Bacillus subtilis
chooses the more conserved subunits B (ATP-B), from
Sulfolobus solfataricus
as the best BLAST hit. In the case of the ATP-B family (Figure
2B
), the situation is further complicated by the presence of a third paralog frequently found in bacterial species, a paralog that is involved in assembly of the bacterial flagella [
11
] (here denoted as ATP-F), which is selected as the best hit for ATP-B from the archaeon
Methanosarcina mazei
. As a result, neither ATP-A nor ATP-B are selected as gene families when applying a strict reciprocal best BLAST hit method. In many bacteria additional ATP-A paralogs exist that make the recognition of orthologs even more difficult (see below): a Rho transcription termination factor involved in unwinding the RNA transcript from the encoding DNA, and an ATPase that is part of type III secretion systems that is similar to ATP-F. In contrast to the reciprocal best hit approach, a phylogenetic tree, reconstructed for all the genes collected from both diagrams of Figure
2
, places ATP-A, ATP-B and ATP-F on separate branches forming three distinct clusters representing the three gene families (see Figure
3
).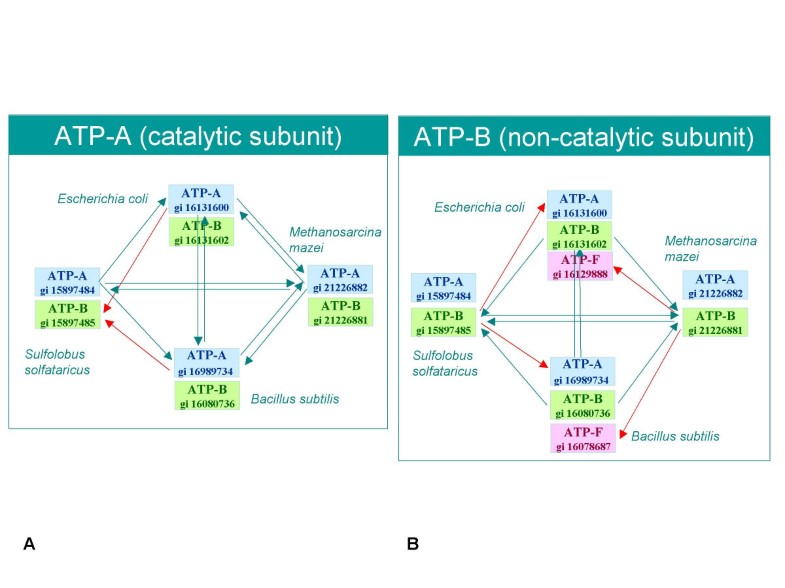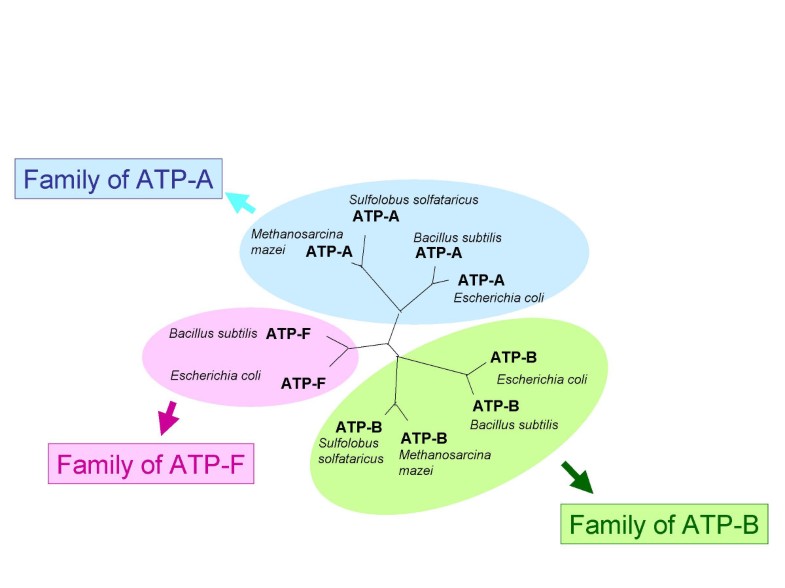 In total, from the four species mentioned above, the strict reciprocal best BLAST hit method selects only 80 families. To illustrate the influence of paralogs on the total number of selected orthologs, we conducted the following experiment. Each genome was "BLASTed" against itself, and if a query gene had significant hits other than the query itself, these genes were removed from further consideration. Then the reciprocal best BLAST hit method was applied to the genomes "cleaned" from paralogs, and the number of selected families increased to 200, demonstrating that the small size reported for the prokaryotic core (see [12] for examples) is in part due to difficulties discriminating between in- and outparalogs. Because the genomes were artificially reduced by removing all paralogs (including out paralogs) that could cause confusion, the total number of orthologous families for complete genomes should be even bigger.
In the Clusters of Orthologous Groups (COG) [13] strict reciprocity is replaced by a triangular best Blast hits relationship. First, triangles forming one-side circular best BLAST hits are constructed, and then triangles with common sides are merged together to form a cluster. The COG clusters consist of an undifferentiated mixture of orthologs and in- and outparalogs, and are limited to a certain set of taxa. The same problem exists for HOBACGEN [14] whose precomputed database of gene families also is a mixture of orthologs and paralogs and does not contain many of the newly sequenced genomes.
A simple phylogenetic algorithm to infer speciation and duplication events in a gene tree was proposed by [15] but their approach requires a known species tree which is impossible in many cases of prokaryotes. Another limitation of this method is that all incongruence is explained by means of duplication and losses, whereas for prokaryotes, these often, result from HGT events.
The Inparanoid euykaryotic orthologs database [16] contains pairwise orthologs which were assembled by the reciprocal best BLAST hit method. Inparalogs are added to the orthologous pairs by applying the Inparanoid clustering method based on sequence similarities scores [17]. Only two taxa are considered at a time.
We aimed to develop a method of assembling orthologous gene families that would have no restriction on the number of taxa, doesn't require a known species tree and would be able to distinguish between paralogs and orthologs by analyzing their position in a phylogenetic tree.
Conclusion
The RBH method frequently fails in assembling families of orthologous genes because this method fails to handle paralogs, in particular inparalogs, a finding acknowledged in many reports using automated assembly of orthologous sets (e.g., [7, 39]).
BranchClust provides an automated, robust approach to assemble families of orthologs. It effectively selects complete and incomplete clusters of putatively orthologous genes, including inparalogs arising through lineage specific gene amplification. The use of BranchClust will allow one to include larger portions of completely sequenced genomes into genome based phylogenetic reconstructions, thereby allowing phylogenomics to move away from the currently dominating reconstruction of trees describing the history of the transcription and translation machinery [40] to analyses that include metabolic pathways that might be present only in a subset of the analyzed genomes.
Methods
List of taxa used in analysis
4 taxa: 2 bacteria and 2 archaea
2 bacteria
Escherichia coli, Bacillus subtilis
2 archaea
Methanosarcina mazei, Sulfolobus solfataricus.
13 gamma proteobacteria
Buchnera aphidicola, Escherichia coli, Haemophilus influenzae, Pasteurella multocida, Pseudomonas aeruginosa, Salmonella typhimurium, Vibrio cholerae, Wigglesworthia glossinidia, Xanthomonas campestris, Xanthomonas axonopodis, Xylella fastidiosa, Yersinia pestis KIM, Yersinia pestis CO92.
30 taxa: 16 bacteria and 14 archaea
16 bacteria
Aquifex aeolicus, Bacillus subtilis, Chlorobium tepidum, Corynebacterium glutamicum, Deinococcus radiodurans, Gobacillus kaustophilus, Geobacter sulfurreducens, Gloeobacter violaceus, Nostoc sp., Pseudomonas aeruginosa, Rhodopirellula baltica, Rhodopseudomonas palustris, Streptococcus thermophilus, Streptomyces coelicolor, Thermotoga maritime, Thermus thermophilus.
14 archaea
Aeropyrum pernix, Archaeoglobus fulgidus, Haloarcula marismortui, Halobacterium sp., Methanococcus maripaludis, Methanopyrus kandleri, Methanosarcina acetivorans, Methanothermobacter thermautotrophicus, Nanoarchaeum equitans, Pyrobaculum aerophilum, Pyrococcus abyssi, Sulfolobus solfataricus, Thermococcus kodakaraensis, Thermoplasma acidophilum.
319 taxa: the list can be found at [19].
Sequence alignment and tree building
Currently, BranchClust by default uses clustalw 1.83 [41] for both sequence alignment and tree reconstruction using a distance method with Kimura correction. Other programs that are fast and use a command line interface can easily be substituted: e.g. MUSCLE [42] for sequence alignment, phyml [43], TREEPUZZLE [44] in conjunction with neighbor joining [45]) for phylogenetic tree reconstruction.
BranchClust analysis
Please see the BranchClust tutorial at [19] for guidance on all procedures of the method from downloading complete genomes to applying the BranchClust algorithm.
For the analysis of 4, 13 and 30 taxa we performed exhaustive all-to-all BLAST searches to select superfamilies. For the case of 319 taxa we tested one-to-all BLAST approach choosing the genome of Escherichia coli K12 as starting genome. The BranchClust method was applied with the following MANY/FEW parameters: MANY/FEW = 3 for 4 taxa, MANY/FEW = 8 for 13 gamma proteobacteria, MANY/FEW = 24 for 30 taxa, and MANY/FEW = 150 for 319 taxa.
Availability and requirements
Project name: BranchClust
Project home page: http://www.bioinformatics.org/branchclust
Operating system(s): UNIX, MAC OS X
Programming language: Perl
Licence: GNU General Public License
Any restrictions to use by non-academics: Contact authors
Declarations
Acknowledgements
We thank Olga Zhaxybayeva, Craig Nelson, and Paul Ryvkin for fruitful discussions, suggestions on code optimization, and testing of BranchClust on a set of mammalian genomes. We also thank three anonymous reviewers for their comments and suggestions. This work was supported through NSF (MCB-0237197) and the NASA Applied Information System Research Program (NNG04GP90G).
Authors' Affiliations
(1)
Department of Molecular and Cell Biology, University of Connecticut, Storrs, USA
Copyright
© Poptsova and Gogarten; licensee BioMed Central Ltd. 2007
This article is published under license to BioMed Central Ltd. This is an Open Access article distributed under the terms of the Creative Commons Attribution License (http://creativecommons.org/licenses/by/2.0), which permits unrestricted use, distribution, and reproduction in any medium, provided the original work is properly cited.