Research article

Open Access
Motif kernel generated by genetic programming improves remote homology and fold detection
BMC Bioinformatics
2007
8:23
Received: 07 July 2006
Accepted: 25 January 2007
Published: 25 January 2007
Abstract
Background
Protein remote homology detection is a central problem in computational biology. Most recent methods train support vector machines to discriminate between related and unrelated sequences and these studies have introduced several types of kernels. One successful approach is to base a kernel on shared occurrences of discrete sequence motifs. Still, many protein sequences fail to be classified correctly for a lack of a suitable set of motifs for these sequences.
Results
We introduce the GPkernel, which is a motif kernel based on discrete sequence motifs where the motifs are evolved using genetic programming. All proteins can be grouped according to evolutionary relations and structure, and the method uses this inherent structure to create groups of motifs that discriminate between different families of evolutionary origin. When tested on two SCOP benchmarks, the superfamily and fold recognition problems, the GPkernel gives significantly better results compared to related methods of remote homology detection.
Conclusion
The GPkernel gives particularly good results on the more difficult fold recognition problem compared to the other methods. This is mainly because the method creates motif sets that describe similarities among subgroups of both the related and unrelated proteins. This rich set of motifs give a better description of the similarities and differences between different folds than do previous motif-based methods.
Keywords
Genetic ProgrammingLatent Semantic AnalysisNegative MotifScop SuperfamilyRemote Homology Detection
Background
A huge gap exists between the number of protein sequences and the number of proteins with a known structure and function. The exponential growth in sequence information means that better methods to automatically annotate new sequences are needed. Current methods include ab initio structure prediction, sequence-structure comparisons, and sequence comparisons [1, 2]. Ab initio methods try to predict the native protein structure from the amino acid sequence. The protein can then be annotated by comparing the predicted structure to those of proteins with known structure and function. Sequence-structure comparisons, or threading methods, try to fit the protein sequence to known structures. Compared with ab initio predictions, threading limits the candidate solutions to those structures already known. Sequence comparisons are based on the assumption that similar sequences share a common ancestor – that is, they are remote homologues – suggesting structural and functional similarities. Several good solutions exist when the level of sequence similarity is high, but when the sequences are highly divergent it is still difficult to distinguish remotely homologue sequences from sequences that are similar by chance.
Early solutions to the problem of finding remote homologues, such as the Smith-Waterman algorithm [3] and heuristic alternatives like BLAST [4] and FASTA [5], looked for sequence similarity between pairs of proteins. Later solutions used aggregated statistics of related proteins to generate more complex models that a protein with unknown function could be compared to. These methods, including profiles [4, 6] and hidden Markov models (HMMs) [7–9] used only related sequences for model generation.
The most successful recent methods have been discriminative. Classifiers are trained on both related and unrelated proteins to recognize what distinguishes the related proteins from the unrelated ones. Kernel methods such as the support vector machine [10] have proven to give particularly good results, and several groups have introduced different types of kernel functions [11–19]. Most of these kernel functions are typically either based on profiles and sequence alignments, or based on the occurrences of discrete motifs.
Kernels based on profiles and sequence alignments
The Fisher kernel [11] was the first method that used support vector machines. This method trains profile HMMs on related proteins and produces feature vectors from sequences by aligning them to the HMMs. Another alignment-based kernel is SVM-Pairwise [12], which represents each sequence as a vector of pairwise similarities to all sequences of the training set. The SVM-I-sites method [13] compares sequence profiles to the I-sites library of local structural motifs for feature extraction and this method has also been improved to take into account the order and relationships of the I-site motifs [14].
A relatively simple but efficient kernel is the Mismatch kernel [15] in which the feature space consists of all short subsequences of length k, called k-mers. A k-mer is said to be present in a sequence if the sequence contains a substring that has at most n mismatches to the k-mer. In the profile kernel of Kuang et al. [16], the mismatch kernel is combined with profiles; a k-mer is said to be present in a sequence if the sequence contains a substring that when aligned to the profile gives a score above a given threshold. Later methods, such as the LA-kernel [17] and SVM-SW [18] are also alignment-based, but instead of representing the sequences as a vector of features they calculate the kernels directly by an explicit protein similarity measure. The LA-kernel uses all optimal gapped local alignment scores for all possible subsequences of two sequences, while SVM-SW uses the optimal local alignment that maximizes a direct profile-profile score.
Kernels based on discrete sequence motif content
Motif kernels are based on the idea of using motif content to measure sequence similarity. Protein sequence motifs describe some common sequence pattern that is conserved over greater evolutionary distance than the rest of the sequences. Focusing on sequence motifs therefore means focusing on the most conserved parts of a sequence, where remote homologues are most likely to share similarities.
Although there are many databases of sequence motifs available [20–23], these databases were created in a supervised way to have motifs that characterize different known protein families, domains, or functional sites. Consequently, a motif kernel based on these databases will be biased towards correctly classifying known functions or families. This also makes such motif kernels inappropriate in benchmark studies. The eMOTIF kernel of Ben-Hur and Brutlag [19] avoids these problems by using motifs extracted with the unsupervised eMOTIF method [24] from the eBLOCKS database [25]. The eMOTIF kernel has good performance when classifying sequences in classes for which several motifs are available, but the performance decreases when related sequences share few or no motifs [16].
An alternative to using motifs from an existing database is to generate the motifs from the available data. We introduce a motif kernel where genetic programming is used to find discriminative sequence patterns matching the positive training set sequences while not matching the negative training set sequences. The motifs are made from a simple regular expression-like grammar and the resulting matches against the data set is used to build feature vectors for a support vector machine.
We benchmark our GPkernel on updated versions of two commonly used benchmarks [18] based on the SCOP database [26] and compare its performance with the eMOTIF, Mismatch, SVM-Pairwise, and LA kernels as well as the PSI-BLAST method. We find that our method achieves performance similar to the LA-kernel method and gives significantly better results than all of the other methods. We also find, when comparing the GPkernel to related motif methods, that motifs trained on the different classes of negative sequences are vital for the method's predictive power.
Conclusion
We have introduced a motif kernel with discrete sequence motifs trained with genetic programming. Motifs are evolved using a subset of regular expressions to describe sequences in a superfamily or fold, and discriminate between these and sequences in other superfamilies (folds). The method gives very good results on two SCOP benchmarks when compared to other relevant methods.
In addition, we have established two new and updated benchmark sets. These sets, which are nearly twice as large as previously used benchmarks, should prove useful for future studies on remote homology detection.
Methods
Genetic programming
Genetic programming [27] is a form of automatic programming that aims to find an optimal solution to a problem by using a population of candidate solutions and techniques inspired by biological evolution. In genetic programming, the solutions are usually variable sized syntax trees whose structure is defined by the solution language. An example of such a language is regular expressions where the set of terminals are the 20 amino acid characters.
Our algorithm, which is based on the GP-component of the GPboost algorithm [34], uses a standard tree-based representation of individuals. It uses subtree swapping crossover, tree generating mutation and reproduction as genetic operators and uses tournament selection to select individuals for the next generation.
Motif kernels
A motif kernel gives a sequence similarity measure based on the motif content of a pair of sequences [19]. A sequence x can in this context be represented in a vector space indexed by a set of motifs M as Θ(x) = (θ m (x))m∈M. In the eMOTIF kernel, θ m (x) is the number of occurrences of the motif m in x. The motif kernel is then defined as a linear kernel over the motif contents: K(x, x') = Θ(x) · Θ(x'). In most cases a motif appears only once in a sequence so this kernel essentially counts the number of motifs that are common to both sequences. This is always the case for the GPkernel, as θ m (x) here is 1 if the motif occurs in x and 0 otherwise.
Results benchmarking
To benchmark our method we simulate the process of remote homology detection and fold detection by using the SCOP database [26] as a basis for two benchmarks. The SCOP database aims to classify all proteins of known structure in a hierarchy based on structural and evolutionary relatedness. At the lowest level of the hierarchy, proteins clustered in a SCOP family have clear evolutionary relationship, meaning that pairwise residue identities between proteins are 30% and greater. Proteins in SCOP superfamilies show low degrees of sequence identities, but structural and functional features in the proteins give them a probable common evolutionary origin, meaning that proteins clustered in superfamilies are likely to be homologues. Proteins have the same common fold if they have the same major secondary structures in the same arrangement and with the same topological connections. This does not necessarily mean they have the same evolutionary origin.
The first benchmark is the now classic benchmark where the goal is to classify a new protein sequence to the correct SCOP superfamily. Here, one family in the superfamily is kept as a positive test set. The other families in the same superfamily constitute the positive training set. The negative test set consists of one random family from each of the other superfamilies and the negative training set has the rest of the families in these superfamilies. Figure
8
illustrates the setup for this benchmark.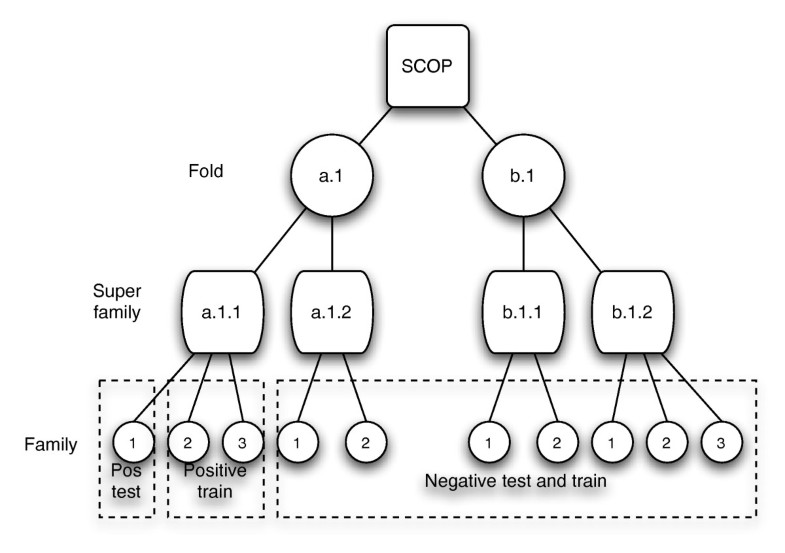 For the other benchmark, we follow that of Rangwala and Karypis [18]. We move up one level in the SCOP hierarchy; the objective is to classify an unknown sequence to the correct fold. One superfamily is used as positive test set, while the others in the same fold constitute the positive training set. The negative test set consists of one random superfamily from each of the other folds, and the negative training set consists of the remaining sequences. This benchmark is considerably harder than the superfamily benchmark is, as most of the sequences within a fold have a very low degree of similarity.
We use sequences from SCOP version 1.67, filtered with Astral [41] to remove sequences that share more than 95% similarity. The data are further filtered according to the principle that each classifier should have at least 10 sequences for testing and training, that is, every classifier should have at least 10 sequences in its positive training and test set. For the superfamily benchmark, this leaves us with 4019 sequences in 392 SCOP families. 102 of these families match the conditions above. The fold benchmark has 3840 sequences from 374 superfamilies and classifiers are made for 86 of these. Of the 3840 sequences in the fold benchmark, 2076 do not participate in the superfamily benchmark. Note that the 102 families and 86 superfamilies tested in our superfamily and fold benchmarks are almost twice the number of families and superfamilies used in previous benchmark studies.
Our benchmark sets are available as online supplementary material (Additional files 1, 2, 3).
Performance measures
Because the test sets have many more negative than positive instances, simply measuring error-rates will not give a good evaluation of performance. Instead we evaluate our results by computing the ROC and ROC-50 scores [42]. A ROC curve is a plot of a classifier's sensitivity as a function of its specificity for different classification thresholds. The ROC score is the area under the ROC curve. The ROC-50 curve is the same as a ROC curve, except the curve only shows the classifier's sensitivity for the first 50 negatives.
Statistical tests
To determine whether two methods have statistically different ROC or ROC-50 scores on a particular benchmark, we use signed rank tests. All p-values reported are double-sided p-values that have been Bonferroni-corrected for multiple comparisons.
Other methods
We computed the eMOTIF kernel based on the eMOTIFs generated from version 1.0 of the eBLOCKS database. This database contains 522,321 motifs and is the same that was used in the original article [19]. The mismatch kernel is computed by extracting all subsequences of length 5 from the dataset and using the Interagon PMC to search for these subsequences in the data sets, allowing for one mismatch. We use Clustal W [43] version 1.83 to create a multiple alignment of the positive training set and give this as input to PSI-BLAST version 2.2.13. PSI-BLAST is then run with standard parameter values for 1 iteration against the test set. The e-value of the resulting alignments are used to rank the test set. SVM-pairwise is calculated by using the negative logarithm of pairwise BLAST e-values to generate a radial basis kernel with the same parameters as in the original article of Liao and Noble [12]. We use the authors' default implementation [44] to compute the LA-kernel.
The Gist package version 2.2 [45] is used to train and test the kernels.
Declarations
Acknowledgements
We thank A. Ben-Hur for providing his eMOTIF kernel code and O. Snøve Jr. for useful comments on the manuscript. PS receives support from the National Program for Functional Genomics in Norway (FUGE) and the Leiv Eriksson program of the Norwegian Research Council.
Authors' Affiliations
(1)
Department of Computer and Information Science, Norwegian University of Science and Technology, Trondheim, Norway
(2)
Interagon AS, Laboratoriesenteret, Trondheim, Norway
Copyright
© Håndstad et al; licensee BioMed Central Ltd. 2007
This article is published under license to BioMed Central Ltd. This is an Open Access article distributed under the terms of the Creative Commons Attribution License (http://creativecommons.org/licenses/by/2.0), which permits unrestricted use, distribution, and reproduction in any medium, provided the original work is properly cited.